Good day, Rising Star family!
Tuesday, Day 185 with Rising Star Game.

I decided to write a short summary of last week progress.
The biggest achievement is that I opened 2 band members. It is a really hard and long journey... I still don't believe that I already have 2 members.
Also, I learned about Cold pizza slice and I forgot about energy lack. At least for now... But I will tell you about it later...
The next achievement is that I reached level 85th! And I am close to the next level.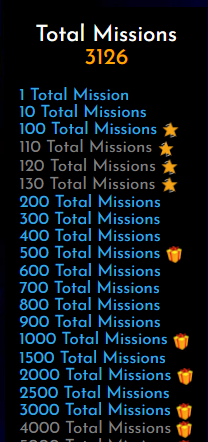 I played 3126 missions in total. And I need 875 more missions till the next achievement. And it means that I will get 4,000 starbits and a free cards pack! I really like card packs! xD
And one more thing... My ego now is around 15%!
---
Do you know that I host a Rising Star giveaway?

Good luck! Have a nice day!
---
If you don't play Splinterlands yet, try it now and win a free card or earn DEC tokens.
If you don't play Rising Star yet, try it now and win a free card or earn STARBIT tokens.
---
The post was published via @Ecency. Ecency is one of the best communities and posting platforms on Hive Blockchain!
---
FOLLOW ME HERE