TSUWAMONO // Splinterlands Art Contest Week 193!
Hello dear Hivers and Splinterlands lovers!
This time my art models are three characters. I came up with the idea due to the presence of two Japanese characters on the new reward card.
TENYII STRIKER may not be Japanese style, but he is the closest design to the Japanese Samurai, so I have him playing the role of a Samurai lol!
Now let me show you the process.
親愛なるHiversのみなさん、Splinterlands愛好家のみなさん、こんにちは!
今回の私のアートモデルは3人のキャラクターです。新たなリワードカードに2人の和風キャラクターがいたことにより、思い付きました。
TENYII STRIKERは和風ではないかもしれませんが、日本の侍に最も近いデザインなので、侍の役をやってもらっています笑
ではプロセスを紹介します。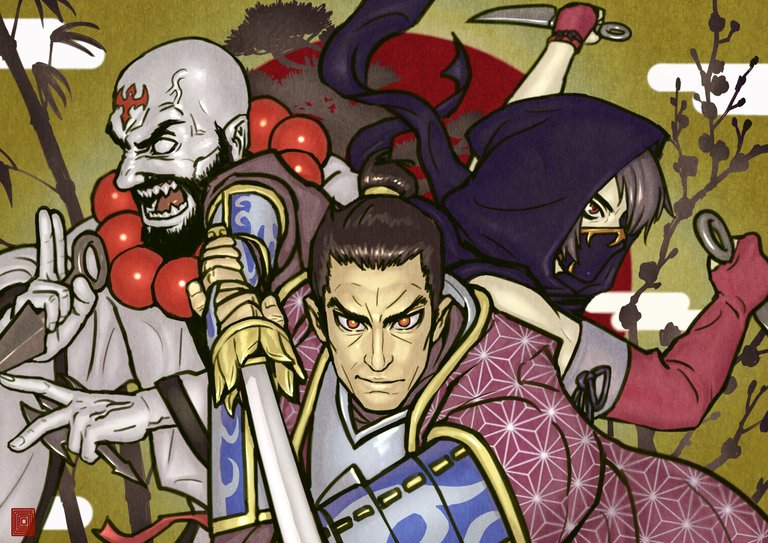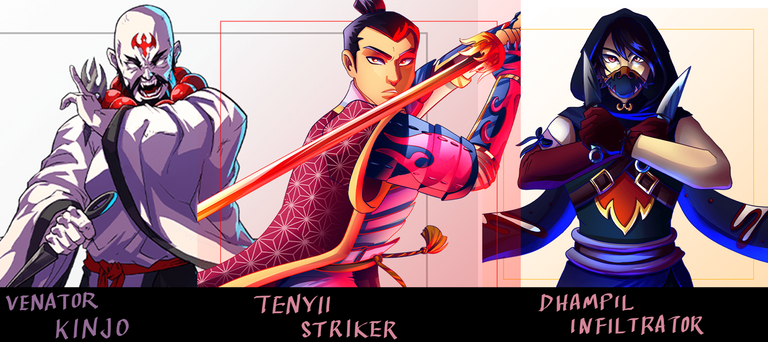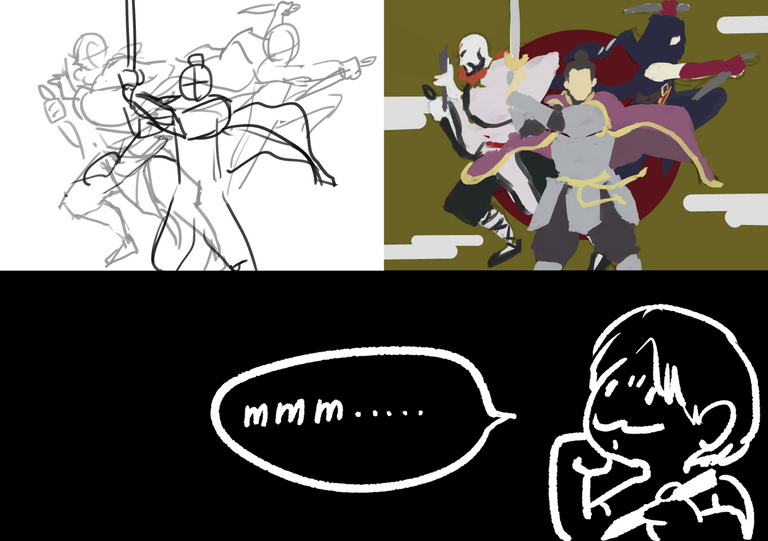 The first rough sketch I came up with. At this point, I had a rough idea of what I wanted, but I thought it would not be powerful enough, so I decided to draw another rough sketch.
はじめに思い付いたラフ画。この時点でおおまかなイメージは固まっていましたが、このままでは迫力がないと思い、別のラフを描くことにします。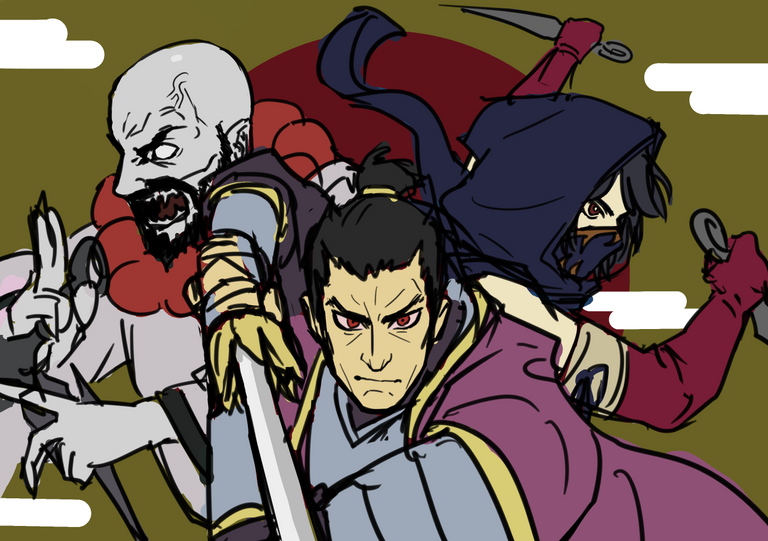 The three are all very individualistic, and the combination of the three is a good one!
このように3人にズームアップし、大きく描くことで迫力を出しました。3人とも個性があって良い組み合わせです!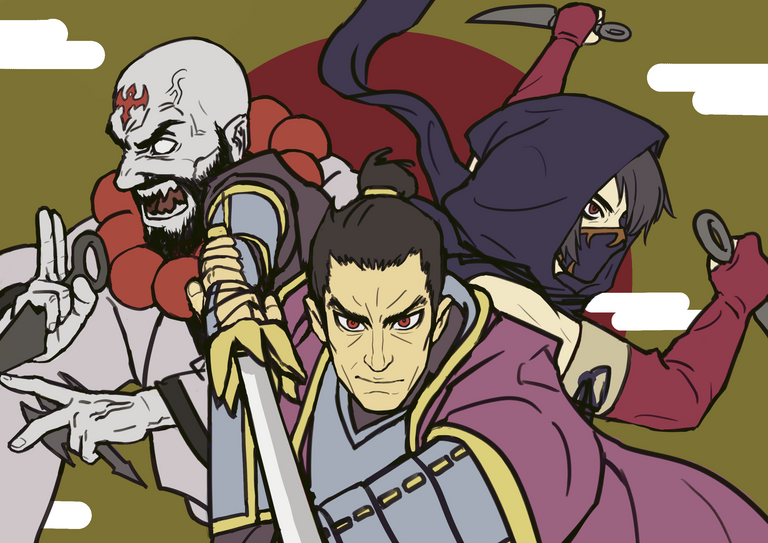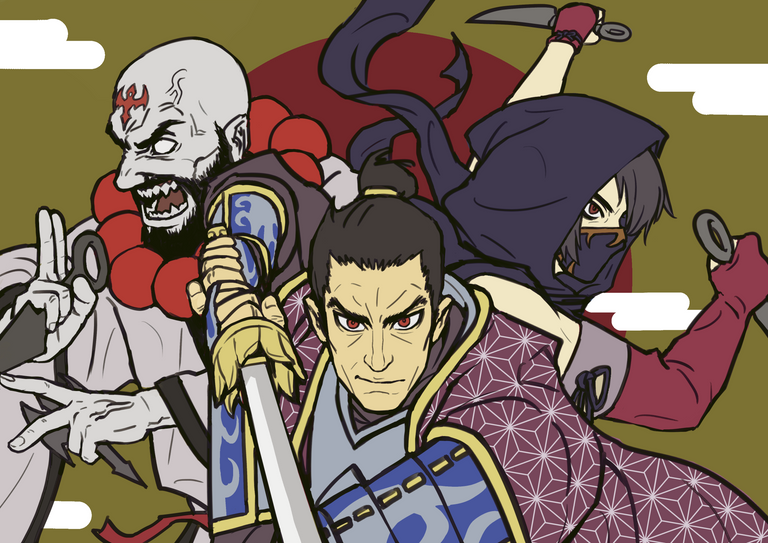 I draw in and add patterns.
描き込み、模様を加えます。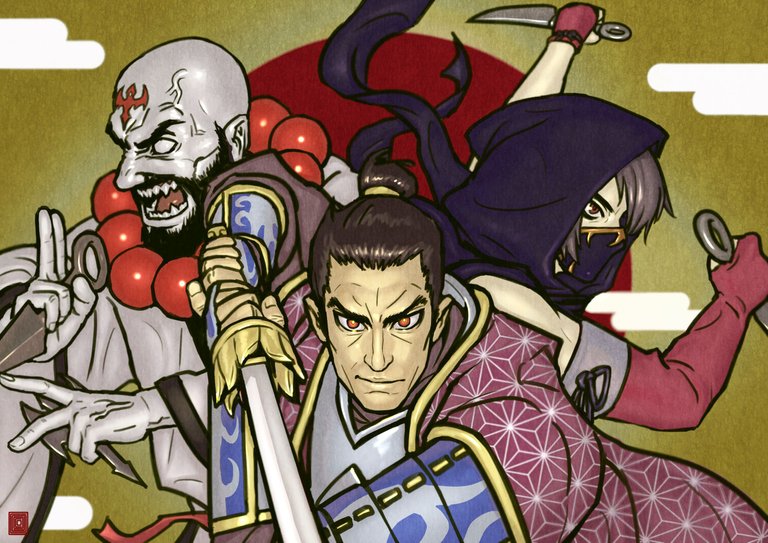 I shade, highlight, and add texture to the screen. In this case, since the theme is Japanese style, I used Japanese paper texture.
I finished the painting once, but when I looked at it after a while, I felt that it was a little sad, so I added more.
陰影をつけ、ハイライトを乗せ、画面にテクスチャーを付けます。今回は和風のテーマなので、和紙のテクスチャーを用いました。
これで一度完成としたのですが、しばらく時間をおいて作品を眺めた時、画面が少し寂しく感じたのでさらに描き足します。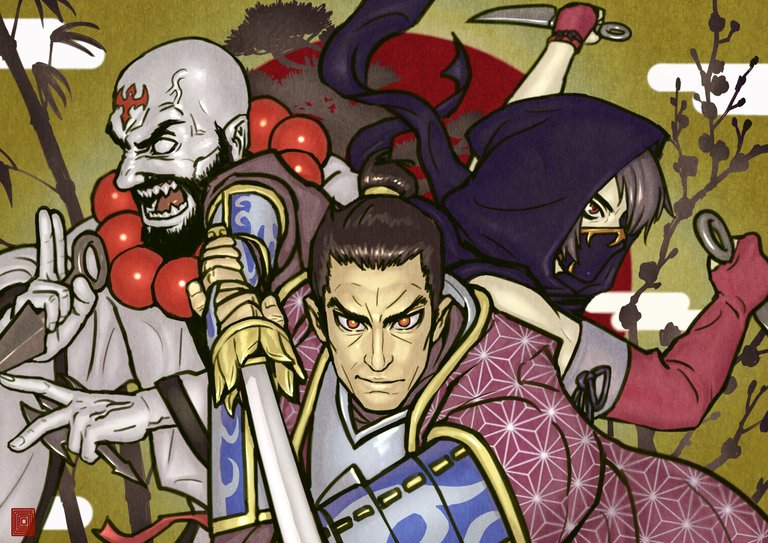 To match the three characters, we will incorporate the "Matsu, Take, and Ume" background, which is a favorite Japanese design. The signature of OCOJOCO, arranged in Japanese style, is placed in the lower left corner of the screen. It's done!
3人のキャラクターに合わせて、日本で好んで使われる『松竹梅』を背景に取り入れます。そして画面の左下には和風アレンジしたOCOJOCOのサインを入れました。完成です!
Once again, I painted with a different taste. I hope you enjoy it!
See you in the next art!
今回もまた、いつもとは違うテイストで描いてみました。楽しんでいただけたら嬉しく思います!
ではまた次のアートで!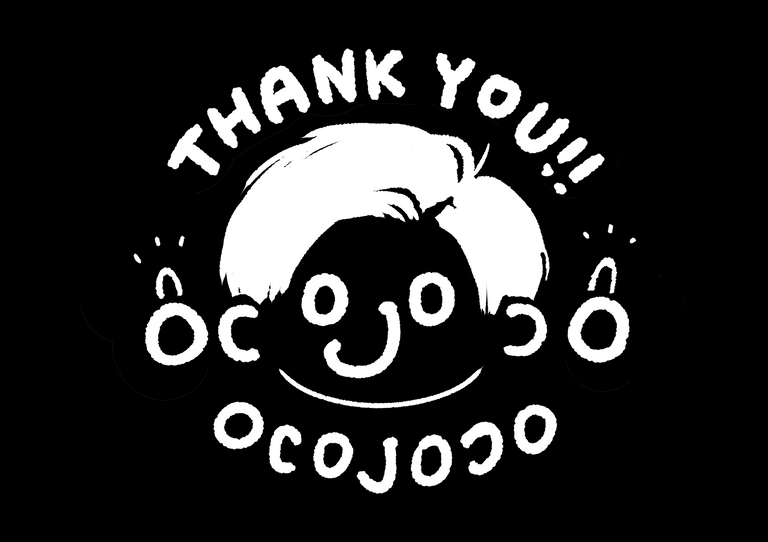 ---
---