It's been several days since my last game on splinterlands. Life is keeping me very busy. I believe things will start settling down from this week onwards. I realized that the season would have got completed and it will the ideal time now to open the quest rewards. I was excited to open the quest rewards. This usually happens every 15 days when there is a new season.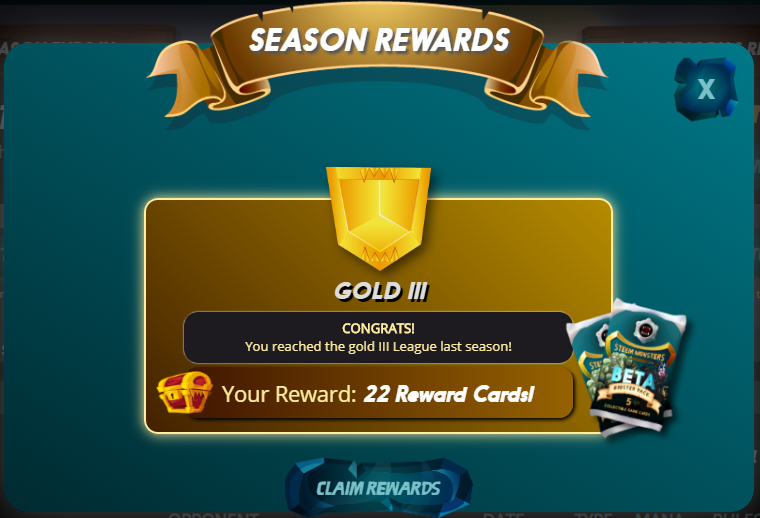 With the progress I made at the start of the season, I expected my progress to be very well. But unfortunately, I missed playing the game for more than 5 days which made my ECR stay always in 100 percent. This not only reduces the possibility of getting good reward cards but it also made me stay in the low rating and missed a few additional cards from the quest reward.
The quest rewards were really great. Before even opening the cards, I was curious to just do a mouse hover on all the cards to check if I got any legendary card or not. To my surprise, there was a legendary card and the double surprise was that it was even gold foil. I have to say that this is one of the best season rewards that I have received so far in the game.
I received a total of 4 gold foil cards and out of that one gold foil card was also a legendary card like I mentioned above. One sad thing about this reward is that I received 5 Rusty Android card. I don't think that card is going to be highly valuable. But good to have it in the collection.
Looks like the Spirit miner card which is the legendary GF coil is a new card. I have not seen this card before. I have to go and check the price of this card. Overall, I'm really happy about the quest rewards and I hope I will be able to find more time playing the game in the future.