For the past few days, I have been noticing that the price of some of the cards is pumping. It could be because many people are trying to upgrade their decks and trying to make it more powerful. I wanted to make my Fire deck a little bit powerful. In that process, today I invested some SBD in the game purchasing Malric Inferno summoner for my fire deck. We will be able to use high-level monsters only if the summoners are of a high level. That is one of the reasons why I wanted to upgrade my Fire summoner.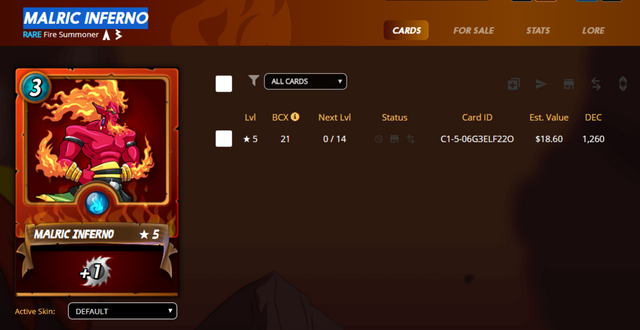 I already have some of my fire cards at high levels but just because I did not have the summoner at a higher level, I was unable to use the full potential of some of the cards. Now that I have upgraded the summoner, I will have a better chance now in the battle against the opponents. I will also be able to use high-level cards in my ranked matches.
Above is all the cards that I currently have in my fire deck. I did take some effort in upgrading some of the cards that I regularly use. I spent some STEEM as well as DEC in upgrading some of the cards. Only after upgrading the fire deck, I was able to easily win some battles. Continuous investment is always very good to grow the deck. With the new features that Splinterlands is getting, I'm really excited about the game. I hope, I should be able to chase along with the game as it evolves.
I received the above rewards from today's quest. It did not take much time for me to complete the quest because it was Earth Splinter that I got for the quest. Well, there was also a gold foil card in the quest rewards. That's something nice to have.