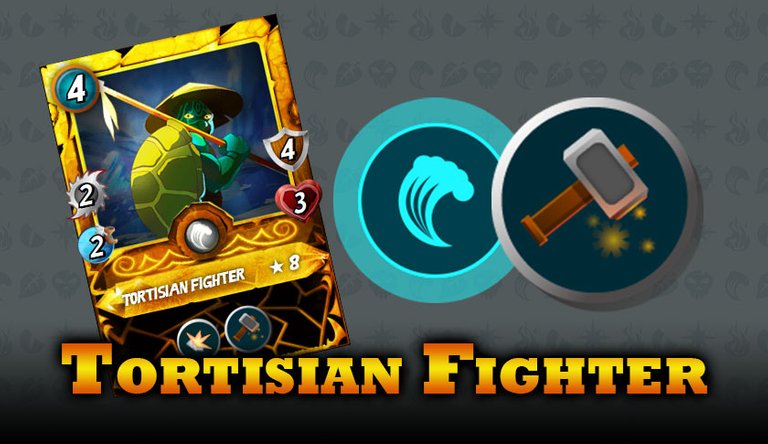 The Untamed cards are still sparse on the market, as everyone is trying to get their hands on them to improve their decks with the amazing new monsters and summoners. I have gotten my hands on a card that wasn't on my radar before: the Tortisian Fighter, as gold league max level 8 common gold foil with 20 BCX.

The Tortisian Fighter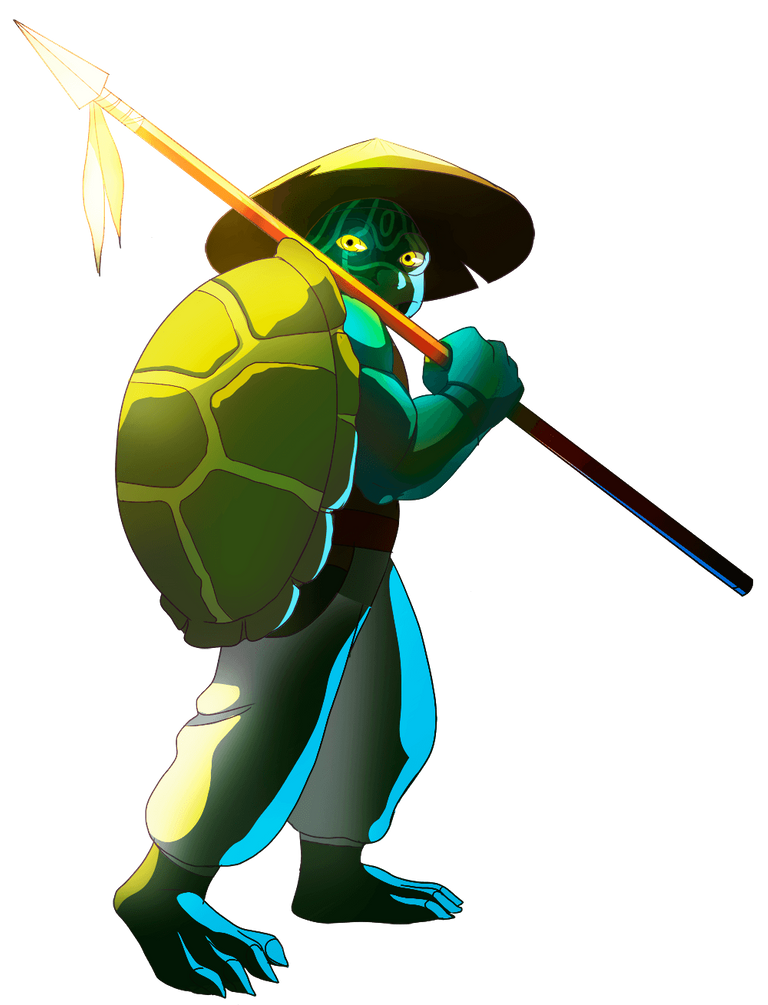 Official lore:
Tortisians are one of the newest civilized race to find their way into the Splinterlands from the other side of the world. They are naturally a seafaring people, and while they cannot breathe underwater, Tortisians can hold their breath for several minutes at a time. Their shells act as powerful floatation devices, never allowing one to be dragged under or to tire from swimming. In battle, the Tortisian Fighters make use of ancient martial arts forms handed down by their people. They carry spears, but seldom need to use them.

This little 4 mana tank seems neglectable at first glance, a mistake you will pay for on the battlefield. He comes with Shield on level 4 and with Repair on level 8. This makes him the first Water splinter repair monster and a great combo with the Crustacean King, who buffs the team with shields via Protect.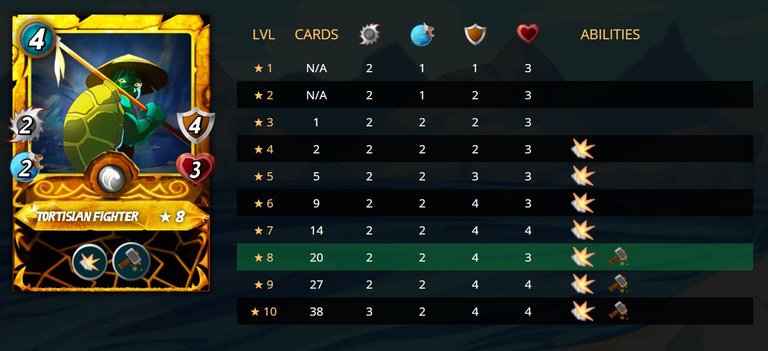 Since Repair is unlocked on level 8, he is perfect for gold league and above. I was able to get 20 gold foil cards for a pretty low price, while other commons are currently under higher demand.
| | Repair | Restores some armor to the friendly Monster whose armor has taken the most damage. |
| --- | --- | --- |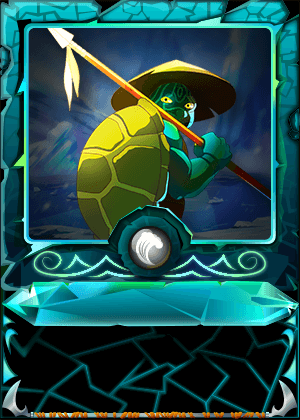 Back-Tank-Support
The Tortisian Fighter works fantastic as a tank in the last position of a team. There, it can easily manage an enemy sneaker - as long as it is no magic attack. Besides being a great support for your front tank (only if the tank has a shield), he can repair his own shield, or support the new Opportunity/Scavenger monsters, when they are facing Thorns.
Bait for Opportunity
In the last position, he is perfect bait for melee and range Sneak attack, but also pretty good to attract enemy Opportunity/Scavenger monsters, who are out to hunt the lowest health monsters. An interesting combo in that regard might be the Enchanted Defender, who comes with 1 life, plenty of shield and Thorns.

More Cards For Higher Levels
While the regular foil common cards have been reduced from 505 to 400 BCX per level max card, the gold foil have stayed as they were with Beta and still require 38 cards for a max level. But the level upgrades require now more cards for the middle levels and since the Repair ability is only available from level 8 and higher, it costs at least 20 BCX to get there (13 BCX in Beta and 11 BCX in Alpha for a gold foil level 8 common card).
Common Gold Foil Card Requirements:
| LVL | Alpha | Beta | Untamed |
| --- | --- | --- | --- |
| 1 | N/A | N/A | N/A |
| 2 | N/A | N/A | N/A |
| 3 | N/A | N/A | 1 |
| 4 | 1 | 1 | 2 |
| 5 | 2 | 2 | 5 |
| 6 | 4 | 4 | 9 |
| 7 | 7 | 8 | 14 |
| 8 | 11 | 13 | 20 |
| 9 | 19 | 23 | 27 |
| 10 | 31 | 38 | 38 |
This will clearly influence the overall demand for all cards but particularly for gold foils, as unlocking new abilities will both require higher levels and more cards in general.

Prices for Untamed have a lower bottom, as their amount of DEC conversion is lower than with Alpha/Beta. There are also many more booster packs (each has 5 cards plus potential airdrop) with the Untamed edition (1,500,000), compared to Alpha (300,000) and Beta (600,000). That means that the total supply of Untamed cards will be much higher than what we have seen before.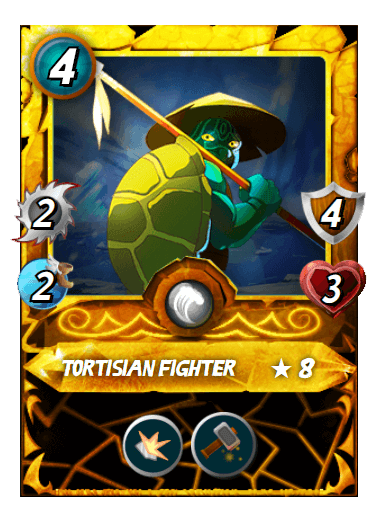 This is why we are seeing Untamed gold foil common cards for as low as $0.50 cents, because their burning value is only 500 Dark Energy Crystals (which are ideally worth $0.50 cents). Even though there are many more cards coming on the market over time, I find a low price in that area a steal. I will certainly keep my eyes open for cheap cards like that, using the Peakmonsters bid-function.
For now, I am excited to play with my new max gold foil Tortisian Fighter in gold league and enjoy testing out all the new combinations with it.
Have you maxed any new cards for your league level already?

This post and all your comments are eligible for the following upvotes: