Heya everyone wassup,
Wishing a very happy Sunday.
Ummm, Seriously for me it's really hard to digest what exactly happened :P XD. If i say the whole story of splinterlands has changed in one night, so it would not be wrong to say that.
Yes, i am talking about #Untamed release.
And so many new rules and most importantly daily quests. Today when i logged in splinterland page in order to activate my today's quest i gots this Quest.

Only 3 battles without Neutral monsters. It seems easy but it's not easy for a person like me who is addicted to #LordArianthus :P XD.
I have won 2 battles but yet to win 1 more. But the irony is i am getting maxed level opponents. So i thought let me write my post and while writing I'll keep trying to win one last battle. What i loved most about this Quest is you can go with any deck. So yea now we can even use #Selenia and #Daria. So amazing, on the one hand, if i am loving all the new changes, on the other hand, i am confused while selecting my monsters for battle. After opening Untamed packs i am lost among so many new cards. Game is going to get more interesting, thrilling. Untamed cards are so cool. I am yet to check all the new abilities of the new monster. I am very bad at remembering Monsters names and now it's going to be more tough :P.
The first task is knowing about new abilities.
One more Interesting Quest :P XD Wait let me show

Amazingly amazing quest i would say :P yea you can easily win 1 tournament battle and with any splinter. Oh man, i am loving all these new changes.
Finally, my quest is done n dusted
Quest Reward cards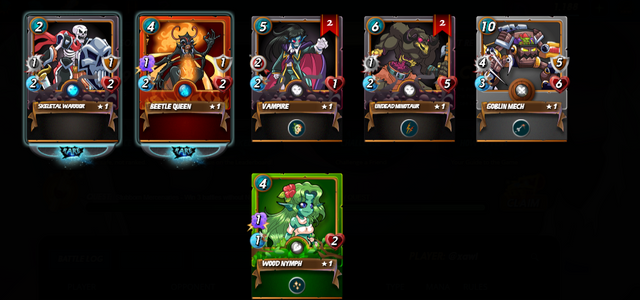 So pathetic, Lately, I've been quite unlucky with my season reward cards, Quest and even with Untamed. : XD
That's all for now. I will be back with my #Untamed post. Yes will show what i got out of 110 packs till then see ya take care