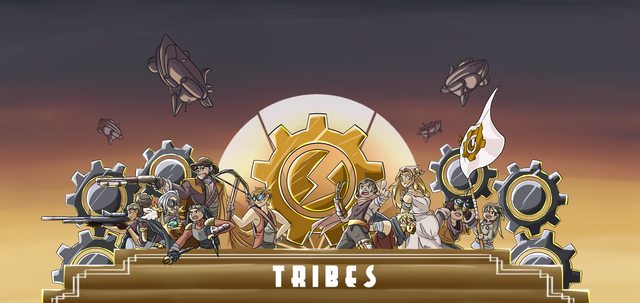 I'm mostly showing off the art I commissioned from @candycal for Tribes. I think of my tribe as my hard times compadres. The people that when the zombie apocolapyse comes that I'll try to hide out with. These are the people that I spend my time with, look to for ideas and support, and try to work with as much as possible as I'm trying to enact my vision.
Hopefully you can see yourself in the Tribe and how you too can fit in like clockwork.
We've had a ton of tribes forming and I have a few more coming on soon. One of the things I'm hoping to get out sorta soon is a way to get account creation rolling for everyone. I also need a way to make payments using Tribe tokens simpler.
Sales advice: Anything you want people to do you have to make as easy as possible to do for them
I want to see businesses and communities form on the Steem blockchain. To do that I have to make things easy. Right now the two hardest parts are still onboarding new users. I'm still kicking myself I didn't push harder for Discount Account Creation Tokens to be fungible. Now we're stuck with a silly system where you can't trade them and only certain accounts can be reliable account creators...
Anyway, we need account creation to onboard the masses. So, I'm trying to get that nailed down. We already have the account keys/authority for any of the tribes. So, I'd like to see us claiming tokens on their behalf. Then we'll figure out a way to burn their token to create a new account.
I also want to see businesses have a much easier time adding tools to the site to get paid in Steem and Steem-Engine tokens. I'm tyring to work out a few different approaches. We'll see what sticks, but if I can manifest these two changes then I'll have done my job to make it easier for groups to come here, make accounts en masse, and figure out how to get things paid for.