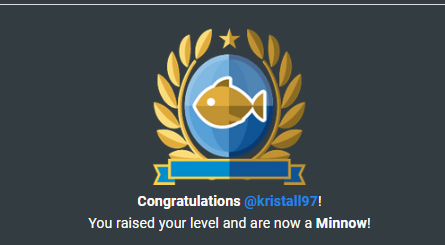 Ich habe es endlich geschafft!
Ich darf mich jetzt als Minnow bezeichnen 😊
Ich bin froh, Teil dieser Community zu sein und hoffe, das wir noch lange eine Community sein können!
Es haben sich die letzte Zeit sehr viele nette Kontakte aufgebaut, besonders mit Herrn @alucian.
In nächster Zeit werde ich auch viele Projekte unterstützen.
Der CommentCoin und noch weitere, welche jeden Tag einen sehr großen Fortschritt machen 😊
Ich wünsche allen einen schönen Tag.
---
I finally did it!
I can now call myself Minnow 😊
I am happy to be part of this community and hope that we can be a community for a long time to come!
There have been a lot of nice contacts recently, especially with Mr @alucian.
In the near future I will also support many projects.
The CommentCoin and others, which make a lot of progress every day 😊
Have a nice day, everybody.