As Steem rises up past 21c we need to keep an eye out for those who could spoil things by just taking from the system. I am not against everyone having the chance to earn, but there has to be some give and take. If you are earning Steem then you ought to be adding some value to the platform. We need the sort of content that will attract a wider audience and not just recycled or autogenerated posts. As part of the @SteemFlagRewards anti-abuse effort I see a lot of crap. There are various categories thereof, but I tend to concentrate on those who buy votes for low quality content with little or no community engagement.
Case 1
@onthehook8 joined Steem two years ago, so I would assume they have some idea of how it is supposed to work. I have not looked at their entire history, but recently they have been posting several times each day with various news stories where they add a brief commentary. With 1771 followers they have attracted comments from two people in the last week apart from the SFR people who have pointed out that they are buying votes.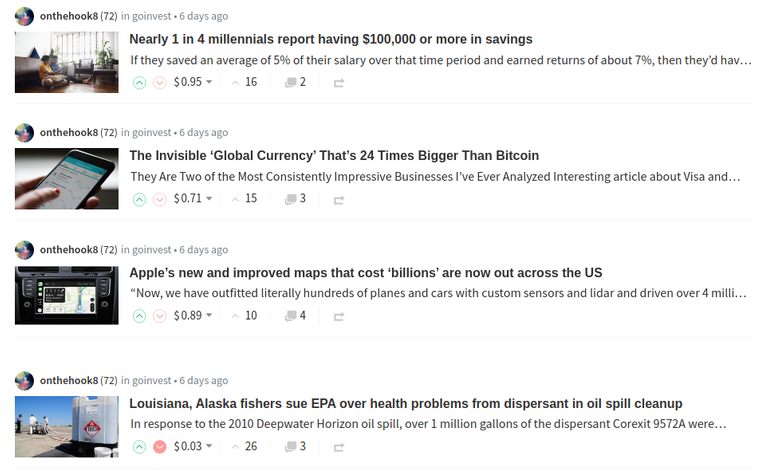 Up until five days ago they were sending 1.5 Steem to Boomerang for each post which could earn a varying amount with some votes exceeding 70c. They also self-vote with their 8k SP and get a few minor votes that are probably people fishing for curation rewwards.

I guess you could say they have manners as they thank the bot for the votes, but then self-vote some of their comments. Those who comment do not seem to get a vote. Steem Reports confirms 98% self-votes.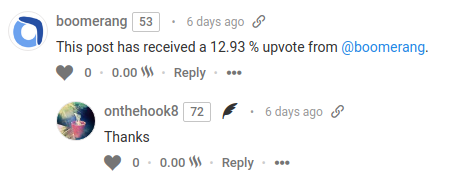 So what is this person contributing to the Steem platform? They have not responded to the SFR comments apart from to give some of us a downvote.
Case 2
@reviewzzz is a more recent joiner who has clocked up 90 posts and just 10 comments (none since October).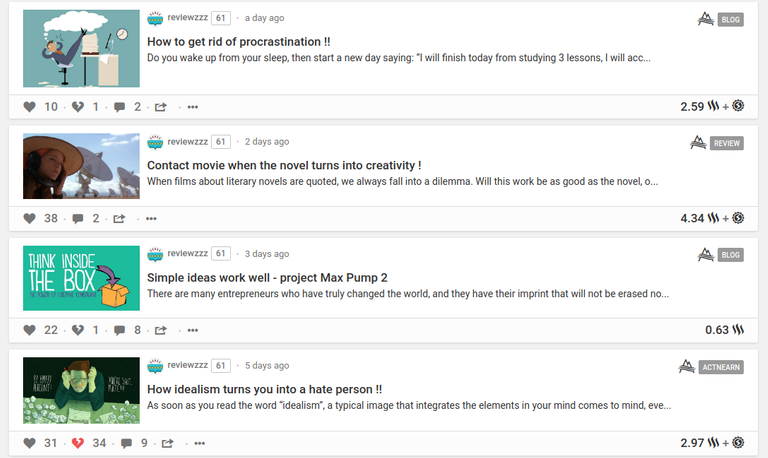 They are holding minimal SP as they exploit the likwid service to get Steem back for each post whilst buying votes on most of them. They are spending up to about 6.8 Steem across several vote sellers to get around $4 in votes. They were spending more early on. It looks like they bought about 50 Steem when they joined and are gradually increasing what they have.

Tip of the iceberg
These may seem fairly minor problems, but there are many others and there is the potential for this activity to grow. The vote sellers keep increasing their SP to gain influence. Some of them do not appear to use any sort of blacklist or seem interested in engaging with the greater Steem community.
I believe that there are less people buying votes than before the last hardforks and that may be partly down to the deterrent effect of efforts such as @SteemFlagRewards. There is also the fact that some previous vote sellers now give away votes via teams of curators. With a bigger share of rewards going to curators that can still be profitable.
What can I do?
Well I know what I do. I downvote some of the abuse I see. I can only take a few cents off, but others follow my trail to amplify that. This is why I am very careful about who I target as I do not want to abuse the trust my followers put in me. All my downvotes are manual. I may get some retaliation, but that will not put me off. I also get some SFR tokens that I use to buy votes for good posts that are under-rewarded.
So you can join the SFR collective or delegate to @SteemFlagRewards. If you delegate to any vote sellers who do not operate a blacklist then you could take that back. You may miss out on some returns, but you can use you SP elsewhere to earn whilst doing more good.
I do see cases where people threaten to leave Steem after getting downvoted, but we do it for the good of the platform. I would much rather than good people stay and earn in a more sustainable way, but the real leeches would not be missed.
I appreciate that some people are desperate to earn anything, but without some sort of enforcement Steem will deteriorate to a mess of spam and then the price will really plummet. If the Steem price is to rise it ought to be based on the platform having value. We need to attract great content creators and give them encouragement once they are here. Use your stake to help make it better. You may miss out on some profit for now, but would it not be better to see your Steem multiply in value?
Be part of the solution, not the problem.
Steem on!