I have recruited a few people to Steem. I created accounts for some of them using the feature of using resource credits and then I delegate to them. Some have stuck with it, but others have not. I put out some questions on Facebook to try and find out why people are not posting.
It's complicated
The complexity of Steem came up. It is intimidating with the long keys and multiple web sites you can use, but the decentralisation makes the keys essential. We have to be responsible for our own security, but that gives us total power over our accounts. Things really improved with the introduction of Steem Keychain as this automatically applies the appropriate key when you need it. People have been known to paste their keys into memo fields and there are both good and bad bots who look out for this as it can enable people to steal your Steem.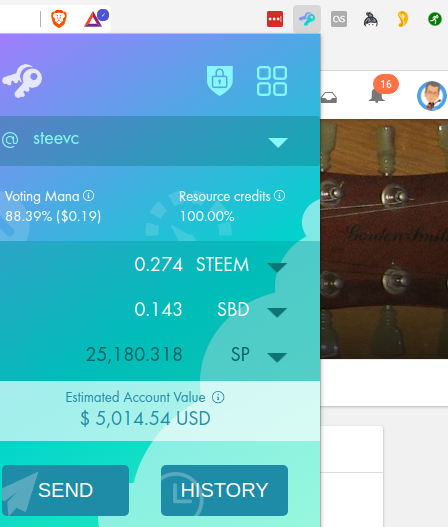 We have editors on the various sites and apps that offer formatting tools if you do not want to enter Markdown codes yourself. I tend to use @steempeak and @esteemapp as both offer more than Steemit.
We do need good user guides to help people get started. Steemit has the FAQ and welcome page, but others may not offer much help. It is often not obvious that the various sites are all running on the same platform. I have long said that they need a common branding (e.g. Runs on Steem) to bring things together. There are lots of helpful posts and videos out there, but it may not be obvious what to search for.
It's not great on a phone
We have to accept that the mobile phone is the primary way most people access the internet these days. We have various apps such as @esteemapp, @partiko (dead project?) and @appics, but it is intimidating to try and compose a long post on small screens. I know some people thing short posts (tweet length) or single images (Instagram style) are not what we need or deserving of rewards, but let the community decide. Those are the ways billions of people communicate.
It's all about crypto
I am not sure this is so true these days. We have a fairly diverse community and many people are not posting at all about technology. You can discuss food, travel, music, comics, literature and even games that do not require a screen.
It is true that the community is small. There are only a few thousand people regularly using the various apps. So it is not appealing to someone who wants to reach a big audience, but this is why I think we need pioneers who can bring an audience with them. A band, Intagrammer or Youtuber could bring over a few hundred fans and shake things up. Those fans would have votes to spare that could get spread around the wider community. I think many of us have had it fairly easy doing our amateur thing and we might make less if professionals got on board, but that could increase the value of our Steem.
It could get really interesting if some brands got on board. For a fraction of what they spend on marketing elsewhere they could buy their way to orca and spread some votes around to build loyalty. I fully expect that some people would object to that and we know of big accounts who have attacked before with whale-level SP. It is a danger they will drive good people away.
It's a home for extremists
The freedom of Steem is what attracts many people and is likely to bring in those who have been thrown off other platforms. That tends to be people at the extremes of politics who tend to offend many. I know @threespeak have reached out to some of these people and some have joined up. They can get some good votes, but one of my friends is turned off by this. It is up to the community to decide what gets rewards, but who is going to downvote those who have a reputation for violence? What if a terrorist group joins up? As above such people could buy themselves serious voting power.
I do not what Steem to be primarily known for such extreme material. It should stand as a platform that is open to all. Most of us do not generally worry about getting censored, but we may find other platforms get more restrictive as they seek to control the narrative. There are many individuals and organisations who live under really repressive regimes who could use Steem to get their message out. It can offer a fair degree of anonymity depending on how you use it.
I would love to see groups like Extinction Rebellion and Greenpeace here. Political parties may be wary depending on what local campaigning laws they have to work within.
We have no control over who can operate on Steem. That has advantages and disadvantages and we have to find ways to make it work.
The quality is low
We have a chicken/egg situation where we lack users, but cannot provide a big enough audience to attract the star creators. This is where we need some pioneers to take a chance on establishing themselves here. Most of us are basically hobbyists, but we have lots of real quality musicians, writers and artists. They are not always the ones getting the best rewards regardless of what effort they may have put into creating their work.
It's run by whales for their own benefit
This did not come up on my Facebook post, but I have heard this opinion expressed many times. It is very true that a few people managed to gain large amounts of Steem in the early days by various means. Some of them did buy it. Some managed to milk the system for years to increase their power. We cannot take away their Steem unless the witnesses cooperated to do that via a hardfork, but I think that is very unlikely to happen as it reduce trust in the platform.
You will see the same few names cropping up all the time on trending regardless of the quality of their posts as they have friends who help them out. That may be good for the ego, but it may not be good for Steem. Of course I support people I know, but most of my voting is manual and I will allocate it where I think it is deserved and needed.
What have I missed?
This is not just me being a moaner. I think we have to acknowledge the issues and find ways to address them. I have responded to my friends, but they have to decide if Steem is for them. I do not expect to be giving up my Facebook account any time soon as some will never move and the privacy settings there are valuable for restricting access. I will share family pictures and stories there that will not go on Steem.
Let me know what you think and Steem on!