I guess some people have already covered enough about this new emerging game. I'm not going to go into the details about this game. For your information, the has not been officially released yet. But based on the demand for people this has been made available for public already. @gerber is the mastermind behind this along with many sharp people in the team.
How I started?
I was having some discussions with @gerber regarding something to do with blocks in Steem-Engine. The discussion was totally off topic but he mentioned about the new game he is currently building and gave me a link to the discord channel. I was totally surprised with that wonderful game concept. When we were thinking about some game concepts in the Neoxian city, myself and Reazul were talking about this concept and we shared our mutual interest in building a virtual city game. After discussing with @gerber, I came to know that he also had a similar concept in mind and to my surprise he made it to reality. He asked me to join the discord server and explore the game.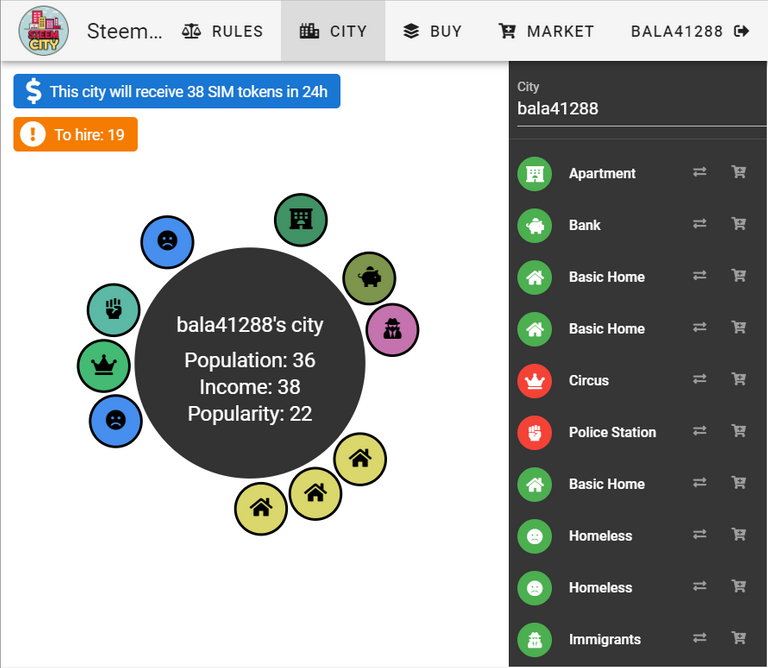 When I joined the discord server, I got myself airdropped with a City with one basic building. I then purchased few more buildings for 4 steem each. I guess I have spent around 24 steems as of now to buy some cards. For now the game is available on discord and some fancy stats can be viewed on discord. Gerber and team is seriously working on bringing a web version of the game which will give us more details about the game.
I'm someone who is always fond of tychoon games. I have played Sim City for several years. Even today I have been playing City Building games on my mobile phone whenever I find time. I'm glad to see a blockchain version of a city building game like this. I don't know how much time I will be able to spend in playing this game but good for the game lovers in my opinion.
He also mentioned that when the web version develops, the game will no longer be playable from the discord. I guess if that happens it means that the game is growing very big. But I hope there will still be options available on discord to check the stats. It is very important to display stats about the game as it is one attractive reason why people play games.
I wanted to build a game like this but I have time constraints. But I'm glad and happy to see someone making my dream live. I hope to work on any similar game in the future. I believe like all other games we already have this will also become a good usecase for steem.
I'm going to keep this post very short not speaking more about the features of the gsme. I guess some people already covered about that. If you are interested to explore this game already, you can join the discord with the below link.