𝐉𝐮𝐬𝐭 𝐬𝐚𝐲 𝐧𝐨. (To self-entitled users that think they don't have to follow the process like everybody else)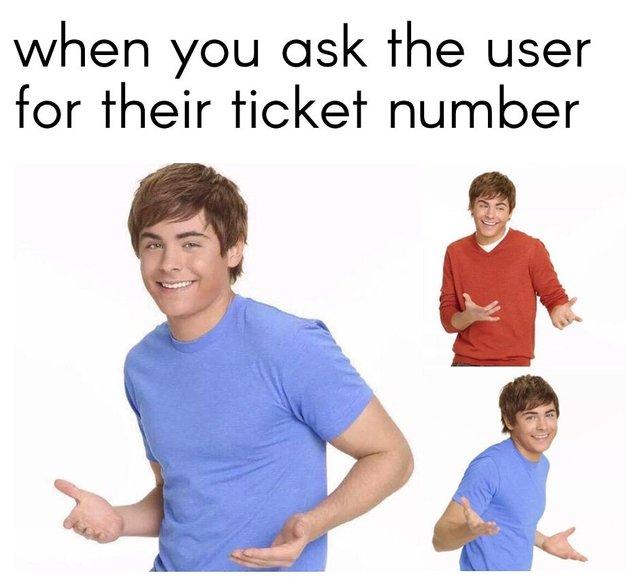 Following text posted to Instagram:
When the user is too lazy to put in tickets and tickets are often the metric businesses use to justify staffing... Do your system admins, engineers and programmers a favor and 𝐩𝐮𝐭 𝐢𝐧 𝐭𝐡𝐚𝐭 𝐝𝐚𝐦𝐧 𝐭𝐢𝐜𝐤𝐞𝐭.
Not like you get anything from them doing the work "off the books". Maybe more time to browse Facebook. Very cool! 👌
#sysadminhumor #programmerhumor #itttttt
#techsupport #troubleticket #memes
#youshallnotpass #withoutaticket #verycool
---
Steem exclusive extras:
Preach!
I share my personal experience / frustration with users in the following comment on @bozz's recent post.
This is relate-able. I've been a server admin for many years and one thing that sometimes annoys me is a user trying to goad me into resolving their self-inflicted PEBCAK errors on workstations.
Sometimes, I'll be nice and try to throw em a bone but, in truth, they don't understand how this tends to be a waste when we have a call center and Tier I / II for those sort of issues.
Also, the ones that try to bypass the process of putting trouble ticket. Made this meme for the occasion.
https://steempeak.com/hive-114105/@anthonyadavisii/re-bozz-2020221t84610201z
Proof-of-Share on the comment ++engagement
https://mobile.twitter.com/Alex_d_281/status/1230867477682413573
#posh
For the uninitiated, PEBCAK = Problem exists between keyboard and chair.
As I've learned in training so have I experienced, the vast majority of computer issues are caused by user error.
Happy to help but sometimes people really make you want to shake your head...
Sometimes a good power cycle is all that is needed. As a courtesy, make sure you try that before sending it to The IT Crowd.
Hope you enjoyed
SteemYaLater will be released this afternoon. First 10 resteems get free backups performed for their Steem blog most importantly the images.