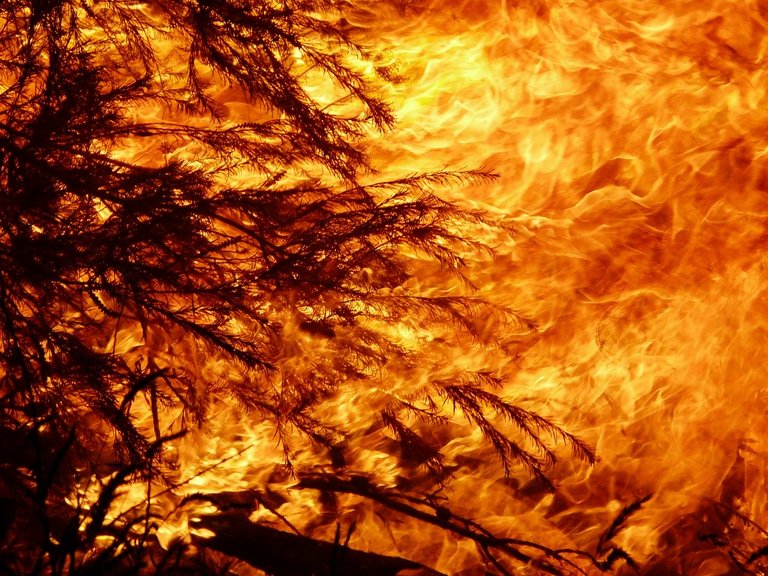 Some of you may know that a vast amount of Australia is experiencing raging wildfires and have done so for several weeks now. I don't know why this season is so bad for fires, but it seems far worse than normal - It's only the start of summer too. src
Hundreds and hundreds of families have lost their homes and loss to stock, infrastructure and wildlife has been catastrophic. Only today I heard that Kangaroo Island, in my own State of South Australia is being evacuated and a couple people have died in the last 24 hours. Over half of it has burned out.
Some 12 million+ acres has been burned out so far. As a comparison the California fires of 2018 burned out 2 million acres - Ours are still burning too. It's bad.
Until now as personal as it has got to me is my city being covered in smoke and a few mates being on the frontline fighting the fires in the Adelaide Hills; Today that changed though.
My sister and her partner live in Sydney; She's safe so that's all good. However her partners parents live in a place called Illaroo, about 165 kilometres south from Sydney and some 16 kilometres from Nowra. They have been under watch and act order for a few days and had the car fuelled and packed ready to leave; Their plan? As soon as the fire-front crossed the Shoalhaven River get the hell out.
Unfortunately their worst fears came to life and the fire skipped over the river and headed their way. Time to leave.
You can see an image from the NSW RFS website below showing the fire near Nowra in dark green. Illaroo sits right at the top right within the fire zone.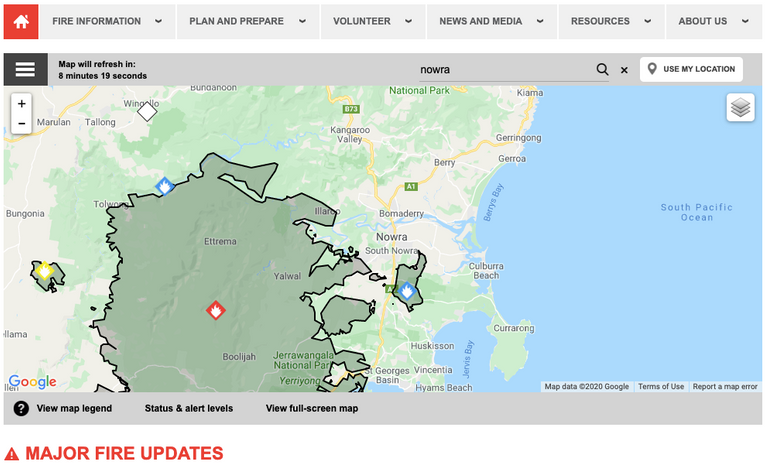 The second image below shows New South Wales in its entirety and the fires still burning there at the time of this post being written. As you can see there's a lot of fires still out of control.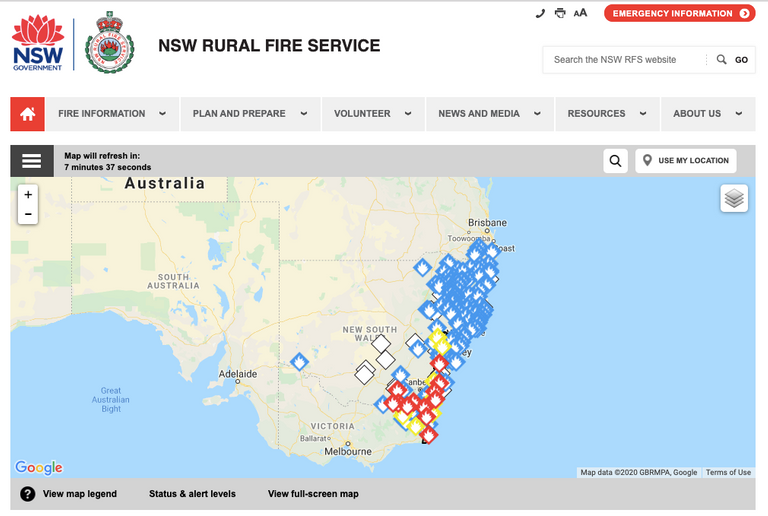 Back to my sisters partners parents...Today they found out that their house has been burned to the ground along with everything they own within it, other than what they had packed in the vehicle. It's all gone. Forever.
They also lost loads of chickens [they are breeders] and 3 horses. They got the dogs but the cat bolted and they couldn't find it. More heartache to add into the mix as if losing the house wasn't enough.
Worse, was that J's dad was out on an appliance at the time [fire truck] and contact had been lost. No one jumped to conclusions however it was a fairly nerve-wracking time. Fortunately a few hours later word came through that he is fine and that, whilst surrounded by fire and in danger, their training kicked in and they made it through. Let's keep in mind these are volunteer firefighters, not professionals. They don't get paid to be there, and whilst they're out saving people's homes sometimes they lose their own, as in this case.
I have an idea about what it feels like to loose everything one has as my mother in-laws house burned to the ground 17 years ago; A fire in which she lost everything except for her pyjamas, dog and purse. It's devastating and even years later affects a person; The possessions from an entire life destroyed all the physical memories and keepsakes...But one won't truly know until it happens to them I guess.
I don't know how they're all feeling right now although my sister is sending a string of messages though to keep us updated. It feels very personal now though, you know, the fires, and I wonder about the thousands of other people affected by them either directly or indirectly.
Aussies are tough bastards, resilient; It's in our nature. However putting myself in the shoes of a person who just lost their house and everything in it...Sort of breaks down the resolve a little. The thing is that we (collectively) will roll out our sleeves and pitch in to help...Except for the assholes deliberately lighting the fires or looting...They deserve to be shot. [Too much you think? Ah well, my blog, my opinion.]
---
Tomorrow isn't promised - Design and create your ideal life, don't live it by default
Discord: galenkp#9209 🇦🇺
---
---
For any looking for more information you can follow the state by State links for the country fire services below.
South Australia
New South Wales
Victoria
Queensland
Western Australia
Tasmania
Northern Territory