Hi there my Steemian friends and followers!
I am currently in my Czech hometown of Opava where I like to go for strolls through the historic center and take photos of some impressive pieces of architecture we have here. Unfortunately, Opava was badly damaged during the Second World War when a number of the city´s most important landmarks were completely destroyed by the bombs but some buildings survived and some were successfully reconstructed. Therefore, Opava can still boast some interesting cityscape.
Let me now show you two shots that I took in the city center. The first one was taken from the Pekarska Street, right in front of the Upper Square.
---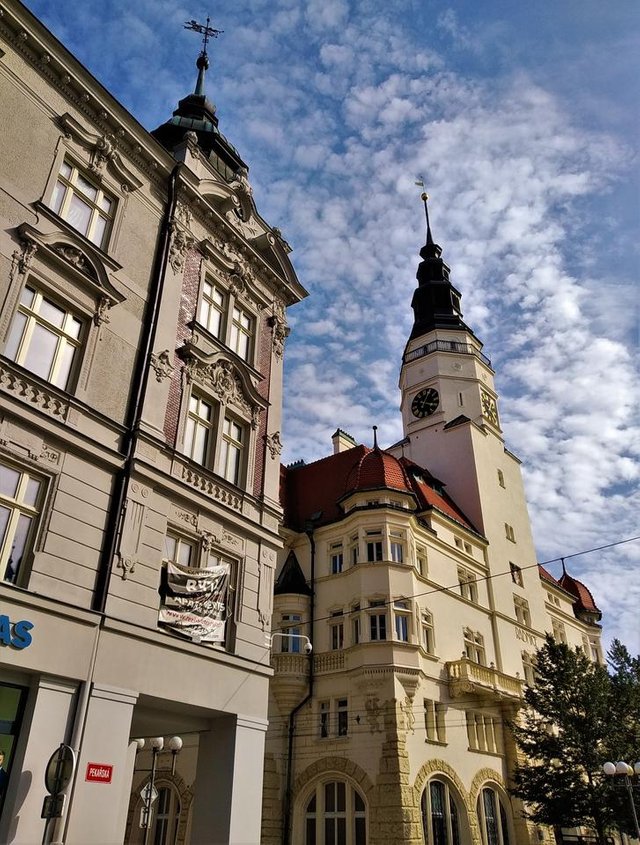 ---
The majestic building on the right is the Opava City Hall. Located on the Upper Square in the historic center of the city, the city hall is also known as the clock tower or the city tower and it is one of the most dominant landmarks of the city. The very origin of the building dates back to the early 14th century when there was a wooden tower standing on the site. In the 16th century, however, the wooden tower was destroyed by a devastating windstorm and it was replaced with a new tower that was made from stone. The current appearance of the building came of an extensive reconstruction in 1903.
---
---
Since 1945, this impressive piece of architecture has been serving as the official seat of the municipal authority of the city of Opava. With a height of 60 m (almost 200 ft), the top of the tower offers some breathtaking views of the city. The lookout is open to public every Saturday from 10 A.M. to 5 P.M.
---
---
---
---
Thank you for visiting my blog. If you like posts about #nature, #animals, #ecology, #crypto, #traveling, #photography and discovering secrets and beauties of the #world, feel free to follow me as these are the topics I mostly write about. Have a wonderful day and keep on Steeming! :)