ENG
We start again with my underground tour to the Moscow metro stations.
We had left at the third station, after my stop due to too many people I resumed around 8:30 pm in the evening, there were still some people but not the river of people in the morning.
Obviously the Moscow metro is a means of transport as well as a real museum, so even if I get angry from time to time for the chaos, I had to opt for a compromise.
---
ITA
Si ricomincia con il mio tour sotterraneo per le stazioni della metropolitana si Mosca.
Ci eravamo lasciati alla terza stazione, dopo il mio stop dovuto alla troppa gente ho ripreso verso sera, intorno alle 20:30, c'era ancora qualche persona ma non il fiume di persone del mattino.
Ovviamente la metropolitana moscovita è un mezzo di trasporto oltre che un vero e proprio museo quindi, anche se ogni tanto mi arrabbiavo per il caos, ho dovuto optare per un compromesso.
---
PLOSHCHAD REVOLYUTSII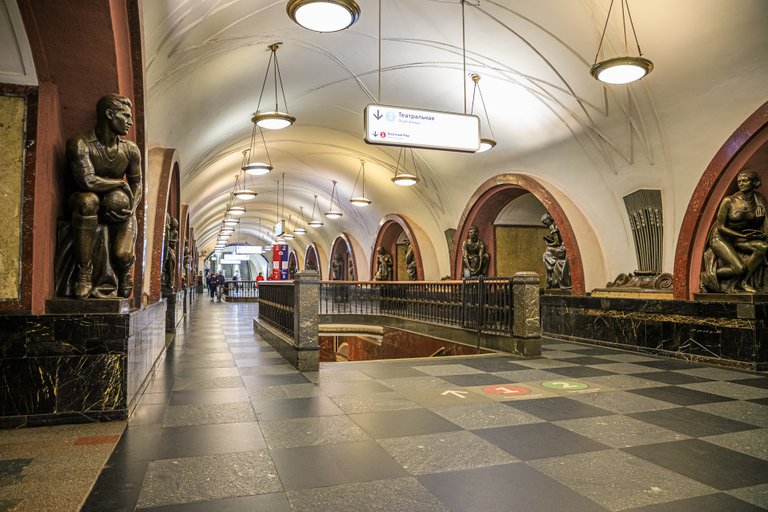 ---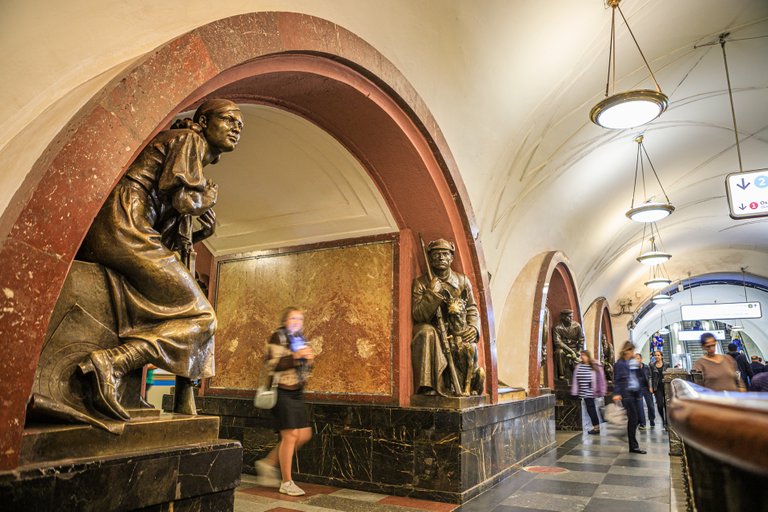 ---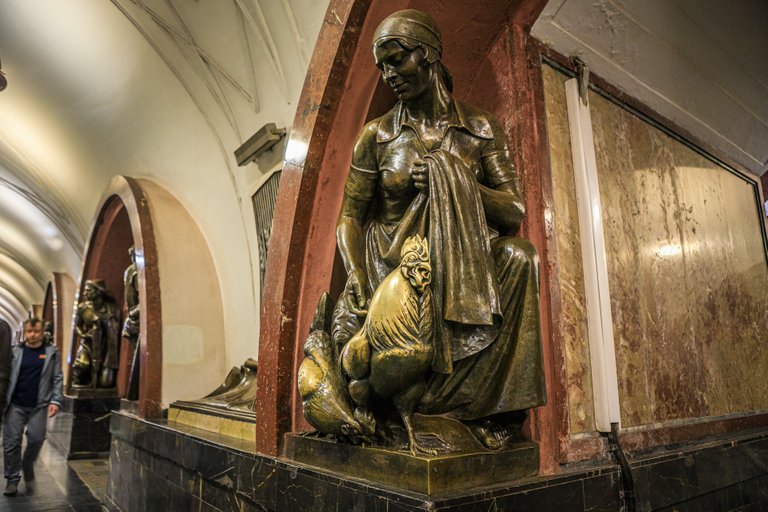 ---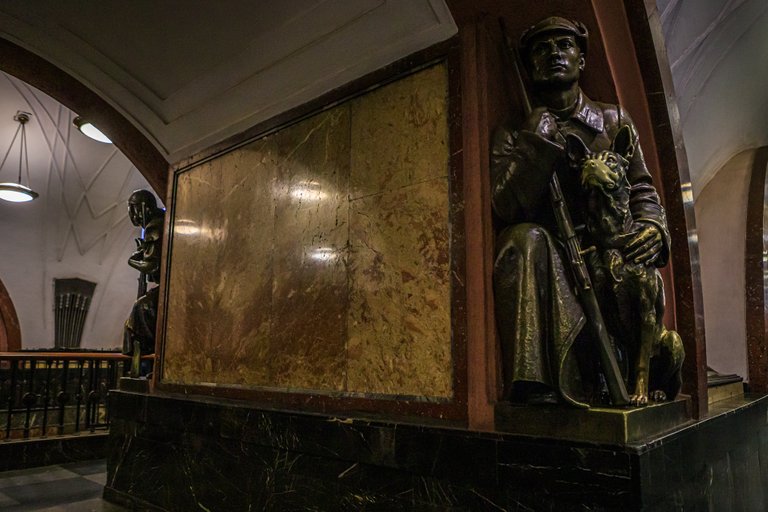 ---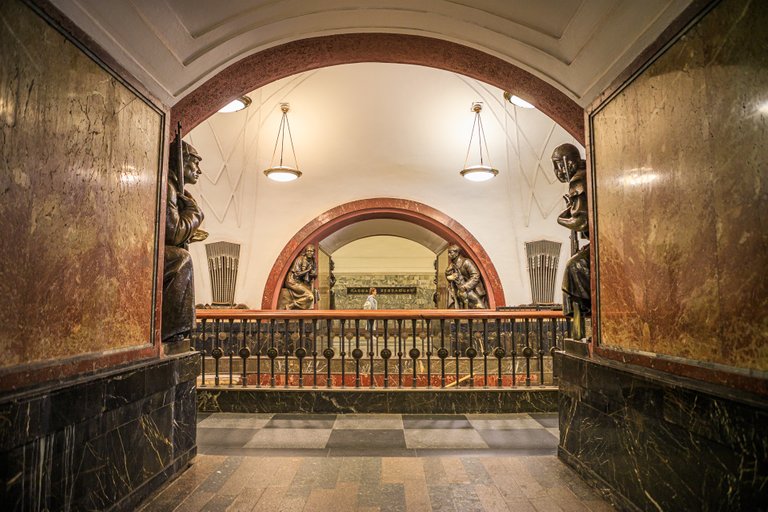 ---
ENG
If you like sculptures this is the station for you. The statues, all entirely in bronze and life-size, represent the people and their tasks during the revolution.
The most famous statue is that of the border guard with the dog, the students touch the dog's nose to get a bit of luck during their exams.
---
ITA
Se vi piacciono le sculture questa è la stazione che fa per voi. Le statue, tutte interamente in bronzo e a grandezza naturale, rappresentano le persone e le loro mansioni durante la rivoluzione.
La statua più famosa è quella della guardia di confine con il cane, gli studenti toccano il muso del cane per avere un po' di fortuna durante i loro esami.
---
TEATRALNAYA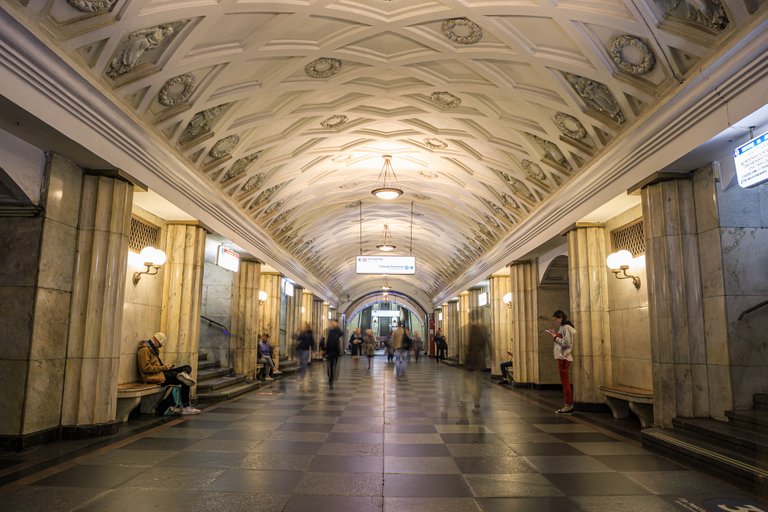 ---
ENG
Until some time ago this station had another name, it was called: Ploshchad Sverdlova, in honor of Lenin's right hand man.
This station is dedicated to the theater, as can be deduced from the decorations.
The porcelain figures set represent the seven Soviet republics, all dressed in traditional clothes.
---
ITA
Fino a un po' di tempo fa questa stazione aveva un altro nome, si chiamava: Ploshchad Sverdlova, in onore del braccio destro di Lenin.
Questa stazione è dedicata al teatro, come si deduce dalle decorazioni.
Le figure di porcellana incastonate rappresentano le sette repubbliche sovietiche, tutte vestite in abiti tradizionali.
---
MAYAKOVSKAYA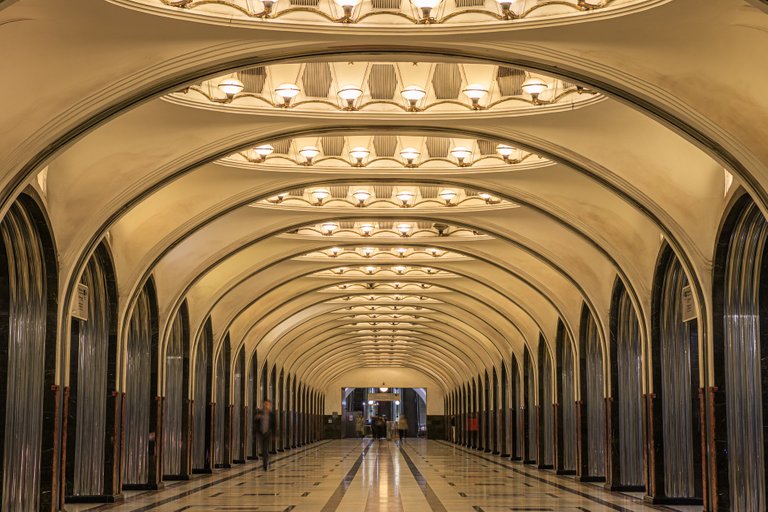 ---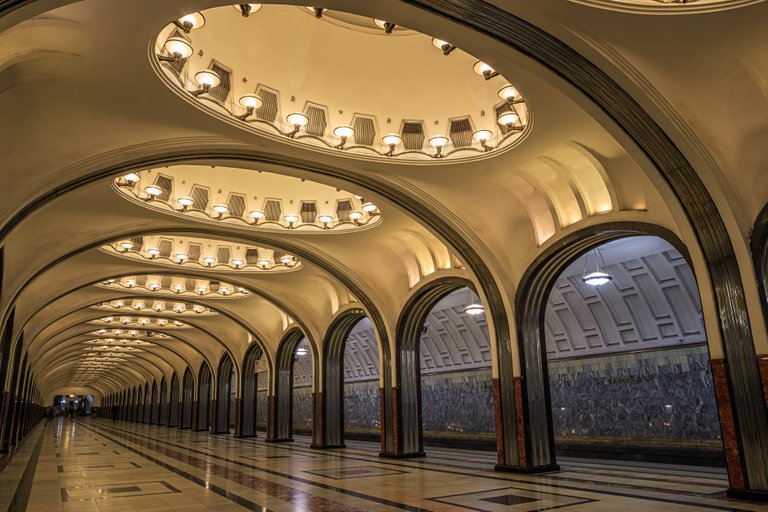 ---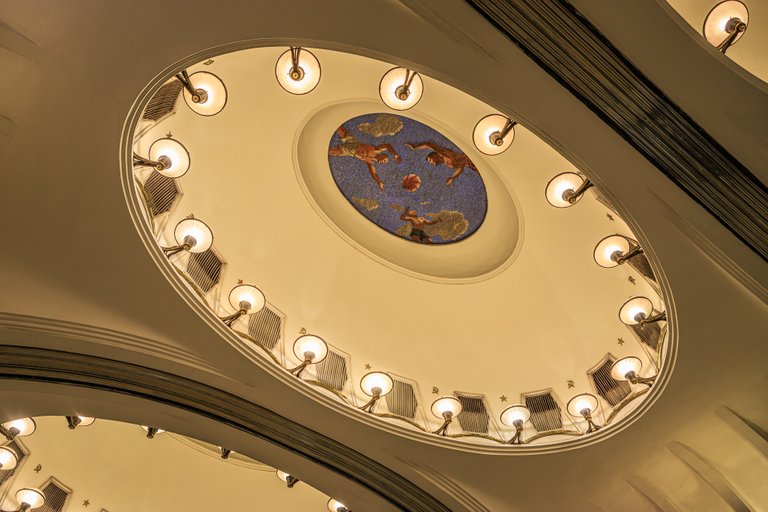 ---
ENG
This is undoubtedly the metro station that I appreciated most of all and in fact it is also the one I like most of all. The Mayakovskaya station was awarded in 1939 at the Universal Exhibition in New York.
The central pink rhodonite corridor is built in art deco style and its columns are all made of steel. On the ceiling you can admire various mosaics inspired by the sky theme.
This station is 33m deep and was used during the Second World War as an anti-aircraft shelter.
---
ITA
Questa è senza ombra di dubbio la stazione della metropolitana che ho apprezzato di più in assoluto e in effetti è anche quella che piace di più in assoluto. La stazione Mayakovskaya è stata premiata nel 1939 all'Esposizione Universale di New York.
Il corridoio centrale in rodonite rosa è costruito in stile art déco e le sue colonne sono tutte in acciaio. Sul soffitto si possono ammirare svariati mosaici ispirati al tema cielo.
Questa stazione è profonda 33m e fu utilizzata durante la seconda guerra mondiale come rifugio anti aereo.
---
ENG
I hope that this photographic journey to the depths of the Russian capital was also to your liking, we will hear from the next episode to learn about other stations of this artistic underground.
---
ITA
Spero che anche questo viaggio fotografico nelle profondità della capitale russa sia stato di vostro gradimento, ci risentiamo con il prossimo episodio per conoscere altre stazioni di questa metropolitana artistica.
---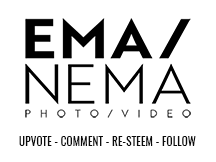 ---
View this post on TravelFeed for the best experience.