Before we even boarded the plane to get to Mexico, we were already overwhelmed by the array of excursions available in the Cancún and Riviera Maya region of Quintana Roo. With only four full days and an entire resort's worth of all-inclusive amenities to enjoy, I was extra picky about what we wanted to do on our two designated days off-property. Xel-Há and Xcaret came up multiple times in conversations with friends stateside— they just loved both of these parks when they visited Cancún!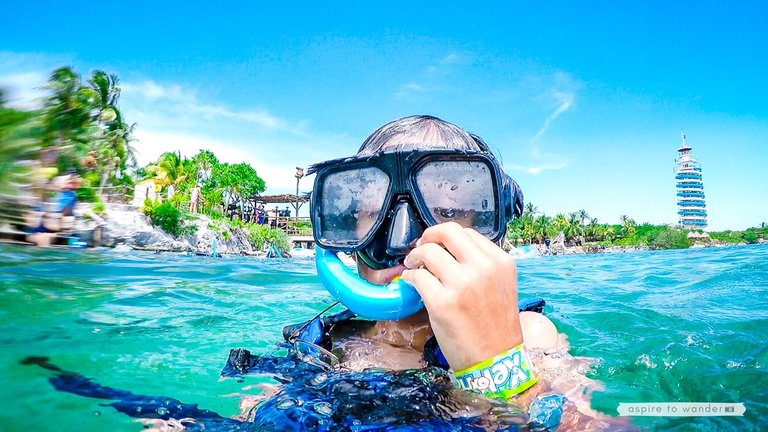 A Taste of Tulum: Visiting Xel-Há
The question we had going into this experience— how manufactured was this excursion going to be, exactly? We'd heard people liken Xcaret (Xel-Há's predecessor and parent company) to a Disney-like experience. Like Disney but different, they'd assure, which isn't quite the vibe we were looking for. With a four-year-old in tow, we ultimately decided on Xel-Há. While Xel-Há has been specifically noted to be way more laid back, we still weren't quite sure what to expect.
---
Heads up! This is a modified (shortened) syndication of a post originally published to my travel blog, Aspire to Wander. You can read the original and see more photos here: Destination Review: Our Visit to Xel-Há in Quintana Roo, Mexico
---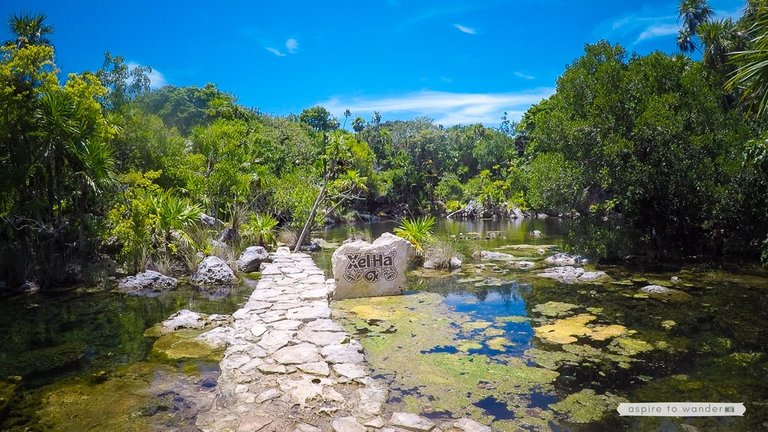 Hidden Wonder in the Riviera Maya
Then, wow. Hidden Wonder is right— this oasis of a natural aquarium almost makes you forget that you've paid a pretty penny for the privilege of visiting the park. The experience will cast away all your notions of what a theme park is and should be.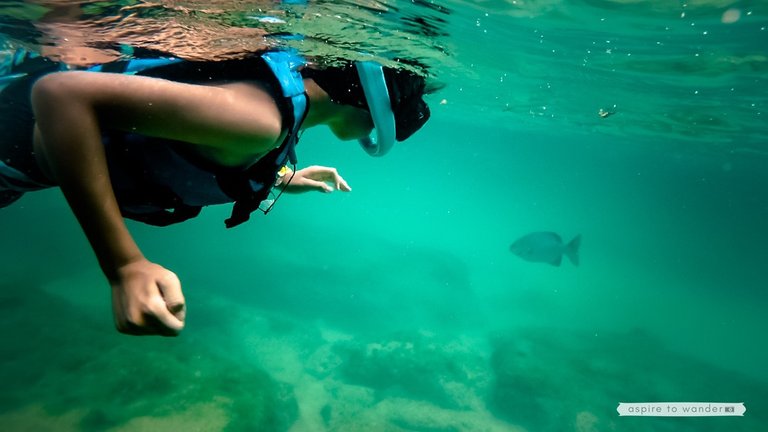 The grounds are jaw-droppingly gorgeous, and I kid you not— the clear teal-blue waters are things out of dreamscapes. Once in the park, all the focus is on sensory exploration and your enjoyment during dining, snorkeling, and other park experiences. Xel-Há employees were exceedingly friendly and wonderful throughout. We felt every team member we encountered cared about customers and their own roles— from the locker room attendants to the restaurant servers, to the photographers, and everyone else that keeps the place running!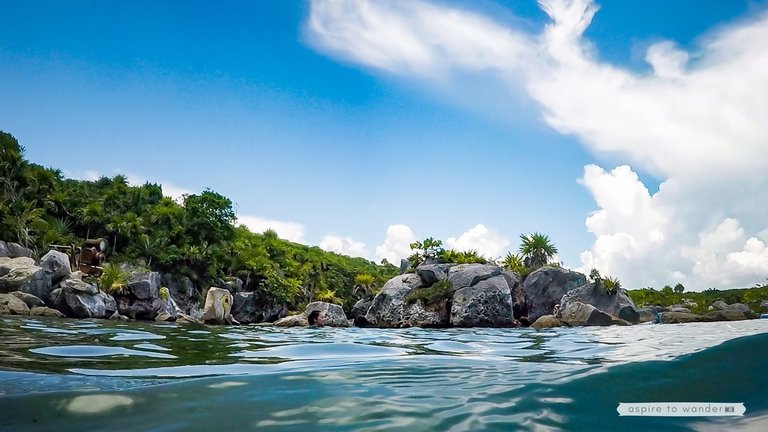 Xel-Há Park and what we liked
Xel-Há is laid out quite thoughtfully, and the grounds are super easy to navigate. It's incredibly family-friendly, and it's clear that an immense amount of experience-focused planning went into every single detail at the park! The park is designed around a beautifully clear and calm inlet, which has multiple entry points for visitors to swim and snorkel.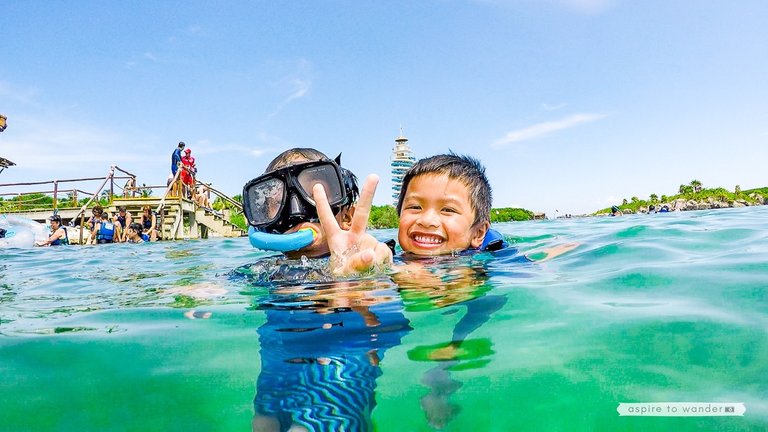 Comfort stations are conveniently located throughout the park, and visitors are also presented with many opportunities to pick up souvenirs and watersports essentials like sunscreen and bathing suits (though why you'd venture there without a bathing suit, I can't tell you).
Automatic photo stations dot the park, so committing memories to digital film is as simple as a scan of your bracelet. I didn't purchase the photo package in advance, so when it was time to go, we paid $100 USD for all the images before we exited. You get a few dozen bucks shaved off when you buy the package in advance. I wish we took advantage of the cameras and had more family photos taken with the automatic cameras and park photographers!
Snorkeling equipment rental is included with entry, and you even get to keep the snorkel as a souvenir, which my kids loved. (Sorry, masks, fins, and the PFD life vests must be returned!)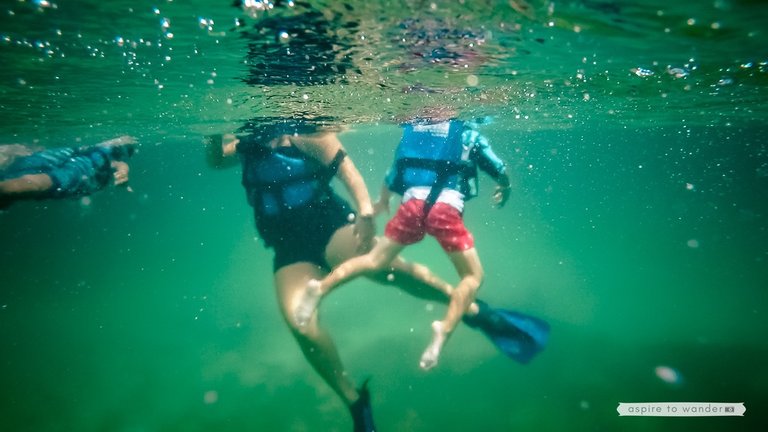 As laid back as the park is and as unobtrusive the employees are, they don't mess around with safety here. Life vests are required when swimming, and yes, they do take that seriously. We witnessed a lifeguard jump in to enforce the life vest rules when a group of vest-less folks failed to respond to repeated attempts to get their attention. The lifeguard used a very loud, very shrill whistle.
In addition to the inlet, there's also the river to float down, a few cenotes (though none to swim in unless you count where a popular rope swing is located), and some very well-kept winding trails to explore. We opted out of any attractions requiring an extra fee (like the swim with dolphins activity) but on our way out, we got to catch the dolphins put on a little impromptu show as they played with the trainers and jumped out of the water repeatedly— a real treat to see! The park had plenty to keep us busy without adding on the premium activities, so I didn't feel like we missed out on anything. Note: Kid2 would disagree and say he did miss out. He saw the sign for the dolphin swim and asked me why I hadn't asked if they were interested in that. Come on, kid.
At Xel-Ha, hammocks and beach chairs abound, so you're never more than a few minutes from a relaxing place to lounge.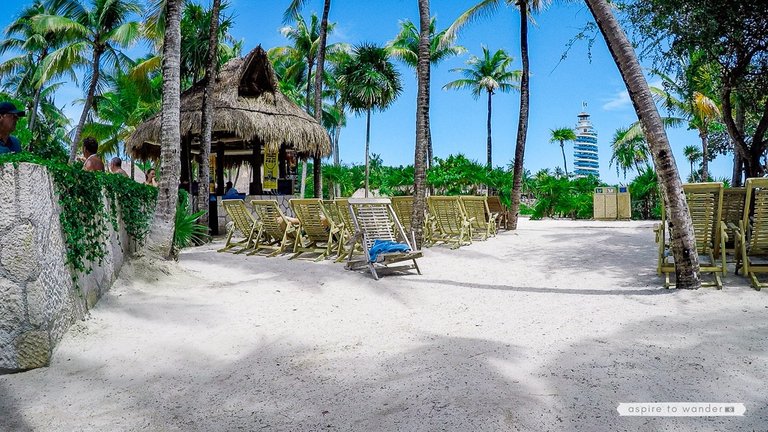 Most of the photos we got on our GoPro are from us floating about and snorkeling within the clear turquoise waters. It was just beautiful there, and swimming among the colorful fishes was such a delight for the kids, especially kid2! We resorted to bargaining just to convince him to take a break from snorkeling so we could eat lunch.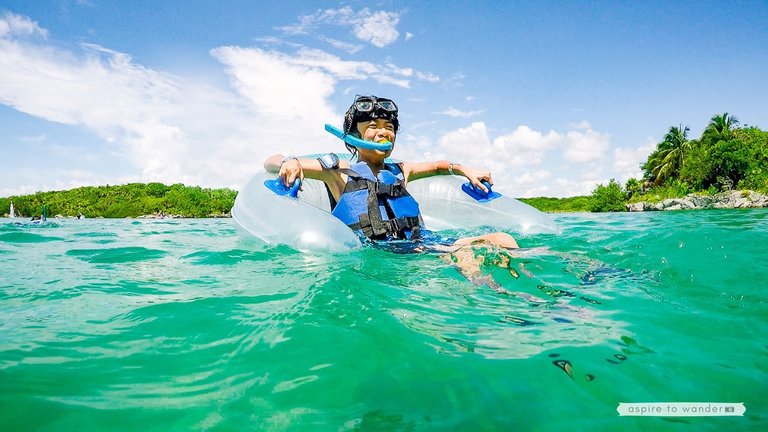 Did I mention that food is included, too? Yup— you could quite literally arrive there at opening, then proceed to eat breakfast, then second breakfast, early lunch, late lunch, then early dinner before the 6pm closing bell… and it's all included. (Pace yourselves, folks!)
Visitors will find four restaurants at Xel-Há, each with a different theme. We ate lunch at the one featuring traditional Mexican fare. The chicken molé and horchata were the best I've ever tasted anywhere, hands down! The husband definitely appreciated the included beer with his meal.
Final Verdict
Eat your heart out, Disney. Just kidding, I love everything Disney, but this was a different type of experience altogether.
Xel-Há was incredible. From the views and wildlife, to the snorkeling, to the food— simply awesome. And for all that's included, it's a tremendous value, especially for families. 10/10, would do again, for sure.
Thanks for the memories, and thanks for the smiles. Until we meet again, Mexico! Next time we'll make room for Xcaret and Xplor, too.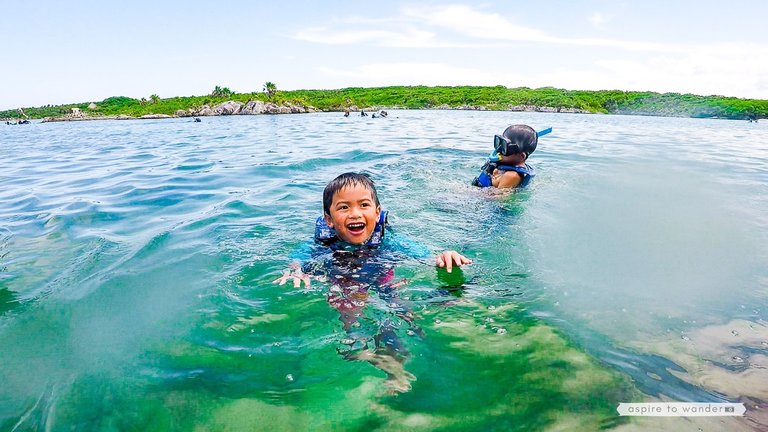 ---
This is an abbreviated version of a blog post I originally published to my personal travel blog in September 2018. For the full post + more photos, head here.
---
camera info
GoPro Hero5 - stills pulled from video footage
hello there
p.s.
This post may contain affiliate or referral links. That means if you click through and complete an action like registration or making a purchase, then I may get a commission or referral credit - at no extra cost to you.
---
View this post on TravelFeed for the best experience.