My hometown is settled in picturesque surroundings of Poloniny National Park and Vihorlat mountains. Don't get confused with the word 'mountains' as it's more hills in my opinion. You could not compare it to other mountains in Slovakia or other countries.
I have always enjoyed going to the forest and as we lived just a few minutes away from the hills I went there very often. I remember going there almost every day when I was a child. Mostly, we went with my friends from school alone and of course we didn't tell our parents where we were heading. We were so brave! Or at least this is what we thought at that time. Now I know that we took many risks but you don't think about it as a child. I wouldn't be so 'brave' nowadays.
Once, we walked up the hill and wanted to eat out snacks on a nearby meadow. This was the place that we visited many times. It was peaceful and we had a nice view of our city from this particular spot. We were walking on a path and suddenly there was a harmless snake in front of us. We were just little girls so what did we do? We started screaming and running back down, so that it doesn't catch us. I have never run this fast in my entire life. It was such a big thing that I remember it even 25 years later. Poor snake, it was probably frightened to death!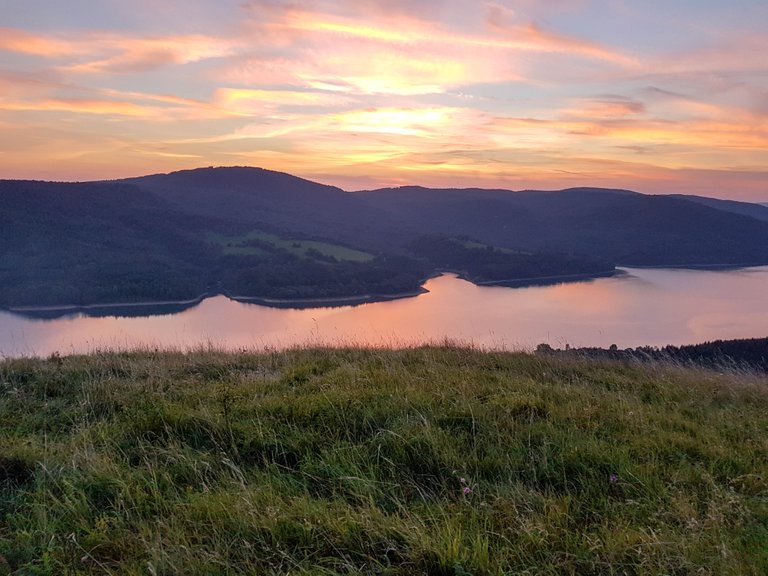 It's not only me in the family who likes nature. My cousins like hiking too. Last time when we went to Slovakia (a few months ago), they suggested to go camping. I would probably be very excited 10 years ago but today I very much prefer my bed to a tent. But at the end we agreed and picked up the place. We decided to go to the nature reserve Gazdoráň which lies right next to the water reservoir Starina.
The nights were getting colder, so we had to pack many things to survive the night. We came by car, so in the worst-case scenario we could walk down the hill and drive back home. But we didn't do it and managed to stay there.
I'd like to tell you some details about our trip...
We arrived in the afternoon and had to walk for about an hour to the place where we could make a campfire as it's not allowed everywhere. You need the fire not only against the cold but as protection against wolves and bears too. There is a large population of these animals here. I thought that I would never fall asleep here.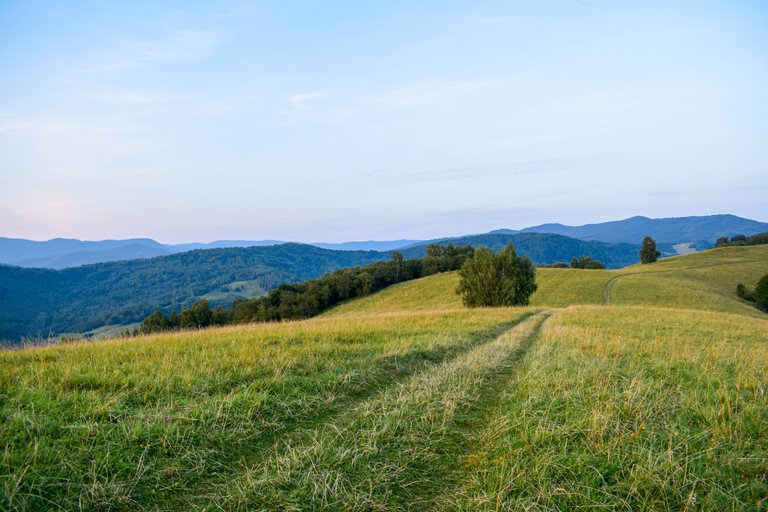 After we arrived, my husband and cousins started to collect wood for the fire. They are all gentlemen and I could enjoy the views without moving a finger. Well, I was responsible for the food, but this is my passion, so I didn't mind.
The sun started to set down and the sky was changing colors quickly.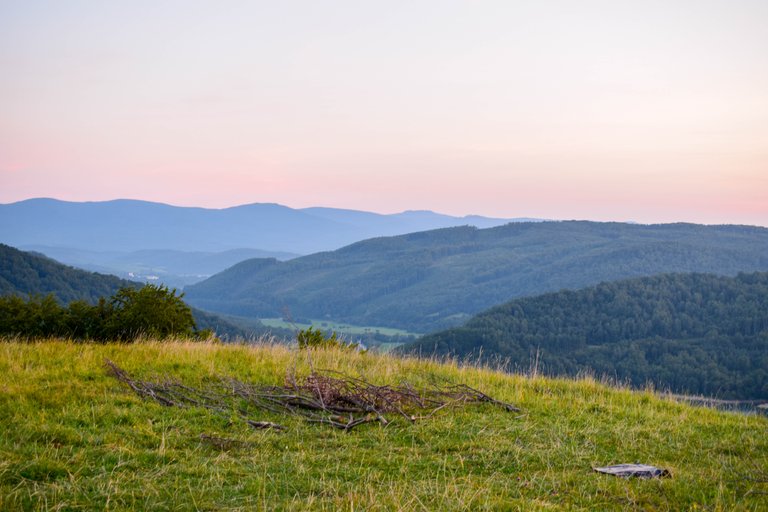 It was getting more and more beautiful. Luckily, we already had the fire as it wouldn't be much fun making it when it's dark.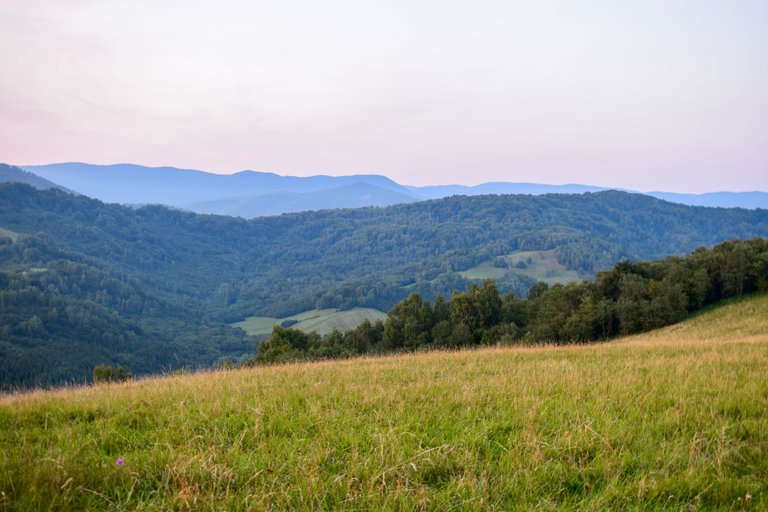 Starina is the largest reservoir in Slovakia and it was constructed in 1981 at the headwaters of river Cirocha. It created a painful memory for people who lived there at that time as 7 villages were destroyed due to this construction. It were Starina, Dara, Ostružnica, Smolník, Ruské, Veľká Poľana and Zvala.
My father's family come originally from here and my grandma told me that they were forced to leave their homes. Some families lived there for generations and suddenly they had to leave the region and start a new life somewhere else. They were supported by the government, but this change left a mark in their souls as most of them didn't want to move.
These villages were submerged beneath the water...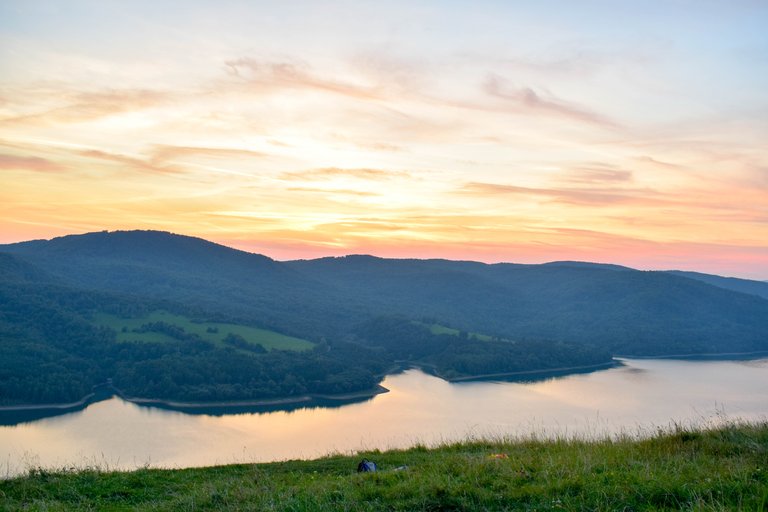 It's getting darker...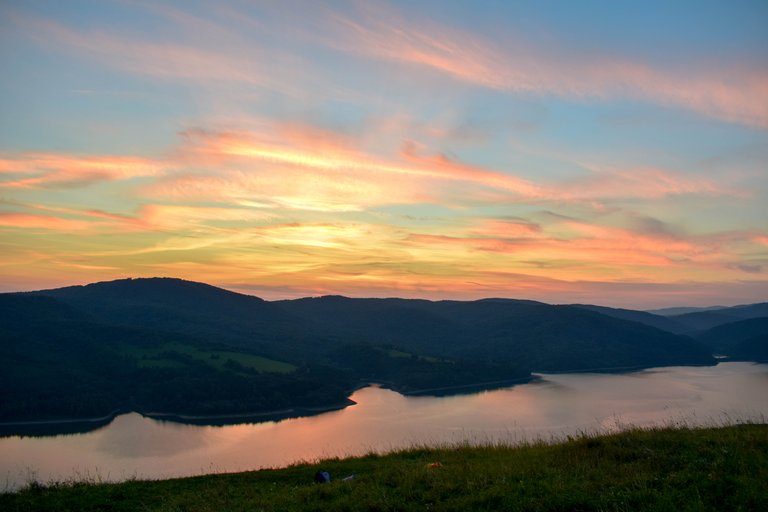 I forgot how it was to sleep in nature. When I was younger, we went camping regularly and I remember that I loved to make food on fire. Today, it's a little bit different as I don't eat meat anymore but there are still delicious veggies that you can put on grill and enjoy. We had a great time and were slowly getting ready to 'bed'.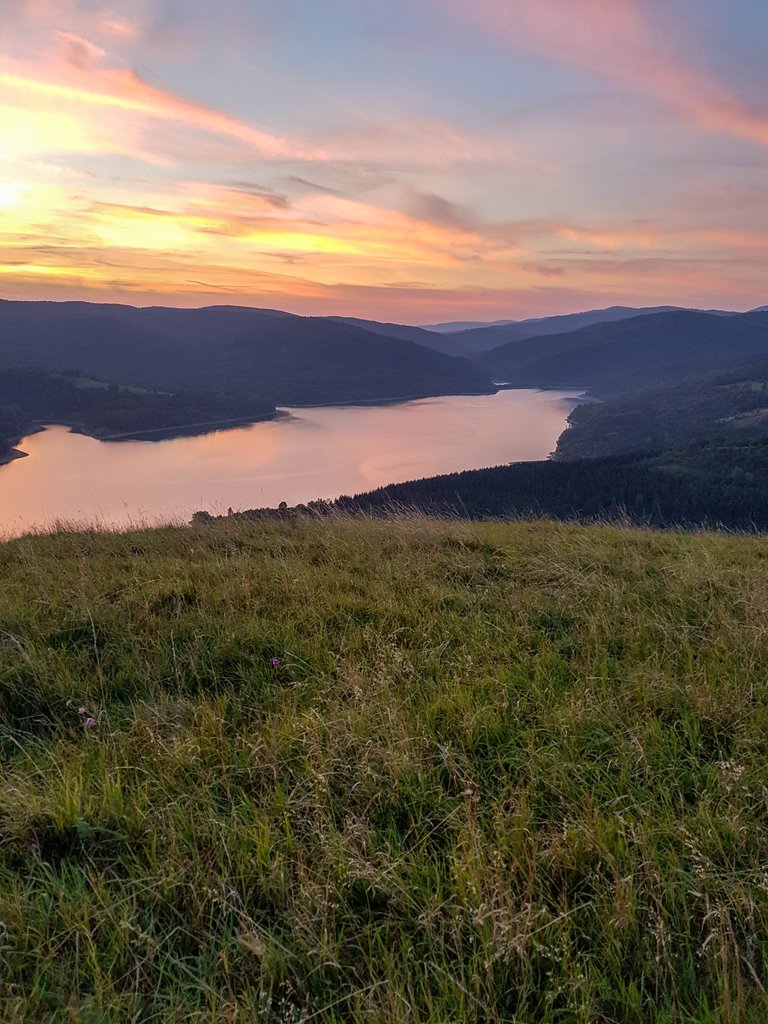 ---
I forgot that it was not very comfortable to lie on the ground but it was all worth the view!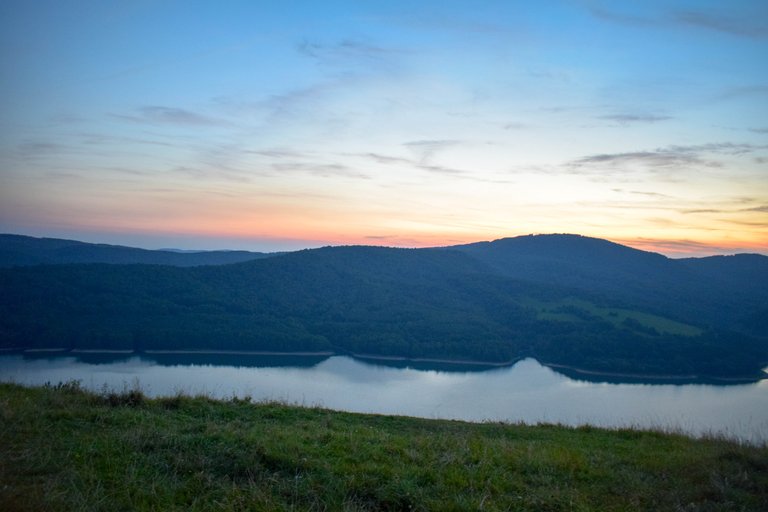 And in the morning we woke up to this!
We were 5 people (me and 4 men) and everyone was standing guard in turns. Well, everyone except of me. In the evening I could hear wolves howling somewhere very close to where we were. My cousins were convincing me that they would not come closer to us because of the fire but I had to put earplugs anyway as I wouldn't be able to fall asleep.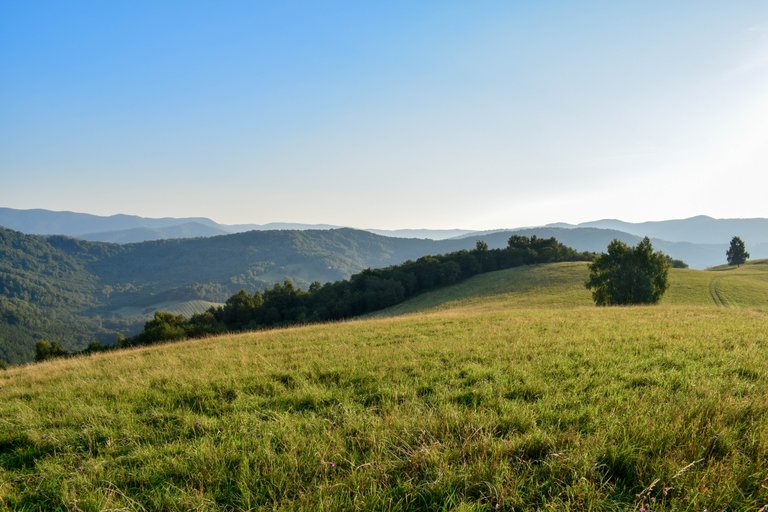 We didn't have much food left, so we collected our stuff and walked back to the car.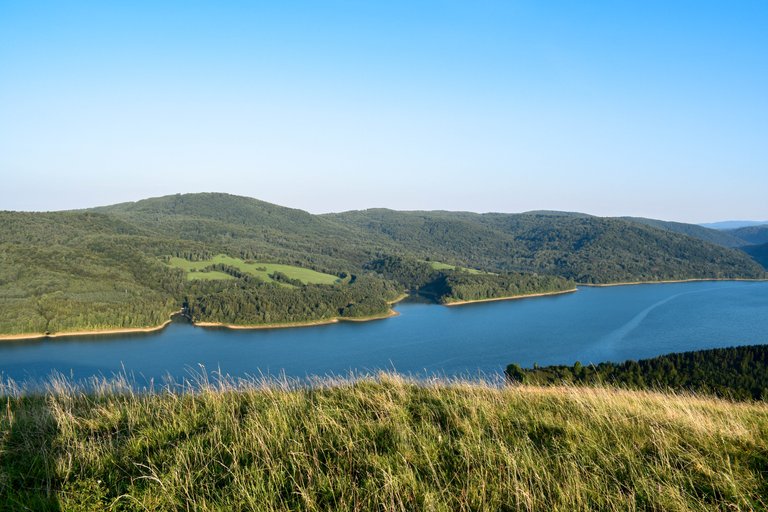 It was nice to be there in the morning. I was feeling fresh and ready for the new day. I mean mentally fresh as physically I didn't feel that great. It's still better to sleep on bed.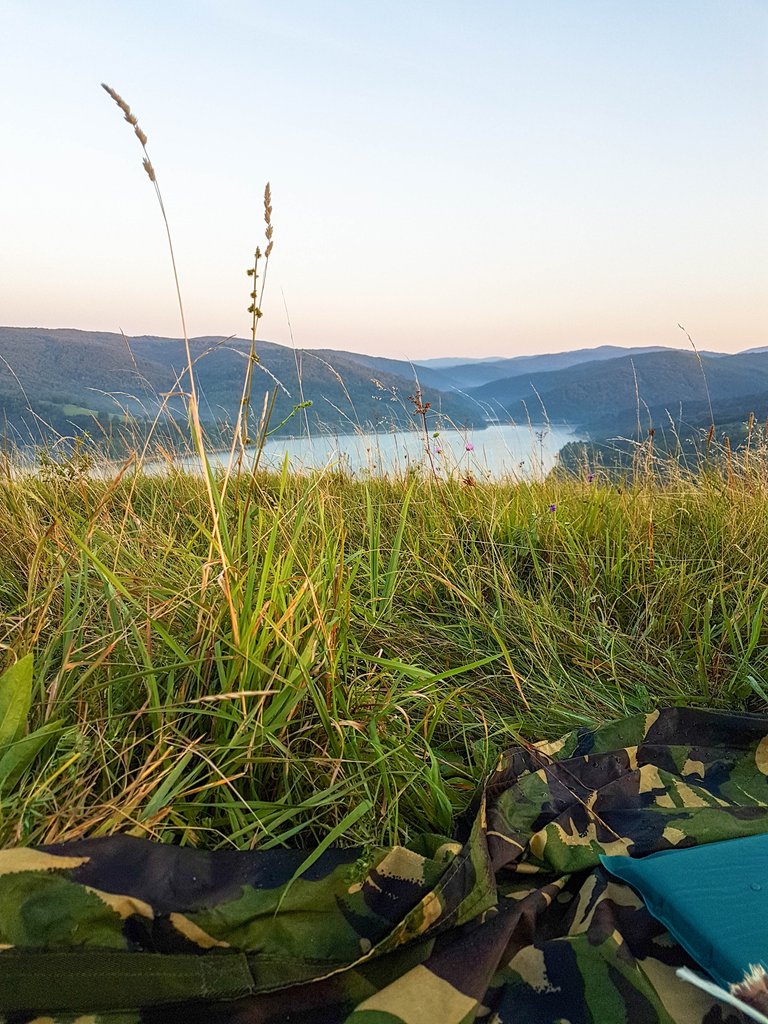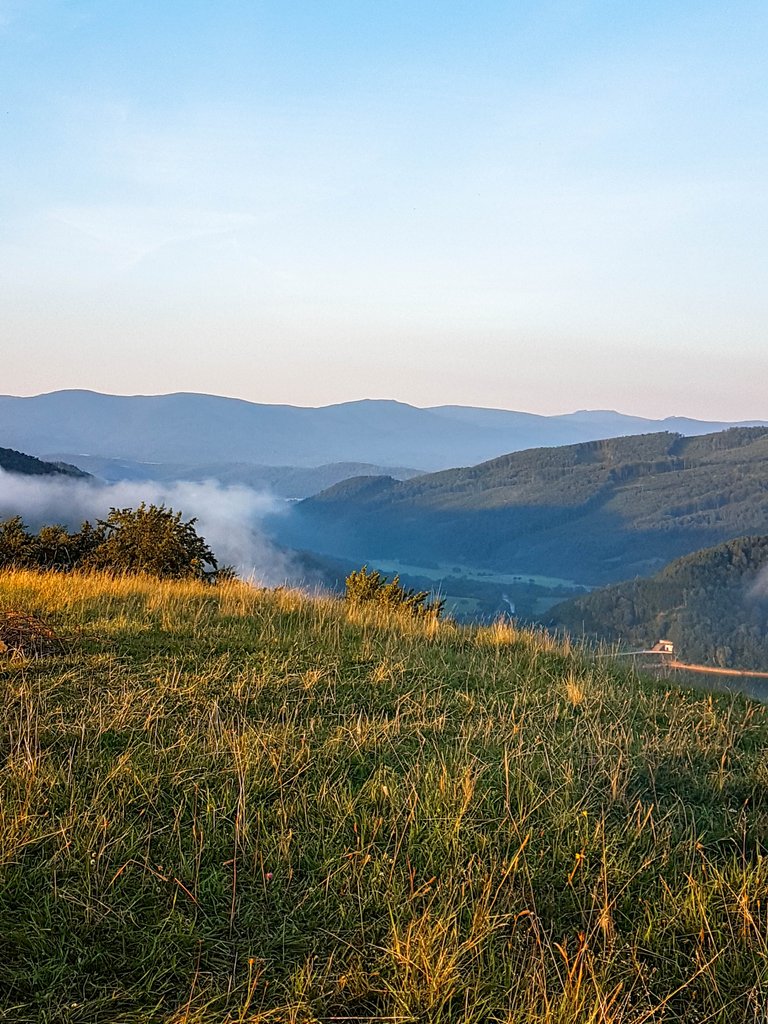 ---
The other day we also visited the water reservoir.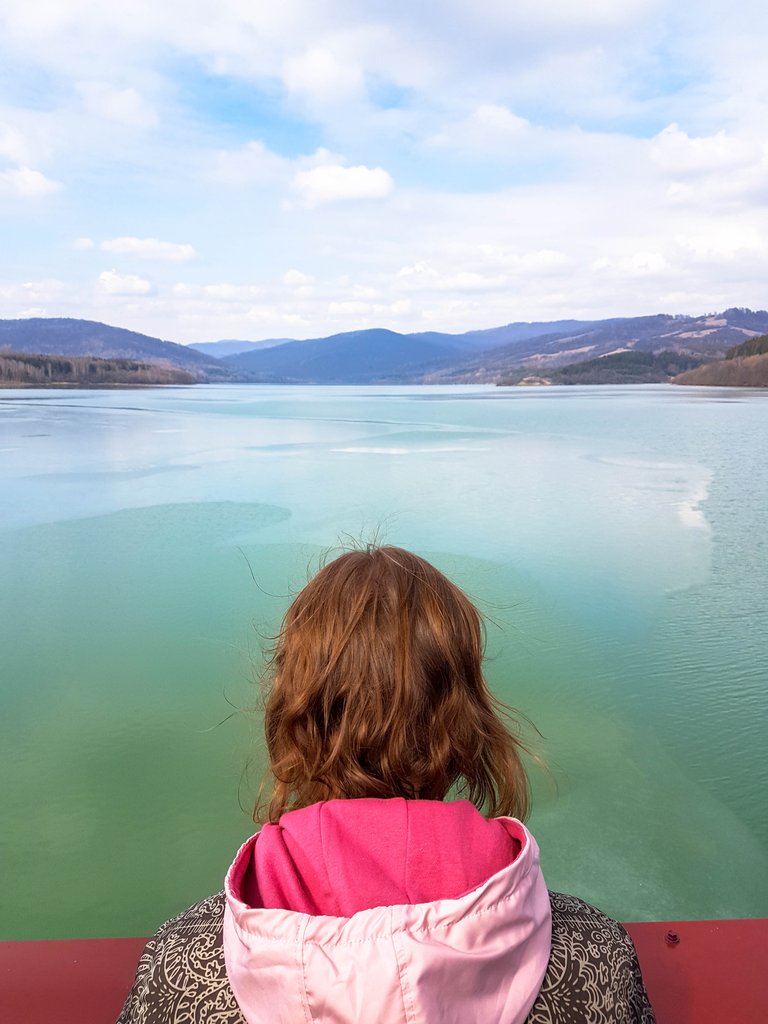 There is a tunnel beneath the water which brings you down to the construction. I don't remember how many stairs there are but believe me when I say that it's many. First, you walk deep down and then up to get to the platform. When you stand on the platform you might think about the safety of the reservoir. In case of any complication, it would be possible to drain the dam in 20 days. If the dam broke, a 6 to 7 meters tidal wave would hit Humenne within 2 hours. Humenne is about 30 km away from the dam, so you can imagine how much water there is. Let's hope that this will never happen.
To stand here is such a great experience! You're standing in the middle of the water reservoir and there is nothing around you but crystal-clear water. I have experience this already twice and I hope that I will have a chance to go there again. It's normally not open to public but every now and then it opens its doors.
Thank you for visiting!
Cheers
---
View this post on TravelFeed for the best experience.