Hi All,
Some Steemians
questioned
me about the
sustainability of the TRENDO Token project
, so I decided to
highlight few points
that might worthy for every person who staked, invested and willing to invest on this project.
First of all, I would like to say, I am
not willing to compare
TRENDO with other STEEM-ENGINE based token projects which have or haven't Tribes. TRENDO has it's
uniqueness
as a Scot Token and we are using
Spiral System Development Methodology
with this project. Therefore, please don't believe what we
delivered so far is the final products
of TRENDO Token project.
---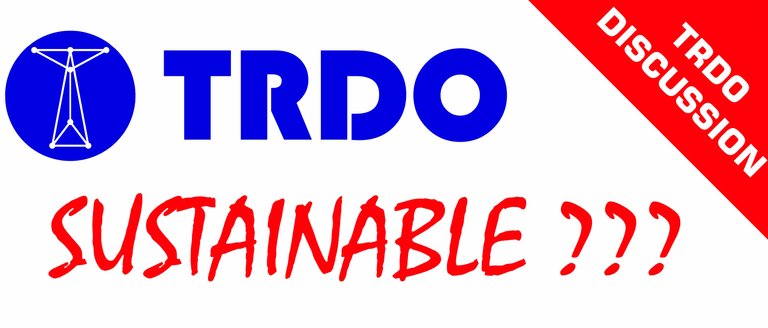 ---
What Can Be The Weaknesses of TRDO Token Project?
Sometimes you might have more suggestions to add on this topic, so you can
write down them at the comment section
of this post as well. According to the Team TRDO, those are the weaknesses of TRDO Token project when comparing with other Scot tokens:
No Tribe : TRDO Token project has no Tribe / Nitrous.
No Miner Tokens : Most of Scot tokens have ability of mine via their miner tokens, but TRDO has no miner tokens.
Higher Market Supply Comparatively Some Tribe Tokens : TRDO Market Supply already passed 2 million tokens. It's a weakness for our token price.
Simple Algorithms : TRDO has less complexity comparing to other Scot tokens.
Not Based On Vote Power : You can't reward TRDO by voting contents.
Spam Comment Section : TRDO comments are looks like spammy.
---
Can We Use Those Weaknesses As Opportunities?
Yes, TRDO Token project already using those weaknesses as opportunities of the Token project as follows:
No Tribe as an Opportunity : Trendo is not a tag based token project. We are at your comment section. We are at everywhere, under every quality content. Therefore, "No Tribe" becomes an opportunity for us to reward every quality content.
No Miner Tokens as an Opportunity : What Miner tokens can do? You can do the same thing by staking TRDO Token. Yes you can mine TRDO by staking it, the same scenario you are doing with Miner Tokens. But with our future projects, you can use TRDO Token as Miner token of them. Don't you feel this is an opportunity?
Higher Market Supply Comparatively Some Tribe Tokens : Yes we have corrected this by Burning TRDO Tokens. Now you can check our Circulating Token Supply to get a clear idea.
Simple Algorithms as an Opportunity : We do things simply and with less complexity, but concern the quality of the delivery as well. Therefore, we don't want to work with complex algorithms, but we do exact same job by using Simple solutions which might be easy to understand to our Stake Holders and Investors too.
Not Based On Vote Power as an Opportunity : How many of you like to share your Vote Power with quality contents in different Tag based Tribes? I think Vote Power is the most precious thing here. But with TRDO you won't concern about your VP, you can use your Comment section to reward quality contents and also you could earn Curation as well. Opportunity isn't it?
Spam Comment Section : Yes, TRDO rewards are at your comment section, and we are trying to optimized the content of the reward comment.
---
What We Already Delivered?
Here you can see what are the features that we already delivered with TRDO Token Project:
TRDO Mint - Minting and sending tokens from Token Owner account @theguruasia to our Main Project account @trendotoken - [Process Daily].
TRDO PoS - Distributing Stake rewards to TRDO Stake Holders - [Process Daily].
TRDO Stake Based Comment Bot - Rewarding TRDO via your comment call - [Process Real-Time].
TRDO Voter - Curating quality contents by authorized comment commands - [Process Real-Time].
TRDO Bounty Bot - Airdrop bounty rewards - [Process Once].
---
Next Deliveries?
TRDO Stake Based Comment Bot Version 1.1 - Comment rewards will share hourly and this might improve to 3 days time period like STEEM share rewards in 7 days time period with upcoming versions.
Moving to Mongo DB - We are still works with file based data collection, that experienced lots of buggy and not easy to import with our upcoming TRDO projects. Therefore, we are planning to move our scripts to Mongo DB solutions soon.
TRDO Delegation Bot Version 1.0 - We already delivered you TRDO Voter Version 1.0, now we are planning to add delegation based TRDO distribution with that Bot as well.
We have few more projects to deliver under TRDO Token, then you might see our newest products which based on new set of Tokens that use TRDO as their Miner token. Don't be panic and think that we deliver the final product. TRDO is not that type of project. We improve things step by step. And we concern quality of the project majorly.
We don't ask your donations to do improvements. Yes we lack with funding, but we are not that cheapy. We delivery you products which has high quality.
---
theguruasia at TWITTER.COM
theguruasia at YouTube.COM
theguruasia at FACEBOOK.COM