My favourite gadget is the iMop. It has literally changed my life, turning floor cleaning from a painful chore to a fun activity.
We have a total of 240 square meters of tiled floor area both inside and outside our apartment.
Israel is quite dusty because there is no rain for half the year.
We also have a 2 year old who is a mess machine.
Cleaning this sort of area by traditional methods would be very time consuming and also quite ineffective. Mopping just moves the dirt around and engrains it into the tiles.
The iMop is a professional floor cleaner with the same power and effectiveness as those big ride on machines used to clean shopping malls and airports.
But due to an innovative design it is highly maneuverable into quite small spaces.
It also folds for ease of transport. Powered by powerful lithium ion batteries, it makes cleaning up horrible messes like broken eggs or sewage floods a breeze.
It puts down water & detergent, has strong rotating brushes and a squeegee with a water vacuum that put the dirt water in a separate tank.
I love to walk barefoot at home and the climate is warm but I can feel dirt on the floors. So the iMop is a miracle.
We just came up to Jerusalem to an apartment which I normally rent on AirBnB. But our cleaner is on holidays so I needed to clean the apartment myself.
The iMop made it easy. It fitted easily in the boot of the car and with the batteries removed it wasn't too hard to lift up the stairs.
Now I don't mind if my two year old draws all over the floor as its easy to clean up.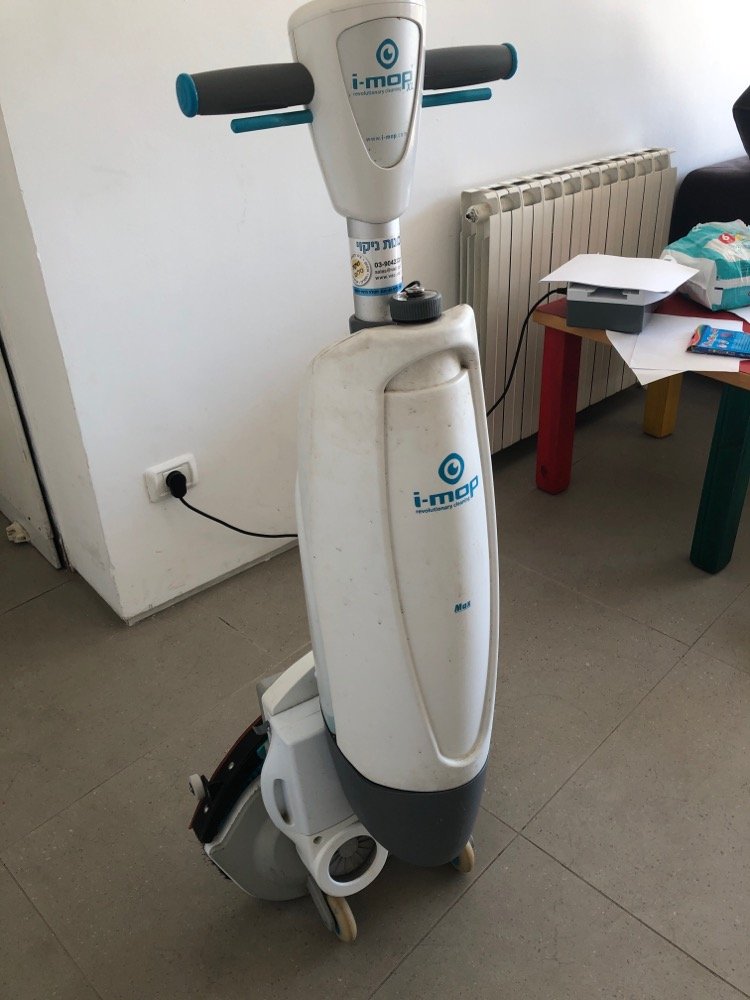 Here are the official specifications:
"Specifications
Lithium ion batteries made by LG
1 Hour runtime
1 hour recharge time
Use 2 battery sets for continuous use
18 inch cleaning width equal to Big walk behind machines
22kg brush pressure equal to ride on machines
Intelligent water usage last 3 times longer
Solid Titanium Swivel joint for durability
Top quality components
The i-mop is the result of 3 years research into floor cleaning machines! This new machine is truly amazing! it is like nothing else. No other machine can clean inside a toilet cubicle but the iMop can. This is the first floor cleaning machine which offers the cleaning performance and speed of large ride on floor scrubbers whilst giving the flexibility of a flat mop. The i-mop can clean under beds and tables, clean right up to the edge of floors and also clean inside washrooms and even toilet cubicles. This is the future of floor cleaning! normal mopping will soon become a thing of the past.
The 18inch cleaning width which is equal to large 60 litre walkbehind machines means you can clean large areas and small areas super fast. The patented system where the imop has no functional wheels in contact with the floor gives the machine a hovercraft feel this is what gives the manoeuvrability. As there are no wheels taking the weight this means the brush pressure is 22kg equal to large ride on machines resulting in the best floor cleaning results we have ever seen.
When we do a demonstration we ask you to clean your floor before we arrive with your normal methods. We then clean the floor with the i-mop! Everytime the water is black this just shows how much dirt is left on the floor.
The imop weighs only 22kg making it easy to carry upstairs or transport to other areas. When in the storage position the imop takes up minimal room in your cleaning cupboard. The brushes and squeegee can be changed in seconds to be cleaned or if you wish to have different sets for multiple areas. This really is a revolutionary cleaning machine and will change the cleaning industry as we know it."
Posted using Partiko iOS