We got a new feature available in RisingStar
From now on you can give your NFT's to any other player.
I bought a card pack and had a double, so I could test it


I have several range rovers aleady, so I decided to give one to my wife who recently joined the game.
how to
Open your cards collection.
Click the card you want to give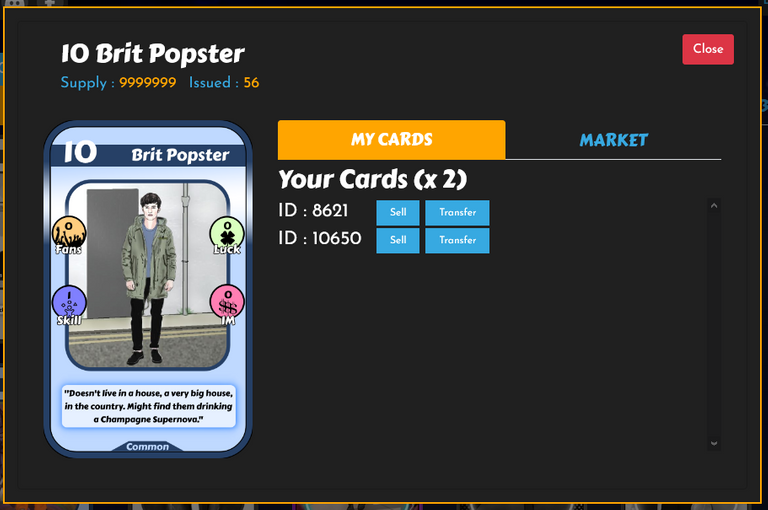 Click on transfer and type the exact name of the target player.
Am I a rich man ?
IRL certainly not, but now at least I can say I offered a Range Rover to my wife ;)
Join the fun, come play with us here : RisingStar
---
A bientôt,
≋𝕴𝖙𝖍𝖆𝖗𝖆 𝕲𝖆ï𝖆𝖓≋
@itharagaian
≋≋≋≋≋≋≋≋≋≋≋≋≋≋≋≋≋≋≋≋≋≋≋≋≋≋≋≋≋≋≋≋≋≋≋≋≋≋≋≋
Helping my projects / Tipping :-) ???
Helping the author : https://www.paypal.me/Lordolivier
We of course accept cryptos:
All the ones on Steem-engine & Hive-engine
Steem / SBD /Hive / HBD
LTC : LdiCR25BQSQYSzTUcpD3sJQayscvjXvDyy
BTC : 37fJek6HN9zeJQTvhfZmpEcmsTM8Lx4spr
All donations are appreciated and welcomed,
thank you.
≋≋≋≋≋≋≋≋≋≋≋≋≋≋≋≋≋≋≋≋≋≋≋≋≋≋≋≋≋≋≋≋≋≋≋≋≋≋≋≋