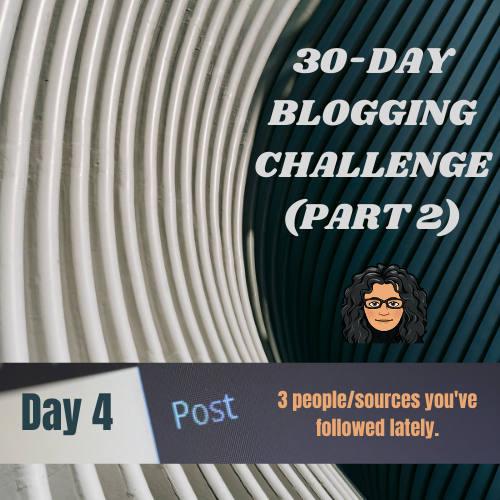 Image created in Canva by @justclickindiva utilizing its free images and bckgrnds

Day 4 of the 30-day Blogging Challenge (Part 2).
3 people/sources you've followed lately.


Image of header from @combination account Profile
Early last year I discovered a post by @papilloncharity that deals with his charitable organization. I've been following him as he is an excellent author. This past year, I learned how his charity works and the services it provides to the needy.
Then I read one of his posts, and it mentioned a new initiative, Hive Charities. Anyone wanting to support a charity on Hive is now able to do so through the @combination account on Hive.
According to @combination's 7/28/20 post, the account was created to manage the Hive Community Charities Weekly Giveaways. The purpose of this account is to collect donations for the charities in one place so it's easy to monitor and track. This account is a good way to manage the donations received for the charities and then give something back to the donors via a weekly give-a-way draw.
Each week, the account holds a drawing. In it's post, it promotes transparency as it outlines how the program works and what share of the donations are forwarded to the charity. For more information on this account's initiative, visit How to Participate in The Weekly Hive Charity Giveaway.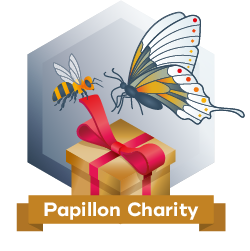 Image shared by @papilloncharity
The first charity to be recognized and supported by Hive Charities is @papilloncharity. Information about the charity can found on his Profile.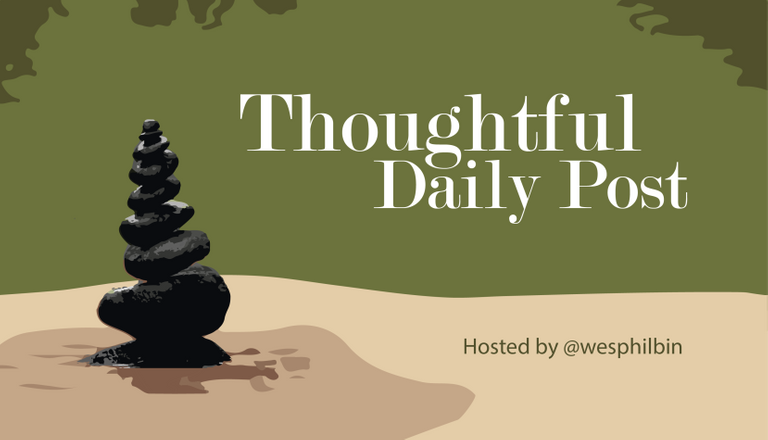 Image is the property of author @wesphilbin and taken from his post
Have you ever created a post with the tag #thoughtfuldailypost? I have, as so many others on Hive who want to share an inspirational message or tell of an issue they encountered and how they were able to resolve it.
The person behind the tag is the "Building Bridges" guy, @wesphilbin. He is an inspirational person himself, always friendly with "hello, hope you are doing well today." I don't think he realizes just how many people he touches each day with his positive attitude. You never know what a person may be dealing with offline. To have someone approach you giving words of encouragement is refreshing.
Recently, @wesphilbin decided to create a curation account, @thoughtfulposts, to assist members of Hive as much as he can members who share their insight or inspiration stories utilizing the tag #thoughtfuldailypost.
I delegated 50 HP to @thoughtfulposts. I will be delegating an additional amount this year in an effort to help in his efforts. If you'd like to delegate, just visit the Introduction Post @thoughtfulposts Introduction | A #thoughtfuldailypost! to find out more about his curation account project and his plans for its future.


Image captured from @theinkwell account Profile
This account aims to reward all diverse forms of imaginative writing on behalf of The Ink Well Community.
According to the information on the Community page, The Ink Well is a friendly community for all of the story tellers on the hive blockchain. The community has 1,139 subscribers consisting of authors and others who love to read fiction. It was created by @raj808.
The admins, @jayna and @agmoore, run the Community and help keep it flowing with writing tips and ideas meant to broaden your writing ability so you can create quality content.
If you haven't heard about The Ink Well Community, then you're missing out on the best fiction you can find on Hive. The Ink Well Community accepts literary fiction genres for sci-fi, fantasy, horror or even roleplay/D+D based stories.
According to the The Ink Well's Community page, it's also one of the only writers' communities directly supported by curie and ocd, which means they will be rewarding well written creative writing with curie and ocd votes.
I recently became a member in The Ink Well Community after participating in its fiction writing contests and challenges. The most recent is its Fast and Furious Festival. Currently, there has started a weekly fiction writing series with a prompt each week. If your story has narrative and a plot of some kind, you're welcome to join in.
At this time, The Ink Well states it's not able to accept poetry or chapters of serials.
You can visit the Community here: https://peakd.com/c/hive-170798/created

@combination
A principios del año pasado descubrí un post de @papilloncharity que trata sobre su organización benéfica. Lo he estado siguiendo ya que es un excelente autor. Este año pasado, me enteré de cómo funciona su organización benéfica y de los servicios que presta a los necesitados.
Luego leí uno de sus posts y mencionó una nueva iniciativa, Hive Charities. Cualquiera que quiera apoyar a una organización benéfica en Hive puede hacerlo ahora a través de la cuenta @combination en Hive.
Según el post de @combination del 28/7/20, la cuenta se creó para gestionar los sorteos semanales de Hive Community Charities. El propósito de esta cuenta es recoger las donaciones para las organizaciones benéficas en un solo lugar para que sea fácil de controlar y seguir. Esta cuenta es una buena manera de gestionar las donaciones recibidas para las organizaciones benéficas y luego devolver algo a los donantes a través de un sorteo semanal de regalos.
Cada semana, la cuenta celebra un sorteo. En su post, promueve la transparencia, ya que explica cómo funciona el programa y qué parte de las donaciones se envía a la organización benéfica. Para obtener más información sobre la iniciativa de esta cuenta, visite Cómo participar en el sorteo benéfico semanal de The Hive.
La primera organización benéfica reconocida y apoyada por Hive Charities es @papilloncharity. La información sobre la organización benéfica se puede encontrar en su perfil.
¿Has creado alguna vez un post con la etiqueta #thoughtfuldailypost? Yo sí, como tantos otros en Hive que quieren compartir un mensaje inspirador o contar un problema con el que se encontraron y cómo pudieron resolverlo.
La persona que está detrás de la etiqueta es el chico de "Building Bridges", @wesphilbin. Él mismo es una persona inspiradora, siempre amable con un "hola, espero que te vaya bien hoy". No creo que se dé cuenta de la cantidad de gente que toca cada día con su actitud positiva. Nunca se sabe con qué puede estar lidiando una persona fuera de la red. Que alguien se acerque a ti dándote palabras de ánimo es refrescante.
Recientemente, @wesphilbin decidió crear una cuenta de curación, @thoughtfulposts, para ayudar a los miembros de Hive tanto como pueda a los miembros que comparten su visión o historias de inspiración utilizando la etiqueta #thoughtfuldailypost.
He delegado 50 HP a @thoughtfulposts. Este año delegaré una cantidad adicional en un esfuerzo por ayudar en sus esfuerzos. Si quieres delegar, sólo tienes que visitar el post de introducción @thoughtfulposts Introduction | A #thoughtfuldailypost! para saber más sobre su proyecto de cuenta de curación y sus planes para el futuro.
Esta cuenta tiene como objetivo premiar todas las diversas formas de escritura imaginativa en nombre de la comunidad de The Ink Well.
Según la información de la página de la Comunidad, The Ink Well es una comunidad amistosa para todos los narradores de la cadena de bloques de la colmena. La comunidad cuenta con 1.139 suscriptores, entre los que se encuentran autores y otras personas a las que les gusta leer ficción. Fue creada por @raj808.
Los administradores, @jayna y @agmoore, dirigen la comunidad y ayudan a que fluya con consejos de escritura e ideas destinadas a ampliar tu capacidad de escritura para que puedas crear contenido de calidad.
Si no has oído hablar de la Comunidad Ink Well, te estás perdiendo la mejor ficción que puedes encontrar en Hive. La Comunidad Ink Well acepta géneros de ficción literaria de ciencia ficción, fantasía, terror o incluso historias basadas en juegos de rol/D+D.
Según la página de la Comunidad The Ink Well, también es una de las únicas comunidades de escritores apoyadas directamente por curie y ocd, lo que significa que premiarán la escritura creativa bien escrita con votos de curie y ocd.
Recientemente me he hecho miembro de la Comunidad Ink Well tras participar en sus concursos y desafíos de escritura de ficción. El más reciente es su Festival Rápido y Furioso. Actualmente, se ha iniciado una serie de escritura de ficción semanal con un reto cada semana. Si tu historia tiene una narrativa y un argumento de algún tipo, eres bienvenido a participar.
En este momento, El Pozo de la Tinta afirma que no puede aceptar poesía ni capítulos de series.
Puedes visitar la Comunidad aquí: https://peakd.com/c/hive-170798/created
I hope you like my choices of the accounts I thought worth following recently.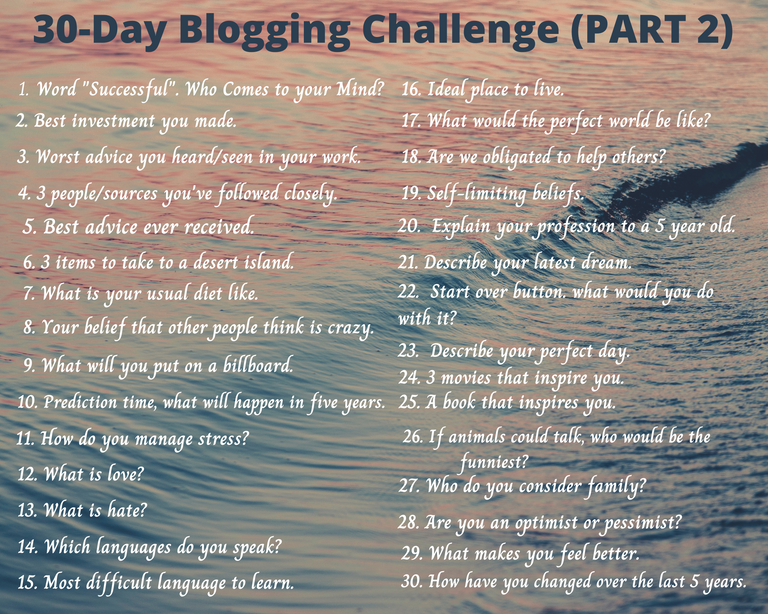 Image created by justclickindiva in Canva utilizing its free bckgrnds
Follow my 30-Day Blogging Challenge below:

@flaxz initiative #iamalivechalleng (Published my Day 4 of 30-Day Blogging Challenge [Part 2] post today)

Thanks,
@justclickindiva
Happy rest of the week everyone with whatever your endeavors.


SOURCES:
a) JustClickindiva's Footer created in Canva utilizing its free background and images used with permission from discord admins.
b) Unless otherwise noted, all photos taken by me with my (i) Samsung Galaxy 10" Tablet, (ii) Samsung Phone, & (iii) FUJI FinePix S3380 - 14 Mega Pixels Digital Camera
c) Purple Butterfly part of purchased set of Spiritual Clip Art for my Personal Use
d) All Community logos, banners, page dividers used with permission of Discord Channel admins.
e) Ladies of Hive banner used with permission of and in accordance with the admin's guidelines.

Your Personal Terminal Discord Invite