Some days ago, I did a first look at noise.cash and concluded that it might be worth your time, if you were willing to invest some time up front and reap the rewards later. For once, I followed my own advice and did just that. I tried to find new subscribers, followed authors I deemed worthwhile, and interacted as much as I could through comments. After 5 days on the platform, it's a good time to take a closer look at how things were going.
Well, to tell the truth, the experience was not disastrous, but it could have been a lot better as well. In a matter of almost 5 days, I've earned 6$ worth of BCH, which is not too bad I guess. I've made 34 followers and I'm following maybe 20 authors myself. At the same time, I've blocked dozens of other users until I simply gave up looking at posts not coming from authors I follow altogether. To make it short, I'll probably spend some more days on the platform until I grow tired of it but it certainly is nothing that will keep me occupied much longer.
That said, it's still pretty helpful to take a closer look at what's working and what's not working over there. LeoFinance is expected to launch it's version of Crypto Twitter rather soon and there's certainly a lot to be learned from what noise.cash is doing. We'll start with the good and gradually move towards the bad and the ugly.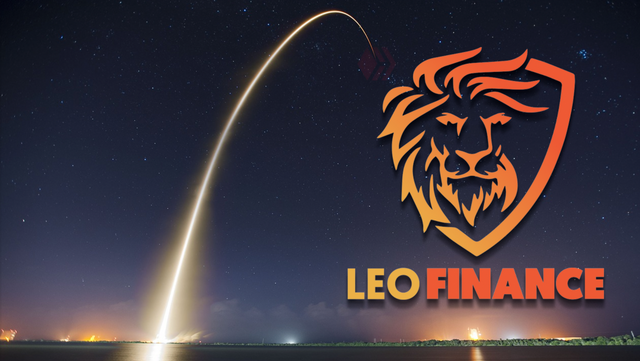 What I really enjoy about the site is it's simplicity. Sure, there are some quality of life features still missing that will eventually be added and that will bloat it a little bit. Overall though, everything you want to do is just a couple of clicks away. No unnecessary complex editor to make your posts, no unintuitive navigation. Any user coming to the site should feel right at home from the get go. So if there's something to be learned here, it's "keep it simple!". While I love statistics and the like, it's best to hide them behind a separate tab. One could even think of having a core layout that only has the most needed functionality and an advanced layout with more functions and more quality of life stuff for those interested.
The other big plus in my opinion is that noise.cash proofs that there's a market for that kind of service. The number of BCH transactions went through the roof ever since the service was started. New people are coming to noise.cash in droves and so far, they have been staying there. That's rather encouraging for our own version of Crypto Twitter and emphasizes how much of a game changer it could be for LeoFinance.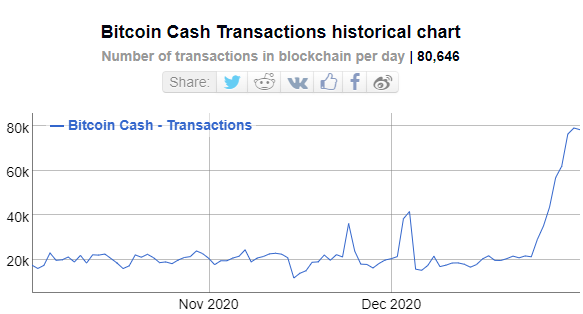 That's also where the bad starts, though. Obviously, at least most of these users came to earn some free Bitcoin Cash. Free Crypto is something that has a lot of appeal to many people from all over the world. While the aforementioned 6$ made in roughly 5 days is nothing to gloat about, it's an amazing return compared to what you'd get from any of the faucets out there. Even the top ones like freebitco.in will only pay out a couple of cents in crypto per day at max.
So the monetary factor is certainly what attracted a lot of people to use the service. There's nothing wrong with that. I mean earning money is certainly one of the reasons we are active on LeoFinance or Publish0x as well. The issue is more with how it's given out in my opinion. Right now, there are two ways of tipping others on noise.cash - free tips given out randomly to active users and tipping with your own BCH through scanning a QR code.
I don't think it's hard to guess where most of the tips are coming from right now. Almost nobody will be willing to shell out some of their own hard-earned BCH for a random one-liner on noise.cash. At the same time, the free tips are becoming few and far between. As a result, most of the posts end up with no or few tips in the area of 0.01$ - 0.05$. All this leads to a situation where neither making quality posts nor curating content is really rewarded at all.
I firmly believe that this needs to be done in a different way and I hope that LEO Twitter will use a similar curation system to what is used on LeoFinance already. It might be debatable whether a 50/50 split between author and curator is best for a microblogging serice, but other than that, it's the ideal way of both rewarding quality authors and also rewarding people that have a stake with the service. For noise.cash, I predict a declining level of active users corresponding to the declining number of free tips. Much like with read.cash, once there's no "free money" left, people will mostly abandon it.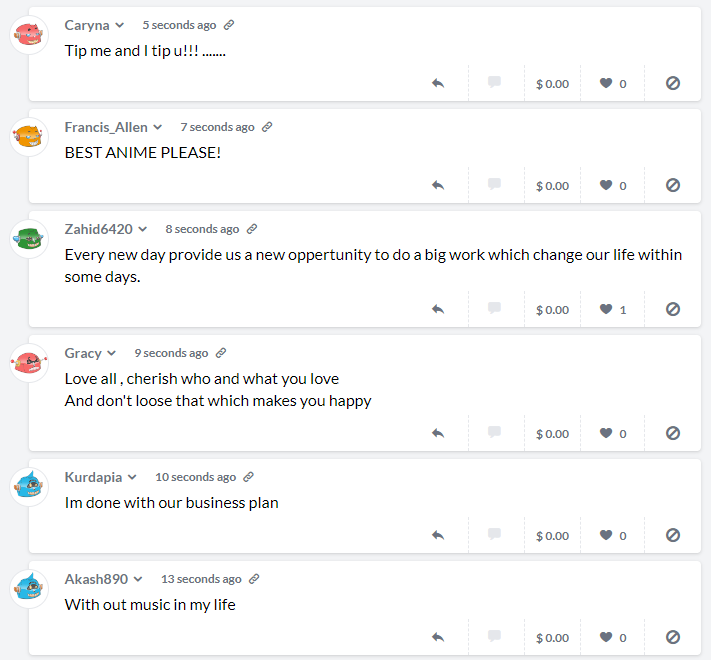 And that leads us to the ugly. The above is a screenshot from Explore (the channel where you see all new posts). I didn't try to find something especially unbearable and just took a screenshot of what was there, so this is more or less the unfiltered truth. I already talked about the issues with post quality above and it shows when ever you look at the posts made. Way more than 90% are just gibberish, random blurts, "inspirational" stuff copied from Google. Most people are just fishing for random tips and while most of them don't catch any, some do get the occasional random tip from spammer to spammer.
In my opinion, there are two key points to be learned from that:
Firstly, while we absolutely want to 10X or 100[...]X our user numbers, we'll have to do so in a controlled way. We want to attract the right kind of people. Those that bring actual value to the platform. So we need to make sure to send the right message to the net. The message noise.cash sent was "Come over and earn free pennies for posting shit". A better message would be "Post quality content and earn some real money!".
There are several ways to ensure we send the right message and one of them is my second takeaway from all this - we absolutely do need a Downvote function, even for microblogging. I'm not always happy with the downvotes I see, especially if they are only given because people disagree with the message or topic of an article, but nevertheless, they are necessary. Only with downvotes in place, we can ensure the quality of the content posted.
One could argue that earning 0.00$ and 0.01$ per shitpost is not really making all too much of a difference, but it's more about psychology here than anything else. If people feel like they might get lucky with their next spam and earn those amazing 0.1$ they'll keep spamming. But if they know they'll never ever earn even a single penny with what they do, they'll eventually stop trying and go spam somewhere else. If LEO Twitter is growing as fast as we hope it will, this is going to be a lot of work in the beginning. If we see through with it, it will be worth the effort, though. Obviously, there will always be people trying to game the system and just post spam, but the more obvious it is that they won't get away with it, the less will come after them to try the same.

Wrapping things up, I have high hopes for LEO Twitter. I'm quite grateful noise.cash launched when it did because it allows us to take a look at their mistakes and learn from them instead of making them ourselves. Eventually, noise.cash will go the way of the dodo, but until then, it will be fun to watch or even interact with it. There are quite some lions (and even a Toruk) active over there, casually dropping links to LeoFinance, Hive, and our different dAPPs and games. Once LEO Twitter launches, we should also try to move some of their users over to us - so long as we only attract the right group of users.
And that's all from me for today. Thank you all for reading and see you next time!
Posted Using LeoFinance Beta