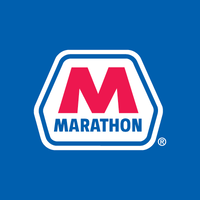 Marathon Petroleum Corporation, together with its subsidiaries, engages in refining, marketing, retailing, and transporting petroleum products primarily in the United States.
After constant pressure from activist investor Elliott Management, who felt spinning off Speedway, would be worth s much as $18 billion, late last week, Marathon Petroleum agreed to sell its Speedway gas stations in the United States to Japanese retail group Seven & i Holdings for $21 billion.
Jim Cramer thinks Marathon's stock is a steal right now and investors should buy. Bank of America's Doug Leggate thinks the deal is worth $6 a share to the company's stock price above his previous estimate. However, the refinery business still remains a demand story.
Marathon Petroleum Corp, the largest U.S. independent oil refiner, said it won't restart two refineries in California and New Mexico amid concerns that demand for fuels is unlikely to return to pre-pandemic levels this year.

Both refineries were idled in April as Covid-19 decimated demand for refined products like gasoline and jet fuel. It assumed product demand would improve enough to restart them before the end of the year. Subsequently, gasoline demand briefly improved after a slew of states attempted to reopen their economies around Memorial Day, then stalled as Covid-19 raged anew.

London consultancy Energy Aspects says there is too much global refining capacity and existing refineries will be pressured by new facilities coming online that can operate more efficiently, forcing some shutdowns of older sites. It projects global demand won't return to pre-coronavirus levels until 2022.
Source
So if the buyers can pump up the stock a bit more, the chart suggests to short price at the daily supply at $46.50 as there are signs of sellers at this level based on the pivot high in mid-June.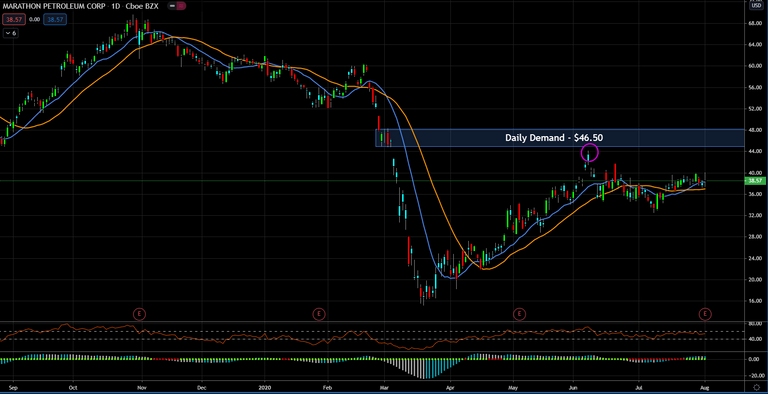 This post is my personal opinion. I'm not a financial advisor, this isn't financial advise. Do your own research before making investment decisions.

Posted Using LeoFinance