Heya warrior's
Did you claim you Hero of beyond? well, Hero of beyond is the 14th and final airdrop of the untamed edition. I just can't believe untamed are going to be extinct. I mean just 12k Untamed packs left. After that, you won't be able to buy them unless sellers sell on Hive-engine.
For the past couple of days a lot of excitement going on the splinterlands official server. Before I rarely used to check the splinterlands server but now when I come online the first thing I check splinterlands maverick channel. I see a lot of chat a lot of information, fun, thrill and excitement about the game.
When I started playing this game I never thought that the splinterlands market cap would touch the height of the sky. I feel over-excited when I think I am part of this game and I never quit during the down days of this game.
Hero of Beyond
While reading about the Heor of beyond when I read this line I loved it :P
Now, for the final Untamed airdrop card, we introduce - not a bird, not a plane - but a new Epic Life Splinter Monster that is out of this world - Hero of Beyond!
source
Not a bird, not a plane but Hero of beyond :P
I had 500+ packs eligible for the airdrop on my alt account zawarrior. When I claimed my airdrop I got only 6 regular Hero of beyond. And I had 300+packs eligible on my main account xawi. When I claimed my airdrop I got 8 regular heroes of beyond. I was amazed I got more cards on xawi. There were 200 packs difference but it is what it is. I have seen people pulling gold foil legendries on just a few packs so anything can happen in the world of splinterlands.
---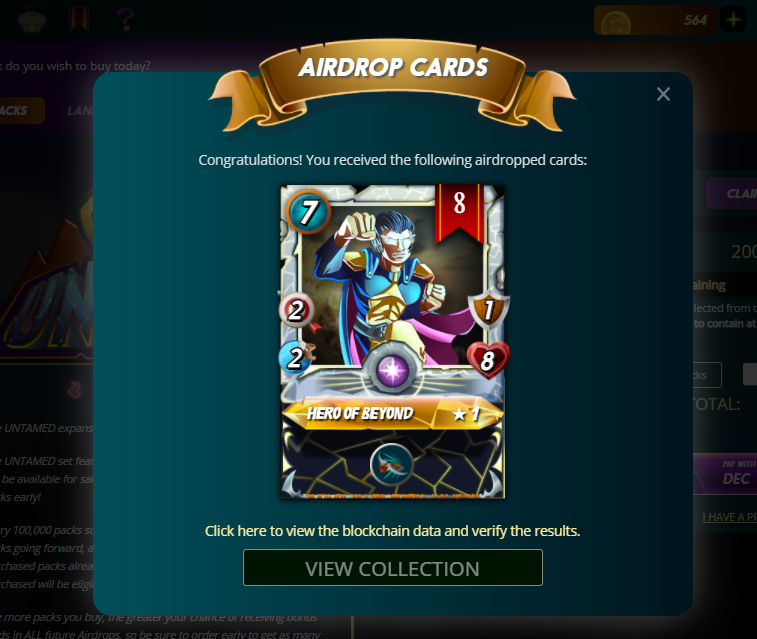 ---
Ok, I didn't take a screenshot when I claimed my airdrop on zawarrior but I took ss when I claimed on my main account for the purpose of post :P XD
Stats
---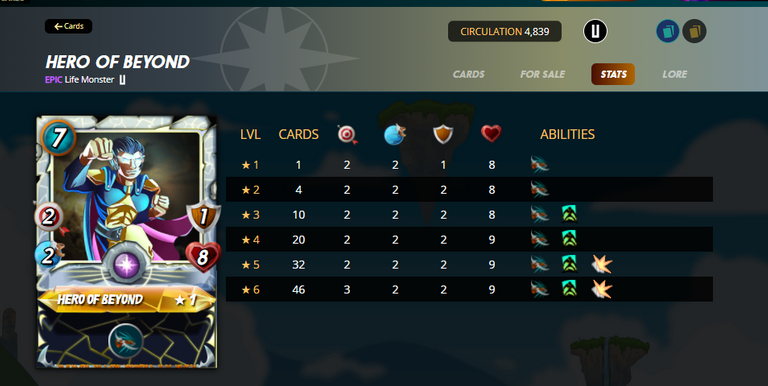 ---
Hero of Beyond has 3 abilities. Close range at first level, Last stand at 3rd level and shield at 5th level. Personally, I am not a very much fan of ranged monsters in the life deck. I was expecting some thrilling sneaker. 7 Mana itself giving me a headache. I mean I have so many other choices why would I be using this monster? I am a fan of shieldbearer and I use life splinter when I want to use my sneak attackers or I want to counter range attack :P XD. I am not sure about the hero of beyond. But wait if you get 14 mana game you could always use this card along with Byzantine kitty right? I mean Kitty summoner will give heal and it has the last stand with shield ability. Oh damn, it can be savage. I will try this and if it worked I will share it with all of you. Right now just 5k untamed packs left and I am watching all the excitement. see ya
---

---

If you want to play splinterlands then SignUp Here
---