A Big Treat For A Tired Rainy Day
Everyone has their own way of treating themselves. Because your happiness is your own responsibility.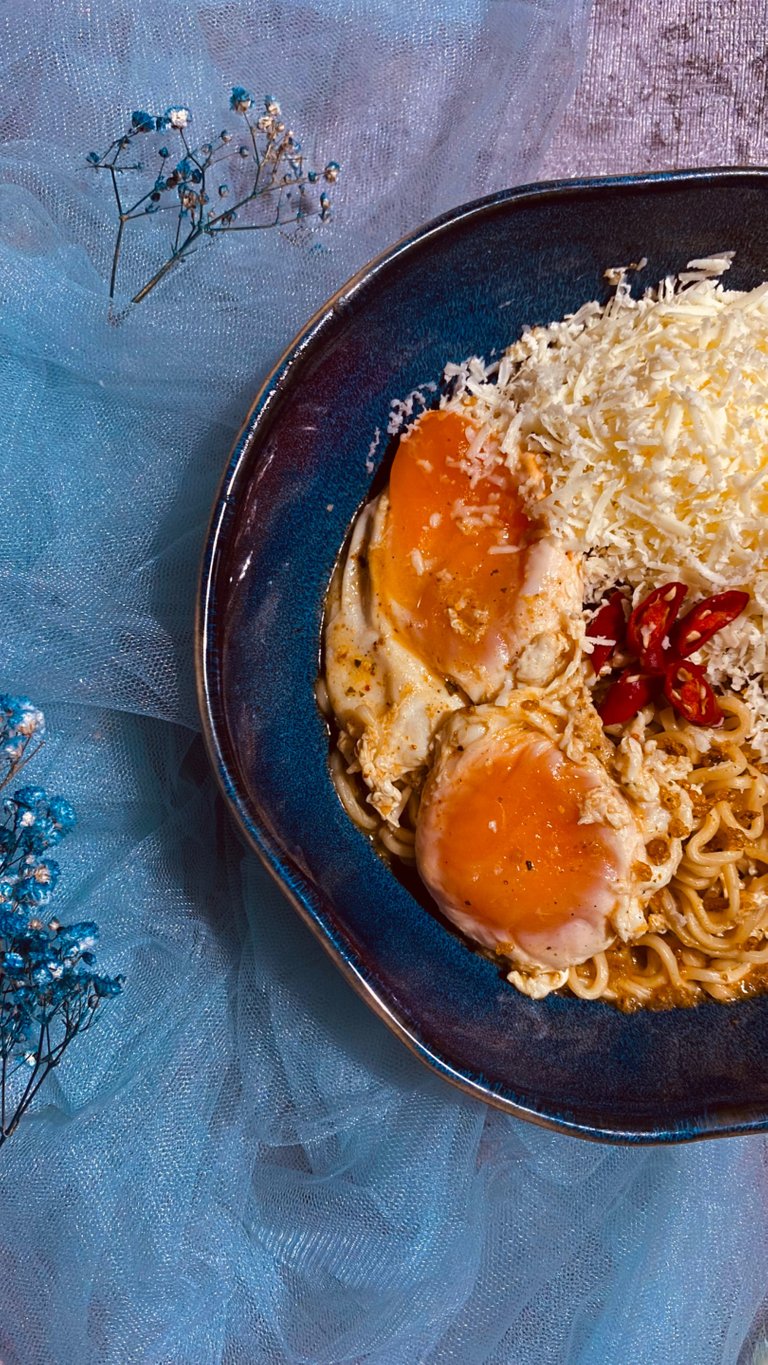 ---
---
---
There are times when you really want to realize what you want without thinking about anything else. Just do that. Just it. For example, eat a large serving of instant noodles, topped with extra cheeses!
That night it was raining very hard. I just got home after activities downtown. After I finished taking a warm shower, and while drying my hair then I thought of making something warm.
But this is a little different. I feel like making food with large portions. I don't know, maybe it's just because I feel so exhausted.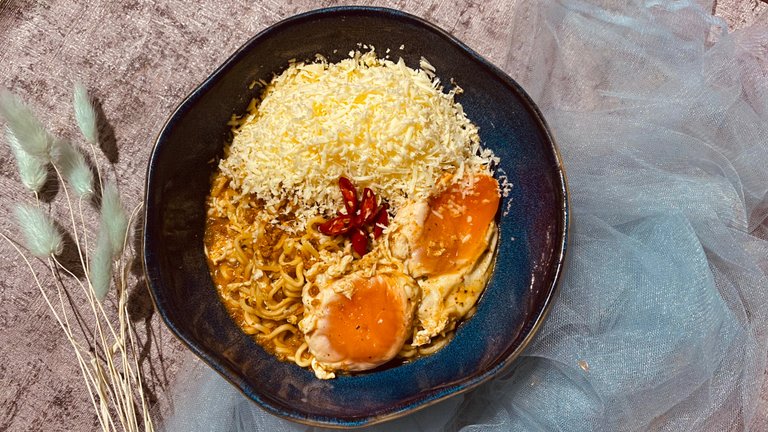 ---
I checked the ingredients left in the kitchen, as well as the refrigerator. I found a stock of some eggs I got from my family's farm a few days ago. Then, there is also cheese which is still in stock in the pantry.
Oh, wait, this supply that makes cravings so immediate the thought of this ingredient being cooked. This is a sachet of instant noodles! Whoaaa, ​​I haven't eaten instant noodles in a long time. Indeed, I eat instant noodles only at certain times when I really run out of other food ingredients. At least I can forgive this cheating food if it's not too frequent. Have you ever felt guilty when eating instant noodles? Or the delicious taste makes you forget the side effects? That is each person's choice of course.
---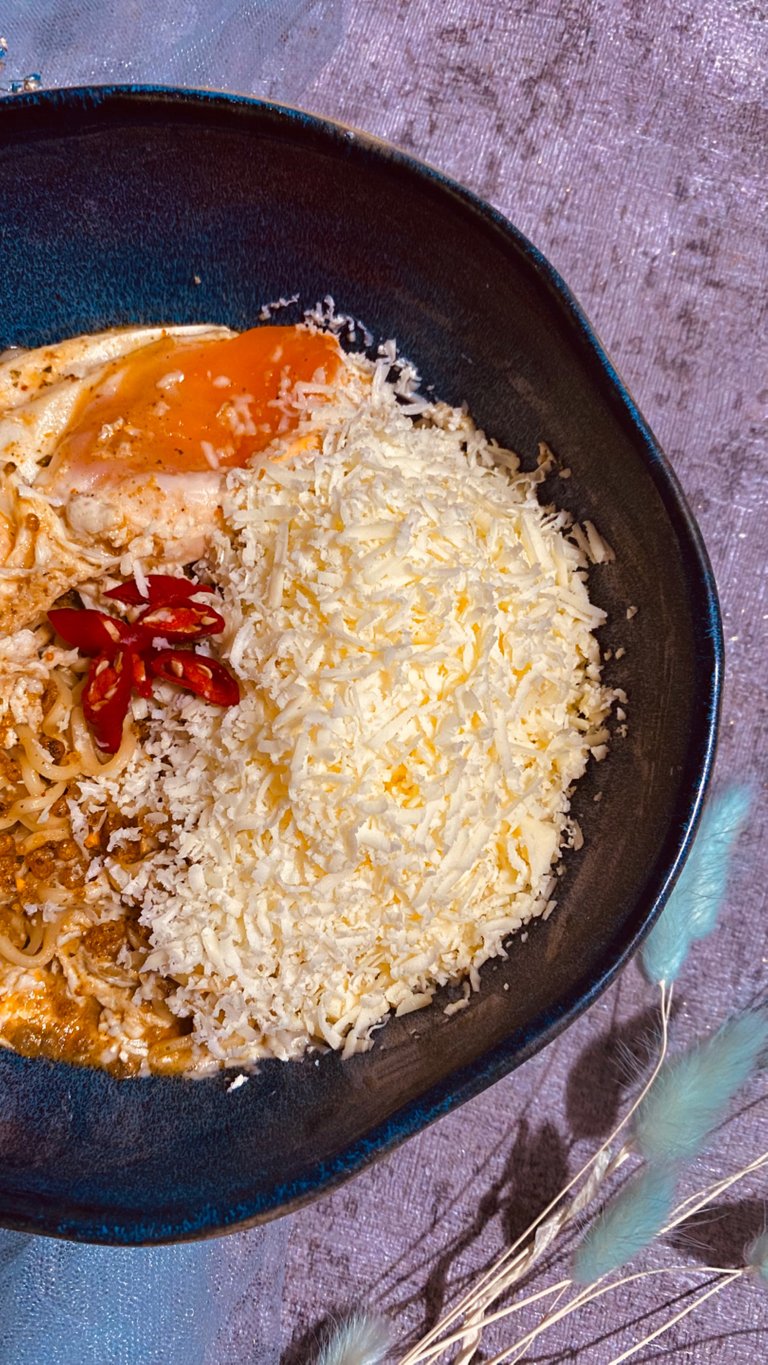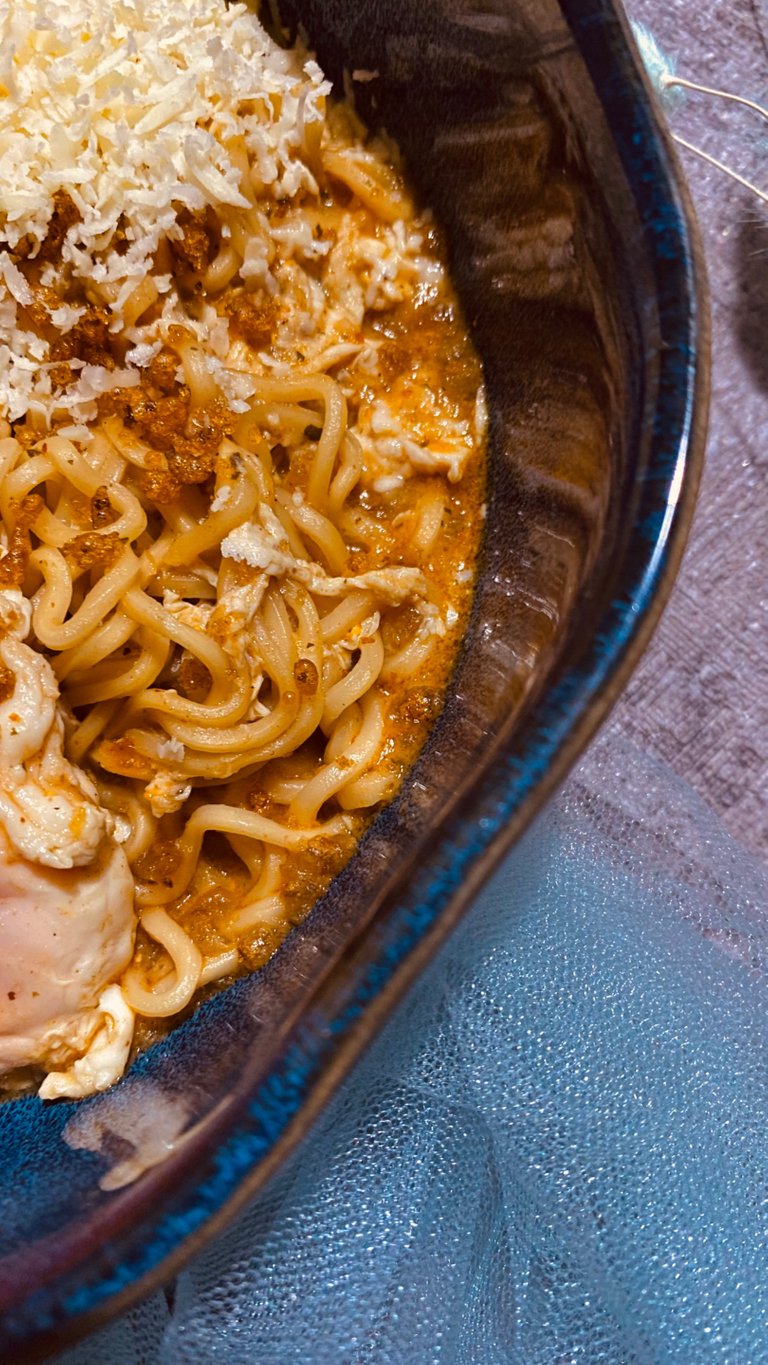 ---
---
---
---
With a sachet of instant noodles, I also cook in the simplest way. In fact, I did not prepare any additional seasoning.
Apart from this case, I usually prepare sliced ​​shallots, as well as garlic and red chilies. But for this time, for those of me who are tired, I just want to just dip the instant noodles into boiling water. This is the most instant way among the instant. :) That's how life is. Nothing is ever really easy, even if it is said to be easy. Everything requires struggle. Even though they are called instant noodles, the fact is that we also have to cook the noodles so that the taste is maximized.
---
---
---
After adding the noodles to the water that has been previously boiled, add the seasonings that are already in the package. Well, if you still have enough energy, you can add fresh seasoning, like spring onions, and more. I simply add the seasonings that are available in this instant noodle package.
Stir in the noodles and seasonings. Then I added two eggs. When the eggs are added, I don't stir the egg halves to keep the eggs intact. Also, the whole gravy doesn't taste like a strong egg.
---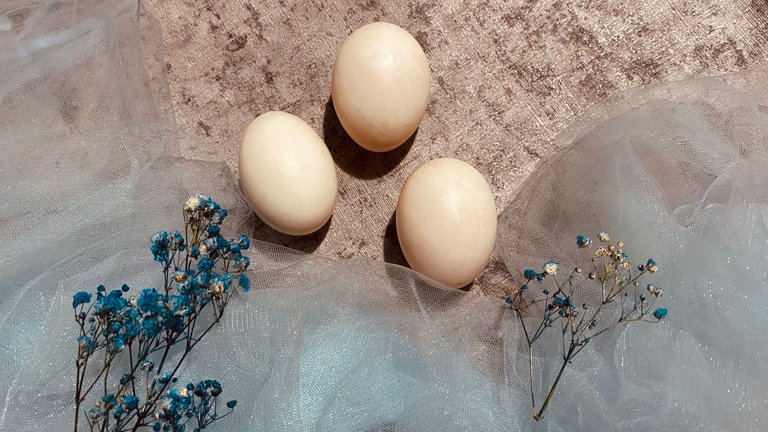 By the way, these are duck eggs. Have you ever eaten duck eggs? Duck eggs have a larger yolk than chicken eggs. In addition, the price of duck eggs is also more expensive. But indeed I prefer duck eggs. Some people don't like duck eggs because they say duck eggs have a more pungent fishy smell. You can choose eggs from ducks that are fed vegetables, not foods that are mixed with chemicals. That will make the duck eggs become odorless.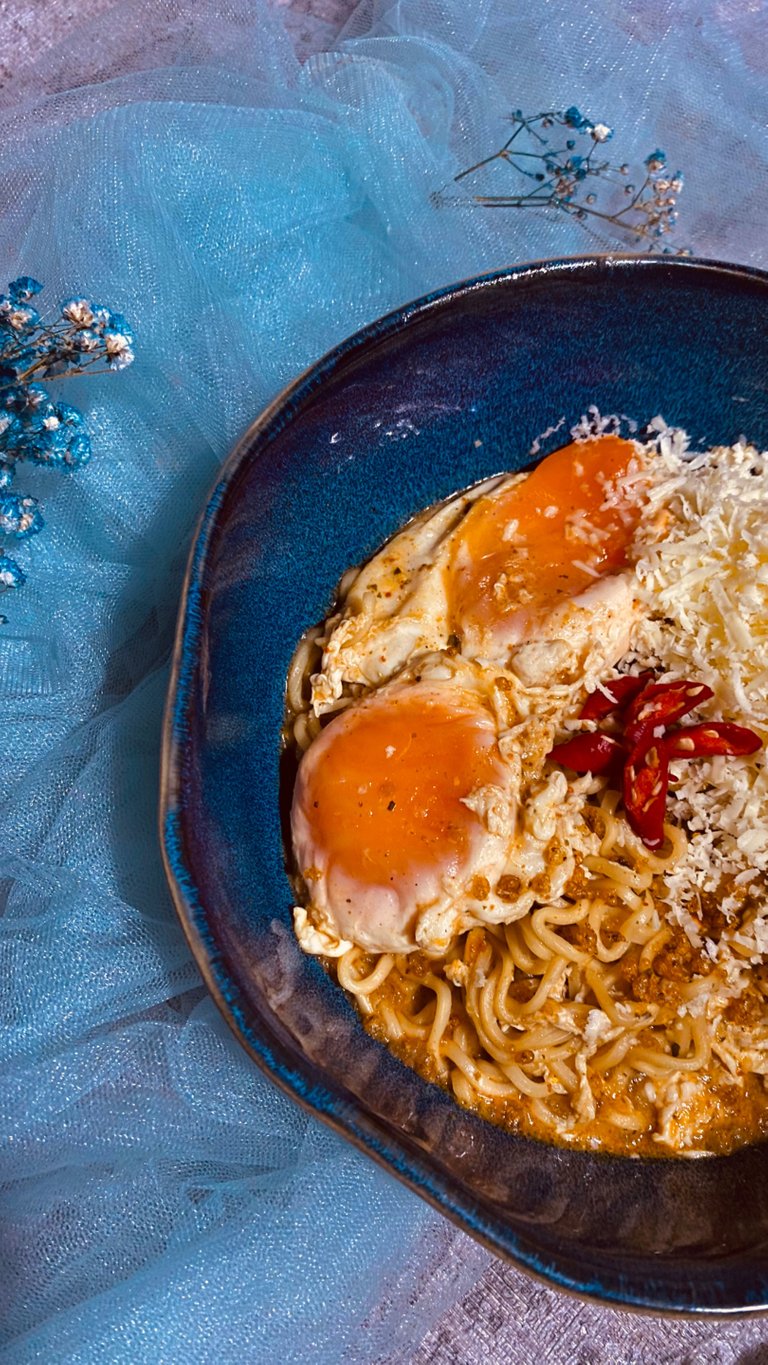 ---
---
---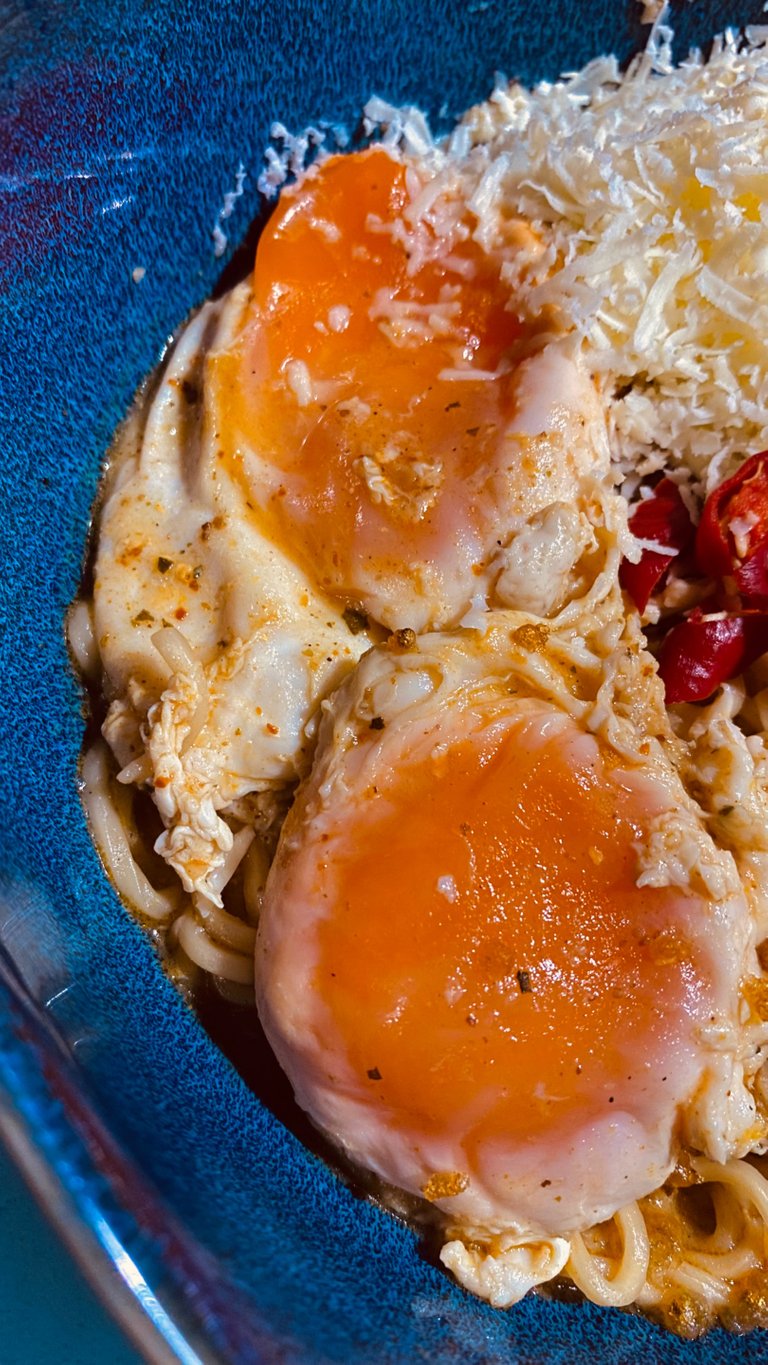 Back to my instant! After a while I poured hot gravy over the eggs to make them more cooked, it was time for me to turn off the fire.
I transferred the instant noodles to a bowl. More like a big bowl. Only for myself. :)
Then I grate the cheese and sprinkle it on top of the ready-to-eat instant noodles. Whoa, it turns out that I grate this much cheese. I'm really craving it! Yummy!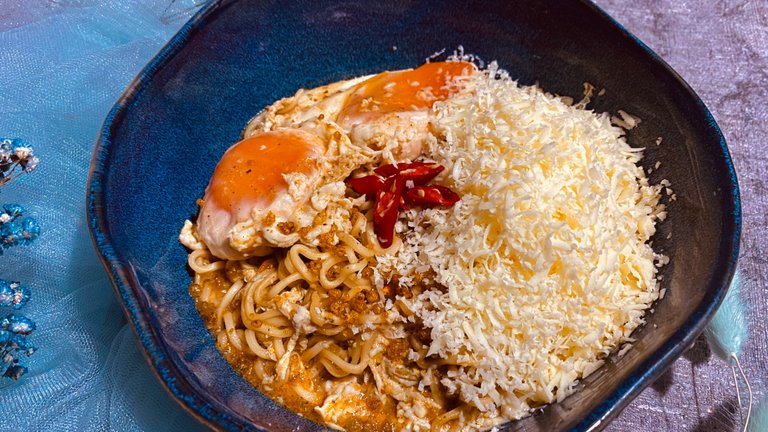 ---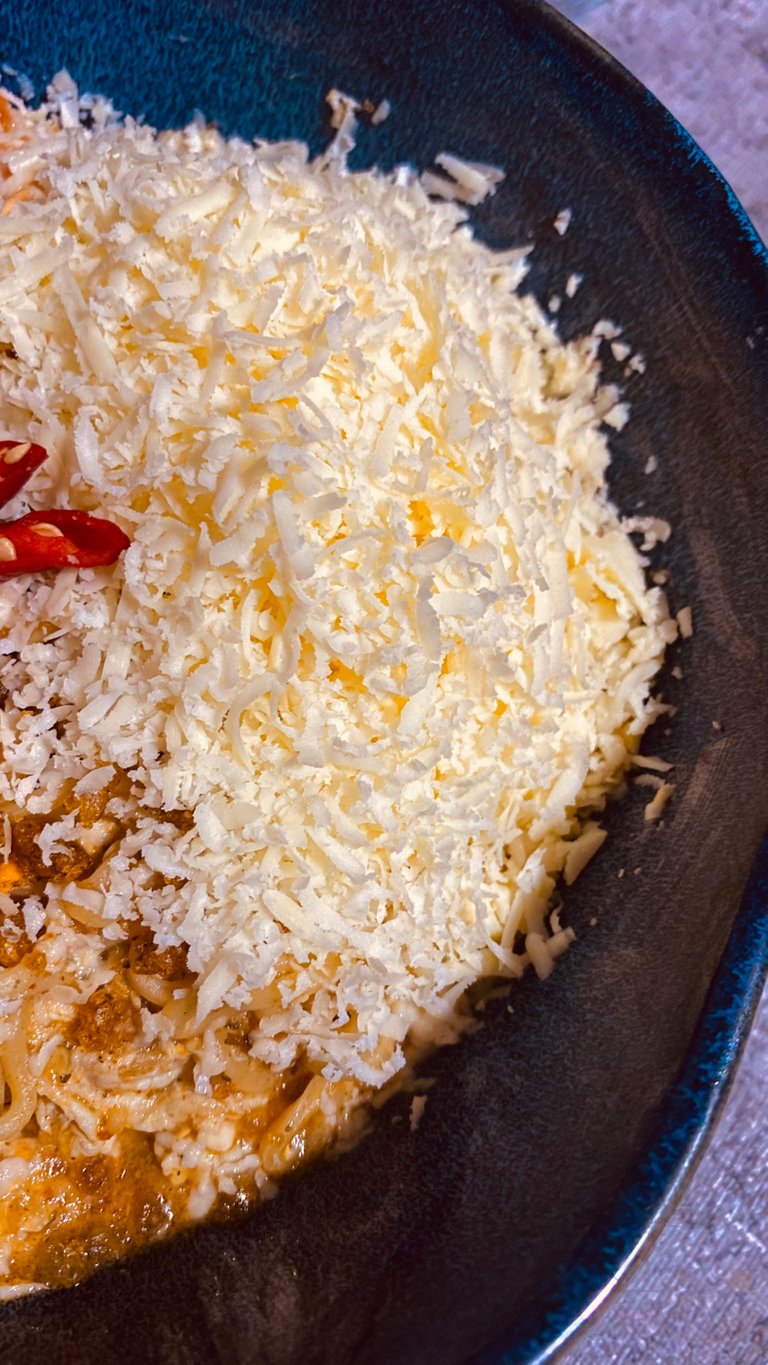 ---
---
---
I love being able to eat this dish as a great treat on a tiring rainy day. I could finish this whole instant noodle! Sounds crazy but I actually spent it because I was really tired and needed what I wanted. Mie instants, with 2 eggs, and lots of grated cheese. What a perfect big treat!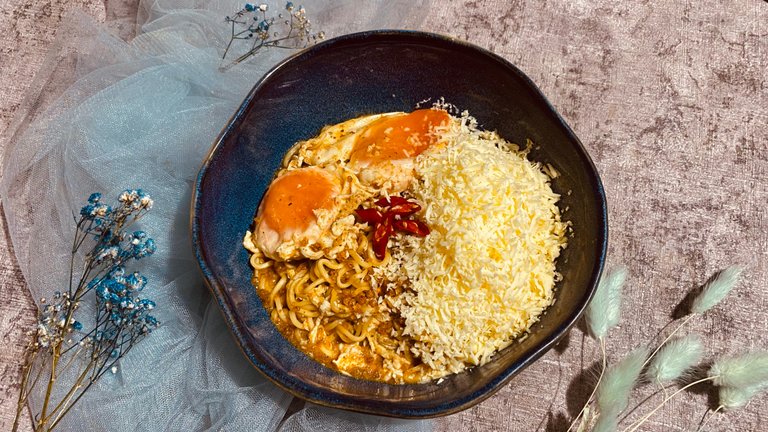 ---
What is a big treat you want when you feel exhausted? Maybe with a comfortable massage, or just as simple as eating warm food like mine? :)
---
---
---
I hope you guys get some new inspiration from my food blog this time, and until next on my food blog, HIVE LOVERS!
---
---
---
Thank you for reading my blog and reblog if you want my blog this time worthy of reading by others.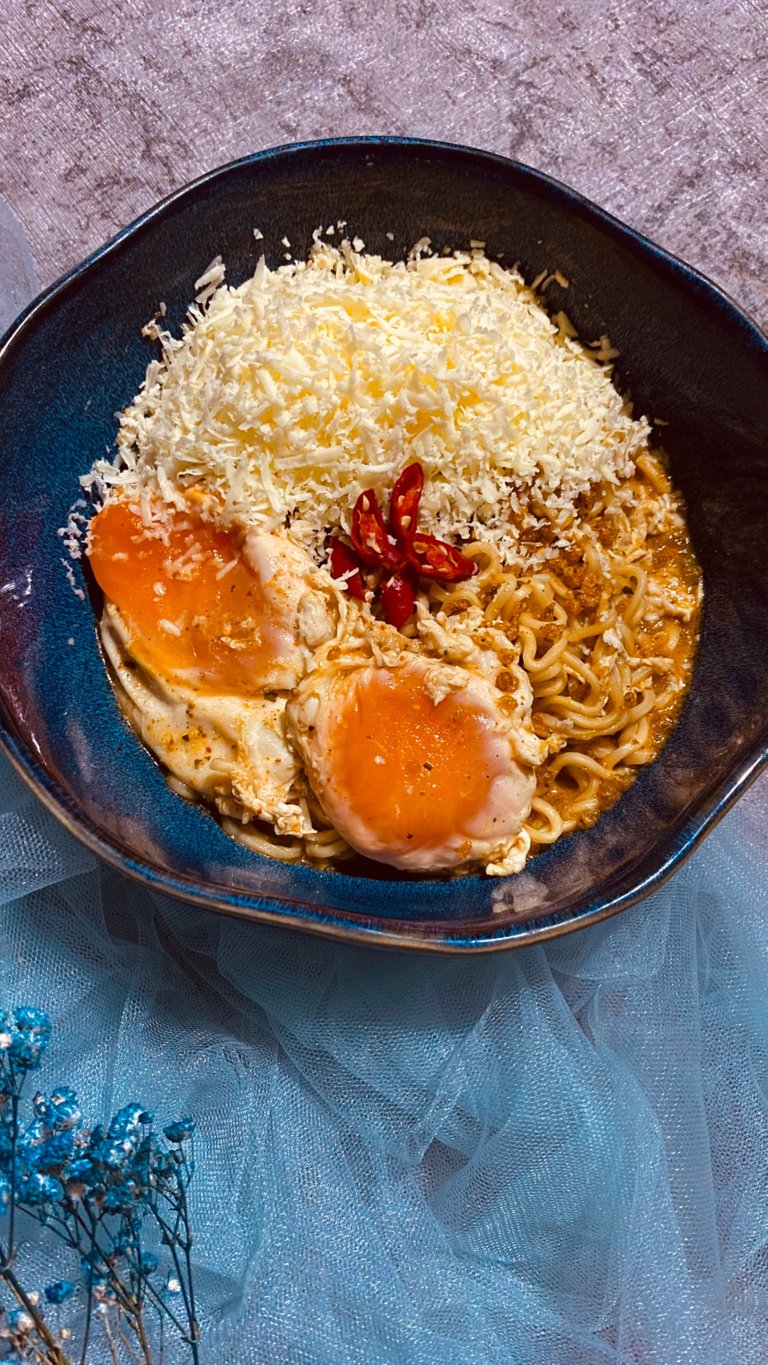 ---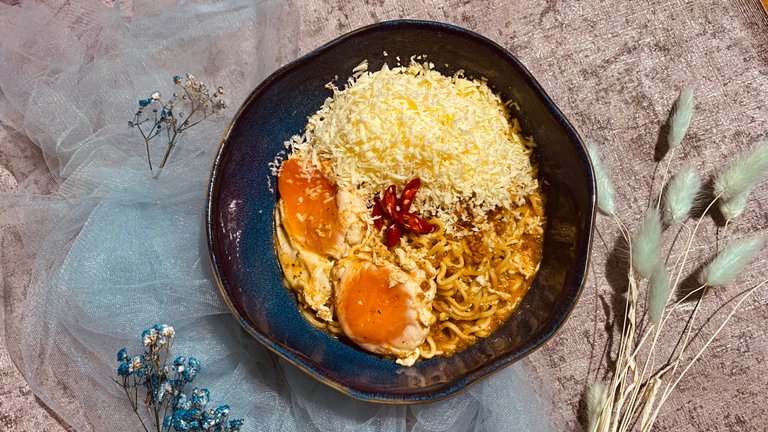 ---
---
---
Best Regards,
Anggrek Lestari
---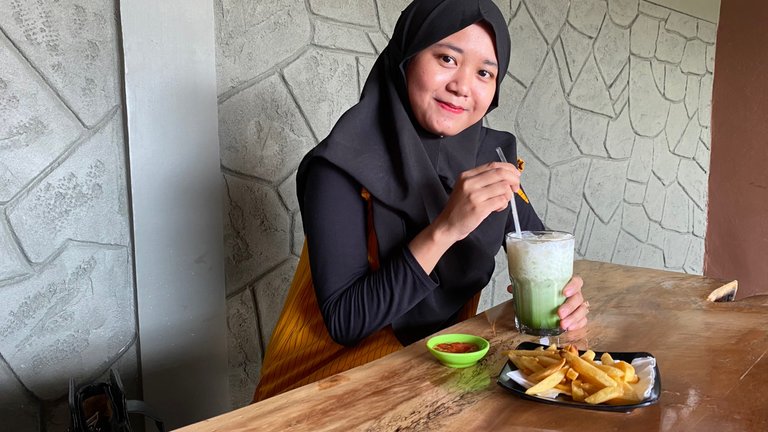 Who is Anggrek Lestari?
Anggrek Lestari is an Indonesian fiction writer who has published two major books. Now She is a full-time content creator. She has a goal to share life, poem, and food content that makes others happy and can get inspiration.
---
Contact Person: [email protected]
Discord: anggreklestari#3009
---
---
---