[Healthy Bento] Carrot Noodles With Broccoli And Potato Wedges
---
---
Being healthy is a must. Yummy is a bonus.
Let's make bento meals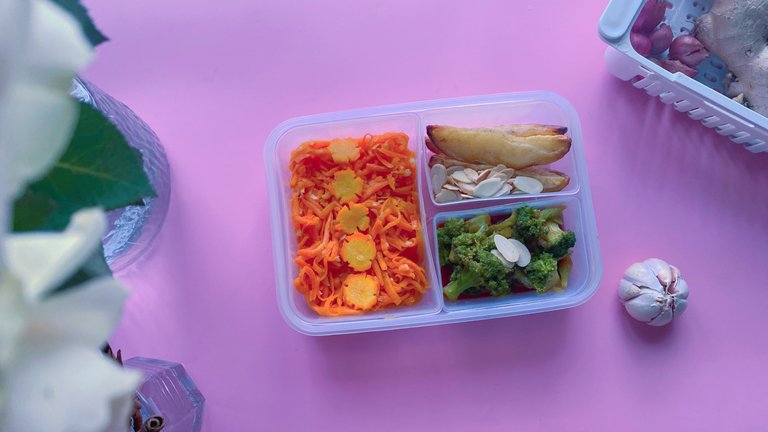 ---
---
Do you like seeing the presentation of bento boxes? What I like most are the elements of each meal in separate sections in the box. Looks varied, and colorful. Of course, that will whet your appetite.
It's been a long time since I've been looking at bento boxes from Japan. They have many variations of bento meals that have cute and cute shapes. It will make eating at work or school a lot more fun. As a wife, I also make bento meals for my husband more often.
My husband always asks me to make bento meals when he wants to go to work. He doesn't mind if I serve vegan meals even though I often serve non-vegan meals so he doesn't get bored with my cooking. But the most important thing is to stay healthy.
Like this time, I will share the bento meals recipe. I will make this blog as my newest blog series. I hope this healthy bento box can be an inspiration for those of you who have to bring food to your husband or children.
---
---
---
Start With Air-fryer Potato Wedges
I chose a potato as the carbohydrate element in this bento meal. Start cooking with something that is roasted. So, I pre-processed the potatoes to save time. Make sure to preheat your air-fryer or your oven before cooking the ingredients.
---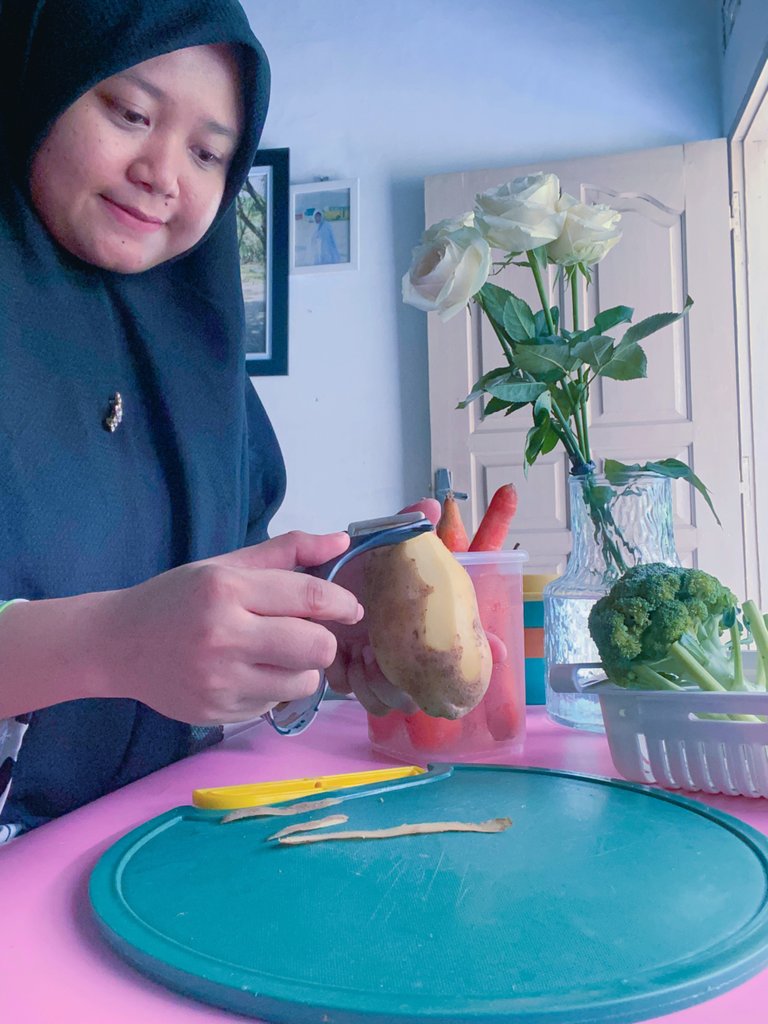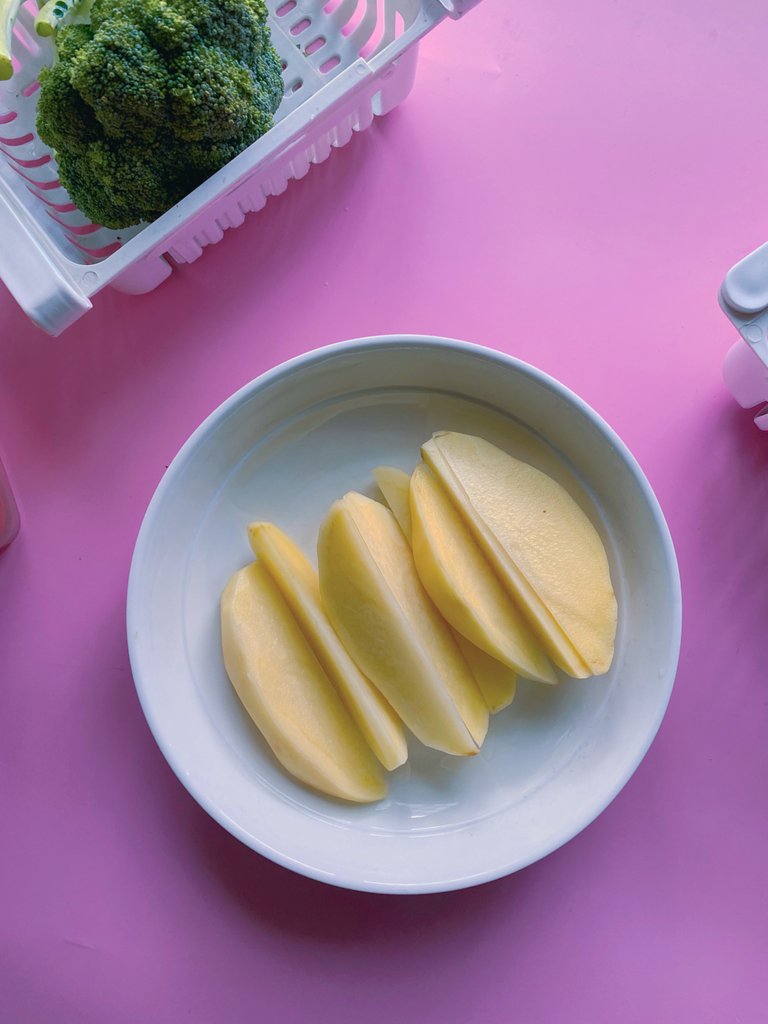 ---
Here, I'm just using one potato that makes two servings, for me and my husband. After peeling, cut the potatoes into wedges. But, you can also form potatoes into fries in general.
---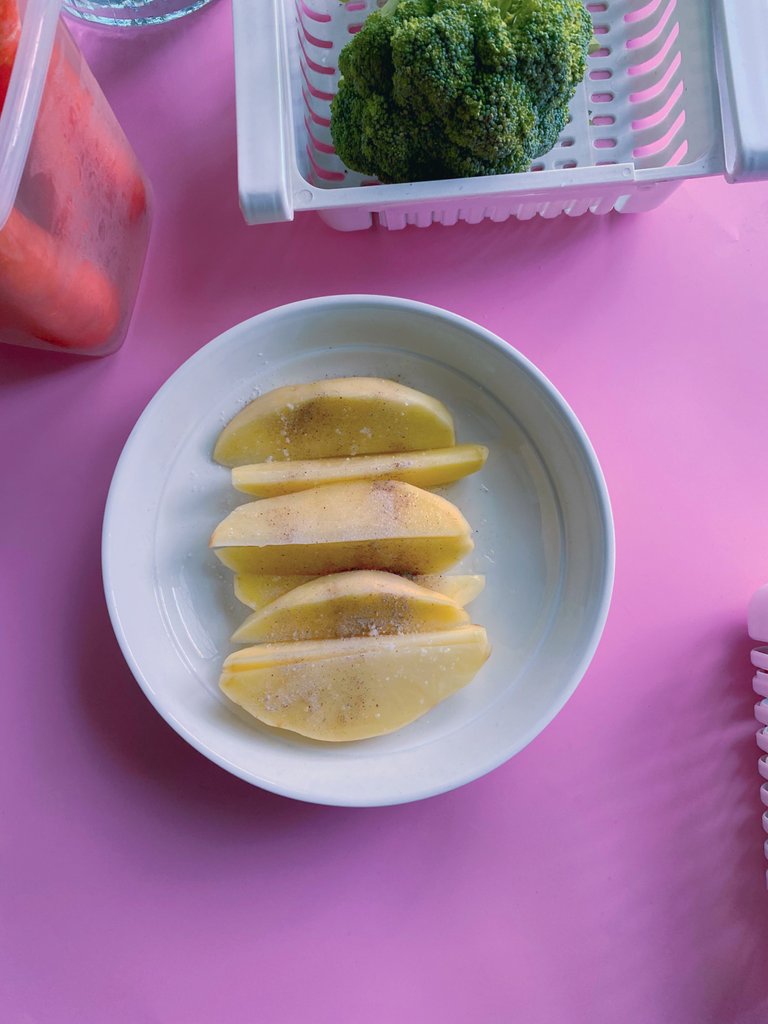 ---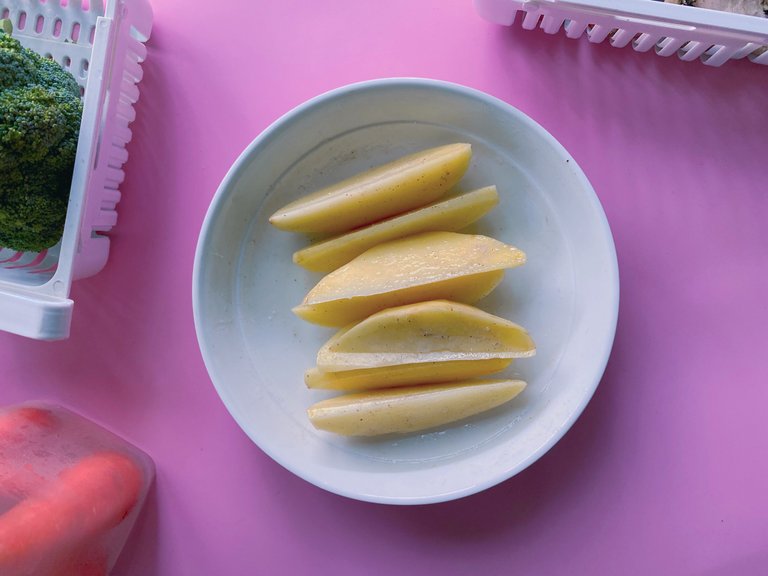 Then, prepare olive oil, salt, and ground pepper to taste. Cover potato wedges with those ingredients. You can also add other seasonings according to your taste.
---
Then, roast them for about 20 minutes on each side. Don't forget to turn the potatoes sideways so they cook evenly. Furthermore, while waiting for the potatoes to be cooked, I will prepare another meal.
---
---
---
Roasted Almonds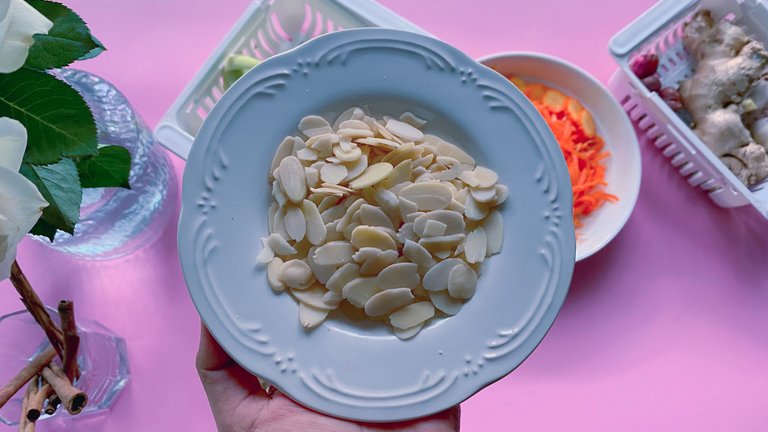 Roasted almonds will complement healthy bento meals. Well, of course, you can use other types of nuts that have healthy fats. In the pantry, there are slices of almonds. So, I'm going to use these almonds.
---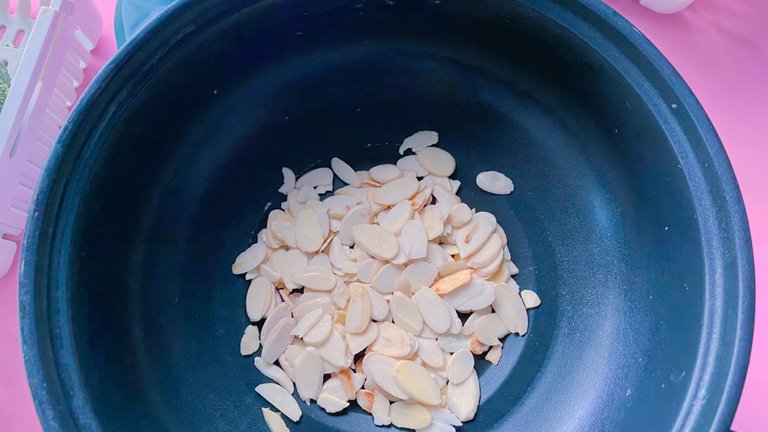 I just used a regular cooking pot, but no oil. Roast almonds until brown. Keep stirring and watching them so they don't burn.
---
---
---
Carrot Noodles
Being creative is an important key to the specialty. Especially in cooking. We will always be faced with many of the same ingredients. It takes creativity to create different dishes while still serving the comfort of the same taste for the tongue of the connoisseur.
In this bento box, I will make carrot noodles as the main center of interest in the bento. I've often made carrot noodles and my husband likes it. So, it was good to fill the bento box this time.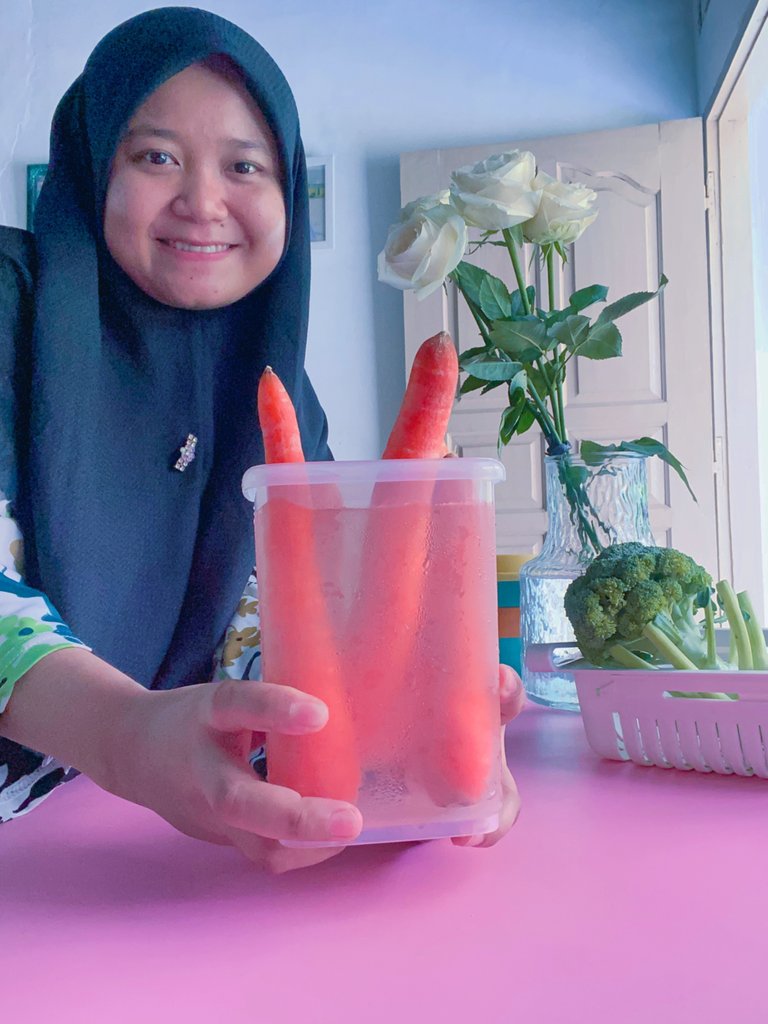 I took out the carrots I kept in the water in the fridge. This method was also just discovered recently. This is so that the carrots stay fresh and not wrinkled. Change the water every day. Oh, I feel excited to make carrot noodles.
---
Next, I have manual fruit shaving for slicing vegetables in the form of shavings like noodles. I'm going to make noodles in a carrot shape with this tool. This is an old favorite of mine that doesn't even cost $0.3.
I carefully scraped the carrots with a tool. I used a total of 3 carrots for two servings. The result was quite satisfactory, even though a bit of skin near my thumb was injured by the tool (no problem, that's the risk of being a creative chef ehehe).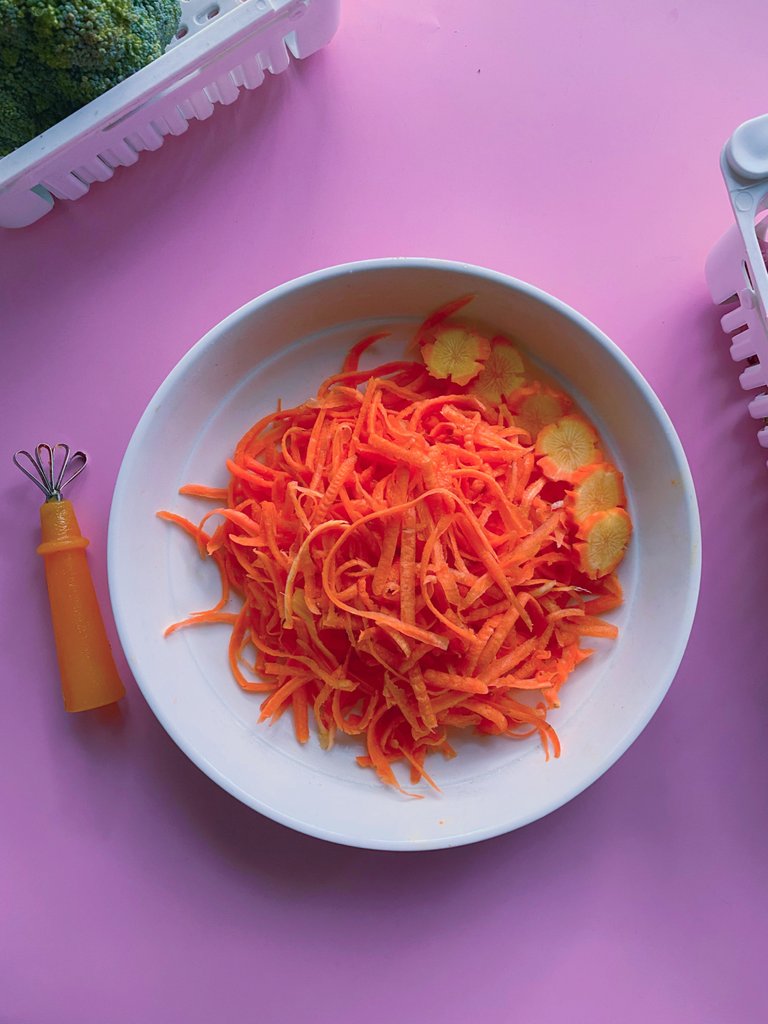 On the carrots, the tougher centers were left and I shaped them like flowers. These flower-shaped carrot slices will make bento meals look more beautiful. Even though the whole meal is just simple ingredients, we have to add small details that increase the value of these bento meals.
---
Carrot Noodles Seasoning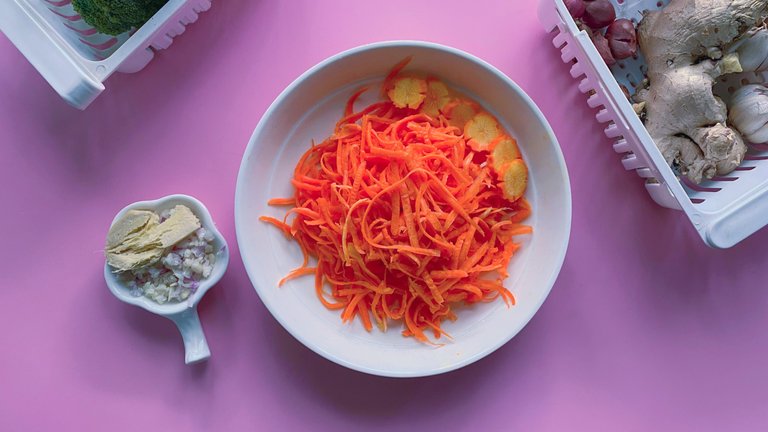 As usual, just simple seasoning. Using chopped onion and garlic, and flattened ginger. Doesn't seem like much flavor. My husband and I are used to eating food with simple seasoning and not too much processing.
---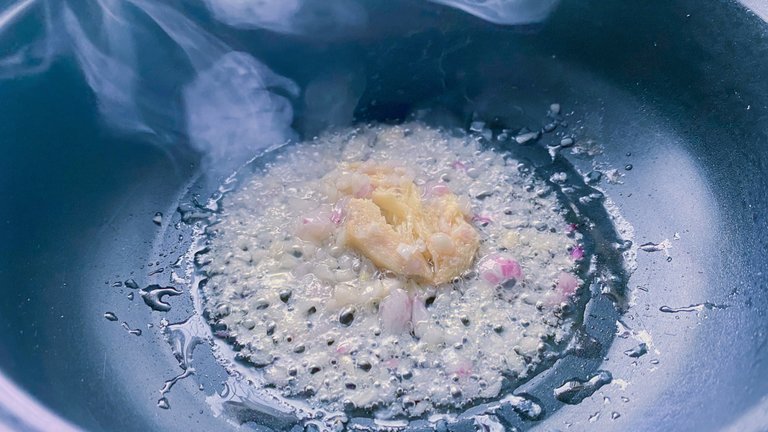 Heat the oil. Then sauté chopped onion, garlic, and flattened ginger. Make sure they have a nice scent. This is enough to help the taste of carrot gingers become delicious even with only a few ingredients.
---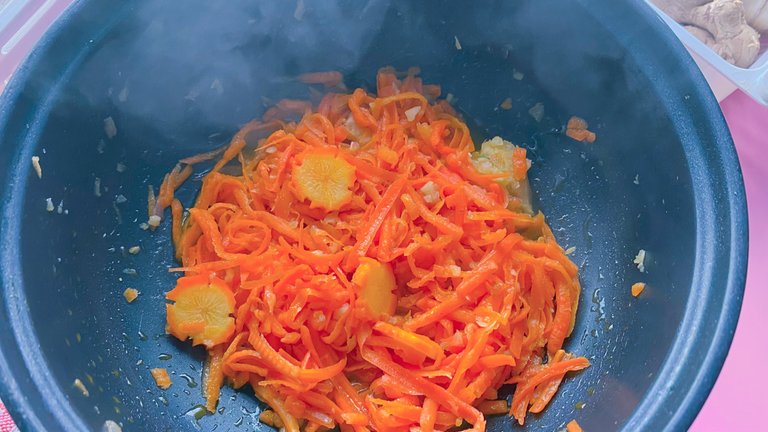 Next, add carrot noodles. Stir them carefully because the texture of the noodles is smooth. I just stir-fry them for about 3 minutes. Can be adjusted each time according to your taste. Remove the carrot noodles and set aside while we prepare the others.
---
---
---
Stir-fry Broccoli With Soy Sauce
Whoa, this is my fav veggie broccoli! When holding broccoli, I can feel a lot of positive energy. Do you like broccoli?
---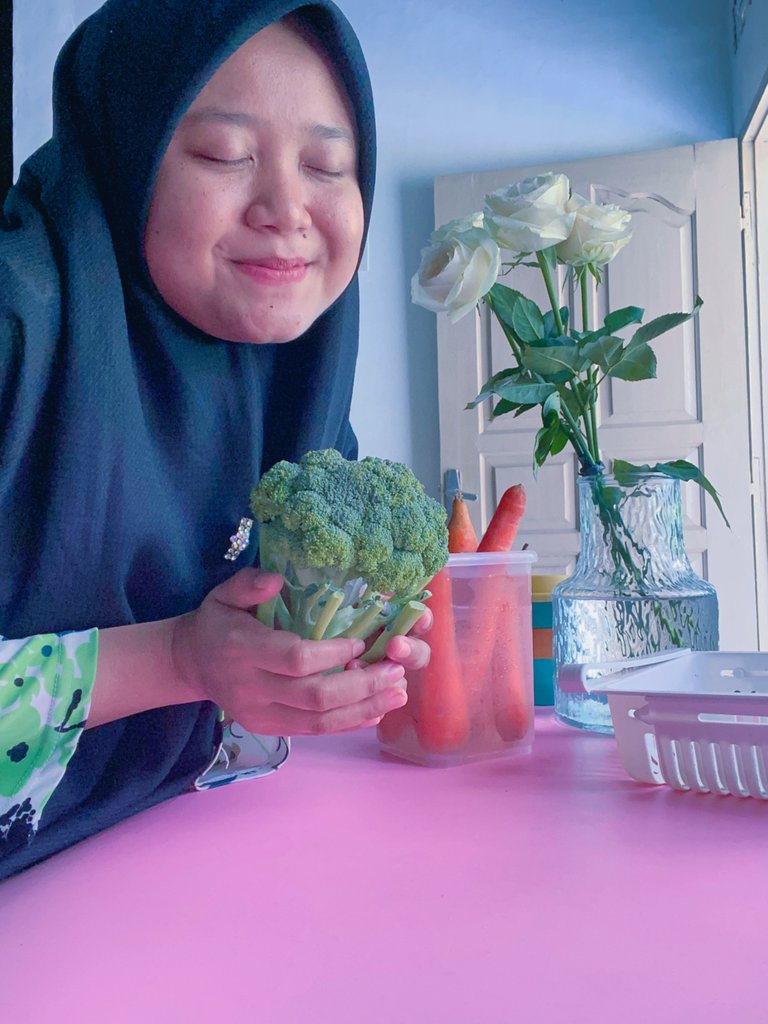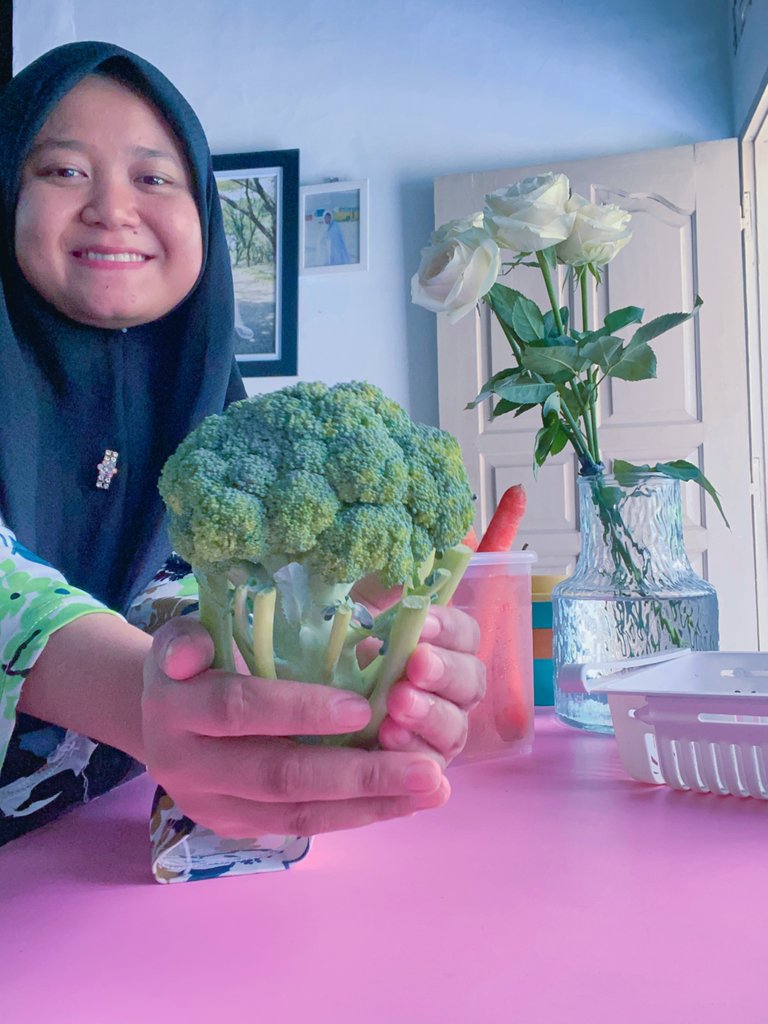 ---
For the stir-fried broccoli, I use soy sauce seasoning. More precisely sweet soy sauce, not salty soy sauce. That will give a mix of sweet, savory, but yummy flavors. The Japanese say it is an "umami" sensation.
Cut the broccoli, wash it clean, then prepare the chopped onion and garlic. Flattened ginger and 2 tablespoons of sweet soy sauce.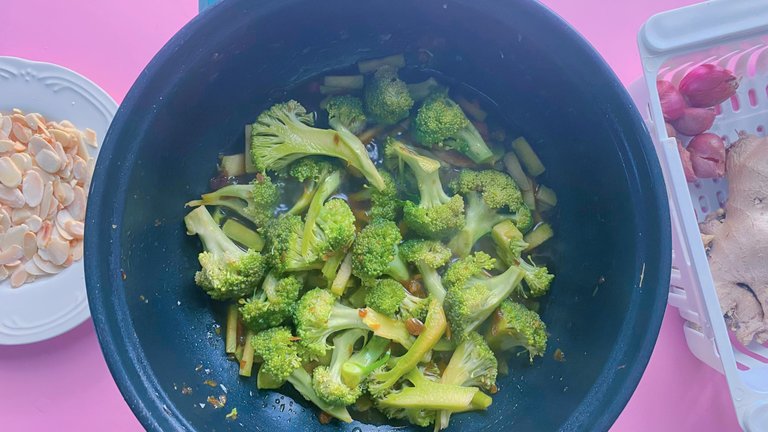 Sauté broccoli for about 5-8 minutes depending on the texture that suits your taste. Don't forget to add 1/2 teaspoon of salt.
---
---
---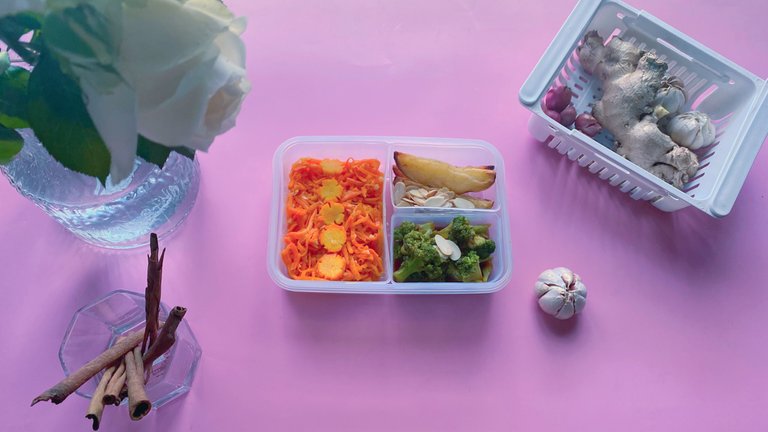 Put all the elements into the bento box. The first part is carrot noodles with the most portions. For the next part of the box, I filled it with potato wedges and roasted almonds. Last part, I filled it with stir-fried broccoli with soy sauce. Ready for bento box meals!
---
---
---
Thank you for reading my blog and reblog if you want my blog this time worthy of reading by others.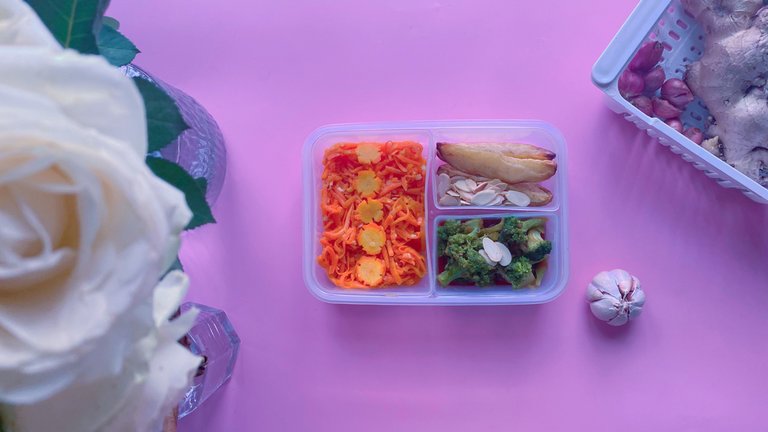 ---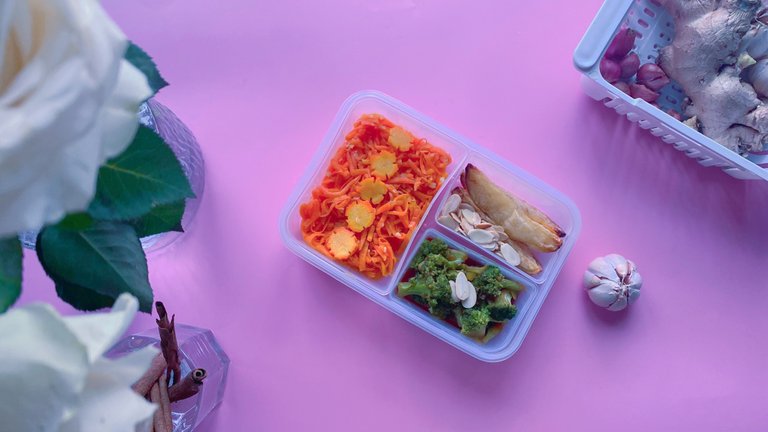 ---
---
---
Best Regards,
Anggrek Lestari
---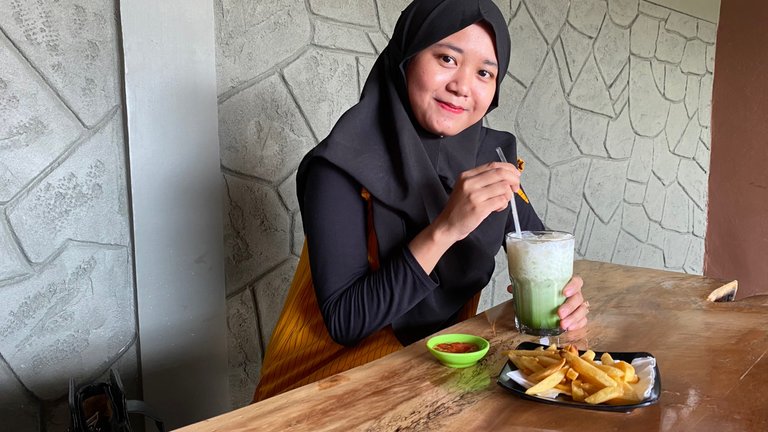 Who is Anggrek Lestari?
Anggrek Lestari is an Indonesian fiction writer who has published two major books. Now She is a full-time content creator. She has a goal to share life, poem, and food content that makes others happy and can get inspiration.
---
Contact Person: [email protected]
Discord: anggreklestari#3009
---
---
---