I need only one attack to win a battle
This is my entry post for the Social Media Challenge organized by splinterlands.
We want your best, most exciting posts about Splinterlands! Got a battle that is too good not to share? Have you created something amazing? Do you have thoughts on stats, cards, abilities, gameplay? We want it all! And we want it to be awesome.
This is the sentences form splinterlands' post. So I want to share this fascinating battle with you.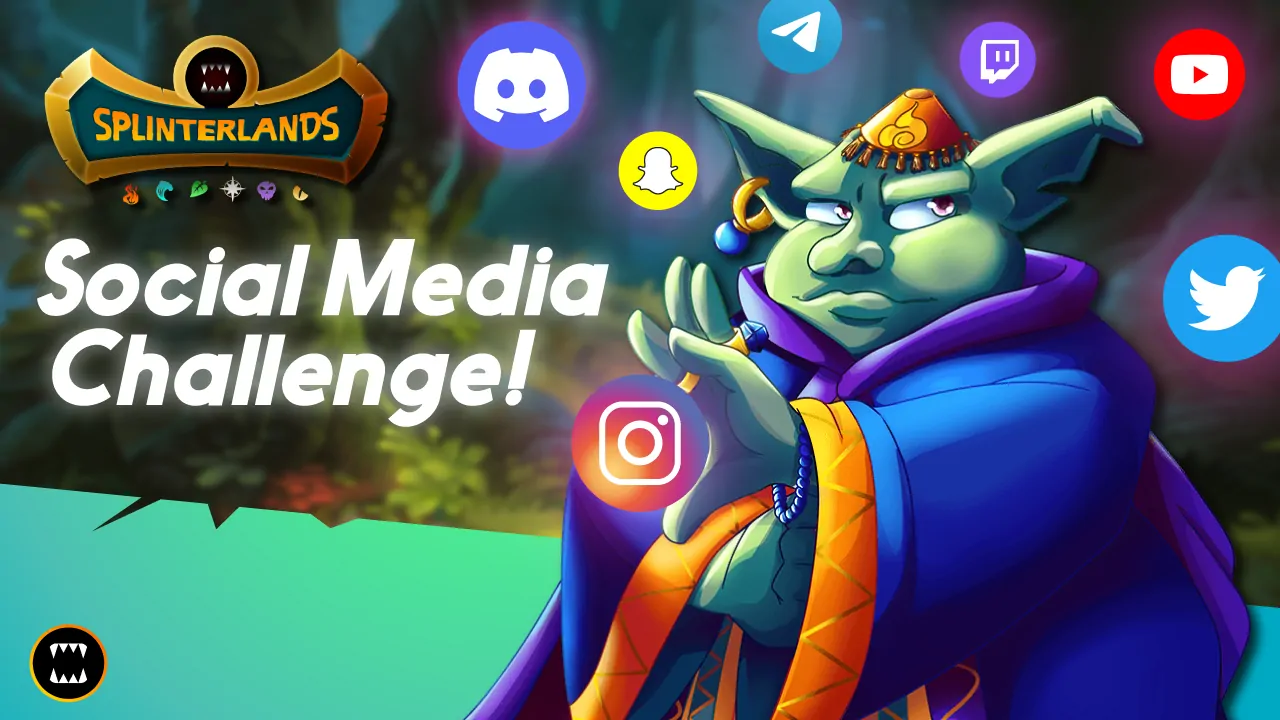 VENARI KNIFER
VENARI KNIFER has [Thorns] and [Backfire] abilities at level 6. So this monster is very good against melee monsgers. No matter what his opponent attacks hit or not, they will deal damage. This is quite good for me.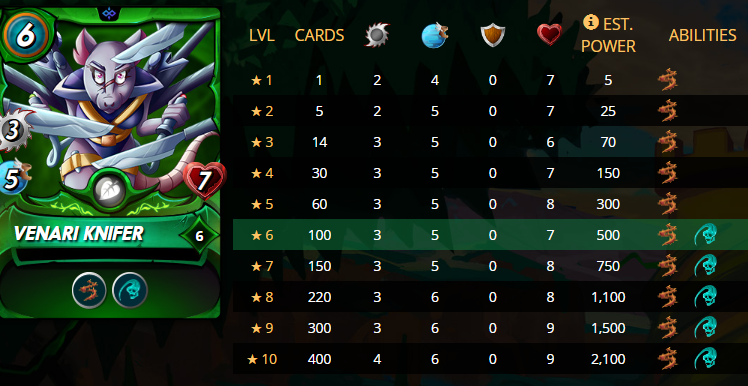 My opponent used Rare level 8 Malric Inferno as summoner. He also add two maxed level melee monster to his arsenal. His method is insane. He tried to attack my backline with explosicve strength. But he did not think I will use a monster with [Thorns] ability.


| | | | | |
| --- | --- | --- | --- | --- |
| | | Battle Link : | Click here | |
| | | Splinter allowed : | Fire, Water and Earth | |
| | | Mana Cost : | 13 | |
Rule Set:
Super Sneak - All Melee attack Monsters have the Sneak ability.
Close Range - Ranged attacks may be used in the first position in battles.


VENARI KNIFER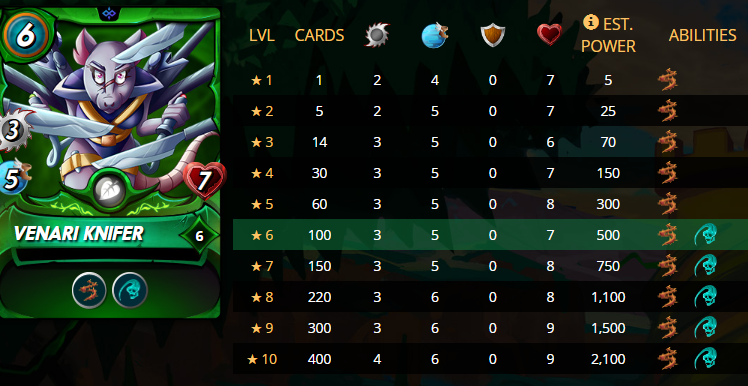 I normally put VENARI KNIFER in first position to deal some damage to my enemy. If he attack first he will also deal some damage if he did not have [Armor]. His first attack speed and [Backfire] ability is good to counter slow non magical monsters.
FUNGUS FIEND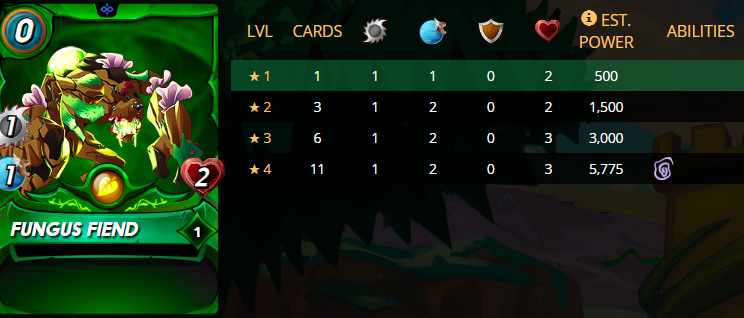 Scapegoat 1. If he can survive from my opponent attack I hope he will deal some damage to my opponent's backline. Though it is not likely.
Furious Chicken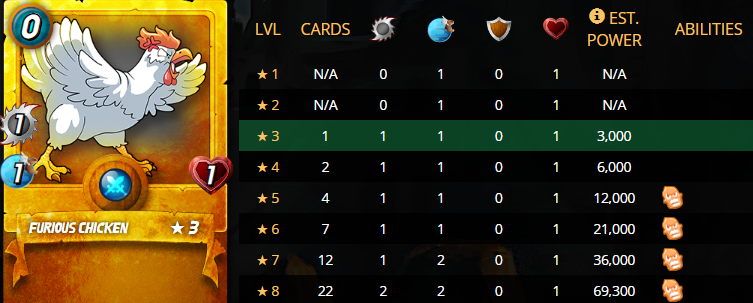 This is an extraordinary scapegoat because it is a gold foil card. It can also give me bonus RP so I normmally choose to put somewhere in the lineup. Now is in third position.
Earth Elemental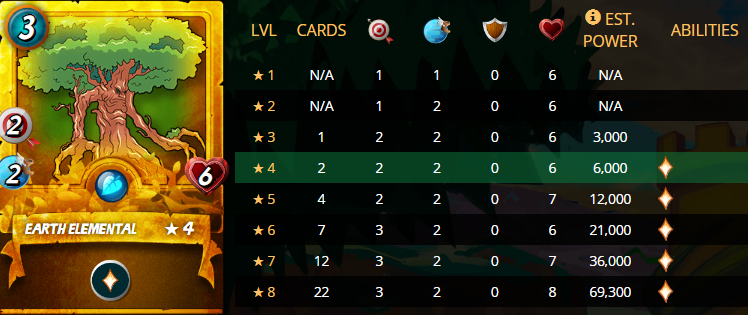 It is a gold foil rare card and has [Heal] ability. So it can be used to fence of the attack from backline. Another reason to choose Earth Elemental is because of the Close Range rule. It can still attack even if there is only one monster left.

Battle History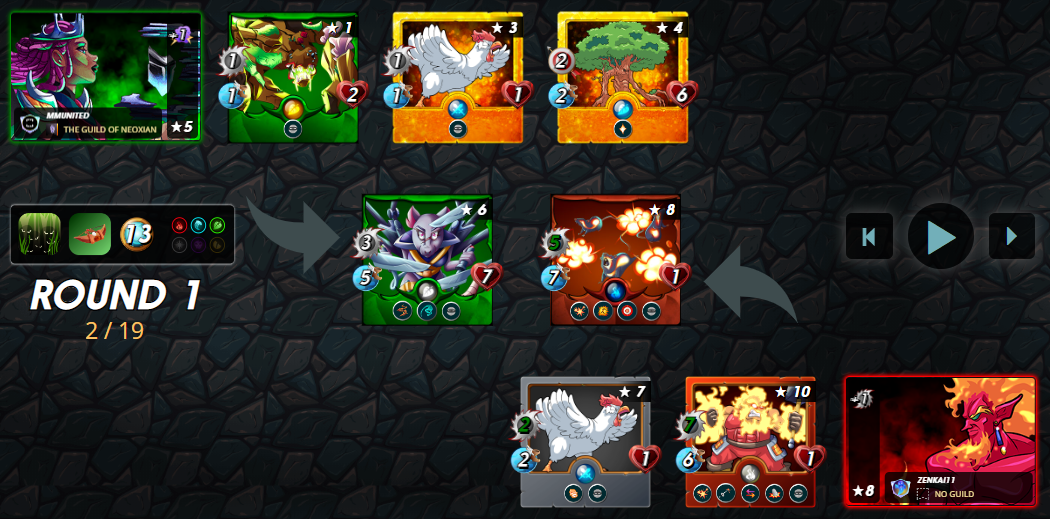 First attack of EXPLODING RATS my FUNGUS FIEND but it also die because of the [Thorns] damage. But his [Redemption] also killed Furious Chicken.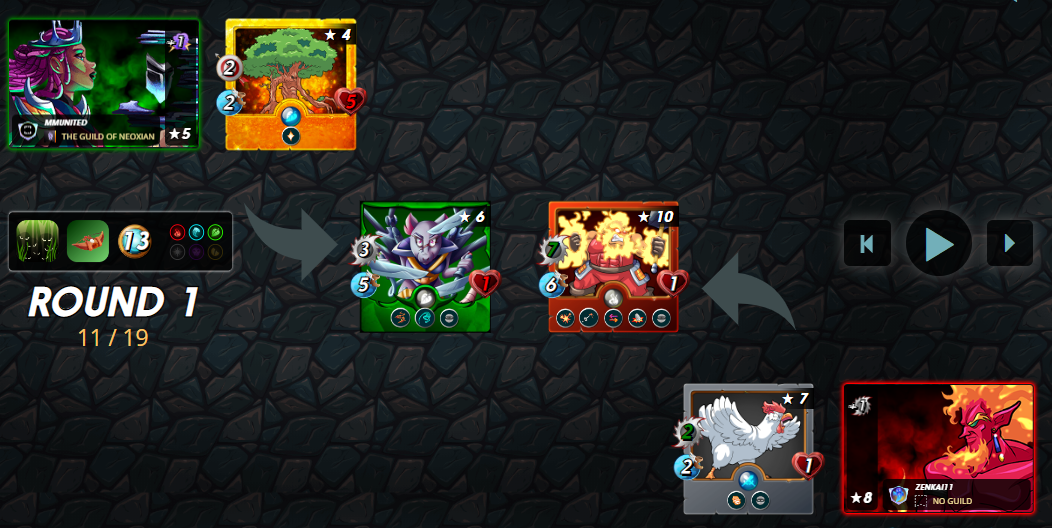 Attack of Exploding Dwarf killed VENARI KNIFER on the spot and left Earth Elemental with only one [Health].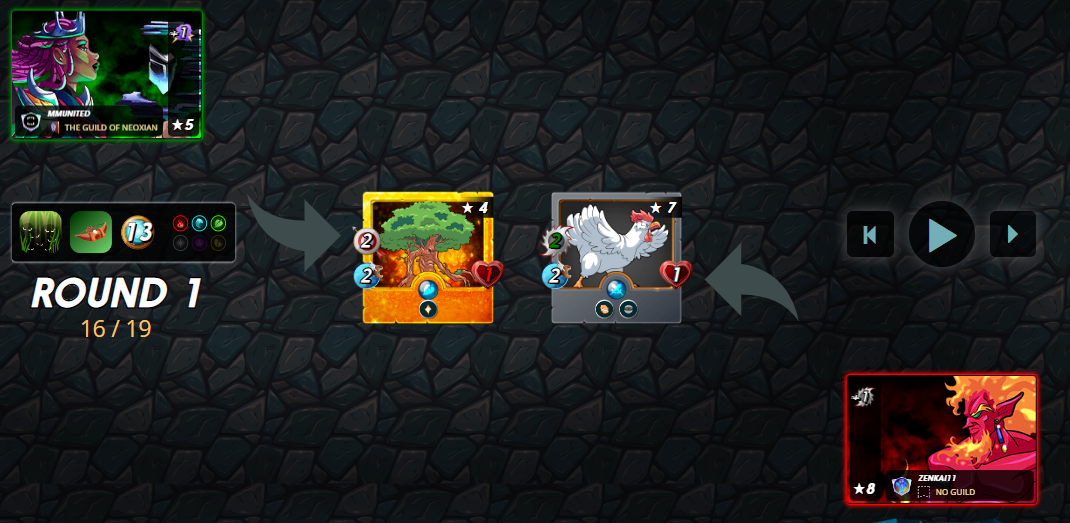 I won this battle because of Close Range Rule. If not there will be a draw I think.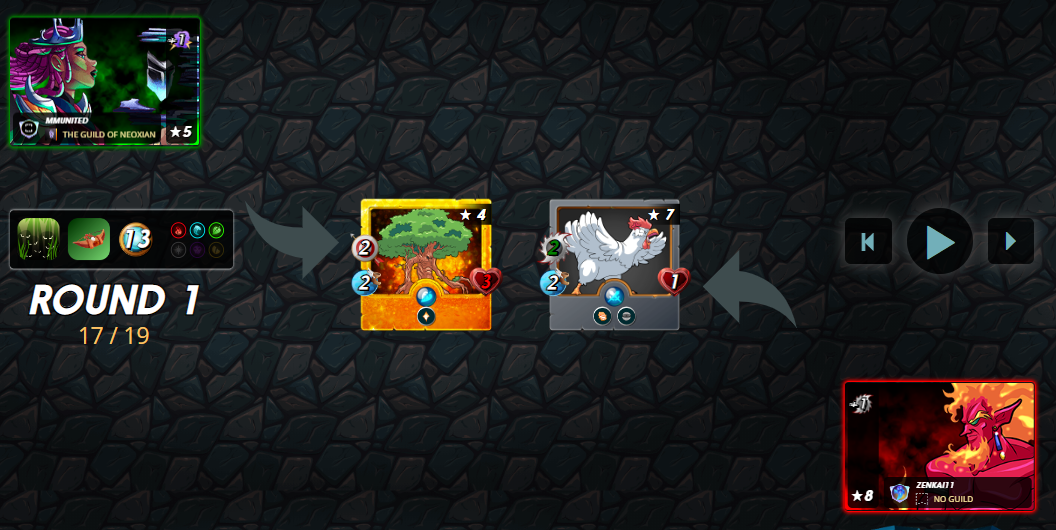 Please use neoxian.city to get better user experiences.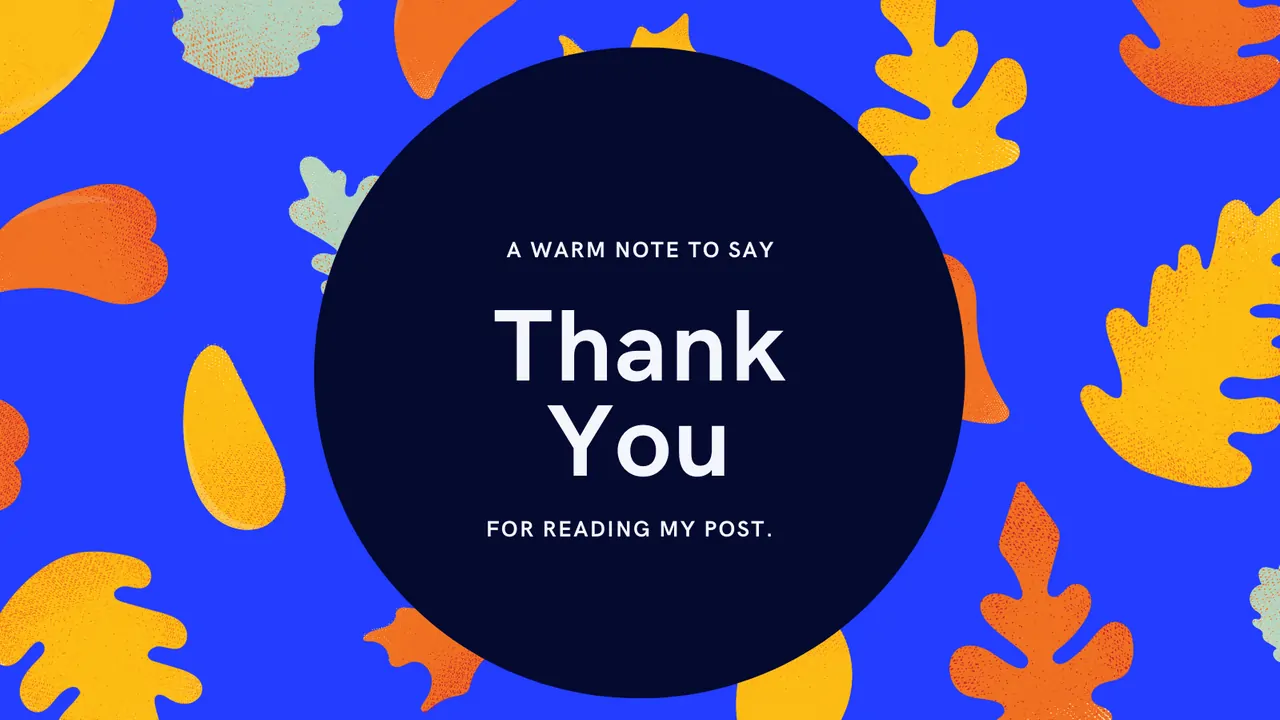 ---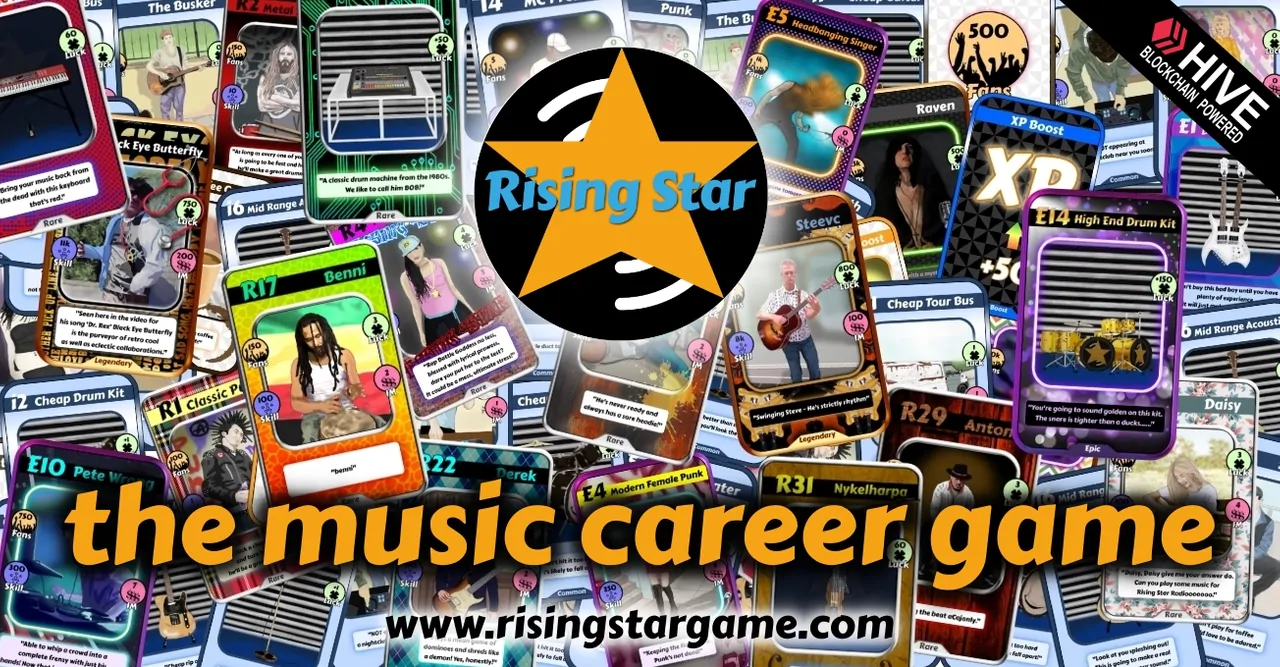 If you want to play Risingstar please use this link.
Join RisingStar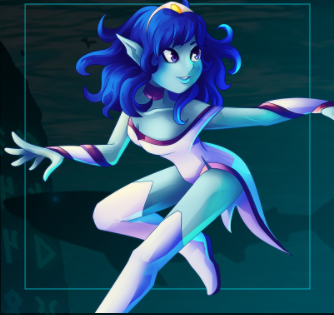 If you want to play Splinterlands. Please use following link:
Join Splinterlands

@mmunited aka @beyondhorizonmm


Posted using Neoxian City
---
---