RE: Neoxian City weekly paper - 2022-07-31

You are viewing a single comment's thread:
Thanks Dragon Sir and Mr. Ray.
Thanks Xawi, Burl, Uncle, Vick, Momo and Samo.
I like post of @bossdebz. Thanks Sayee.
I choose Dark Crimes for neoxian puzzler.
I did not even notice the actor is Jim Carrey. Jim Carrey performed very well in "The Mask" and "Truman Show" but not in this movie. He became nobody in this movie. He is totally lost in this movie. That is the reason why I choose Dark Crimes as a bad movie.
Rotten tomatoes give 0% crit and audience score 29%.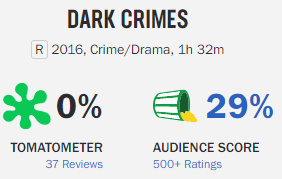 Posted using Neoxian City
---
---