Extra Fudgy Strawberry Brownies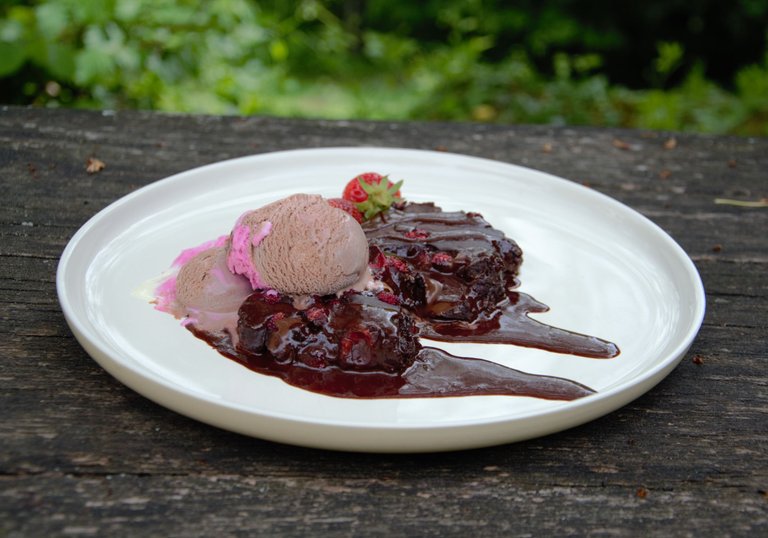 This is the recipe for fudgy brownies with extra chocolate.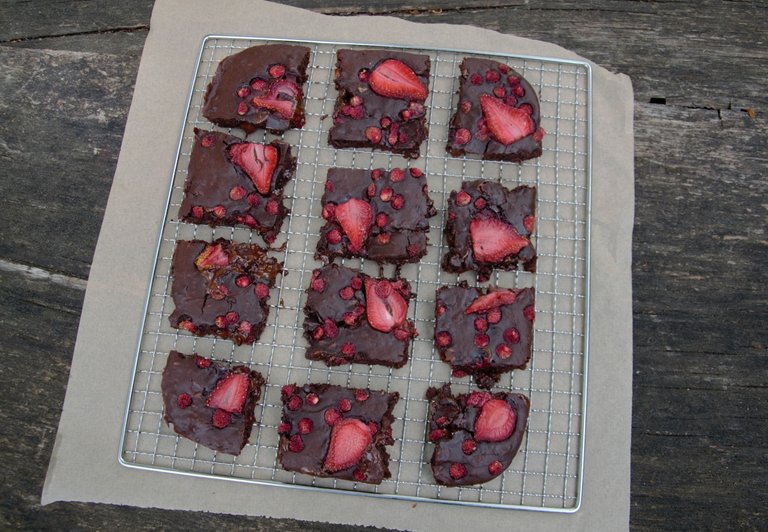 I added forest and garden strawberries to stabilize the strong chocolatey flavor with a bit of sour-sweet taste of fruits.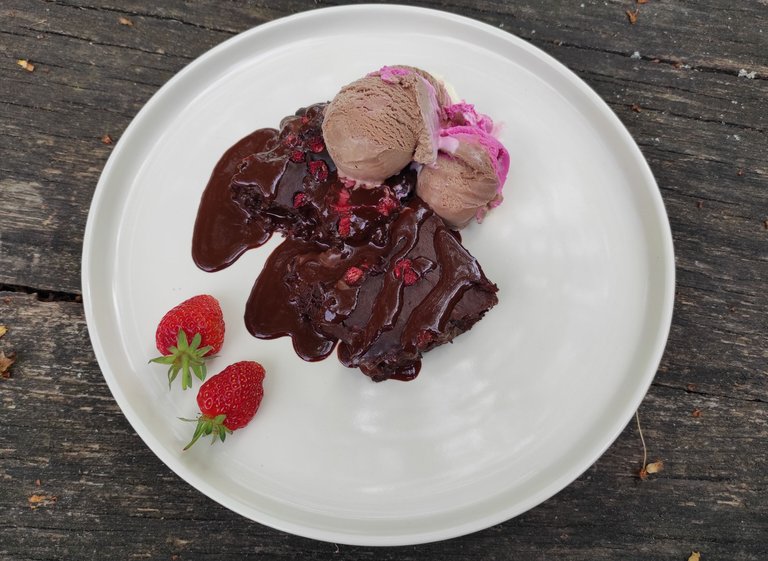 Ingredients:
270 g of all purpose flour
115 g of cocoa powder
100 g of coconut sugar
1 teaspoon of baking powder
½ teaspoon of sea salt
3 flax eggs (3 tablespoons of flax seeds and 6 tablespoons of water)
135 g of margarine
140 ml of rice milk
2 teaspoons of vanilla extract
120 g of dark chocolate
200 g of fresh strawberries
60 g of dark chocolate
Preparation:
Prepare flax eggs; combine 3 tablespoons of flax seeds with 6 tablespoons of water.

Mix cocoa powder and sea salt with hot rice milk. Mix well until getting a structure of hot chocolate.
Melt the margarine and add sugar. Mix it with an electric mixer until the sugar dissolves.
Add vanilla extract and hot chocolate and mix it well.

Turn the mixer down on slow speed and start adding flour slowly, not all at once. Don't overmix the batter, there can be a few lumps of flour.

Cut dark chocolate into smaller pieces and add it to the batter.

Mix it in with a few slow turns.

Pour the batter into the baking tray size 20x35 cm.

Add sliced strawberries on top.

Place it in a preheated oven at 175°C for 25-30 minutes.
Cut it and place it on a wire rack to cool down. Drizzle with melted chocolate.
Serve it with your favorite ice cream.

---
---