A risky decision...Chapter 10 | Original writing | [ENG/ESP]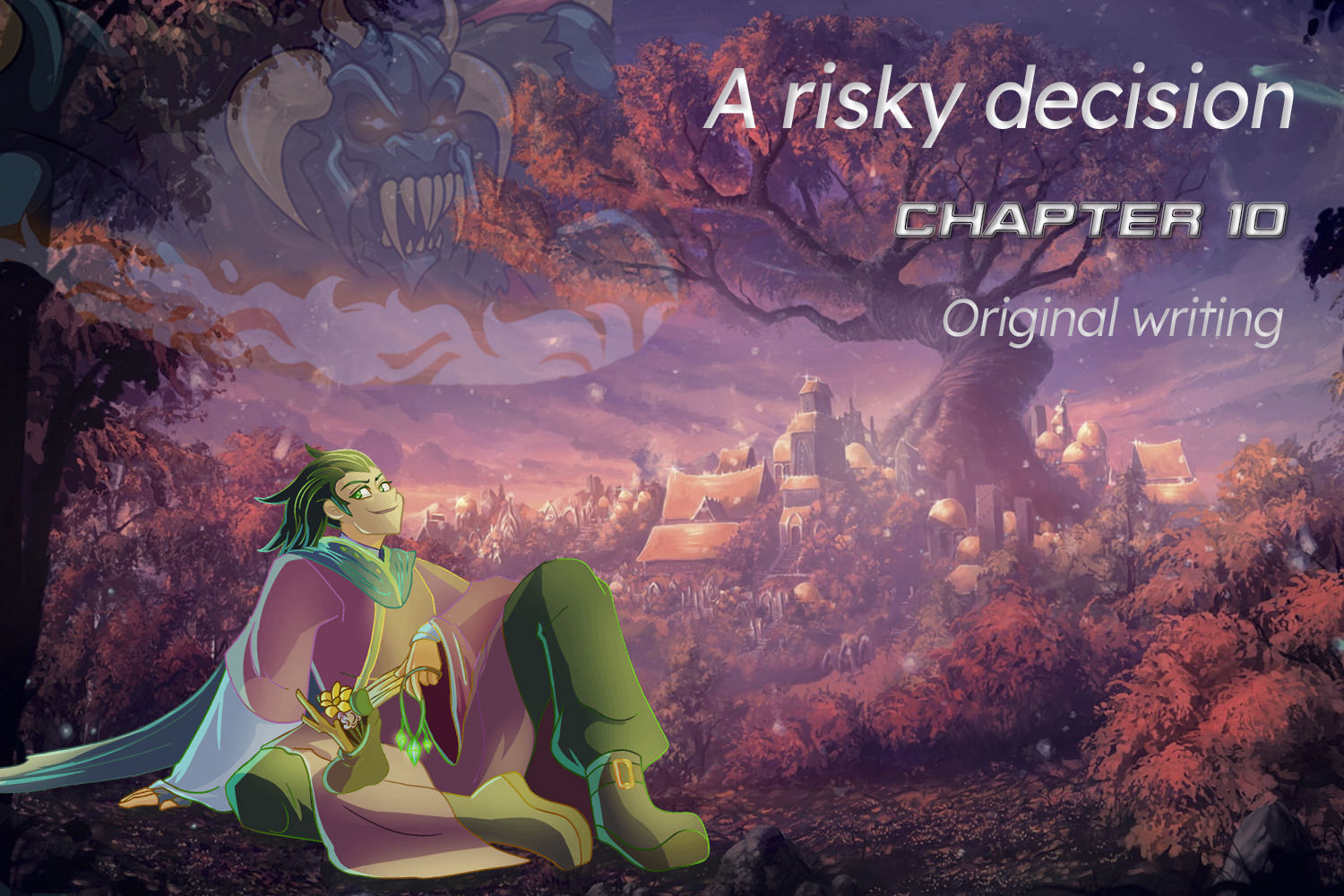 Source | Image edited in Adobe Photoshop
---
---
After the intrusion made by Peakrider through his servants, Lord of Darkness was preparing to receive another visit, this time it was not unexpected for him, because in the previous war he had already faced this adversary, and his combat had been left unfinished, so there was an indirect "promise" to fulfill.
Meanwhile in the earth kingdom Lyanna was talking with the inhabitants, life was full of peace and joy in that place, but something disturbing was coming, in the palace there was a conflict between 3 of the rulers, Mylor quarreled with the Prince while Scarred Llama tried to mediate between them. The problem lay in Mylor's insistence on going to confront the Lord of Darkness directly, something Prince Rennyn wanted to avoid.
I cannot allow you to go," Rennyn pointed out, "it is not the right time," he continued.
But Mylor replied: And for you, when is the time? When we are attacked? We must act immediately, I can go and finish off the Lord of Darkness once and for all.
You will not be able to do it, said Rennyn, the Lord of Darkness has many weapons that you do not know, besides facing him in his realm puts you at a complete disadvantage. It would be certain death for you.
I have faced him before, I will not die," replied Mylor.
Scarred Llama who was the main one of the three remained calm, he only listened to their discussion, after all his word was the most valuable, even Mylor and Rennyn respected him, and rarely went against him.
After a while, Scarred proceeded to speak, he told them the following: This kind of discussion between us leads to no good, I understand both points, Mylor's bravery is admirable, and your caution is as well Prince, but beyond that, what would be the point of this attack? I ask
Rennyn said: it is only something personal, but Mylor did not consent, after that he said: this is something I must do, not so much because it is personal, but because it is necessary. In the previous war I was able to face the Lord of Darkness and I was about to defeat him, now that everything is apparently calm, I want to take the opportunity to fight him again, besides, when I defeat him all this will be over.
You are very confident," said La Llama, "I know how to defeat him," replied the master of thorns.
Are you willing to die? asked Scarred Llama.
After this question the place fell silent, and a while later the words: "I will not die, then go," said Scarred. Rennyn could do nothing and Mylor left for Mortus' lands.
Why did you let him go? asked the Prince, to which Scarred replied: When a man is ready to die he cannot be stopped. After these words each one left for their respective places.
Two days later, Mylor arrived to the lands of Mortus, when he arrived he quickly noticed a heavy atmosphere, but that did not stop him, so he continued. Further ahead a dark presence appeared in front of him, it was Jarlax who came out to greet him.
Hello Mylor, he greeted him. But Mylor's answer was not as friendly, however Jarlax smiled and said: My Lord is waiting for you, let's go.
When they arrived at the place, everything was ready, there was a coliseum ready for the fight, and behind it was sitting in his chair Lord of Dakness, who upon seeing Mylor said: So you have come, are you ready to die?
Hearing the question he smiled with laughter, and thought to himself, this is the second time I have been asked this question, and then answered: I will not die, you will be the one to do it. Lord of Darkness smiled and rose from his throne.
After this, the spectators, several specters of the shadows who were around stared, and in the middle of them emerged a figure that was positioned between Mylor and Lord of Darkness, it was Haunted Spirit. When Mylor saw him, he asked: "Who are you? But he received no answer.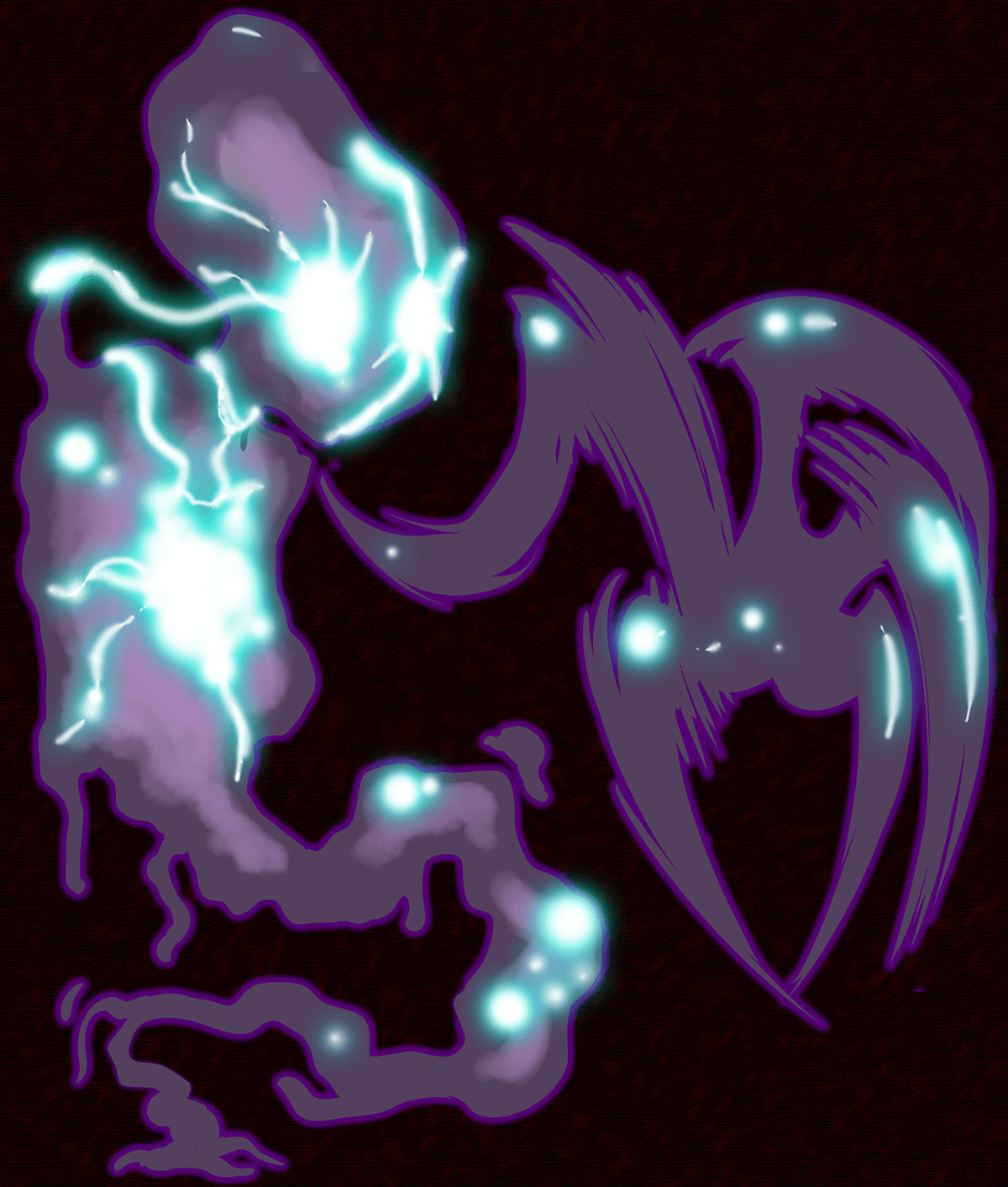 Lord of Darkness spoke in a loud voice: This is Haunted Spirit, and he will be the one to fight you. Mylor was annoyed to hear such words and replied: I came to fight against you, not against your subordinates, but the Lord of Darkness turned around and pronounced in a loud voice: Take it as a warm-up, but don't die...if you win I will fight against you.
Mylor was annoyed but with no options, he had nothing else to do, besides there was no turning back, so he prepared to fight while Lord of Darkness sat on his throne to watch the fight.

---
Splinterlands is the best #play2earn game out there. This story is an original writing of my authorship, I hope you liked it.
The images have been edited in Adobe Photoshop using elements from the game.
If you want to start playing, you can do it from here:
https://splinterlands.com/?ref=cjlugo

Español

Una decision arriesgada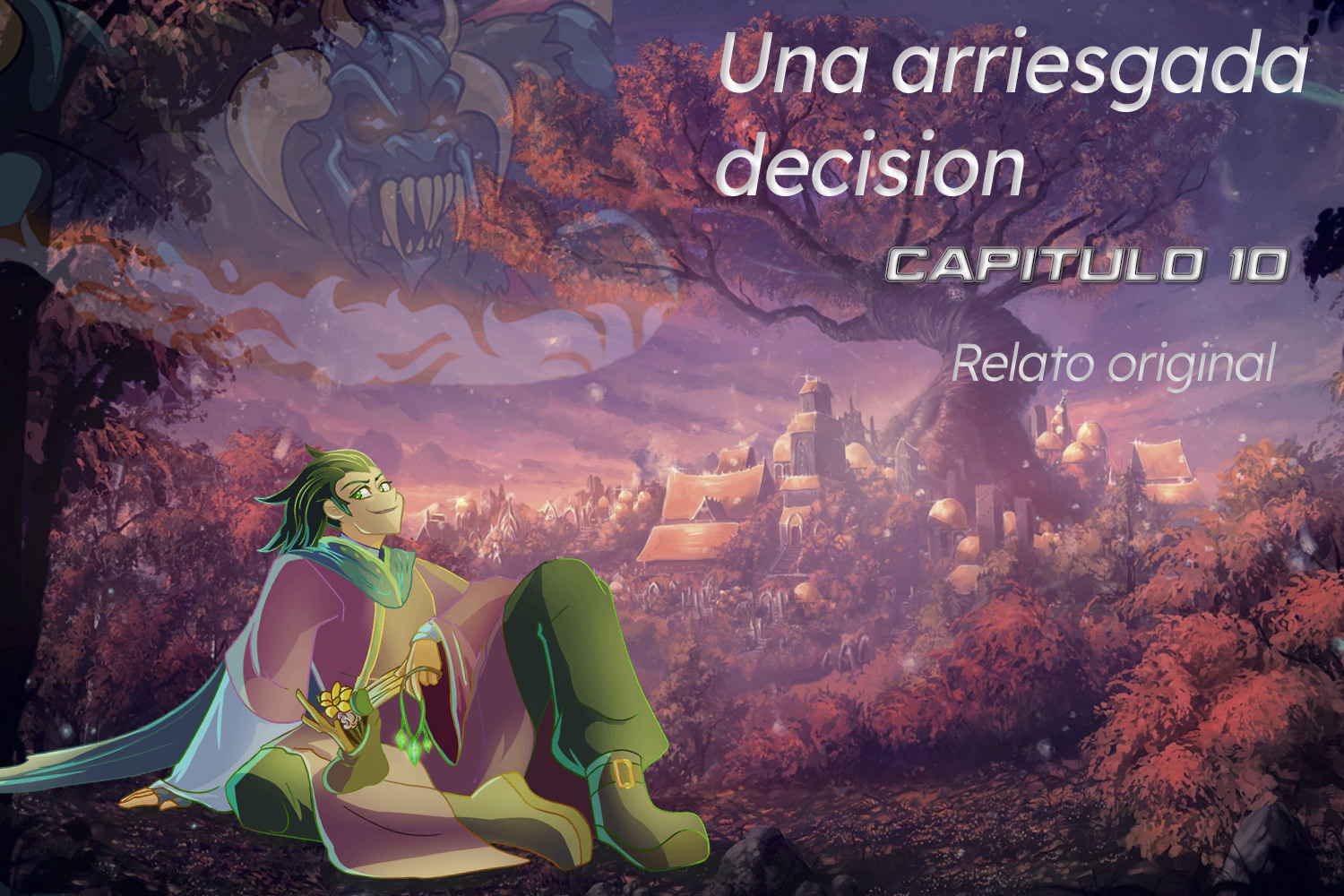 Source | Imagen editada en Adobe Photoshop
---
---
Luego de la intromisión hecha por Peakrider a través de sus siervos, Lord of Darkness se preparaba para recibir otra visita, esta vez no era inesperada para él, pues en la guerra anterior ya había enfrentado a este adversario, y su combate había quedado inconcluso, por lo que había una "promesa" indirecta por cumplir.
Mientras tanto en el reino de tierra Lyanna conversaba con los habitantes, la vida estaba llena de paz y alegría en ese lugar, pero se venía algo perturbador, en el palacio había un conflicto entre 3 de los gobernantes, Mylor reñía con el Príncipe mientras Scarred Llama trataba de mediar entre ambos. El problema radicaba en la insistencia de Mylor de ir a enfrentar a Lord of Darkness directamente, algo que el Príncipe Rennyn quería evitar.
No puedo permitir que vayas, indico Rennyn, no es el momento adecuado prosiguió.
Pero Mylor le respondió: ¿Y para ti cuando es el momento? ¿Cuándo seamos atacados? Debemos actuar inmediatamente, yo puedo ir y acabar con Lord of Darkness de una vez por todas.
No podrás hacerlo le dijo Rennyn, el amo de la oscuridad tiene muchas armas que tu no conoces, además enfrentarlo en su reino te coloca en una completa desventaja. Sería una muerte segura para ti.
Ya lo he enfrentado anteriormente, no moriré, respondió Mylor
Scarred Llama quien era el principal de los tres permanecía tranquilo, solo se dedicaba a oír la discusión de ambos, al final de cuentas su palabra era la que tenía mayor valor, inclusive Mylor y Rennyn le respetaban, y pocas veces iban en su contra.
Luego de un rato, Scarred procedió a hablar, les dijo lo siguiente: Este tipo de discusiones entre nosotros no lleva a nada bueno, entiendo ambos puntos, la valentía de Mylor es admirable, y tu precaución también lo es Príncipe, pero más allá de eso, ¿Cuál sería el punto de este ataque? Pregunto
Rennyn dijo: es solo algo personal, pero Mylor no consintió, luego de eso dijo: Esto es algo que debo hacer, no tanto porque sea personal, sino porque es necesario. En la anterior guerra pude enfrentar a Lord of Darkness y estuve a punto de vencerlo, ahora que todo está aparentemente tranquilo, quiero aprovechar la oportunidad de luchar nuevamente contra él, además, cuando lo derrote todo esto acabara.
Tienes mucha confianza le dijo La Llama, se cómo vencerlo replico el amo de las espinas.
¿Estás dispuesto a morir? Pregunto Scarred Llama.
Luego de esta pregunta el lugar entro en silencio, y un rato después se escucharon las palabras: No moriré, entonces ve dijo Scarred. Rennyn nada pudo hacer y Mylor salió hacia las tierras de Mortus.
¿Por qué lo dejaste ir? Pregunto el Príncipe, a lo que Scarred contesto: Cuando un hombre está listo para morir no se puede detener. Después de estas palabras cada uno se marchó a su respectivo lugar.
Dos días después, Mylor arribo a las tierras de Mortus, al llegar noto rápidamente una pesada atmosfera, pero eso no lo detuvo, así que continúo. Más adelante una presencia oscura apareció delante de él, se trataba de Jarlax quien salió a recibirlo.
Hola Mylor, le saludo. Pero la respuesta de Mylor no fue igual de amistosa, sin embargo Jarlax sonrió y le dijo: Mi Señor te espera, vamos.
Cuando llegaron al lugar, todo estaba preparado, había un coliseo listo para la pelea, y detrás de él estaba sentado en su silla Lord of Dakness, quien al ver a Mylor le dijo: Así que has venido, ¿estás preparado para morir?
Al oír la pregunta sonrió a carcajadas, y pensó dentro de sí, ya es la segunda vez que me preguntan esto, para después responder: No moriré, serás tu quien lo haga. Lord of Darkness sonrió y se levantó de su trono.
Luego de esto, los espectadores, varios espectros de las sombras quienes estaban alrededor miraban fijamente, y en medio de ellos emergió una figura que se posiciono entre Mylor y Lord of Dakness, se trataba de Haunted Spirit. Cuando Mylor lo vio, pregunto: ¿Quién eres tú? Pero no recibió respuesta.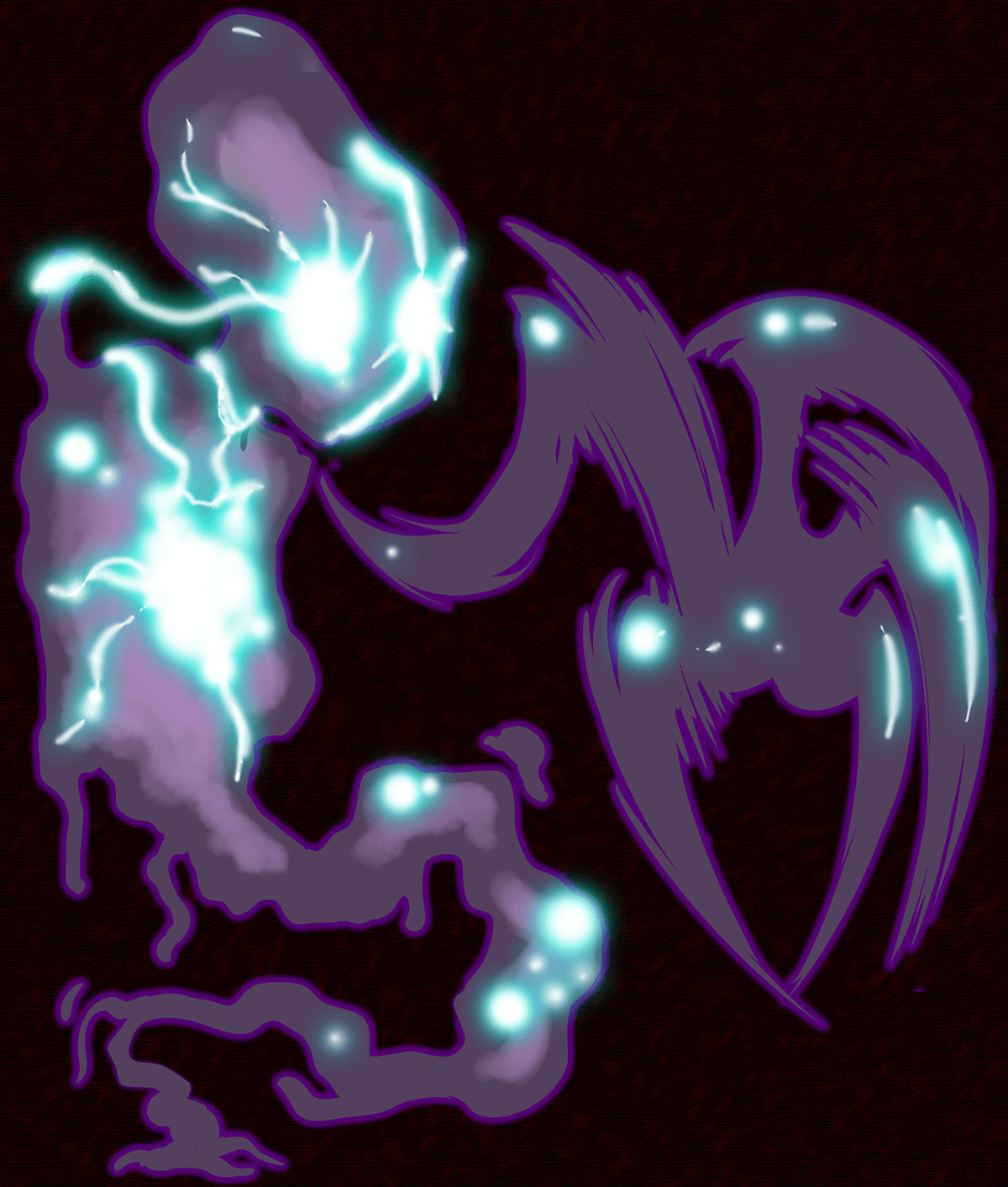 Lord of Darkness hablo en alta voz: Este es Haunted Spirit, y el será quien pelee contra ti. Mylor se molestó al oír tales palabras y replico: Vine a luchar contra ti, no contra tus subordinados, pero el amo de la oscuridad se dio media vuelta y pronuncio en alta voz: Tómalo como un calentamiento, pero no te vayas a morir…si ganas luchare contra ti.
Mylor molesto pero sin opciones, no tenía más nada que hacer, además ya no había vuelta atrás, así que se preparó para luchar mientras que Lord of Darkness se sentó en su trono a observar la pelea.

---
Splinterlands es el mejor juego #play2earn de la actualidad. Este relato es un escrito original de mi autoria, espero te haya gustado.
Las imágenes han sido editadas en Adobe Photoshop usando elementos del juego.
Si quieres comenzar a jugar, puedes hacerlo desde aquí:
Posted using Neoxian City
---
---