The idyllic beauty of Kon Tu Rang terraced fields
Hi Hivers,
If you ask me my favorite destination in Mang Den, Kon Tum, I can tell you right away it's Kon Tu Rang terraced fields. I was recommended it by my friends. Located away from the residential area and about 12 km from the center of Mang Den town, it is the terraced field of the Ba Na ethnic people in Kon Tu Rang village. It is surrounded by mountains and poetic Dak Bla river. And to get there I had to cross a beautiful suspension bridge. It took me about 30 minutes to drive a motorbike from Mang Den town center to Kon Tu Rang rice terraces.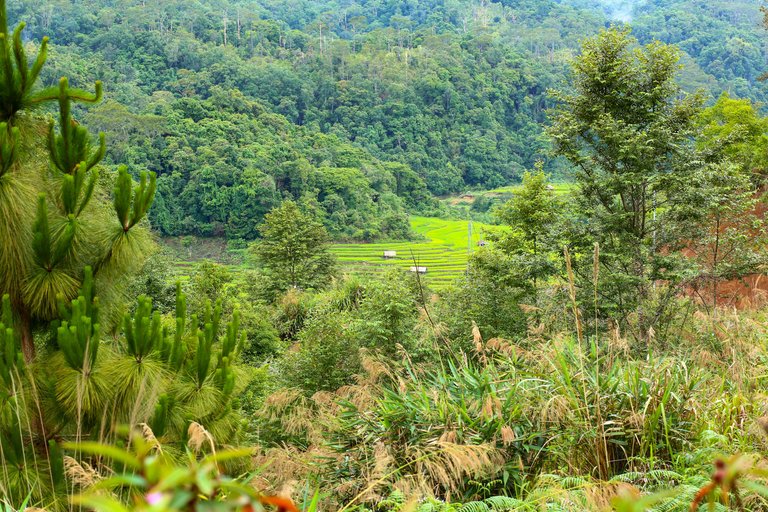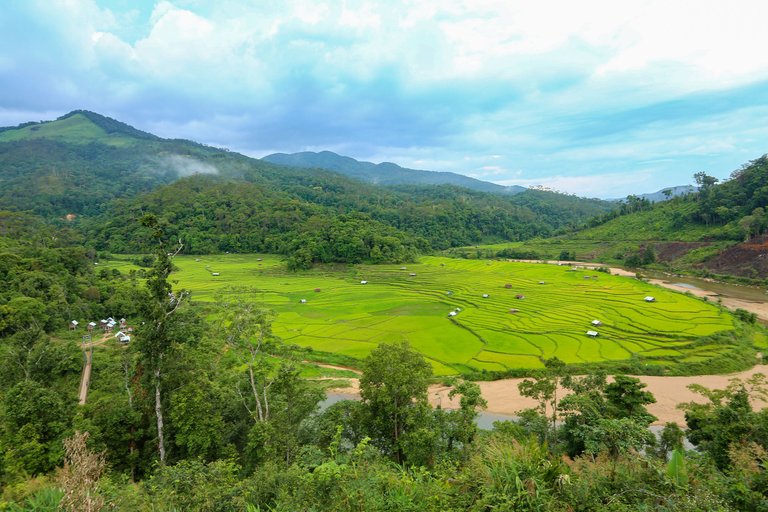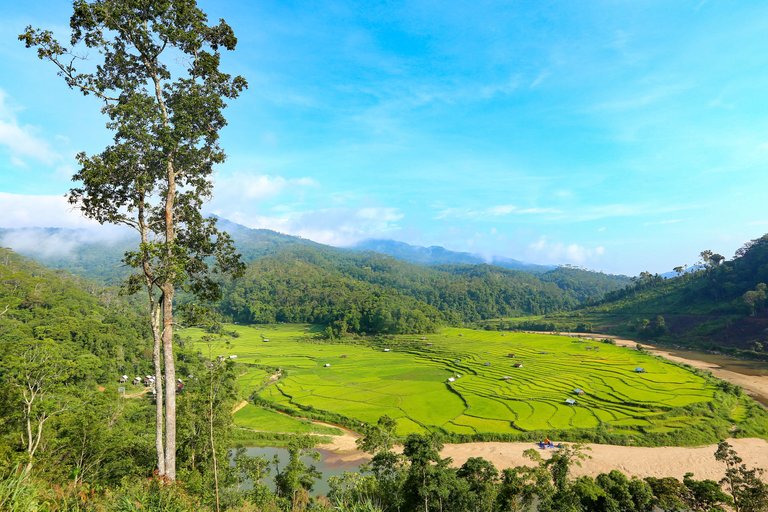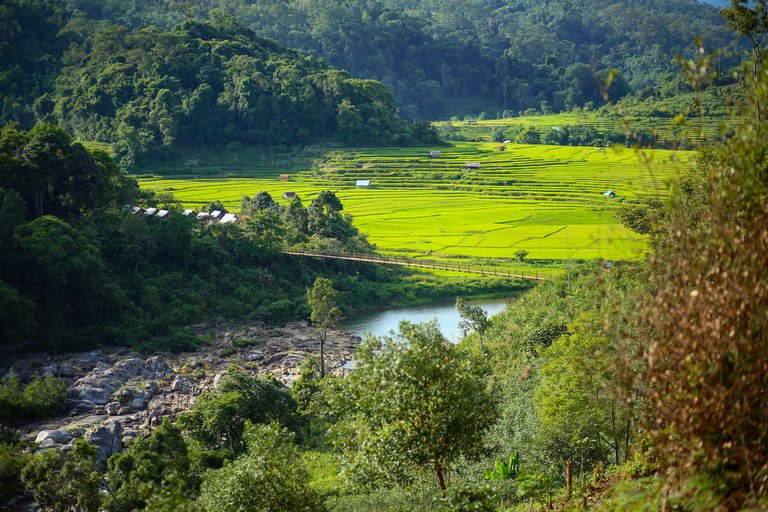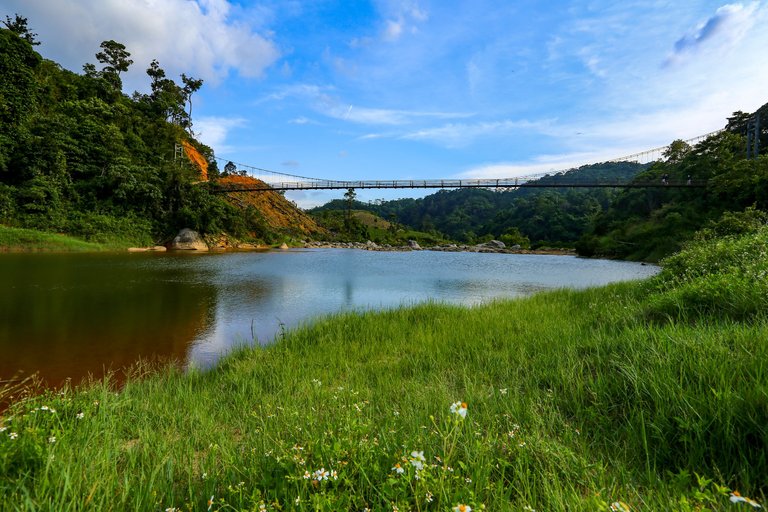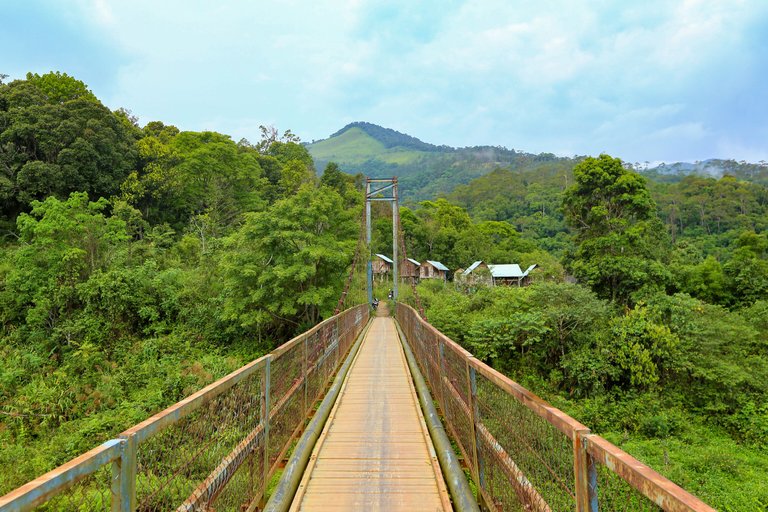 You might ask why the Ba Na people here work on terraced fields, right? Let me explain. Firstly, the terrain here is not flat, so the locals have no choice but to cultivate terraced fields. In addition, terraced fields save space, make use of groundwater of mountainous areas and better resist erosion. Therefore, when visiting the mountainous areas of Vietnam, you will see a lot of terraced fields. And it is the terraced fields that have created the beauty of many lands of Vietnam. The terraced fields in Kon Tu Rang are no exception. It is even more special because it is surrounded by mountains and a romantic river.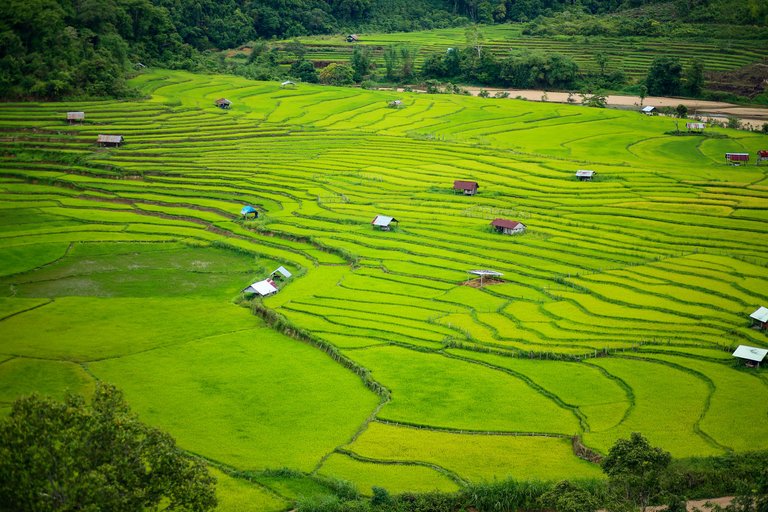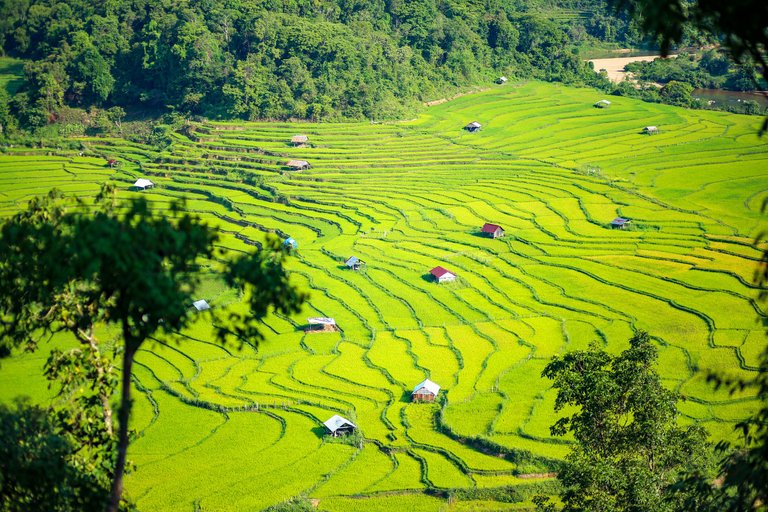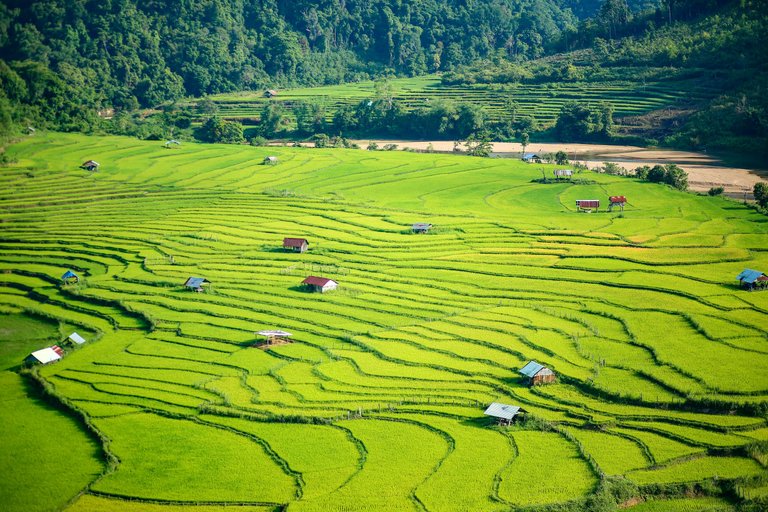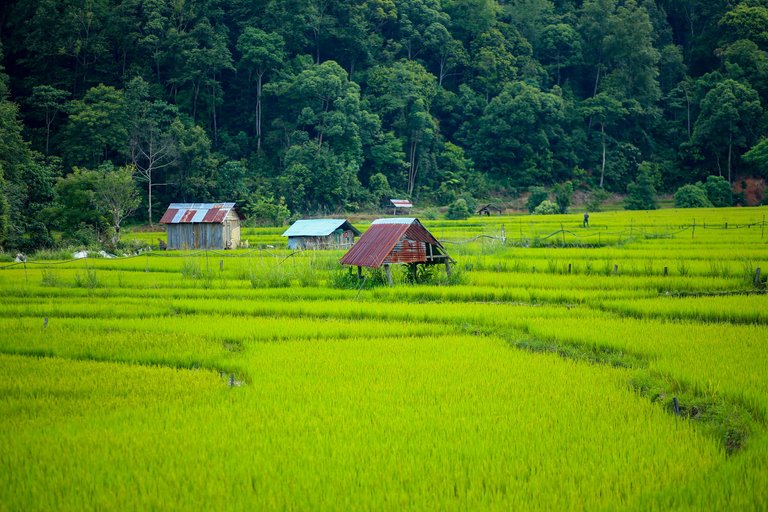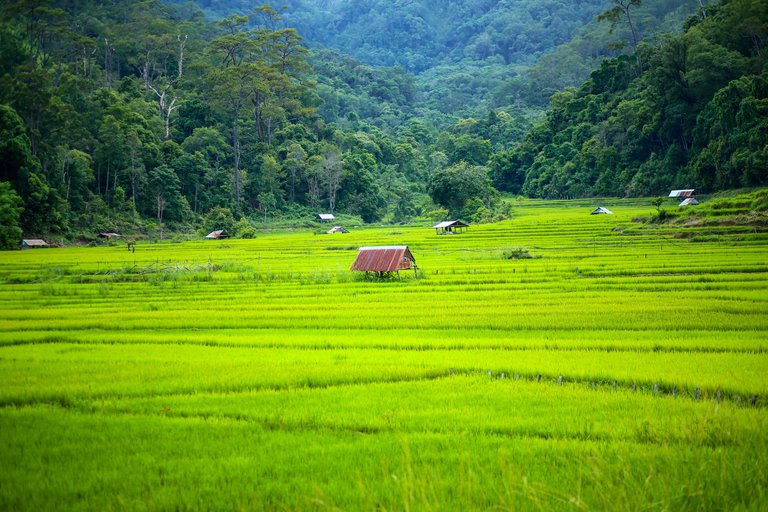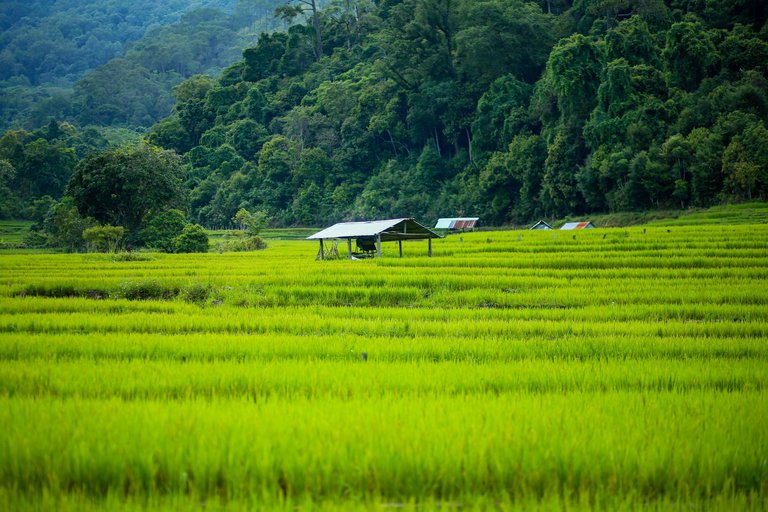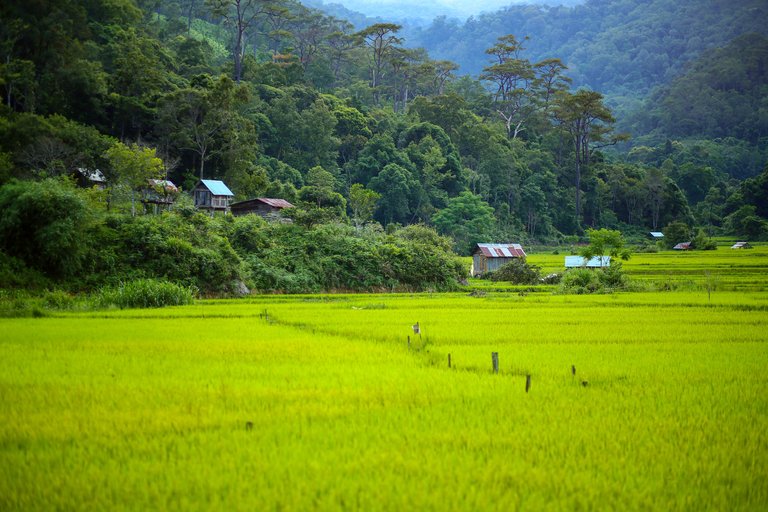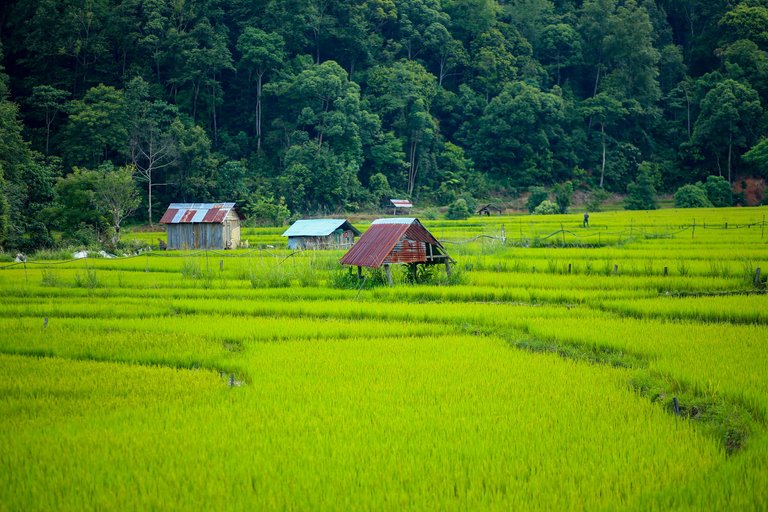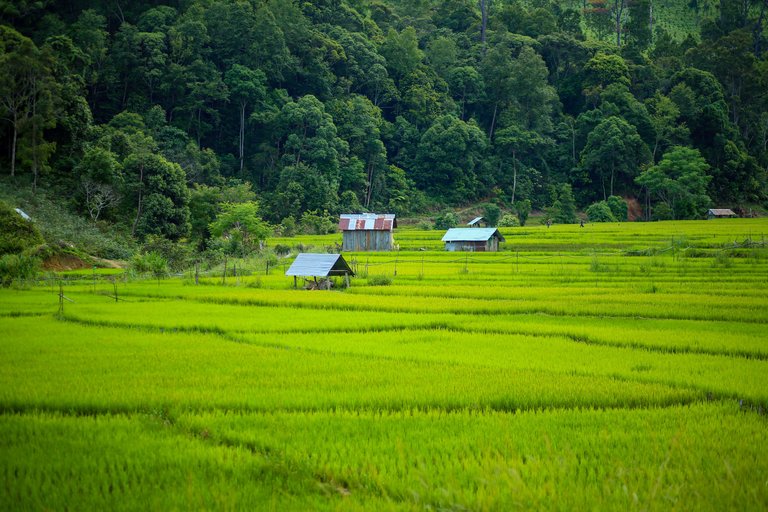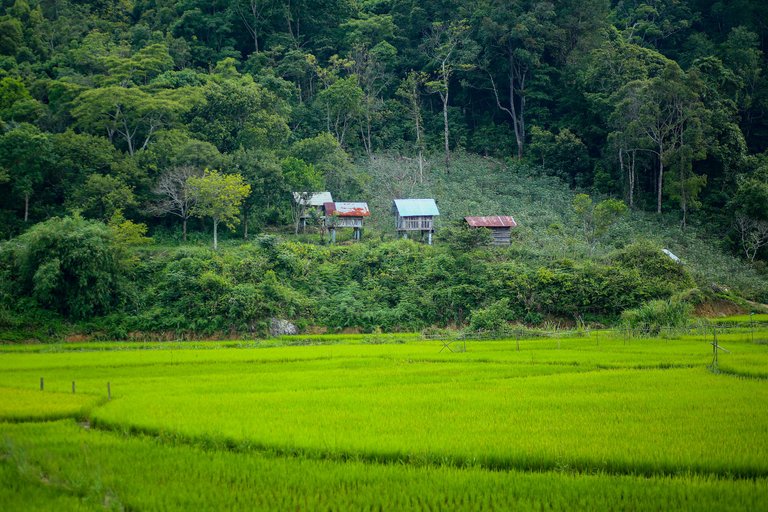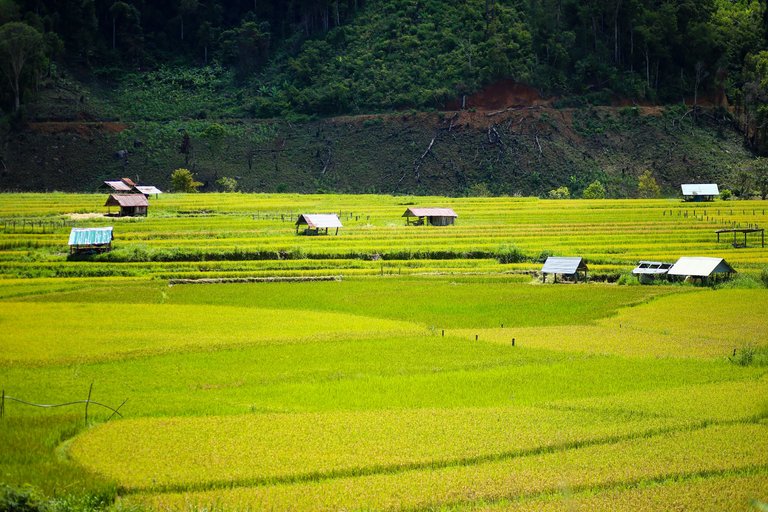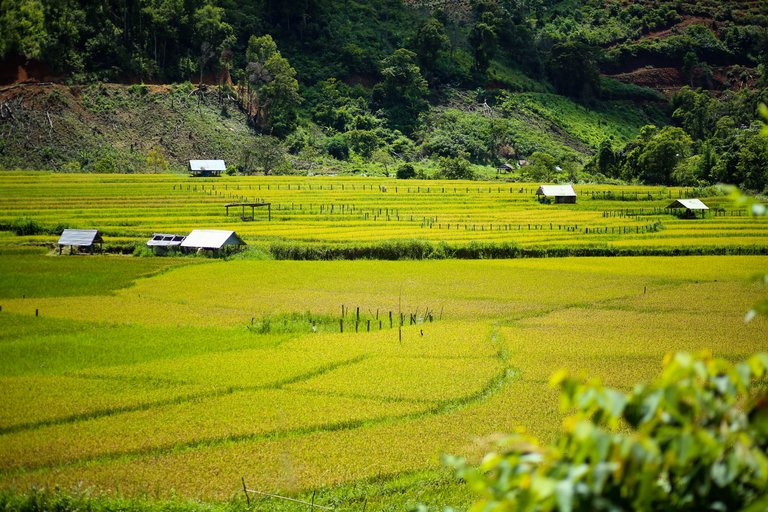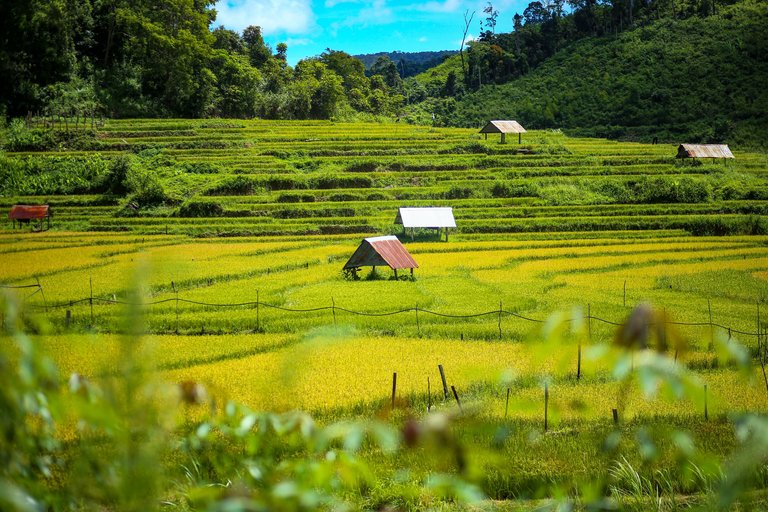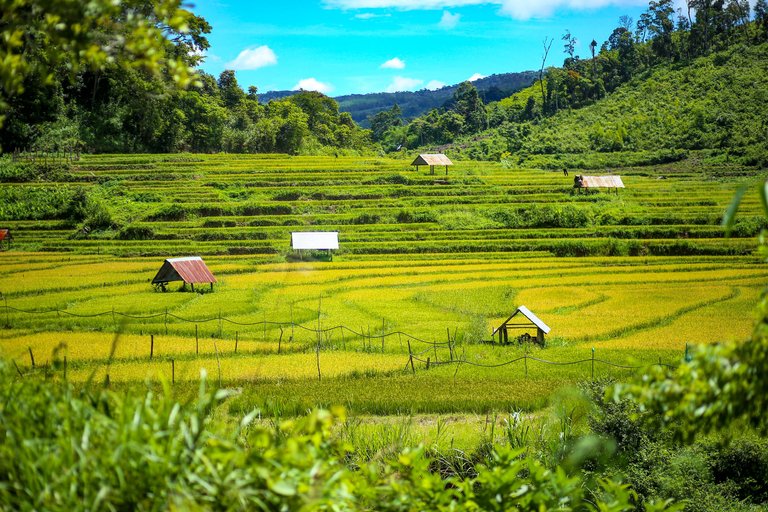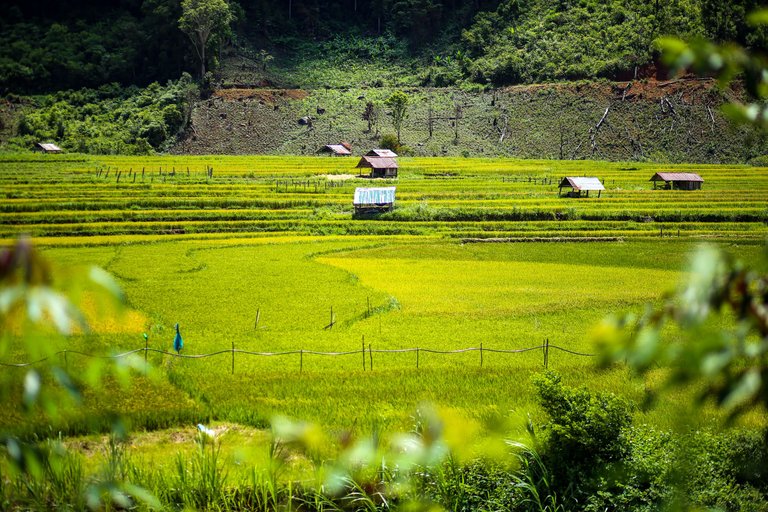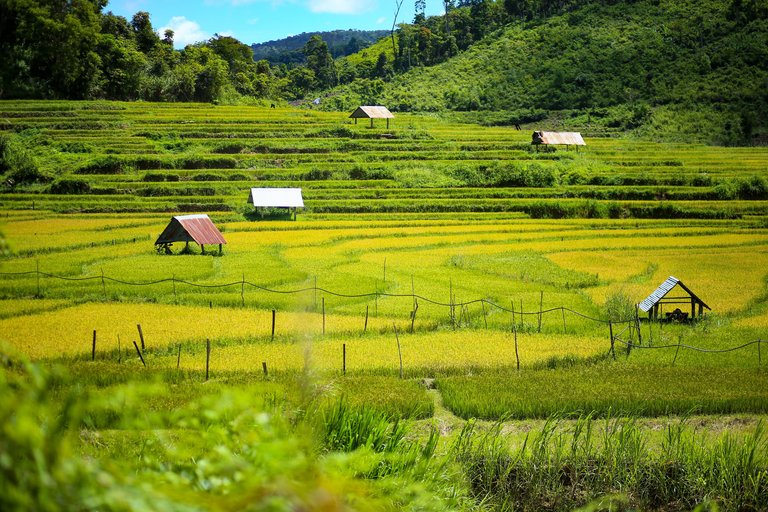 Another special feature that you can easily recognize when coming to Kon Tu Rang terraced fields are the houses containing rice. Those are small stilt houses built by locals right next to rice fields. You may wonder why they do that. I had the same question when I first saw those houses, and then I found the answer from a local. Living houses of the Ba Na people are usually cottages or wooden houses, which are easily combustible materials. And for the Ba Na people, rice in particular and food in general are very important, so they built that small house on stilts to store rice in a separate area to avoid fires. Would the rice and food stored in those houses be stolen? The answer is no. The Ba Na people are very respectful of other people's property and never intend to steal things from others. Even if you give them something, they will find a way to give you something else. So even though rice and food are stored in warehouses far from residential areas and left unattended, they are safe.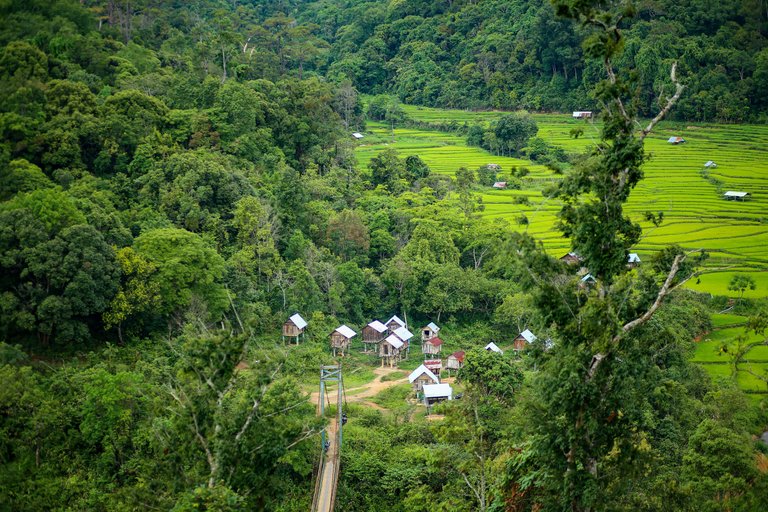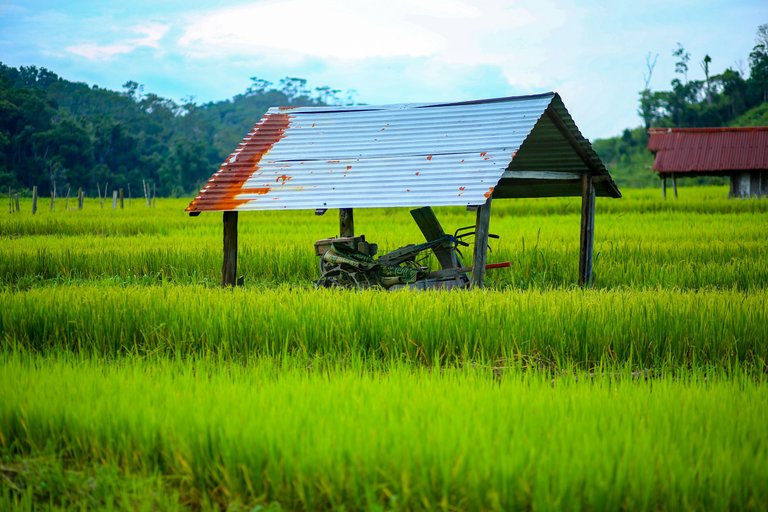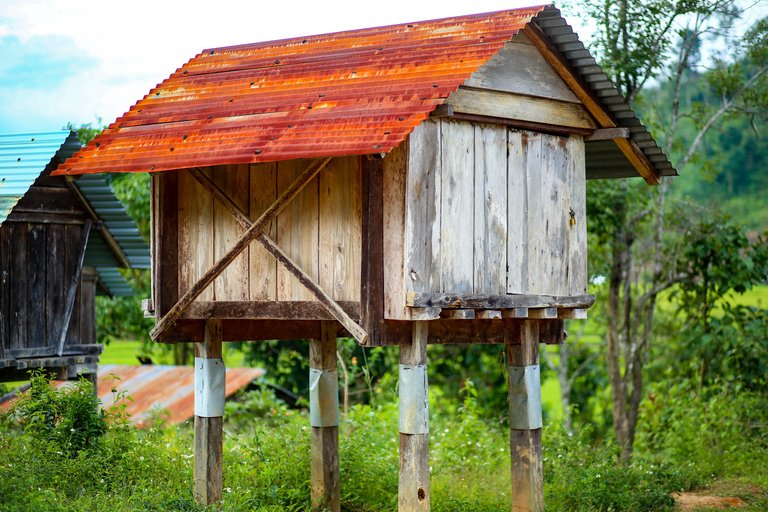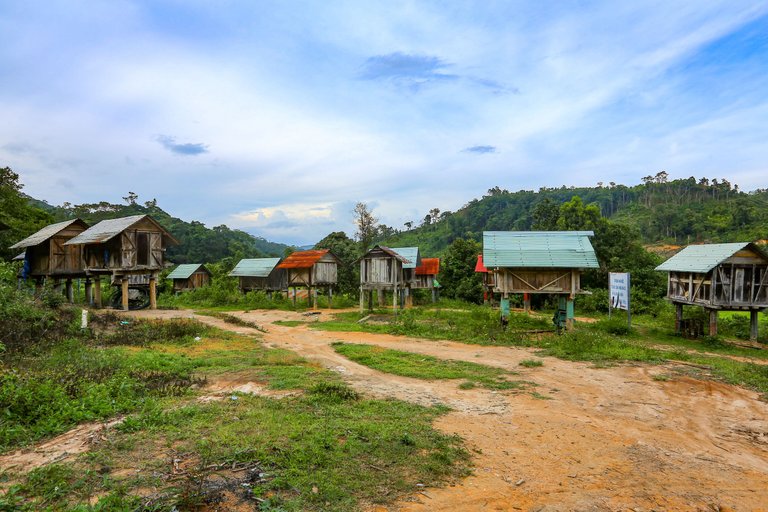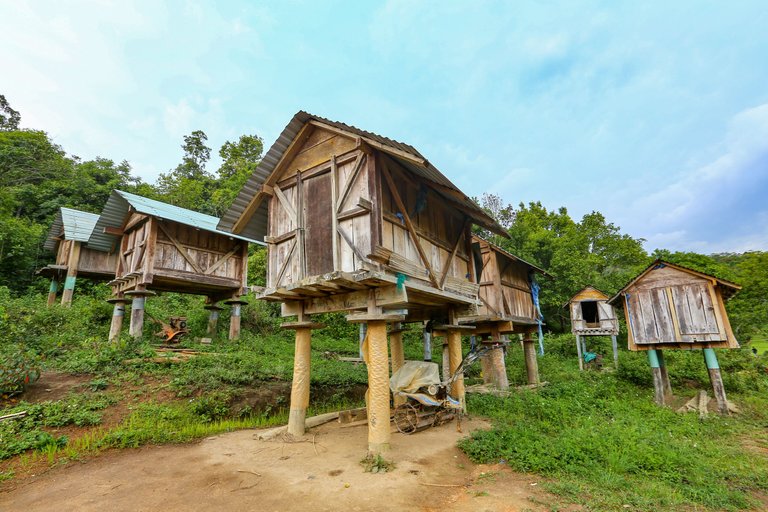 And I had a great time there. Besides the picturesque scenery with terraced fields, winding river, beautiful suspension bridge, rolling mountains and floating clouds, Kon Tu Rang terraced fields also bring me a sense of peace. The idyllic life of the locals and the fresh air make me feel so relaxed and peaceful. Far from the hustle, bustle and pollution of crowded cities, here time passes slowly and gently. And as always I have the opportunity to immerse myself in the amazing nature and take beautiful pictures, which always makes me happy.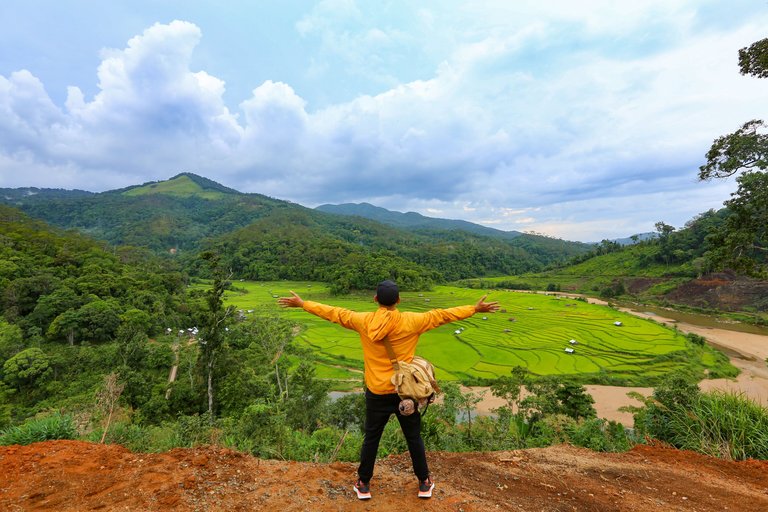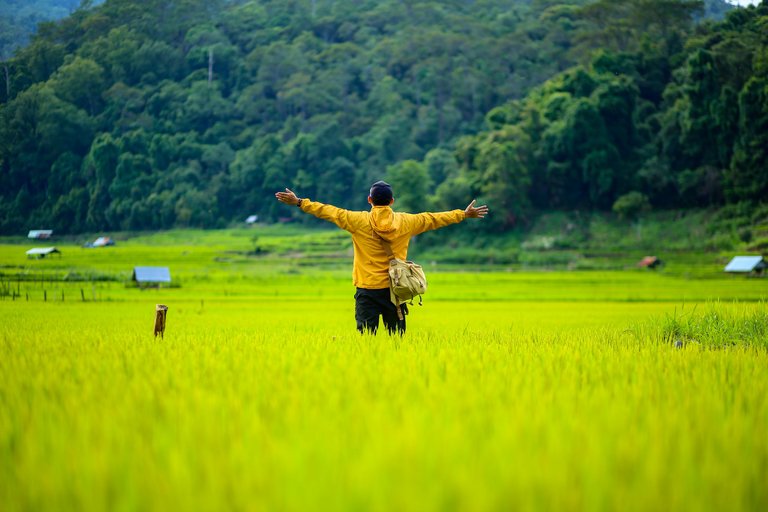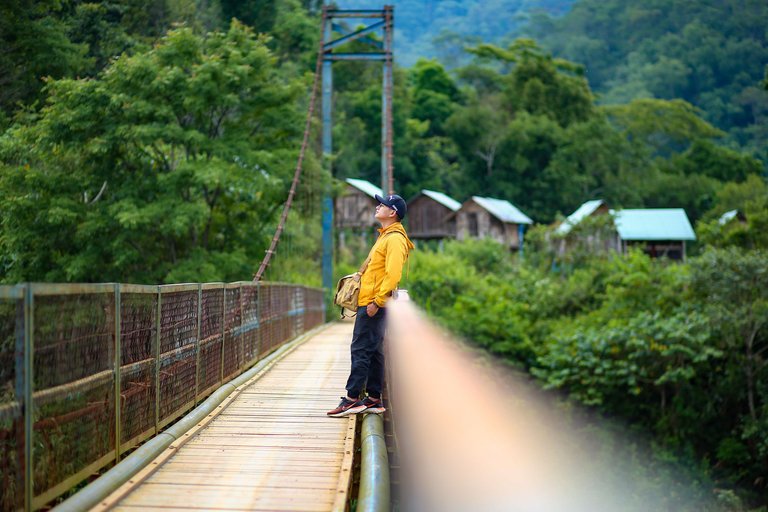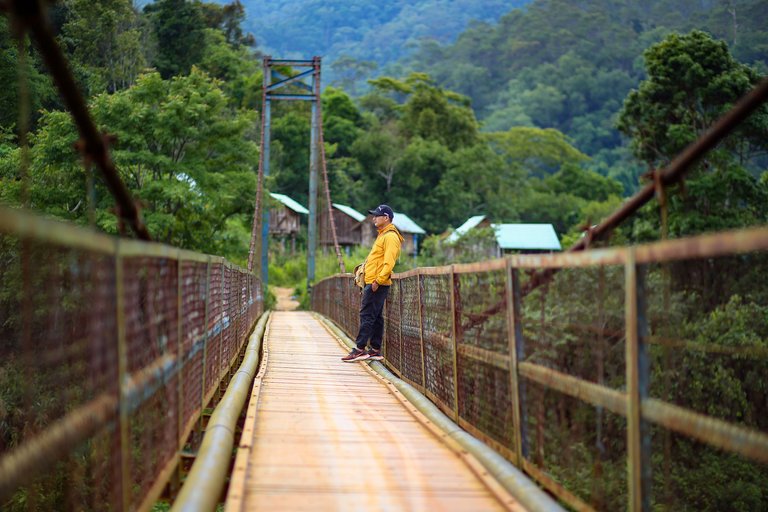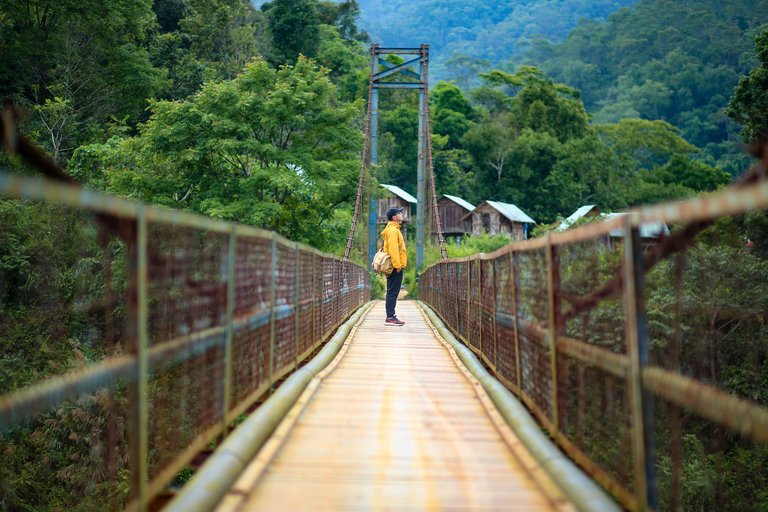 Thank you very much for taking time to read my post, wish you a nice day with beautiful nature around.
FIND ME ON:
Blog:
https://www.dodobalo.com/
Facebook:
https://www.facebook.com/Imdodohere
Instagram:
https://www.instagram.com/dodo.balo/
Twitter:
https://twitter.com/dodovietnam1
---
---