Fui a un recital después de mucho tiempo // I went to a concert after a long time
¡Hola amigos! Hoy les vengo a contar mi experiencia yendo a un recital después de 10 años. Sí, leyeron bien, esa es la cantidad de tiempo que pase sin ir a uno. Las razones de esto son varias, van desde la inseguridad, la falta de dinero para conseguir entradas, la distancia de los shows, el hecho de que no soy muy fanática de muchos artistas y no me considero una persona que vaya a un espectáculo porque sí. Pero bueno, no estoy acá para hablarles de esto, sino para contarles cómo estuvo esta experiencia después de tanto tiempo.
Hello friends! Today I come to tell you about my experience going to a concert after 10 years. Yes, you read that right, that's the amount of time I spent without going to one. The reasons for this are several, ranging from insecurity, lack of money to get tickets, the distance of the shows, the fact that I'm not a big fan of many artists and I don't consider myself a person who goes to a show just because. But well, I am not here to talk about this, but to tell you how was this experience after such a long time.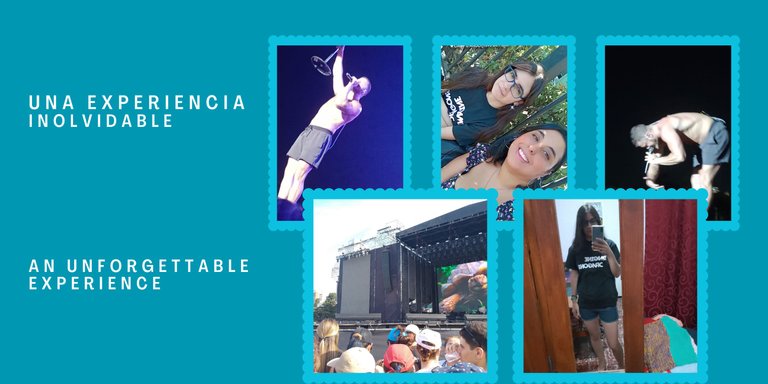 Cover made in Canva

La banda a la que fui a ver se llama Imagine Dragons, quizá algunos la conozcan, se han vuelto bastantes populares en los últimos años. A ellos los sigo desde el 2014, cuando apenas salía su primer álbum de estudio. Por fortuna vinieron a tocar a mi país, Argentina, unas 3 veces, pero por un motivo u otro no había podido asistir. En realidad ellos iban a venir en octubre, pero tuvieron que posponer sus fechas en Latinoamérica por problemas de salud del vocalista Dan Reynolds. Así que todo se alargó más de la cuenta, pero finalmente llego el tan ansiado día el 9 de marzo del 2023.
The band I went to see is called Imagine Dragons, maybe some of you know them, they have become quite popular in recent years. I've been following them since 2014, when their first studio album was just coming out. Fortunately they came to play in my country, Argentina, about 3 times, but for one reason or another I had not been able to attend. Actually they were going to come in October, but they had to postpone their dates in Latin America due to health problems of vocalist Dan Reynolds. So everything took longer than expected, but finally the long awaited day arrived on March 9, 2023.
Bueno, teníamos pensado con una amiga ir al mediodía, pero la noche anterior vimos que había gente acampando afuera del recinto dónde se iba a dar el show, en el Campo Argentino de Polo. Como su nombre lo indica es un lugar que es puro campo, no hay plateas, ni tampoco numeración. Así que si querías estar lo más cerca posible de la banda tenías que ir bastante temprano o moverte a empujones después. Cuando vimos esto reorganizamos para ir unas cuantas horas antes de lo previsto.
Well, we had planned with a friend to go at noon, but the night before we saw that there were people camping outside the venue where the show was going to take place, at the Campo Argentino de Polo. As its name suggests, it is a place that is purely a field, there are no stalls, nor numbering. So if you wanted to be as close as possible to the band you had to go quite early or push your way in afterwards. When we saw this we rearranged to go a few hours earlier than planned.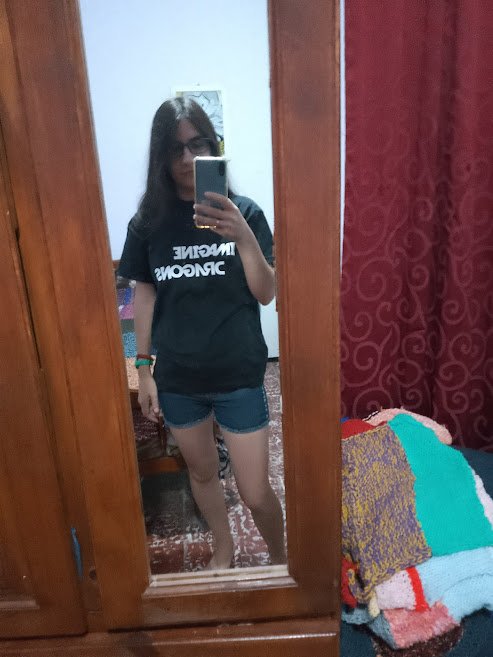 Mi outfit
Me desperté a las 7 de la mañana, hice un poco de fiaca en la cama y me levanté para desayunar y prepararme. A la hora de salir este fue mi outfit, remera de la banda y un short porque hacía un calor tremendo, una cartera pequeña que no llegue a sacarle foto y objetos útiles para pasar el día como una botella de agua congelada y provisiones.
I woke up at 7 a.m., made a little lazy in bed and got up to have breakfast and get ready. When it was time to go out this was my outfit, a band t-shirt and shorts because it was extremely hot, a small purse that I didn't get to take a picture of and useful objects to spend the day like a bottle of frozen water and supplies.
Nos encontramos con mi amiga en el punto de encuentro a las 10 de la mañana y fuimos viajando en autobús 1h y 15 minutos hasta el predio. Llegamos a hacer fila a eso de las 11:30, para este entonces ya había bastante gente en la puerta por la que queríamos entrar así que nos mandaron a una más lejana, pero nos terminaron beneficiando porque de este lado había más sombra y no la pasamos tan mal por el calor.
We met my friend at the meeting point at 10 am and went by bus for 1 hour and 15 minutes to the venue. We got to line up around 11:30, by this time there were already quite a few people at the gate we wanted to enter so they sent us to a farther one, but we ended up benefiting because on this side there was more shade and we didn't have such a bad time because of the heat.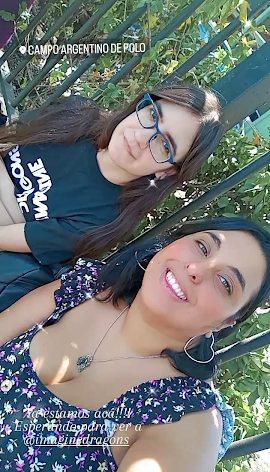 Mi amiga y yo - My friend and Me
Allí en la fila nos hicimos amigas de una chica que viajo para verlos desde otra provincia y luego se nos unieron 2 chicas más. Así que pasamos el día charlando, a eso de las 13h fuimos a buscar algo de comida en un centro comercial que quedaba ahí cerca porque teníamos un hambre terrible, ya saben lo que dicen: panza llena, corazón contento. Después solo resto esperar hasta que abrieran las puertas y entráramos al predio. Esto sucedió a las 16:30 de la tarde.
There in line we made friends with a girl who traveled to see them from another province and then 2 more girls joined us. So we spent the day chatting, at about 13h we went to get some food in a shopping center that was nearby because we were terribly hungry, you know what they say: full belly, happy heart. Then we just had to wait until the gates opened and we entered the venue. This happened at 16:30 in the afternoon.
Fuimos avanzando hasta llegar al puesto donde nos revisan para ver si no llevamos elementos no permitidos, mostramos las entradas desde el celular porque eran digitales y llego el momento de la corrida a valla, pero, ¡un momento! La máquina no leía mi entrada así que me demore bastante en ese tramo y cuando por fin la leyó quise ir corriendo para encontrarme con mis amigas pero los de seguridad nos prohibían correr. Así que empecé la caminata lo mas rápida posible y fui pasando personas de esta manera hasta que encontré a mis amigas. Ahora si todo era felicidad, entramos, no llegamos a valla, pero quedamos a 5 personas del lado derecho de la pasarela, bastante cerca.
We moved forward until we got to the booth where we were checked to see if we were not carrying items not allowed, we showed the tickets from the cell phone because they were digital and it was time to run to the fence, but, wait a minute! The machine did not read my ticket so it took me a long time and when it finally read it I wanted to run to meet my friends but the security forbade us to run. So I started walking as fast as I could and passed people in this way until I found my friends. Now it was all happiness, we entered, we did not reach the fence, but we were 5 people on the right side of the walkway, quite close.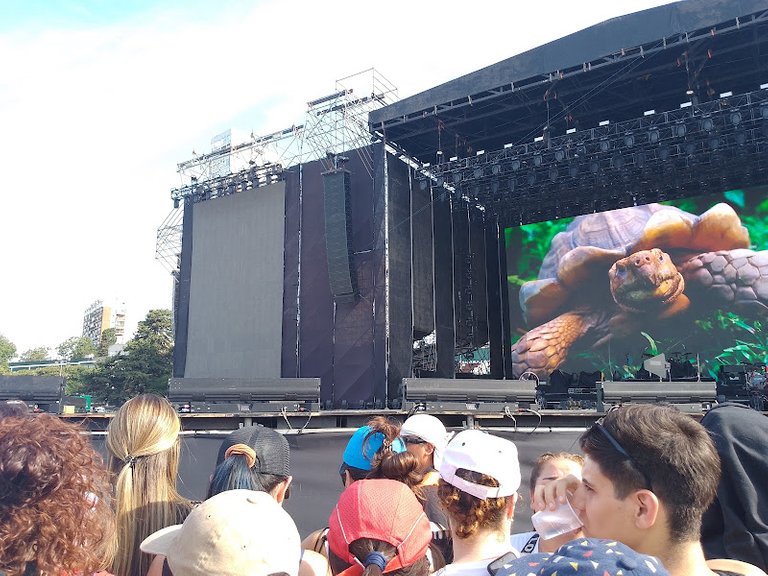 Tan cerca - So close
Sin embargo, llegó otro calvario, el sol no bajaba más y el lugar es todo abierto, así que nos estábamos rostizando. Encima todos amontonados y todavía faltaban 4 horas para que empiece el show. Por suerte, nos ganó el cansancio y nos fuimos sentando uno atrás del otro, lo que ayudó bastante porque abajo no llegaba el sol. Nos quedamos un tiempo así hasta que no nos quedó otra que levantarnos de nuevo porque se nos dormían y acalambraban las piernas y los pies al no poder movernos, ni cambiar la posición. Para ese momento el sol bajo un poco, aunque todavía molestaba. Pero, como soy precavida, había llevado una camperita por si refrescaba en algún momento (que ilusa), eso nos sirvió para cubrirnos del sol.
However, another ordeal came, the sun did not go down anymore and the place is all open, so we were roasting. On top of that, we were all crammed together and there were still 4 hours to go before the show started. Luckily, we got tired and we were sitting one behind the other, which helped a lot because the sun didn't reach downstairs. We stayed like that for a while until we had no choice but to get up again because our legs and feet were cramping and falling asleep because we couldn't move or change our position. By that time the sun went down a bit, although it still bothered us. But, as I am cautious, I had brought a jacket in case it cooled down at some point (how illusive), that served to cover us from the sun.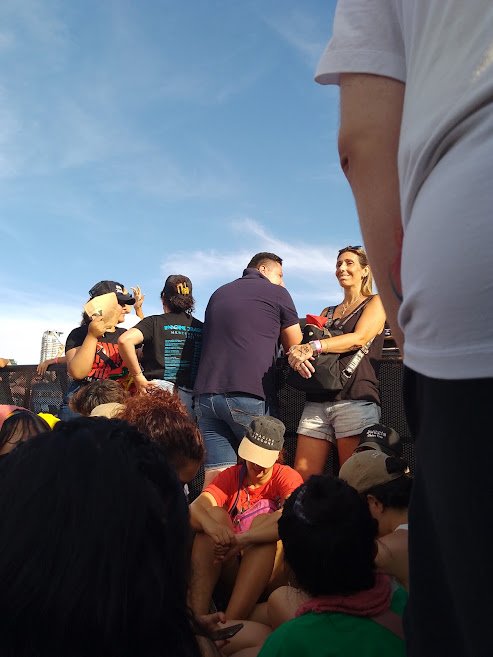 Sentados pero amontonados - Seated but huddled
Así fuimos pasando la tarde hasta que oscureció y a las 19:30 la gente se empezó a agitar porque a las 20h tocaba el telonero, un cantante de mi país llamado "Bambi", que pertenecía a la banda Tan Biónica. Él se presentó puntual y tocó algunas canciones de sus álbumes, aunque me dio mucho pena que nadie se sabía las letras, pero bueno, creo que es normal que pase esto con los teloneros. Sin embargo, descubrí que tiene algunas canciones que están lindas.
So we spent the evening until it got dark and at 7:30 pm people started to get agitated because at 8 pm the opening act was playing, a singer from my country called "Bambi", who belonged to the band Tan Bionica. He showed up on time and played some songs from his albums, although I was very sad that nobody knew the lyrics, but well, I think it's normal that this happens with opening acts. However, I found that he had some nice songs.
Bueno, finalmente a las 21h llego el momento del show de Imagine Dragons, ya para ese entonces todos estábamos impacientes y con ganas de que empiece el recital, así que empezamos a corear el nombre de la banda y al rato empezó el espectáculo que, déjenme decirles, fue espectacular. Se lucieron un montón, el público acompaño hermosamente, cantamos todas las canciones en todo momento, a ellos se los veía muy emocionados y entusiasmados por la respuesta del público. Dan dio sus típicos discursos sobre el cuidado de la salud mental y la importancia de acudir a terapia, nos dijo que nuestras vidas son muy valiosas, que puede ser dura, pero se puede salir adelante con ayuda. La verdad que es un tipazo. En varias partes nos emocionó y nos hizo lagrimear.
Well, finally at 9pm it was time for the Imagine Dragons show, by that time we were all impatient and eager for the show to start, so we started chanting the name of the band and soon the show began, and let me tell you, it was spectacular. They showed off a lot, the audience accompanied us beautifully, we sang all the songs all the time, they were very excited and enthusiastic about the audience's response. Dan gave his typical speeches about mental health care and the importance of going to therapy, he told us that our lives are very valuable, that it can be hard, but you can get through it with help. He really is a great guy. In several parts he moved us and brought tears to our eyes.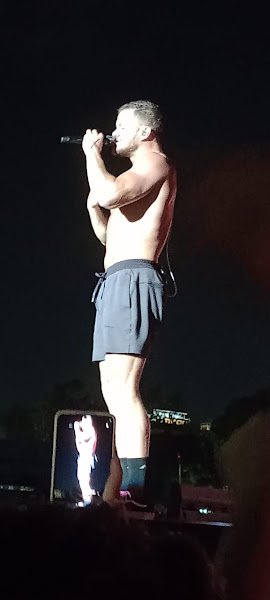 A dan le gusta ir ligero de ropa - Dan likes to be lightly dressed
Uno de los momentos que enloqueció al público es cuando nos llamó MUCHACHOS y empezamos a cantar nuestra canción del mundial y el se reía y bailaba. La verdad que a pesar del agobio del calor (nunca había sudado tanto en mi vida), del dolor de pies y espalda por las horas de estar paradas, la pasamos muy bien. Fue una experiencia inolvidable que quedará en mis recuerdos para siempre. Las mejores dos horas de mi vida en mucho tiempo. Y obvio que de ahora en más, quiero ir a cada recital que den. La energía que ponen arriba del escenario se sentio un montón. También en los solos instrumentales que se mandaron los otros integrantes como Wayne en la guitarra y Ben en el bajo, además de Tommy, en reemplazo de Platzman, en la batería. Fueron un gran equipo y cada uno tuvo su momento de brillar.
One of the moments that drove the audience crazy was when he called us MUCHACHOS and we started singing our world cup song and he laughed and danced. The truth is that despite the heat (I had never sweated so much in my life), the pain in my feet and back due to the hours of standing, we had a great time. It was an unforgettable experience that will remain in my memories forever. The best two hours of my life in a long time. And obviously, from now on, I want to go to every concert they give. The energy they put on stage is really noticeable. Also in the instrumental solos that the other members like Wayne on guitar and Ben on bass, as well as Tommy, replacing Platzman, on drums. They were a great team and everyone had their moment to shine.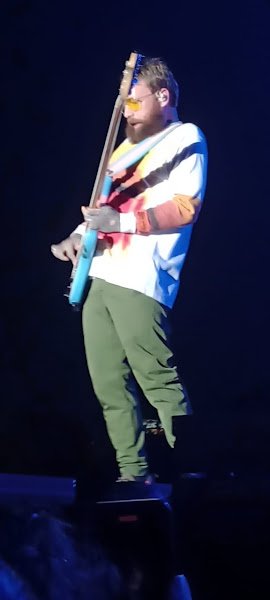 Ben el bajista - Ben the bassist
El público, incluida yo, quedamos muy satisfechos con el espectáculo que nos dieron y todavía no pudimos superarlo. Por eso quise hacer este posteo aprovechando que todavía tengo todo muy fresco. En definitiva, la pasé muy bien, conocí gente increíble, voy a extrañar a mi amiga cordobesa que conocimos allí ya que es de otra provincia y no creo que nos volvamos a ver. Quizá en algún otro concierto de la banda, ojalá. Después terminamos super cansadas, con dolores y afónicas, pero felices.
¡Una noche hermosa!
The audience, including me, was very satisfied with the show they gave us and we still couldn't top it. That's why I wanted to make this post taking advantage of the fact that everything is still fresh in my mind. All in all, I had a great time, I met amazing people, I'm going to miss my friend from Córdoba that we met there since she is from another province and I don't think we will see each other again. Maybe in another concert of the band, hopefully. Afterwards we ended up super tired, with pains and aphonic, but happy.
A beautiful night!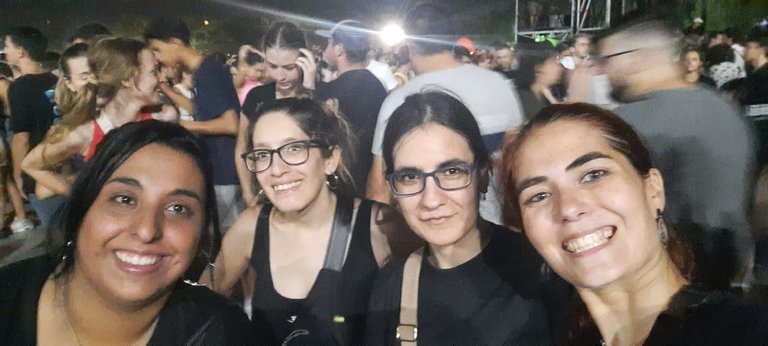 Despeinadas pero felices - Disheveled but happy

Bueno, para no alargar demasiado la publicación termino acá. Agradezco una vez más por llegar hasta acá y leerme.
Espero que se encuentren todos muy bien.
¡Hasta la próxima!
Well, in order not to make this post too long, I'll end here. Thank you once again for coming here and reading me.
I hope you are all well.
See you next time!

Separador de texto hecho en Canva - Text separator made in Canva
Todas las imagenes fueron tomadas por mí - All the images taken by me
Traductor - Translation
---
---