The Future
Last week I shared some of the photos I took at the exhibition organized by the special forces. There were so many things exhibited that you could spend a whole day looking around, trying out things and especially learning. Most of the things you saw there are off limits to civilians, so everyone wanted to make sure they had a close look at whatever they found interesting.
There was a funny moment too, which I want to share with you today, right at the beginning of my post.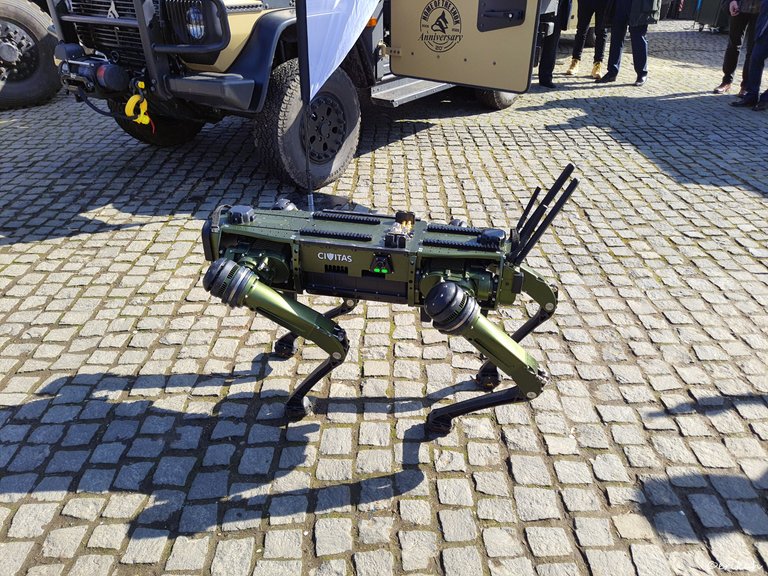 At some point I spotted this quadruped robot, which usually gives me the creeps, but this time I knew it can't hurt me, so I went closer to it to have a closer look.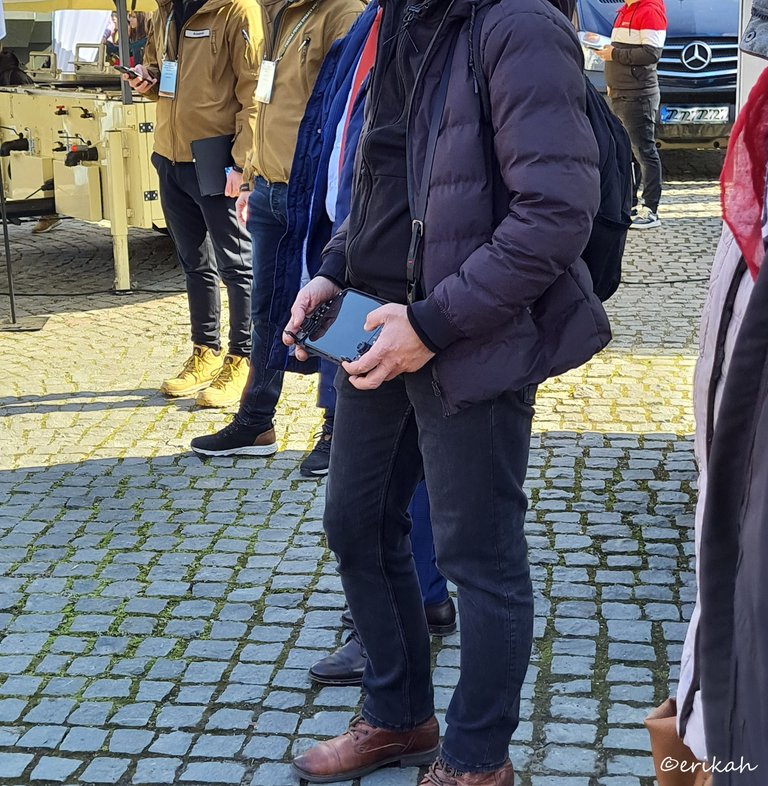 In case you are wondering, it was manually and remotely operated by this guy.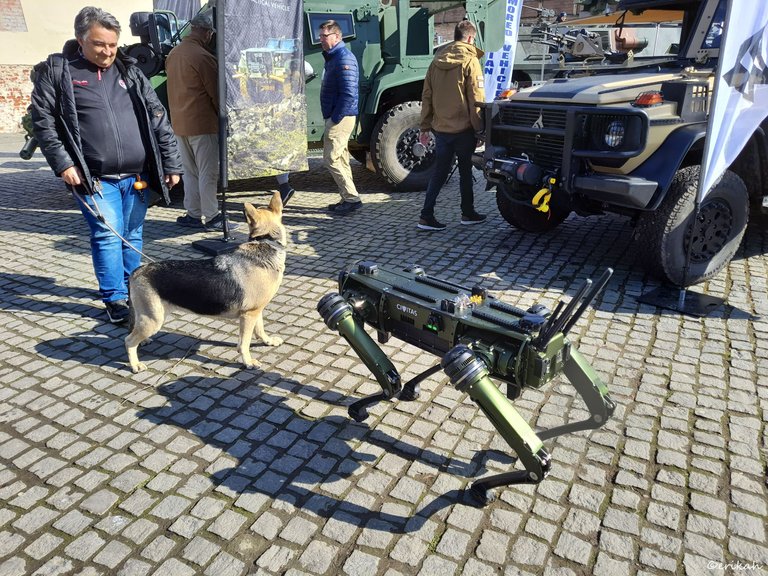 This is where things started to get interesting. There was this German shepherd visiting the exhibition and the guy controlling the robot saw the opportunity right away, just as the visitors did. I was very curious to see what the dog is going to do when she sees the robot, so I stopped and took as many photos as was possible, to capture the important moments of the meeting.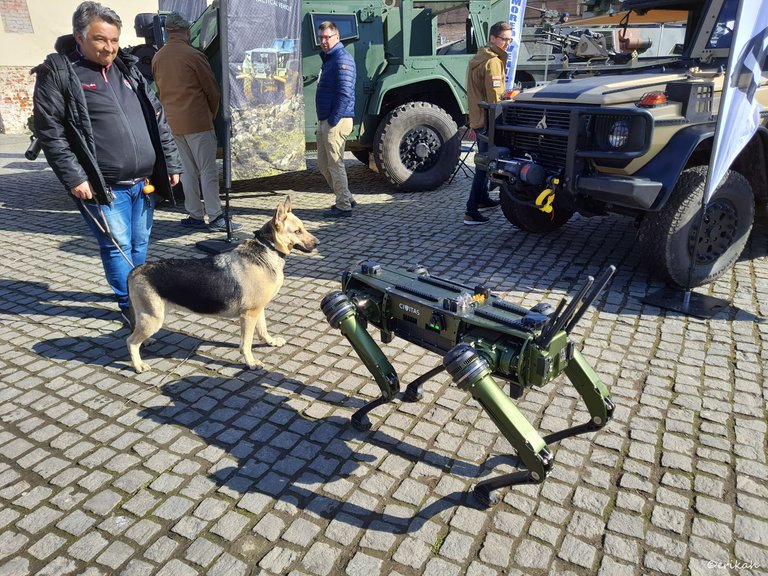 As the robot got closer to the dog, everyone was expecting a harsh reaction from the dog. When they got face to face, the robot started to bark 😂. Imagine those watching the scene. Everyone started to laugh. I think no one was expecting the robot to bark, but it's a robot after all, can make whatever sound it is programmed to do. The bark sounded a bit robotic, I mean the sound was not very clear and loud, but still, it was barking.
What do you think happened next? Nothing. The the robot tried to catch the dog's attention at any cost but the dog was not interested in the robot at all, so she went on her way.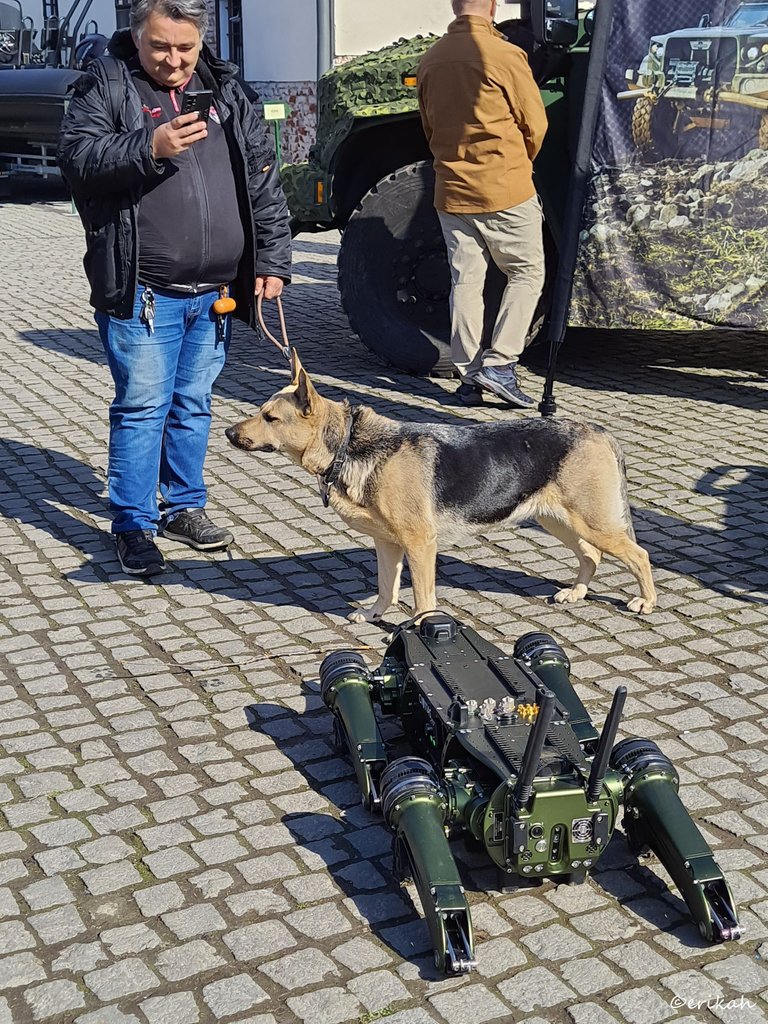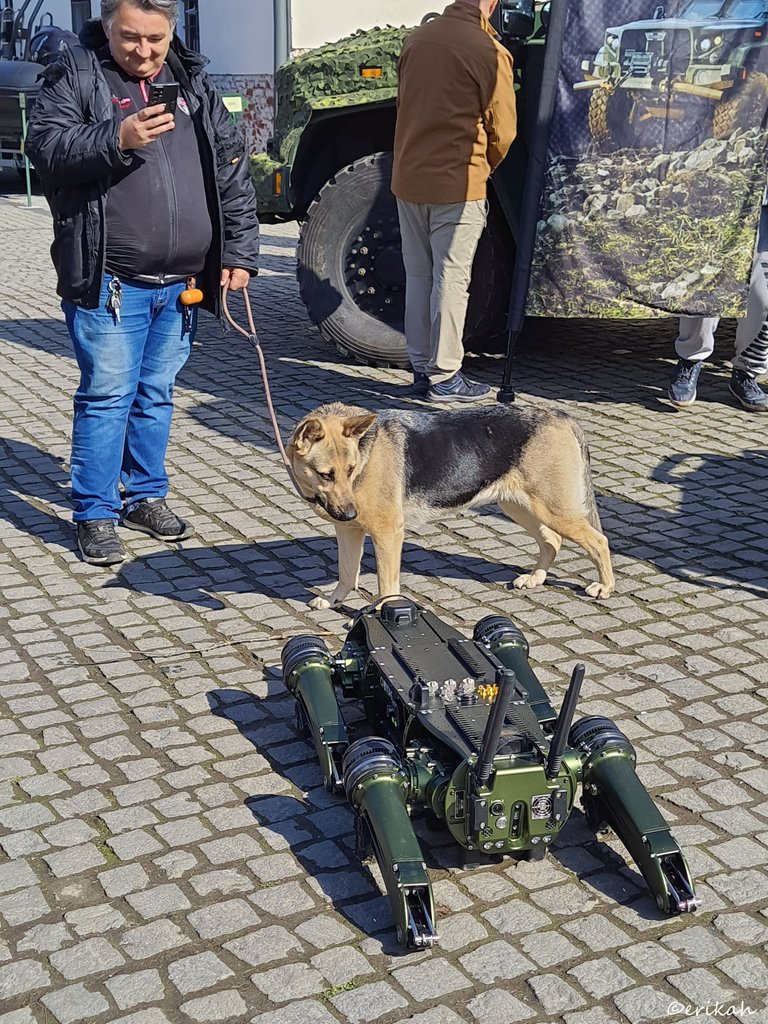 The guy tried all the tricks the robot could do, to get the dog's attention, but without any success. The dog looked at the robot a couple of times as it was in front of her, but that was pretty much all.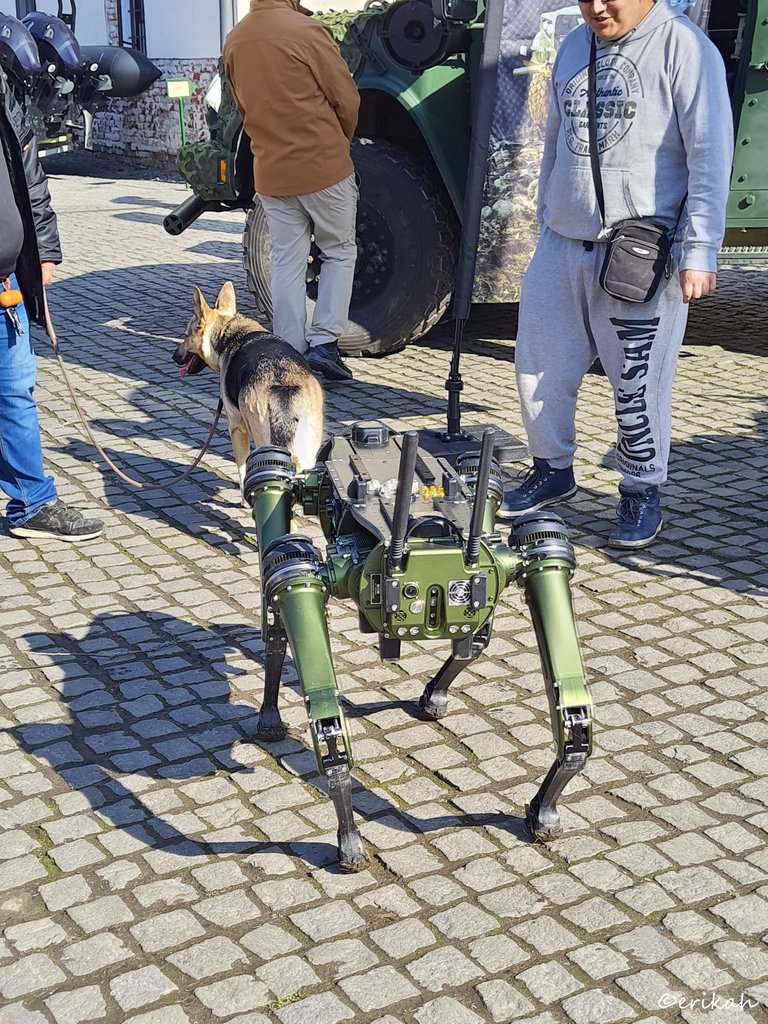 She turned her back on the robot and walked away. This was definitely not the reaction we were hoping for, but thinking about it, why would the dog react differently?
Now imagine, any dog has a very good sense of smell. They can smell you before they can see you and also can smell any animal from far. This is why they use dogs in so many different areas today. This robot had no smell, or if it had, it was most likely a smell of metal and oil (perhaps), but definitely not a smell animals usually have. If the dog would have been trained to detect robots smelling like this one, she would have been interested for sure, but not without training.
For us, civilians, who have only seen such a robot in TV, this experiment was a very interesting one. For the military, who are using these robots in critical situations, is a known fact though. They have tested the robot in a thousand situations already, to be sure what to expect when it is used in a real situations. So the guy directing the robot knew what's going to happen.
Unfortunately there was no way of finding out what that robot is called or what were the characteristics, but you can find similar robot descriptions online and it's amazing what these man made creatures are capable of.
Service robots are deployed in various combat scenarios with the main objective of removing personnel from harm's way. Such capability can give both strategic and tactical advantage. Drones, uncrewed ground vehicles (UGV) and even guided missiles are robots with weapons, but most people don't consider them as such. Put four legs on the machine and things will change drastically.
The four semi-autonomous Vision 60 models the base operates each have 14 sensors, advanced multi-directional, thermal and infrared video capabilities and can operate for three hours of continuous run time on one charge. The robots carry out route checks and anomaly detection autonomously. source
Our goal is to make our Q-UGVs an indispensable tool and continuously push the limits to improve its ability to walk, run, crawl, climb and eventually swim in complex environments that our customers must operate in, day in and day out. Ultimately, our robot is made to keep our warfighters, workers and K9s out of harm's way. source
After digging deeper into the matter, to me, it seems like this was a Vision-60 model, but obviously I could be wrong. Check out this link, there's a video about what they can do and it's frightening.
At the exhibition the robot did not seem loud, because there was a lot of noise, but watching the YouTube video I posted at the bottom of the post, makes me think some noise control would do a lot of good.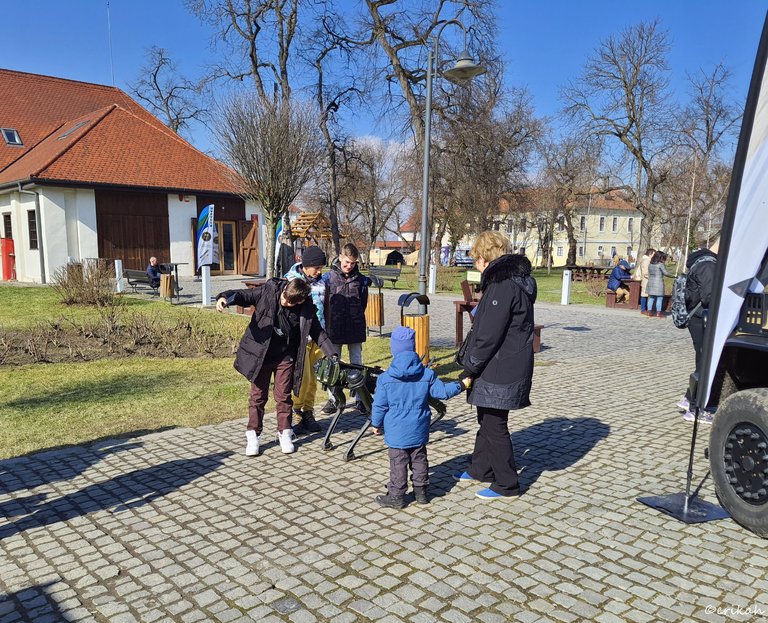 Kids were thrilled to see the robot and many were taking selfies with the robot. I'm glad I had the chance to see it live as who knows when or if I will have another chance.

If you're a newbie, you may want to check out these guides:

---
---