Simple Recipe: Ajwa Dates Jelly with Banana Slices
---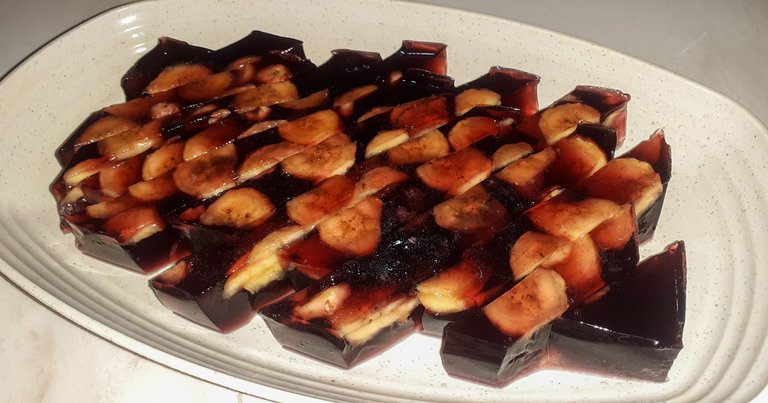 ---
---
---
Dates are famous as a fruit from the Arab region. Usually people come home from Hajj with dates, or people who fast break their fast with dates. There are various kinds of dates. One of them is ajwa dates. This date is known as the King of all dates. This fruit has many benefits, including: • has the potential to prevent tumors, • increase endurance, • stabilize blood pressure, • prevent diabetes.
Kurma terkenal sebagai buah dari daerah Arab. Biasanya orang pulang dari ibadah haji membawa kurma, atau orang yang berpuasa berbuka dengan kurma. Kurma ada berbagai macam. Salah satunya adalah kurma ajwa. Kurma ini terkenal dengan Raja dari segala kurma. Buah ini banyak khasiatnya, di antaranya: • berpotensi mencegah tumor, • meningkatkan daya tahan tubuh, • menstabilkan tekanan darah, • mencegah diabetes.
A few days ago, I made a dish namely Ajwa Dates Jelly with Banana Slices. Using only 4 ingredients, including Nutrijell Ajwa Dates Flavor. It is an instant jelly powder taste of ajwa dates. Also using bananas, fruit rich in properties.
Beberapa hari yang lalu, aku membuat sebuah hidangan yaitu Jelly Kurma Ajwa dengan Irisan Pisang. Menggunakan 4 bahan saja, termasuk Nutrijell Rasa Kurma Ajwa. Itu adalah jeli serbuk instan rasa kurma ajwa. Juga menggunakan buah pisang, buah kaya khasiat.
Below I give the recipe, it's simple (a few ingredients are needed and how to make that can be considered 'easy').
Di bawah ini aku berikan resepnya, sederhana saja (bahan-bahan yang diperlukan sedikit serta cara membuat yang bisa dibilang 'mudah').
---
---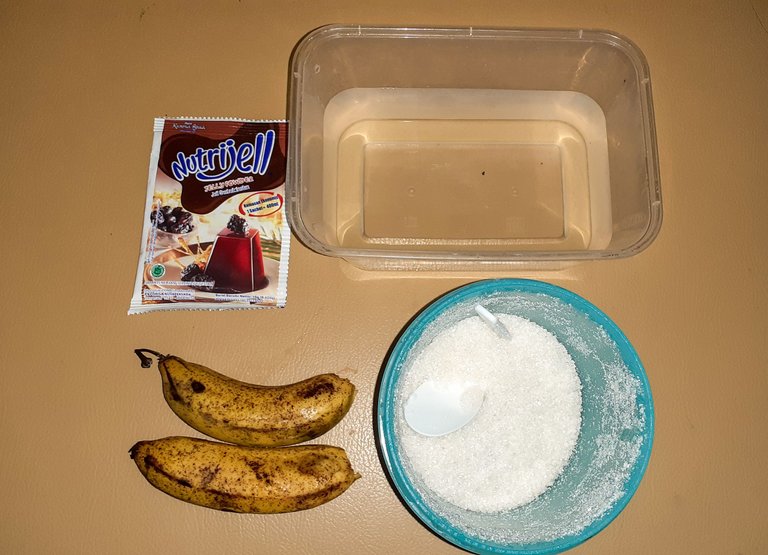 Ingredients:
• 1 sachet of Nutrijell Ajwa Dates Flavor (10 grams)
• About 2 cups of water
• Sugar, as much as you like
• 2 bananas
Bahan-bahan:
• 1 saset Nutrijell Rasa Kurma Ajwa (10 gram)
• Sekitar 2 cangkir air
• Gula, banyaknya semaumu
• 2 buah pisang
---
---
How to make:
Cara membuat:
● Slice the bananas into a mold.
Iris-iris pisangnya ke sebuah cetakan.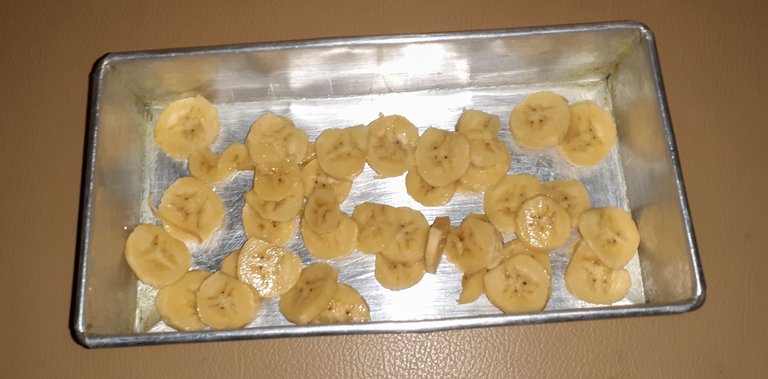 ● Put all the other ingredients (1 sachet of Nutrijell Ajwa Dates Flavor (10 grams), about 2 cups of water, sugar (as much as you like)) in a stewpan.
Masukkan semua bahan lainnya (1 saset Nutrijell Rasa Kurma Ajwa (10 gram), sekitar 2 cangkir air, gula (banyaknya semaumu)) ke sebuah panci rebus.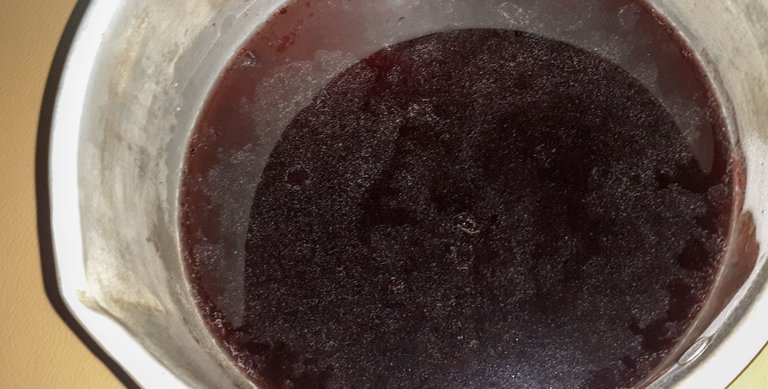 ● Bring to a boil and stir. Turn off the heat when boils. Leave for a few moments.
Didihkan dan aduk. Matikan api di saat mendidih. Diamkan selama beberapa saat.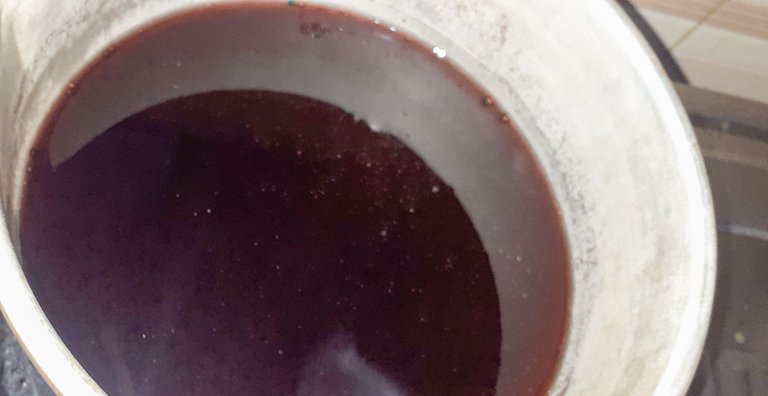 ● Put the solution into the mold (stir before putting it into the mold so that the foam in the solution disappears). Stir to evenly distribute the banana slices. Put in the refrigerator. Ajwa Dates Jelly with Banana Slices is ready when it hardens.
Masukkan larutan ke cetakan (aduk-aduk sebelum dimasukkan ke cetakan supaya buih-buih di larutan hilang). Aduk-aduk kiranya untuk meratakan irisan pisang. Masukkan ke kulkas. Jelly Kurma Ajwa dengan Irisan Pisang sudah jadi saat sudah mengeras.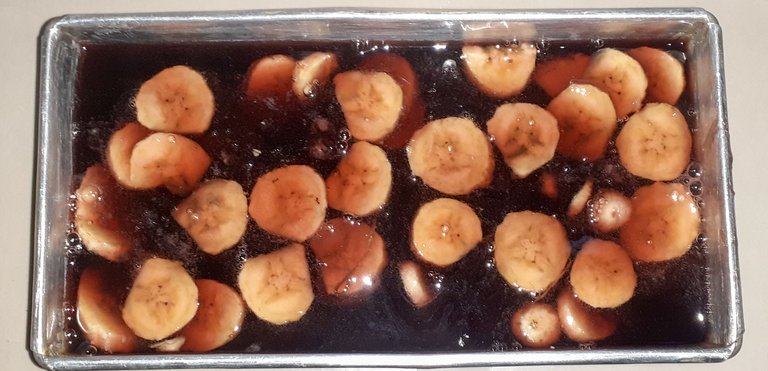 ---
---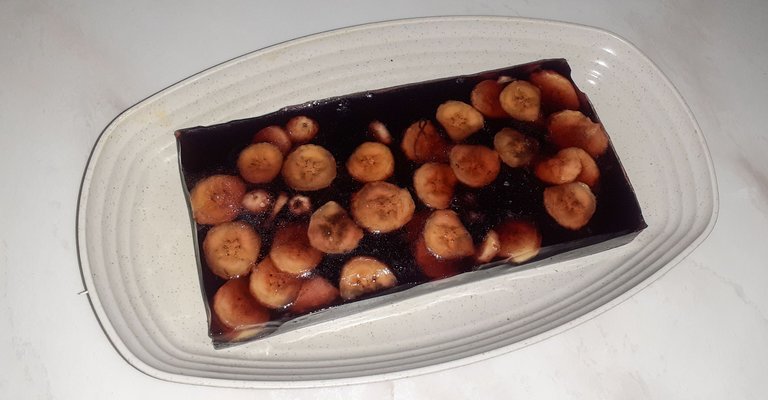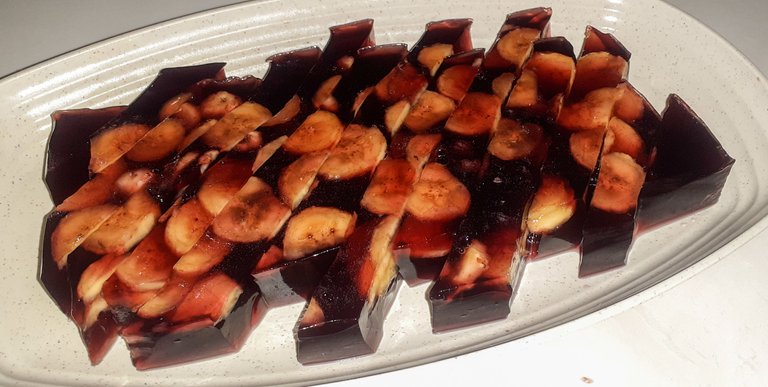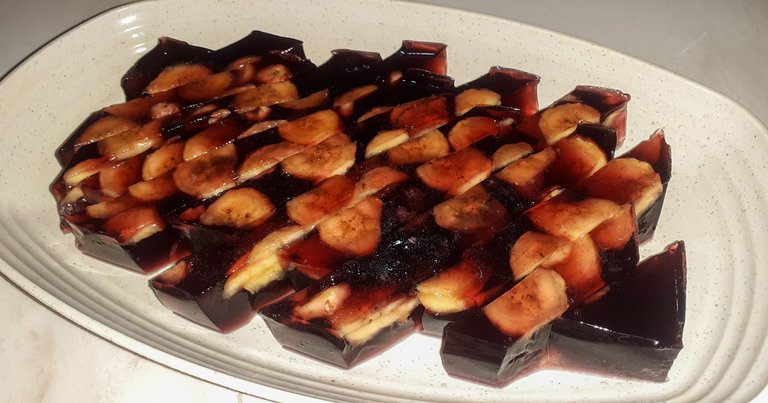 At that time I used a rectangular mold. I cut the result obliquely, then I shifted in such a way. The end result is interesting (beautiful).
Waktu itu aku menggunakan cetakan berbentuk persegi panjang. Aku potong hasilnya miring-miring, lalu aku geser-geser sedemikian rupa. Hasil akhirnya menarik (cantik).
---
---
Thank you for seeing this post!
Terima kasih telah melihat postingan ini!
---
---
---
About the author of this post: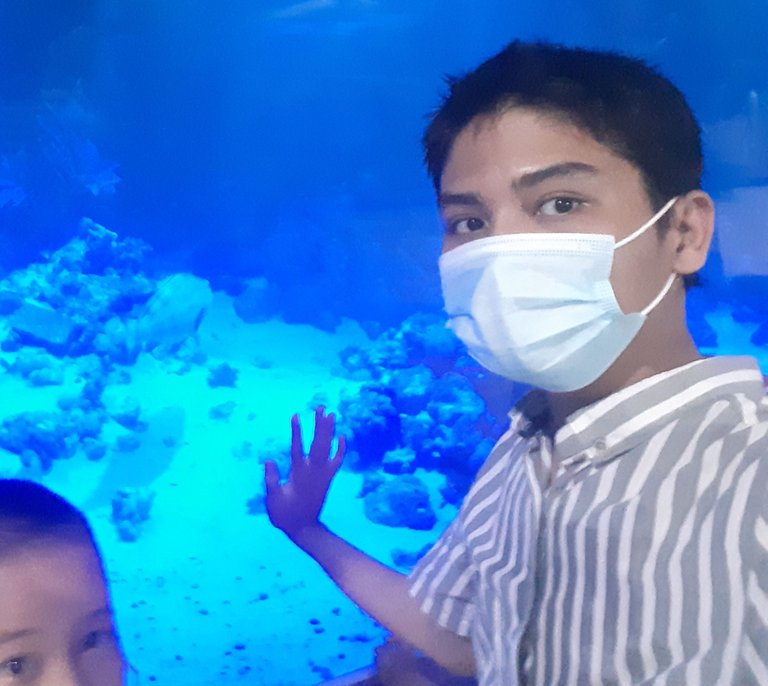 My name is Faisal Hanafi, I live in Medan, Indonesia. I am a student at a college in my city. My hobby is reading books. I have hundreds of books. There are comics, novels, and others. My favorite comics are The Promised Neverland, Detektif Conan. I also watch some movies and anime. I joined Hive starting from 2021. At Hive, I write about food, books and more. My cooking ability went up because of Hive.
---
---