DO YOU BELIEVE IN SPS?


Hello players and splinterlands lovers across the world? How are you doing over there?
Before I jump to the topic, I would like to talk about the recent rewards of splinterlands. A few hours ago, when the season was about to end, I was trying all my effort to make sure I got up to 50 rewards when I opened the season rewards chest, but it was not possible for me. I reached 48 loot chests when the season was about 15 minutes to end; i could not proceed again because splinterlands website went on maintenance mode for a few minutes of which i could not play the game again. I got about 3,250 DEC and many cards.
WE NEED TO BUY MORE SPS BEFORE THE AIRDROP IS OVER
The days of SPS airdrop will soon be over; It will so reach that SPS was launched. According to the SPS article I read, it was stated that SPS airdrop will run for a year. After that the SPS airdrop will be over.
Now the SPS airdrop is coming to an end, it is high time to get more SPS. in my opinion, I believe SPS will pump hard when the crypto bullish kicks up.
There was news that the Bitcoin price increased 3.03% for the past 24 hours, but never compared to last year in April when crypto was over $60,000.
Cryptos are hard to predict, but I believe that the price of crypto will soon go up and when the price goes up, SPS will also go up.
There are factors that caused crypto to set back this year 2022, those factors were behind the bearish we are all experiencing right now.
THIS IS THE SEASON TO BUY SPS NOW
Why do I say the season to buy SPS is now? If you look at when SPS was launched; the price of SPS was up to $1.
Today, the SPS price is $0.051 which is extremely very low, and there is hope that SPS will increase with time. Buying more SPS right now means that when the price is up, there is an assurance that you will get more profit.
Another factor that will make the price go out is that, SPS i getting more usecase, and this will make the price to go high. And when the distribution of airdrop is over, most of the players will not get SPS again. This is when only people who bought validator nodes will be getting SPS.
Therefore, the future of SPS is very bright and I am sure that it will rise.
This is another way you can make money through splinterlands.
It is not necessary to be a splinterlands player before you can buy SPS. SPS is just like any other coin you can get and keep in your wallet.
DO I BELIEVE IN SPS?
I believe in SPS because of many projects being built on it. When these projects are growing, it will give more value to SPS which will eventually affect the price positively.
I want you to know that crypto has come, it will be very difficult for crypto not to exist again. We are in the era of technology where it is possible to send money to someone anywhere in the world and this is possible through crypto.
I love this battle so much because the moment I saw my opponent's lineup, I knew it was going to be hard to win the battle.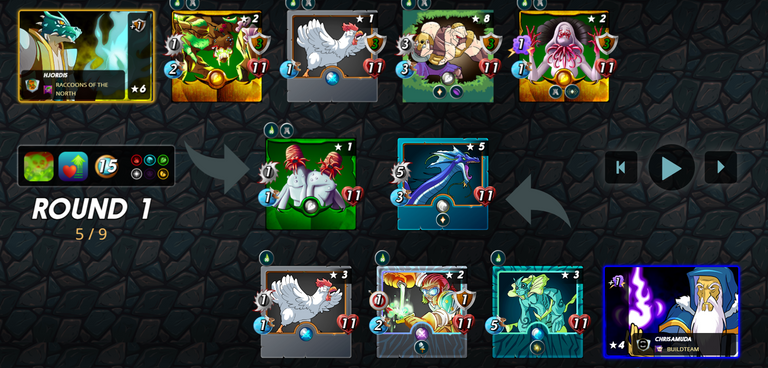 click here to watch your battle. Try to watch this battle.
RULESET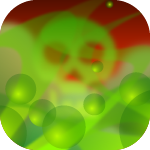 Noxious Fume: All monsters start the battle poisoned.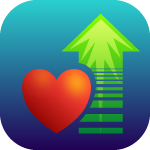 Equalizer: the initial health of all monsters is equal to that of the monster on either team with the highest base health.
The earth of all the monsters is equal.
ARRANGEMENT OF MONSTERS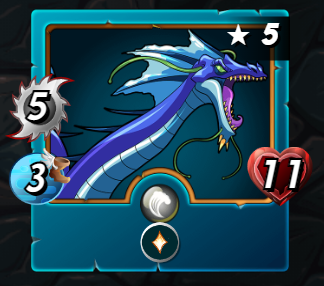 SEA MONSTER: I believe in this monster because of its healing ability, i knew that this monster would continue to heal itself from damage of opponent monsters.
I became scared when I saw my friend Flesh Golem from the second to the last in the lineup. I was thinking that by the time Flesh Golem led the battle, my sea monster would have been eliminated.
Wonderful melee of 5, the melee is so good that it destroyed Mycelic Morphoid in the second round. If I had chosen another monster with a little melee, it would have been very difficult for me.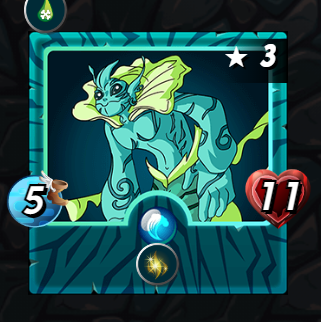 KELP INITIATE: based on a rule of the game, kelp initiate was chosen to cleanse any impurity that may affect a sea monster.
I understood the rules of the game from the beginning, that was the reason I chose kelp initiate to cleanse the impurity of a noxious fume. It does that to the last round of the battle, and was the major reason I won the battle.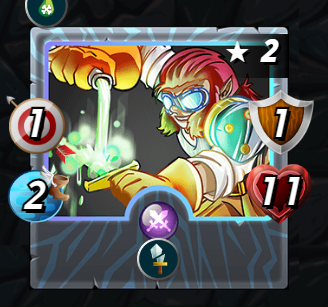 HALFLING ALCHEMIST: My plan with this monster was to break every weapon of my opponent's monsters. When I saw Flesh Golem far away from the first position, I calculated maybe halfling would be able to break its melee because it was the only monster with the highest number of a weapon (melee).
When the melee of Flesh Golem broke, I knew that I had won the battle already.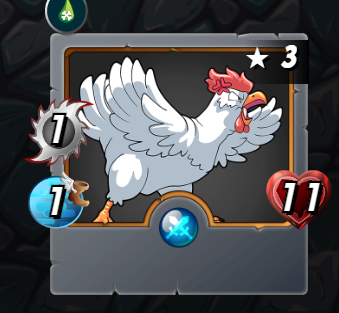 FURIOUS CHICKEN: The major reason I placed this monster as the last monster was the sneaky monster. I was trying to protect the halfling alchemist from getting destroyed by a sneaky monster. Since furious chicken cannot attack from the back due to the rule of the battles and it is also zero mana monster. Hence, it does not cost me anything to use it.
To conclude this article, comment in the comment section of your belief about SPS, and tell us why?
click my referral link to register splinterlands and enjoying all the benefits.

credit to splinterlands for the pictures ang gif used in this article.
Posted using Neoxian City
---
---