Satisfaction In The Little Things (Eng-Spa)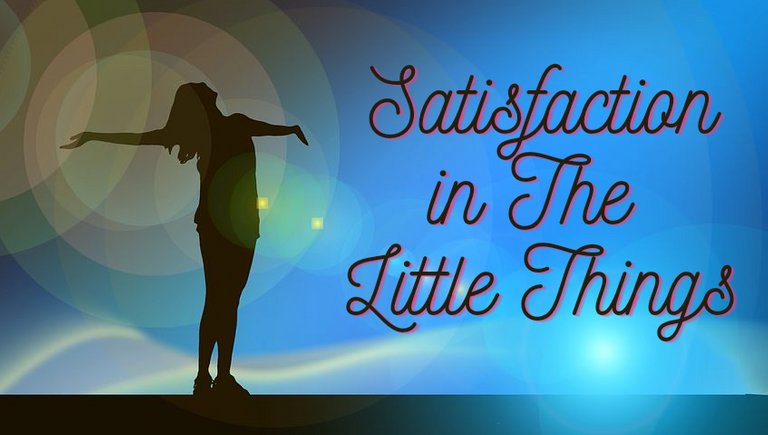 Image designed here
English
Satisfaction to me is that sublime feeling when a perfectionist finally gets it right, when that idealist has finally proven a theory, when the baker, after spending several hours, produces a special, delicious treat, when the artist gazes at the canvas with a beatific smile as he has finally produced his masterpiece or the tears of joy that runs down the novelist's face as she concludes the final chapter of her book.
I find the concept of satisfaction a little subjective. The things that bring satisfaction to me could be completely different from what another perceives as satisfactory. Satisfaction to Jane could be finally perfecting a handwriting she'd been trying for months to master but Jean looks at her in disdain. What's so special about that? She thinks.
Finding satisfaction in the little things is something that is embedded in everyone. I remember the girl who slept on the bed beside mine in boarding school. Her corner was always impeccable. Everything from her box to her well-stacked books and then the pristine beauty of her bed. Never unkempt. Everything folded to the nip. I'd been in awe. I tried every day to make my bed that perfect. And when I finally perfected the art, cause that's how it felt to me….. artistic, I jumped around in glee.
She asked why I was so happy and I told her. Her face was that of utter confusion which slowly morphed into contempt. Is that it? Her face clearly said. But I wasn't dismayed, because she didn't see what I saw. I felt satisfied with myself and to date, I don't undermine the things that make me happy. The things that make me satisfied. I cherish them. Because, like I always say, appreciating the little things, will open doors to big things.
Many times we deprive ourselves of the satisfaction we ought to feel because we let people take that away from us. We feel satisfied in a project we've taken so much time and effort to accomplish, but then one negative comment and it's like scales fall from our eyes. We begin to imagine imperfections. We begin to see flaws. Flaws that a couple of minutes ago were nonexistent. This shouldn't be as it affects us more than we think. Our satisfaction shouldn't fade because of people's opinions. We should rejoice however that it's valued enough to even bring criticism. This mindset is key to having satisfaction in the little things.
In conclusion, satisfaction stems from our passions. We only see beauty in the things we love. A writer will feel satisfied with her work, her face will glow when compliments are heaped on her. Because it is her passion. And it's something she can never be ashamed of. Let's devote our time to appreciating and seeing satisfaction in the little things. And prepare our hearts for the big things that will surely follow.❤️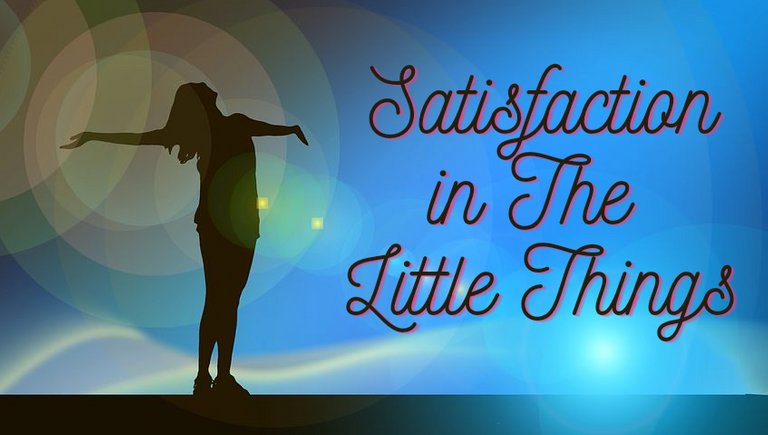 Image designed here
Spanish
Para mí, la satisfacción es esa sensación sublime cuando un perfeccionista por fin acierta, cuando ese idealista por fin ha demostrado una teoría, cuando el panadero, después de pasar varias horas, produce un manjar especial y delicioso, cuando el artista contempla el lienzo con una sonrisa beatífica al haber realizado por fin su obra maestra o las lágrimas de alegría que recorren el rostro de la novelista al concluir el capítulo final de su libro.
El concepto de satisfacción me parece un poco subjetivo. Las cosas que me producen satisfacción podrían ser completamente diferentes de lo que otra persona percibe como satisfactorio. La satisfacción para Jane podría ser haber perfeccionado por fin una letra que llevaba meses intentando dominar, pero Jean la mira con desdén. ¿Qué tiene eso de especial? piensa.
Encontrar satisfacción en las pequeñas cosas es algo que está arraigado en todo el mundo. Recuerdo a la chica que dormía en la cama de al lado de la mía en el internado. Su rincón estaba siempre impecable. Desde su caja hasta sus libros bien apilados, pasando por la belleza inmaculada de su cama. Nunca despeinada. Todo doblado a la perfección. Me quedé asombrada. Intentaba cada día hacer mi cama así de perfecta. Y cuando por fin perfeccioné el arte, porque así me parecía..... artístico, salté de alegría.
Me preguntó por qué estaba tan contenta y se lo dije. Su cara era de total confusión que poco a poco se transformó en desprecio. ¿Es eso?, decía claramente su cara. Pero no estaba consternado, porque ella no veía lo que yo veía. Me sentía satisfecho conmigo mismo y hasta la fecha, no menoscabo las cosas que me hacen feliz. Las cosas que me satisfacen. Las aprecio. Porque, como siempre digo, apreciar las pequeñas cosas, te abrirá las puertas a grandes cosas.
Muchas veces nos privamos de la satisfacción que deberíamos sentir porque dejamos que la gente nos la quite. Nos sentimos satisfechos en un proyecto que nos ha llevado tanto tiempo y esfuerzo realizar, pero entonces un comentario negativo y es como si nos cayeran escamas de los ojos. Empezamos a imaginar imperfecciones. Empezamos a ver defectos. Defectos que hace un par de minutos eran inexistentes. Esto no debería ser así, ya que nos afecta más de lo que pensamos. Nuestra satisfacción no debería desvanecerse por las opiniones de la gente. Por el contrario, deberíamos alegrarnos de que nos valoren lo suficiente como para que incluso nos critiquen. Esta mentalidad es clave para tener satisfacción en las pequeñas cosas.
En conclusión, la satisfacción surge de nuestras pasiones. Sólo vemos la belleza en las cosas que amamos. Una escritora se sentirá satisfecha con su trabajo, se le iluminará la cara cuando reciba cumplidos. Porque es su pasión. Y es algo de lo que nunca puede avergonzarse. Dediquemos nuestro tiempo a apreciar y ver satisfacción en las pequeñas cosas. Y preparemos nuestros corazones para las grandes cosas que sin duda vendrán después. ❤️
---
---
---


---

---
---