FLOWER INSPIRED EARRINGS || Needleworkmonday Tutorial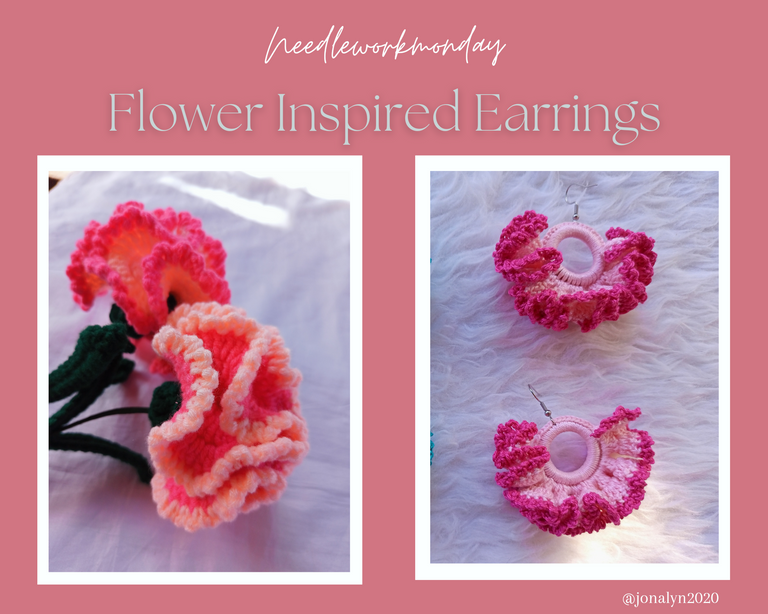 Edited on Canva
Last time, I challenged again myself to make my first-ever pattern for my newly designed crochet blouse or top.
And guess what?
I started it already. 😁 But don't congratulate me now, it's too early to say that. Because I am just able to finish up to the 15th layer of the front area of the body part of my top.😅
I am having doubt if I was making it right. So I decided to stop and put it away for now.
I'm also having thoughts if aside from the written pattern that I have to make, will the progressive pictures of every layer will also help the viewers to see the output of every layer pattern. I remember making this technique before with my crochet earrings being shared here.
And also, I'm wondering how about doing or making the whole blouse while taking a video and just edit it later and make some written pattern below the video (subtitles) now and then? But I had never tried this one.
Or maybe I could practice making the diagram of every part of the blouse? Because I was more comfortable reading crochet diagrams than reading written patterns. I tried it before with my sister. She's asking me how to make a crochet panty, so I drew a diagram of how she would start. And I think I was able to share here a short diagram of a crochet item that I made before.
I am really confused for now, so I decided to stop for a while. And I don't want to put so much pressure on that, because the output will turn not good. Maybe I just need some inspiration. Or it's just me making an alibi again? 🤪
Anyway, today, I have decided to share another crochet earring as I have missed making earrings for quite a long time now. Plus I want to forget the pattern-making for a while.
As I was making a crochet flower weeks before, specifically the carnation flower, someone had messaged me asking me to make her some crocheted tulips as keychains.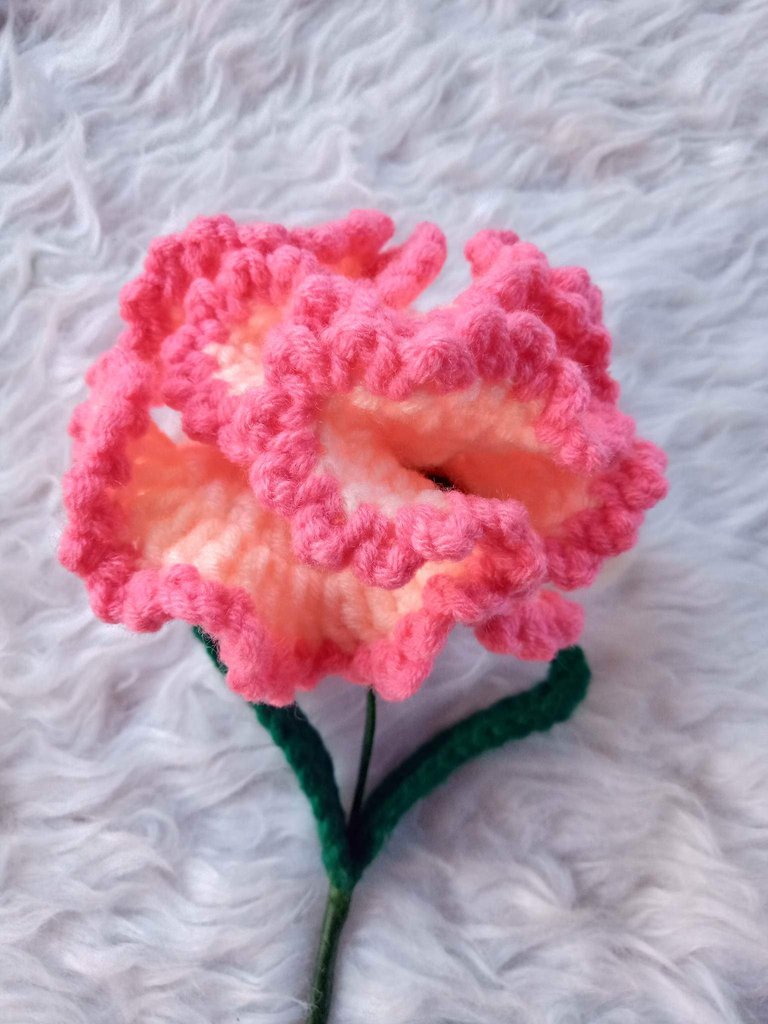 crochet carnation flower that I made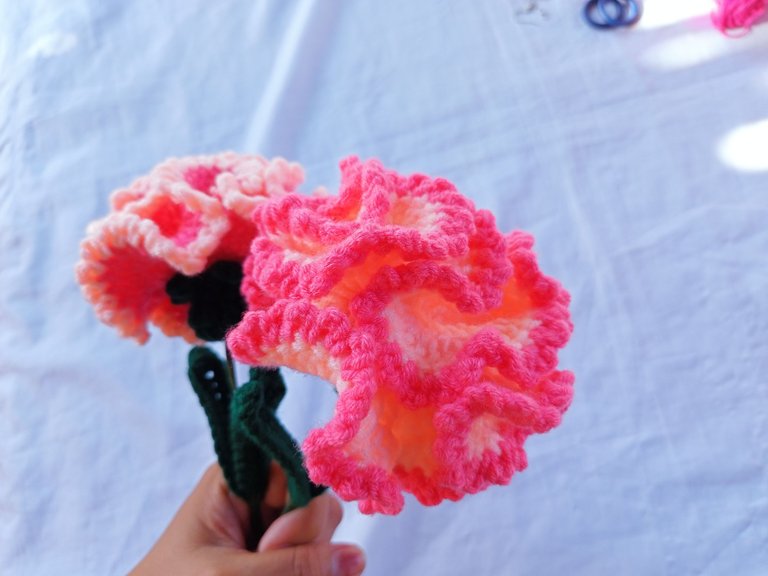 IMG20230223081122_01
And as I continue with my carnation flowers, an idea popped into my mind. I could make mini-carnation flower earrings. So right after I made the crocheted tulip keychains, I proceeded into making the earrings.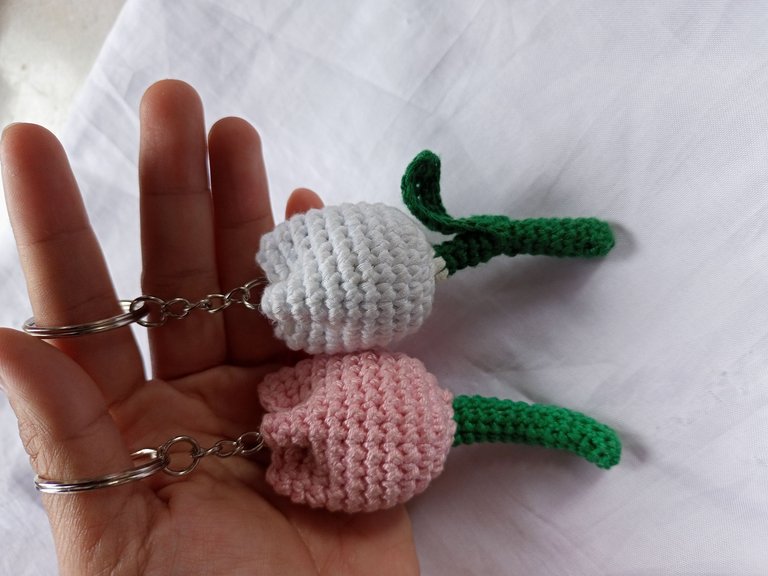 tulip keychains I made
I prepared all the necessary materials that I should be needed in making earrings.
Materials: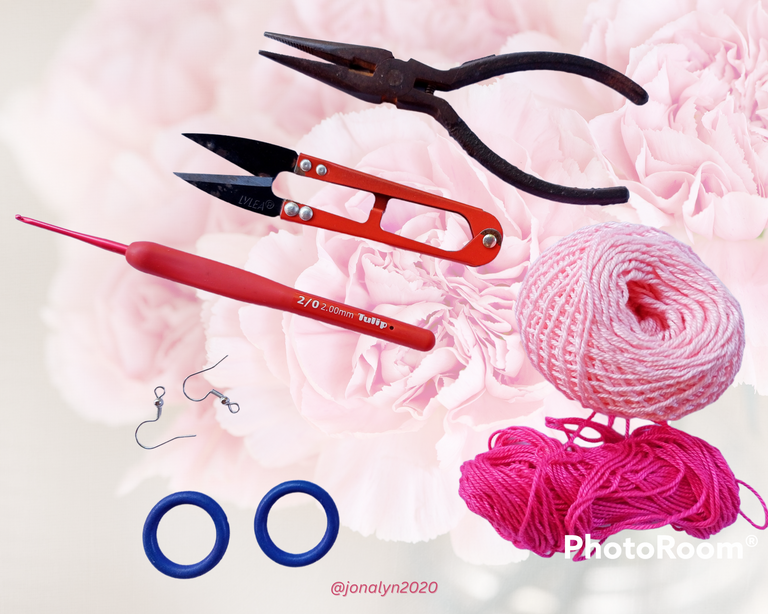 Edited on Canva
3ply mercerized cotton yarn
2mm size crochet hook
cutter/scissor
2 PCs plastic loops
pliers (long nose)
a pair of earring hooks
Procedure:
It'so easy to follow the steps and so easy to remember.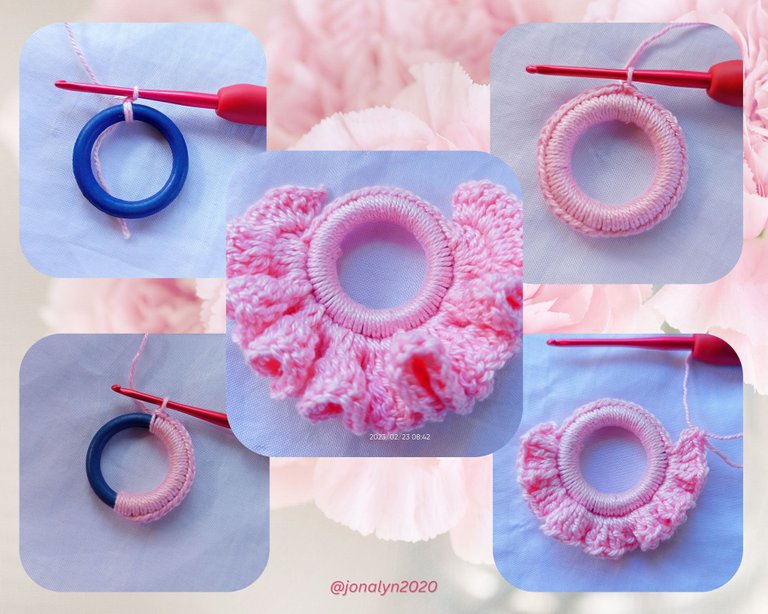 Edited on Canva
First, cover the whole plastic loop with yarn by making single crochets.
Second, make 3 double crochet on each stitch (to make some ruffles), but only the half side then slip stitch.
Third, for the 2nd layer of double crochet, just follow this pattern (2•2•3) 2dc, 2dc, 3dc on three consecutive stitches repeatedly.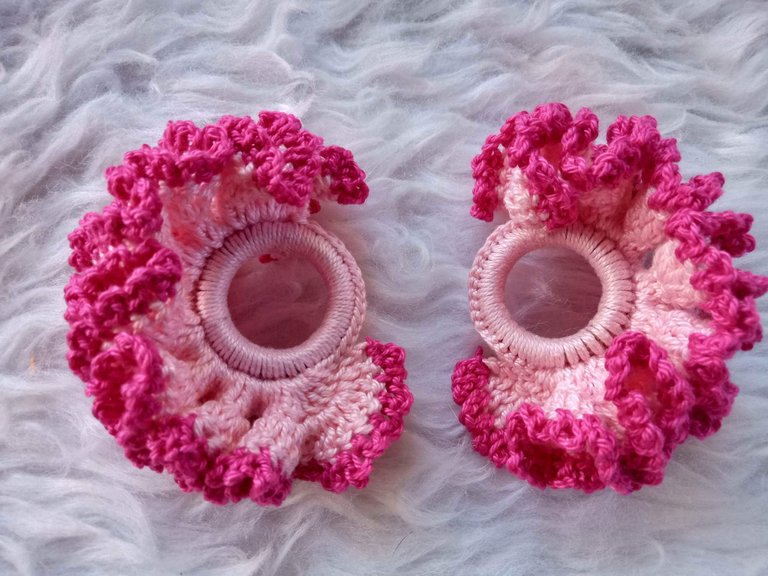 For the final look, I changed the yarn color to define the edging. And make 3 chains and a slip stitch to every stitch.
And finally, attach the earring hooks using the pliers.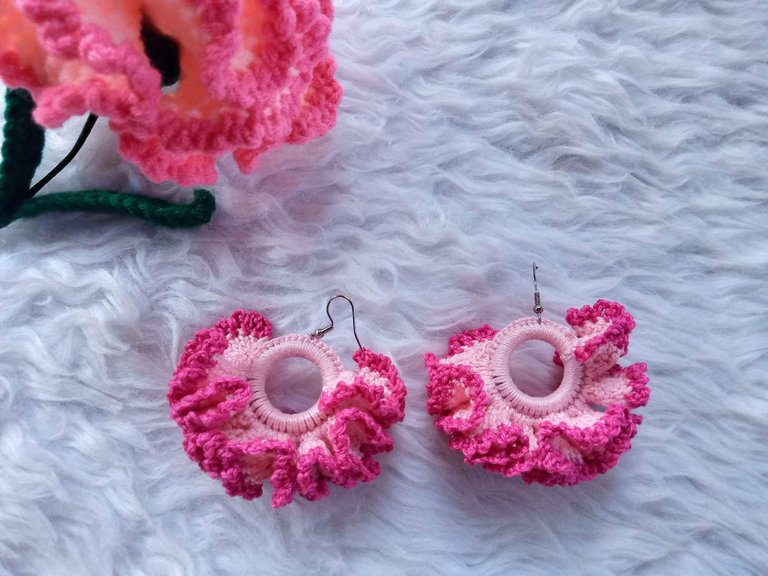 I even made another pair using other colors here. And it only takes an hour to make this pair of carnation earrings.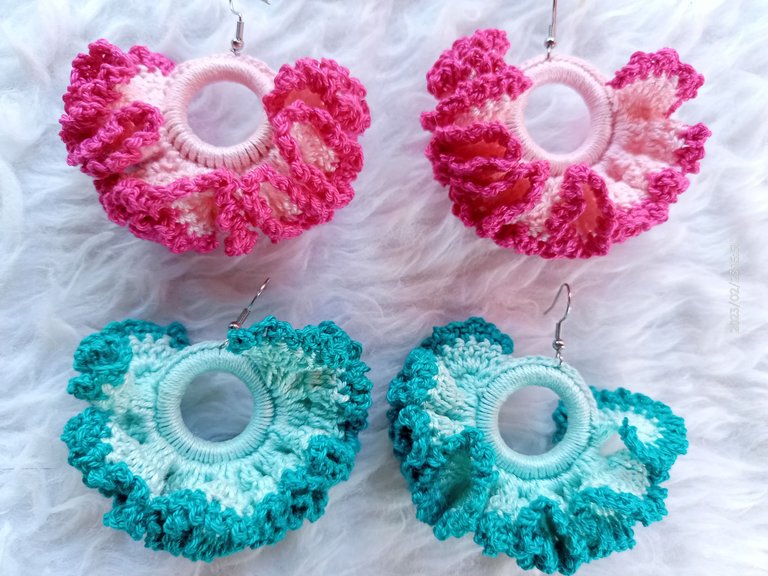 IMG20230223155125_01
It was a fun experience to be able to finish a product for a short time. I always love to do things that require a shorter time. No wonder I'm lazy thinking about pattern-making.🤭 And this is also the reason why I did challenge myself.😅
Anyway, I hope you all like my today's earrings tutorial. Have a nice day everyone.
Love lots,
@jonalyn2020 😘😘😘


Kung nagustuhan mo ang aking sinulat ngayon, pakipusuan mo naman. 😍😉

For orders, please message me or visit these links.
To God Be The Glory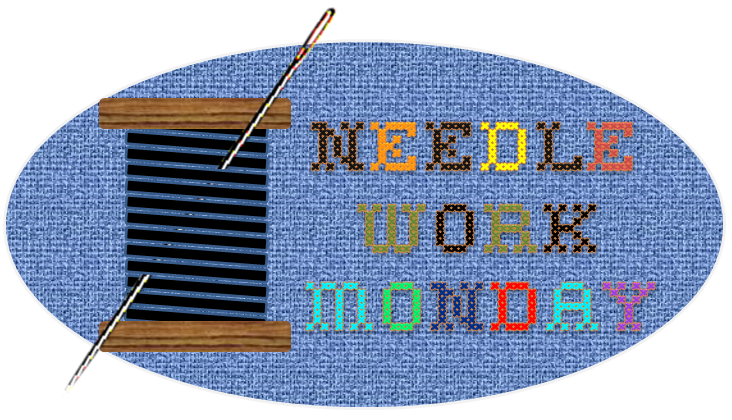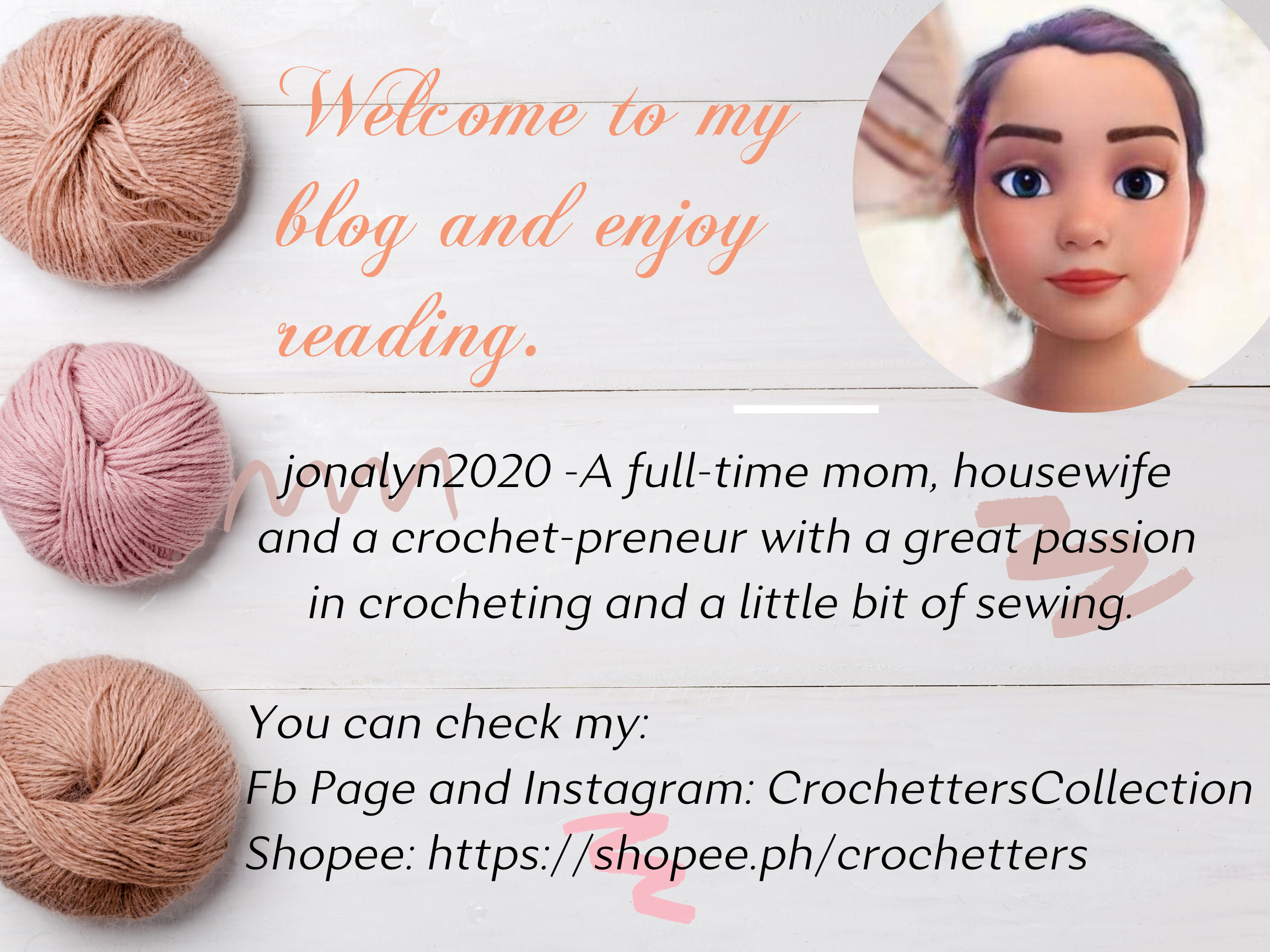 ---
---