An awesome poem giveaway in Neoxian City | All entries included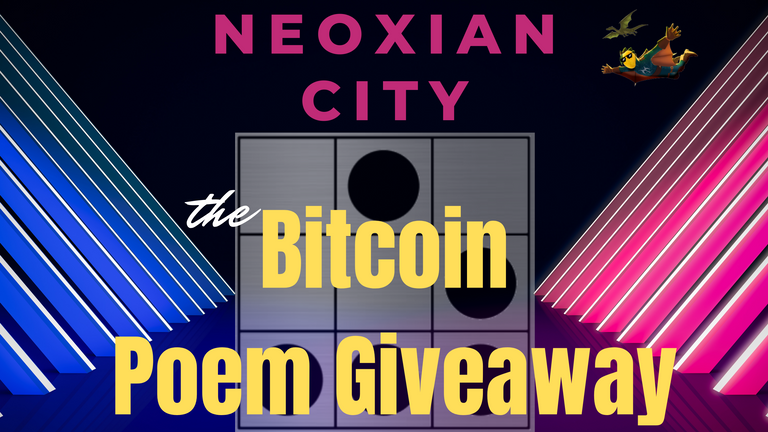 Hi friends!
I hope all of you have already started enjoying the weekend after the long week's stress. It's been a hectic week for most of crypto lovers because of the recent harsh downtrend, which causes extreme fear in the whole crypto market. Upon that, The sudden downfall of luna kind of created a negative sentiment around, especially in twitter, where different gurus are still discussing about the downfall of UST and luna and also coming up their self-made weird stories that I doubt are true. But overall, it's a sad environment everywhere.
However, things are going pretty normal in Neoxian city. Yes, we do whine about this evil dip but we long term players know that it's just a part of the cycle and we will be in a bull market again someday. So, we are just doing our dailies and also chatting about random topics and hanging out.
Today, as we were chatting like usual, a sudden topic started about Satoshi Nakamoto. Satoshi is the man who invented the first ever cryptocurrency Bitcoin (BTC) and a blockchain to run the system. But, no one knows how he looks or where he lives. He is till date completely anonymous so it's still a mystery in this crypto world. However, things got funny when Lion shared a photo from internet that he found after searching for Satoshi Nakamoto. Later, Mr. Neoxian verified that it's not the real Satoshi. Now, most if the city people loves Bitcoin the most but as I was into ETH mining for quite some time now, I bragged about ETH and told that at least we know who built Ethereum (Vitalik Buterin) and also does have a genuine photo.

As this chat was going on, Mr. Dragon dropped an interesting poem giveaway! This time he asked the participants to write a short poem about the real Satoshi and how mysterious and anonymous he is. The giveaway was only for 10 minutes within which, you have to write the poem and dm it to mr. Dragon.
At that time, I was chilling at the terrace and chatting with my phone. As the giveaway dropped in I rushed to my room to access the pc as I needed my simple notepad to cherish my thoughts 😅. I managed somehow to write and complete the poem on the last minute and submitted to Mr. Dragon in his dm. After some time, reading all the entries, He come up with the results and I got first place with 100% vote and my friend Lion (@hive-world) won the second prize, 40% vote.

After the announcement,other citizens congratulated us and all who participated, shared their piece in the general chat. I really liked the entry of @xabi and of my another friend @quduus1, both of them wrote great along with all other entries. I am sharing all the poems below with their username. I hope you like them as they all are pretty fun to read 😂
---
---
Xabi's Entry (Hive Acc - @xabi)
Born in 2009
it slowly started to crawl
getting suppressed all the time
yet it stands tall
like a phoenix
it rose from the ashes
to rule them all
coin of the coins
king of the alts
Destined for greatness
to bind them all
Btc is the name and
all shall answer its call
For it Satoshi was blamed
never came forward to be famed
It's better he stay in hiding
dragons are not meant to be tamed
---
Quduus's Entry (Hive Acc - @quduus1)
The birth of anonymity, the birth of another goat(greatest of all times)
The so called man who has created fortune but hasn't shown himself to the public but prefers to be reffered as a GHOST...
The so called man: SATOSHI NAKAMOTO
Satoshi nakamoto the face in the dark
Man who created fortune and hides in the dark and sees it all
Bitcoin so strong that it trampled over all other coins
Bitcoin so rigid, that it became something of interest to the mass.
It glory shines so bright that it attracts the tinniest of hope.
---
B0s's Entry (Hive Acc - @b0s)
A long time ago, 2009 to be precise
The first crypto was created
Our dear beloved bitcoin was created
The creator kept himself unknown
A hero to the world who keeps himself hidden
Why do you do this we don't know
But thank you Satoshi you're the reason we're here
---
Lion's Entry (Hive Acc - @hive-world)
Satoshi namakoto, a mysterious man,
If you ask me, no no know the truth of this man.
Thanks to him, he came to the world and changed the currency to digital currency.
He gave hope by creating BTC which we all had opportunity to spend it.
If we have million of this change maker on earth,
There would be massive change in the world today.
Sending money to anyone on planet was made easy because of your knowledge.
Humble man to the extend know one no your identity.
---
the year was 2009,
and everything was fine,
just one thing that was funny,
some man creates a virtual money?
what's his name? oh.. Satoshi nakamoto,
where he lives btw? Paris or kyoto?
So Anonymous, yet open to the world,
blockchain? crypto? Gosh these new words.
12 years crossed, Crypto is everywhere!
everyone is talking it, every here and there!
Ohh.. it made billionaires? Is it a wild dream?
I should have bought crypto, now let me Cry and Scream!
---
I hope all of you enjoyed reading our hilarious and funny poems above. And if you are eager to join this amazingly amazing City, please don't hesitate to join us!
City is currently being located on element app. Just install element in your PC/mobile, register your ID and then use this link to get into the city! Also feel free to comment below if you have any queries!
the City that Never Sleeps. 🔥🐉
Posted using Neoxian City
---
---