Cerberus - a mighty old dog from early splinterlands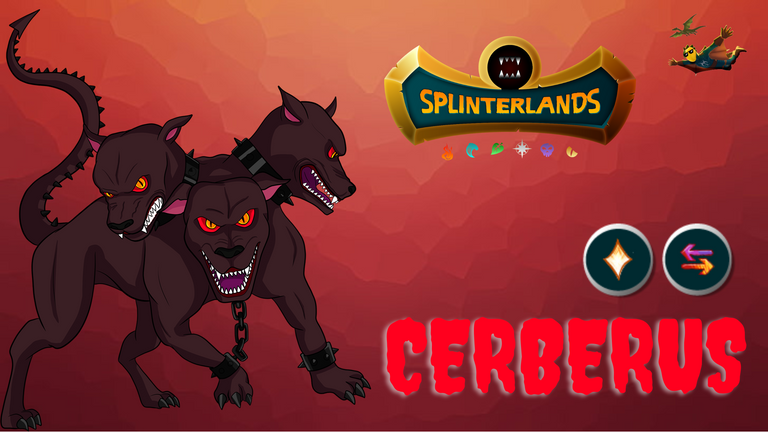 What's up my fellow splinterlands friends!
I hope you all are having a nice day and also playing & enjoying this bad ass game! Well, time us running by faster it seems cause only 2 days left for this current splinterlands season to end. And still I haven't collected enough season trophies so I gotta work hard these last 2 days. I hope all of you ate enjoying the ranked playings and it's lucrative daily focus chests.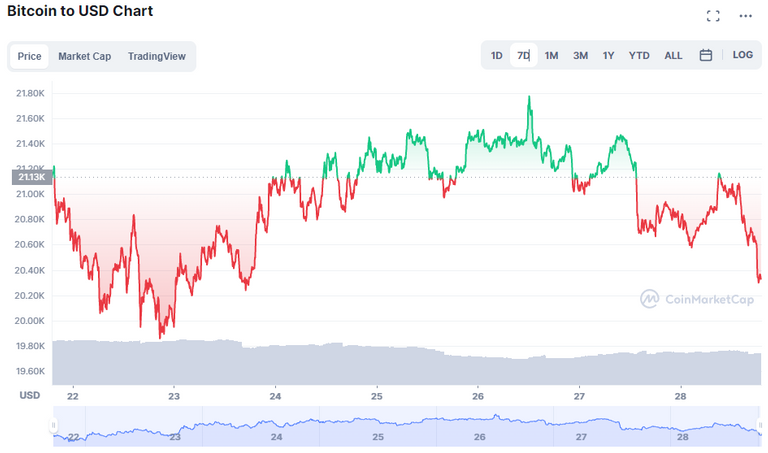 Now, let's first take a look at the current crypto market prices to get ourselves updated. The main dominator BTC is currently being traded for 20,330$ per unit who is the -2.11% price change in last 24 hours. The other big giant ETH Is also up by a little bit and currently being sold for 1,162$ per unit with a -2.5% price change in last 24 hours. But, our beloved hive did the main trick with a massive +55% price rise and currently being sold for $0.57 per unit. I was holding a decent amount of liquid hive and when I see the huge of Trent today I converted my hive to HBD When I was trading for $0.6 per unit.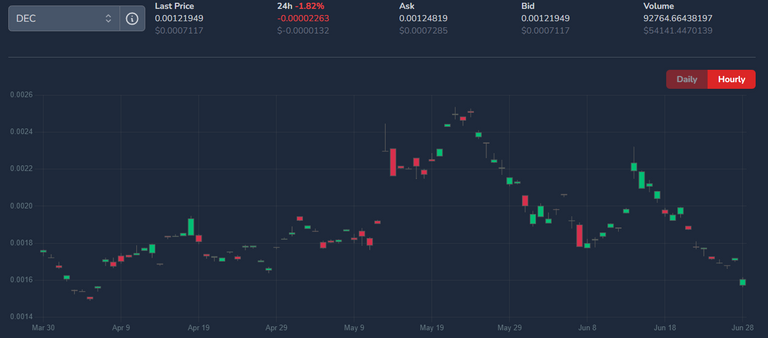 Now, taking a look at the current Splinterlands to King market, the in-game token DEC or dark energy crystals is still below it's pegged price and currently being traded for $0.0007 per unit with A -1.82% price change in last 24 hours. On the other hand, SPS is being sold for $0.061 per unit with a +9.6% price rise in last 24 hours. And lastly vouchers are still way below one dollar price mark and currently being traded for $0.6 per unit with a XX percent price change in last 24 hours.
CERBERUS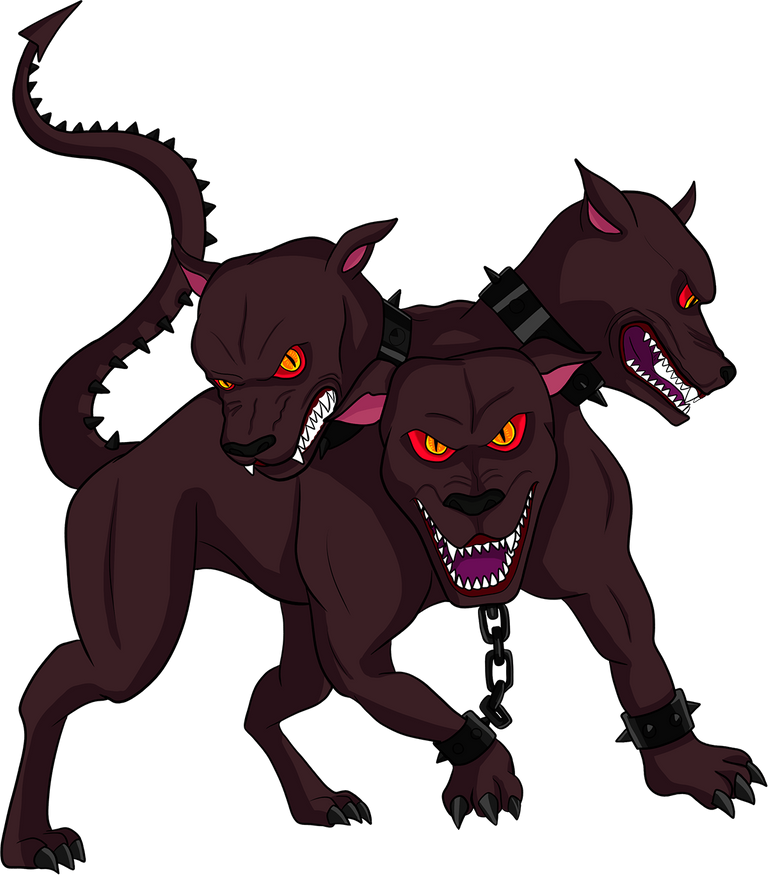 Cerberus is an old dog of splinterlands and as I was thinking to skip chaos monster series for today and look into the old ones, I found him best to for in for today. Well, It's an Alpha/Beta edition card that belongs to the fire unit and this monster is a rare type card. I call this a healing defender as well because, this monster needs only 4 mana to join any battle and comes with heal ability since it's beginning stage. It's attack style is Melee and it has 5 health and 3 speed on it's beginning stage.
This monster needs 115 cards to reach the maximum level and at max level, it equips total 2 Defensive abilities.
ABILITIES

HEAL - This ability Restores a portion of the Monster's health each round.

RETALIATE - When hit with a melee, Monsters with Retaliate have a chance of attacking their attacker back.
---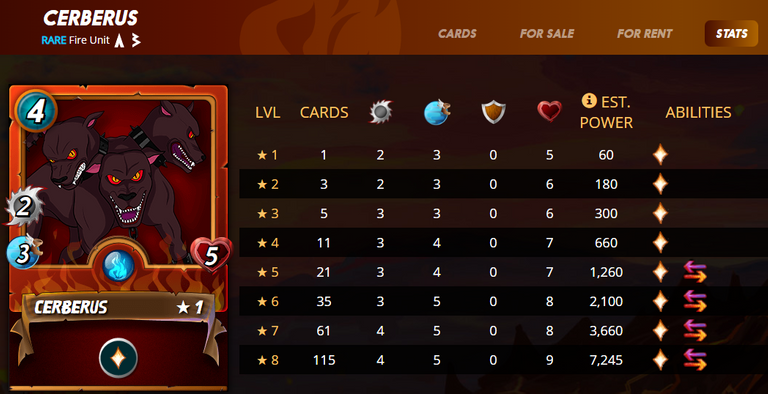 BRONZE
At level 2, this monster has 2 melee attack at 3 speed and 6 health along with the Heal ability. Even at this level, monster has enough melee power and health to be chosen a a front defence.
SILVER
After upgraded to the level 4, this monster increases its melee power from 2 to 3 and health from 6 to 7 along with increased 4 speed and the Heal Ability. Cerberus Monster needs total 11 rare cards to reach this stage (for beta edition).
GOLD
This monster needs 35 Rare cards to reach the 6th level and on this level, this monster increased its speed from 4 to 5 and health from 7 to 8. It also gets the retaliate ability from level 5.
DIAMOND/CHAMP
To reach the maximum level, this monster needs a total of 115 rare cards, after upgraded to the max level, this monster increases its power to 4 melee attack with 5 speed and 9 health.
IMPORTANT POINTS ABOUT CERBERUS
This monster can perform well with both Damaging and Defencing. Having enough health with heal makes itself efficient from the beginning level which is just wow.
The 4 mana cost to choose this monster is very good considering it's overall stat and abilities. If you want, than you can easily choose this monster on low mana limit battles as well.
MARKET STAT
The price of this monster is huge because it's an pretty old edition on splinterlands and it's cost on 1 bcx is around $14.99 and if you want to buy the max level, you would have to pay approx $679 based on current market stat.
Battle Line-up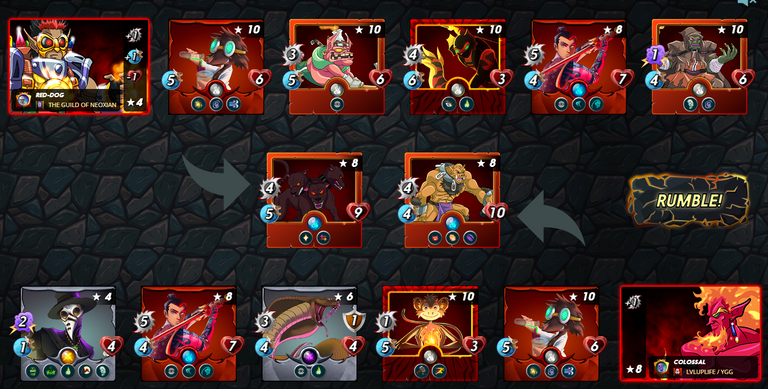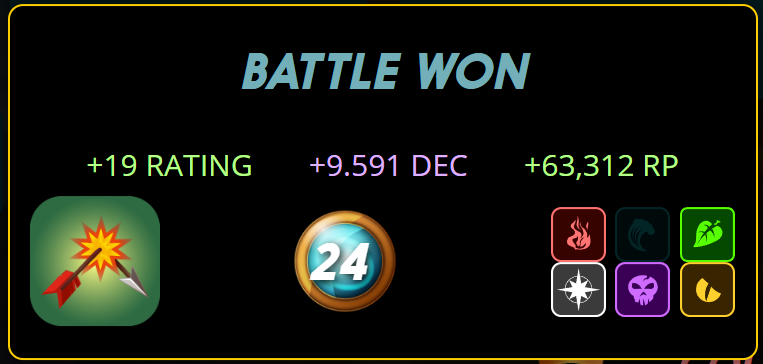 mana Cap: 24
Splinters allowed: Fire, Earth, Life, Death & Dragon
Ruleset:
Broken Arrows - No monsters with ranged attack can be used in this battle.
---
---
CERBERUS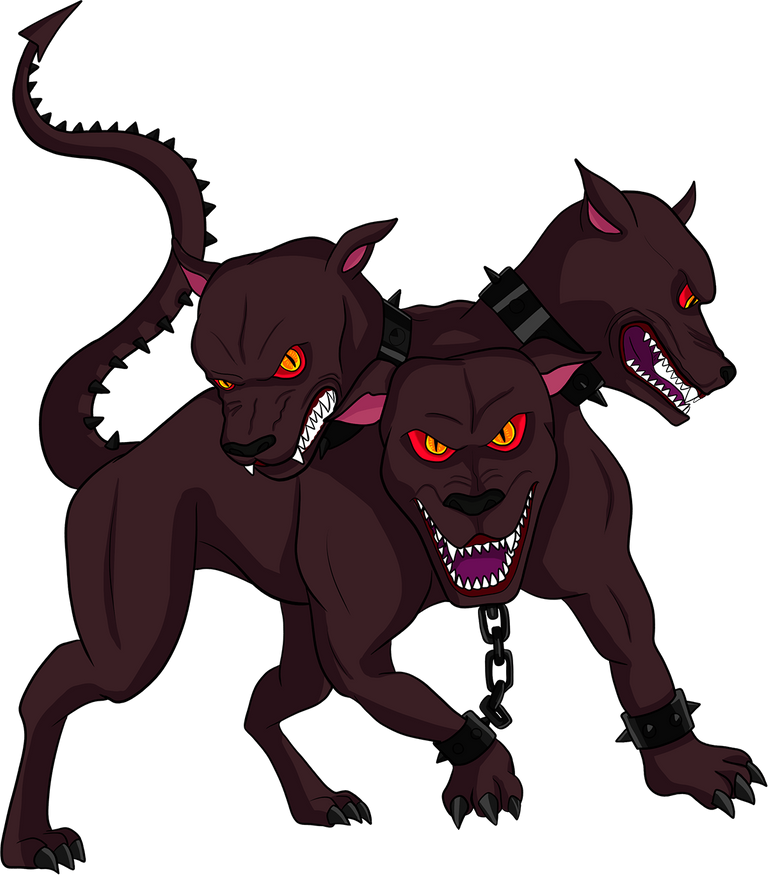 At the very first position, I placed this Deadly defender monster about which I already wrote above in the post.
SCAVO CHEMIST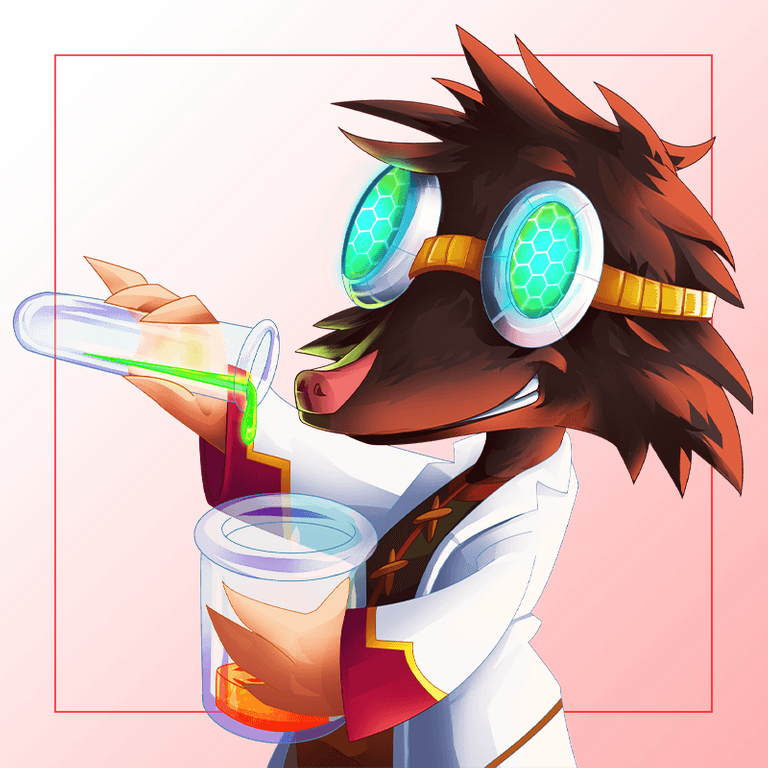 At the second position, I placed this attack less monster Scavo Chemist and it has 5 speed with 6 health along with Cleanse, Slow and Headwinds ability.
KOBOLD MINER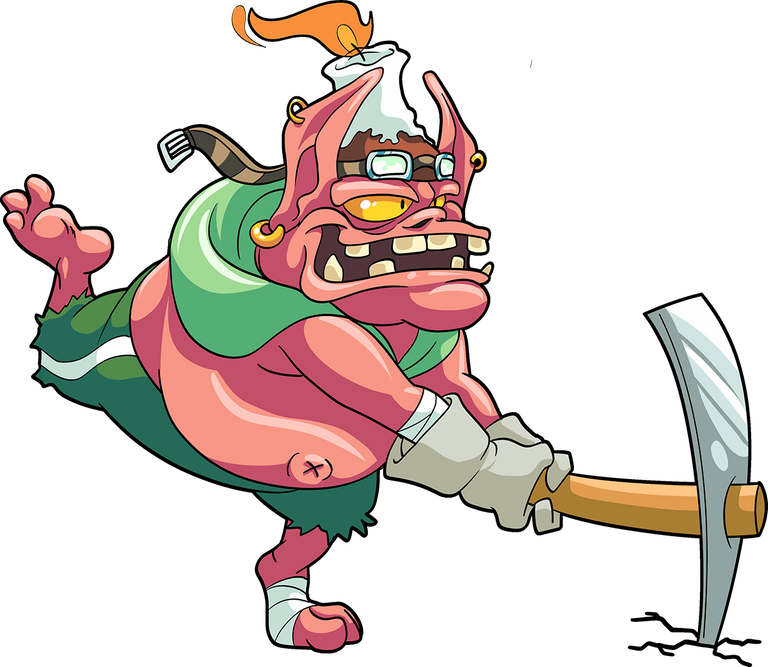 At the third position, I placed this low mana Melee power monster and it has 6 health, 5 speed and 3 melee along with the Sneak ability.
SERPENTINE SPY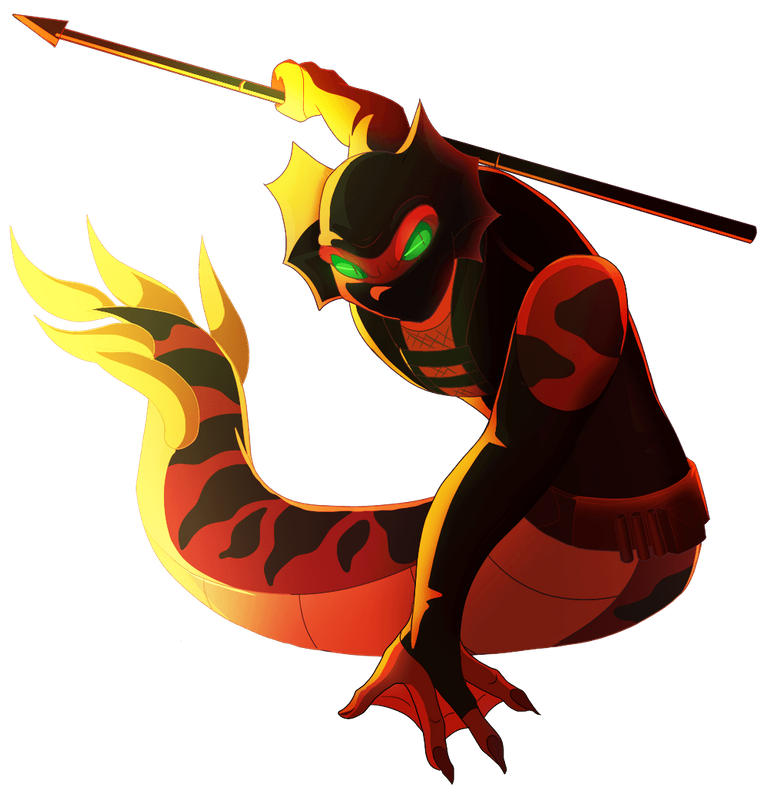 At the fourth position, I placed this melee opportunity attack monster which has 4 melee attack at 6 speed and 3 health along with Opportunity and Poison ability.
TENYII STRIKER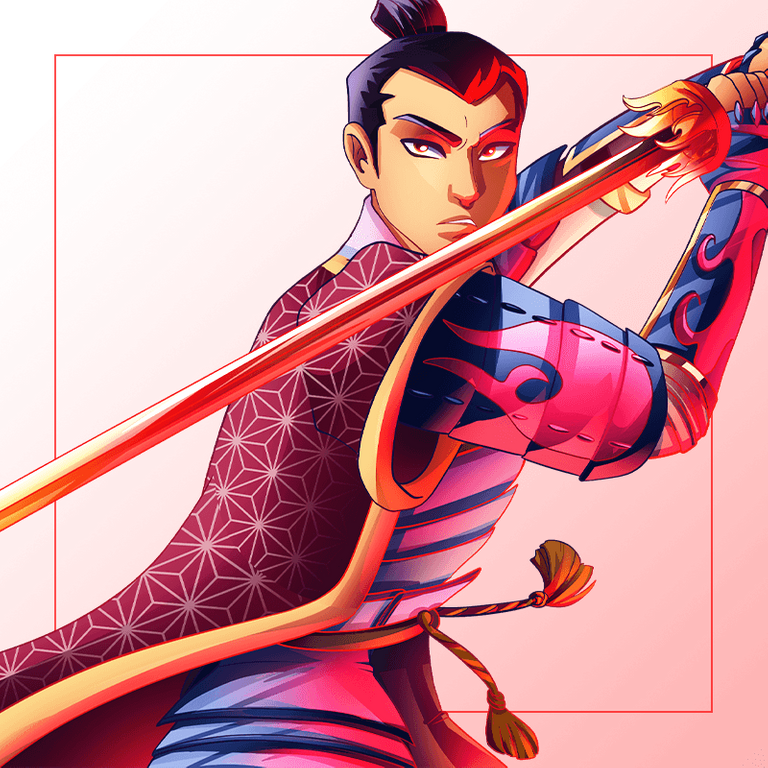 I used the new chaos sneak Tenyii at the fifth place of my lineup and it possesses 5 melee attack at 4 speed with 7 health along with sneak, evade and backfire ability.
GOBLIN SHAMAN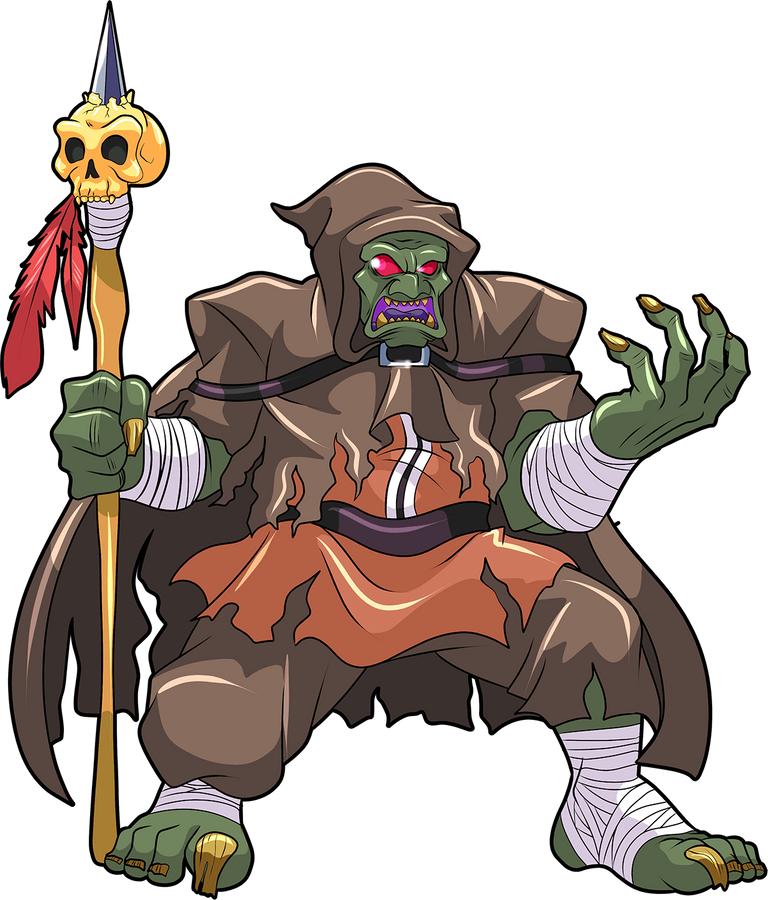 I chose another monster Goblin Shaman that will further weak the enemy lineup with it's slow and Weaken ability. It has 1 magic attack at 4 speed with 6 health.
BATTLE BEGINS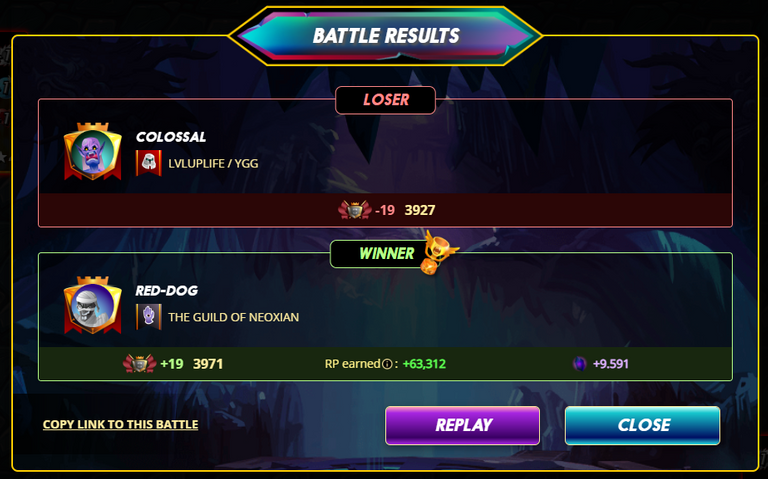 In this battle, I choose Fire Unit summoner Plado and My opponent choose Fire summoner Malric. His/Her monsters lineup was very good as well with a Pit Orge at front, followed by Scavo Chemist, Flame Monkey, Uraeus, Tenyii Striker and the last one was Doctor Blight.
ROUND 1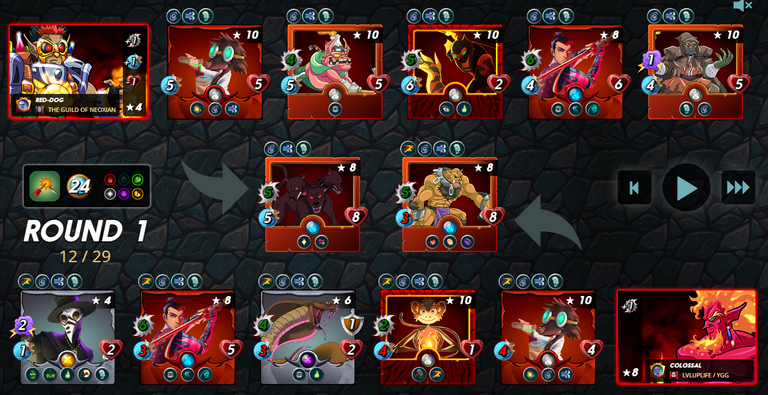 On the first round, after all the monsters got their abilities applied and also buffs/debuffs from the Summoners and other monsters, my Serpentine attacked first and killed the enemy monkey, followed by the Cerberus attack which reduced the Pit Orge's health down to 3. Next, my Scavo chemist cleansed out all the negative effects upon my Cerberus, followed by my Kobold miner's attack upon the enemy striker which reduced its health down to 1. Though on dead enemy striker then got killed by my own striker and then the enemy Pit attacked and reduced my Cerberus's health down to 1 and next, the enemy Uraeus wounded my goblin while the enemy Dr blight killed my Cerberus at the first round.
Round 2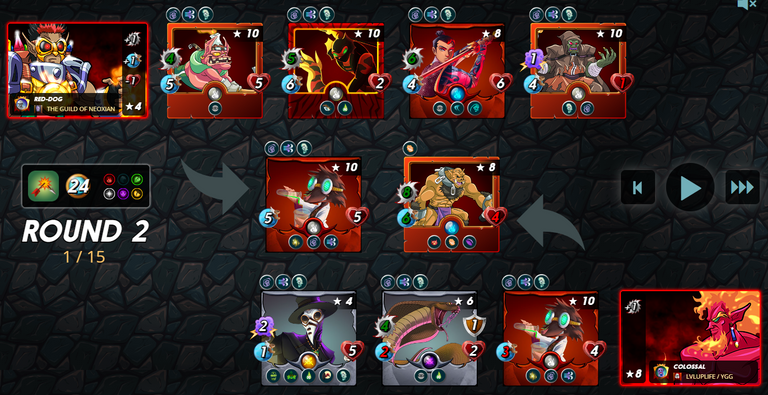 At second round, the Pit Orge attacked at first and killed down my Scavo chemist, but then my Melee attackers attacked one by one and kill down both the Pit and the Ureaus and my goblin also damaged the enemy Chemist. The enemy Blight attacked at last and wound + poisoned my kobold and the round ended here.
Round 3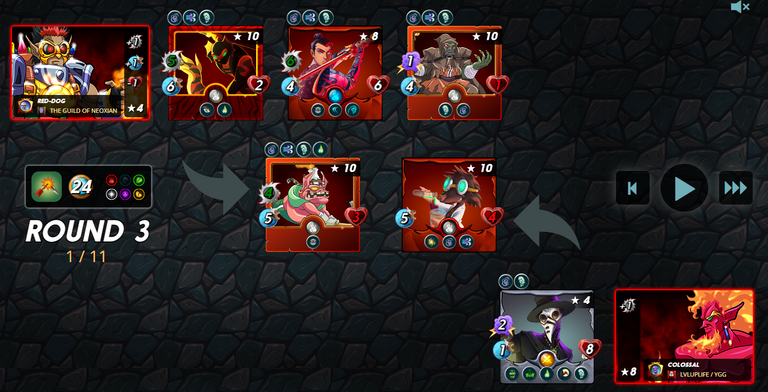 As the round 3 begins, the Serpentine attacked the first and killed the enemy Chemist and the doctor Blight was the inly remaining monster on the enemy line after that. No need to say that he also got taken care soon after by my other attackers and hence I won this match at third round and scored another bunch of points.
WHY I WON THE MATCH 🤔
The answer is simple, just look at my opponent's deck. He/she had only 2 active melee attack monster at the back while I placed my 3 attackers against them. I also choose total 3 speed agents on my side and were mostly faster than opponent's attackers. My opponent may have thought that his/her Pit Orge will helped him win the match but it didn't last long again my shining and lighting melee strikes.
---
Wish you all good luck on all of your future Splinterlands matches.
Thanks for visiting my post.
Stay well and keep playing Splinterlands.
Want to start playing splinterlands? Click here
Posted using Neoxian City
---
---