Scavo Firebolt - Your favorite boxer for a perfect knock out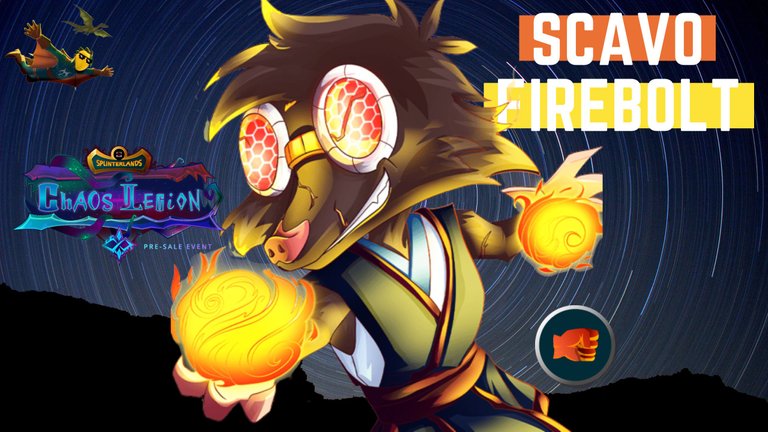 Hi friends!
Happy Monday to all my fellow hivers and I hope all of you have enjoyed a beautiful weekend! For me, I was invited to one of my friend's first marriage anniversary and I really spent a great time with my friends and also enjoyed the delicious food.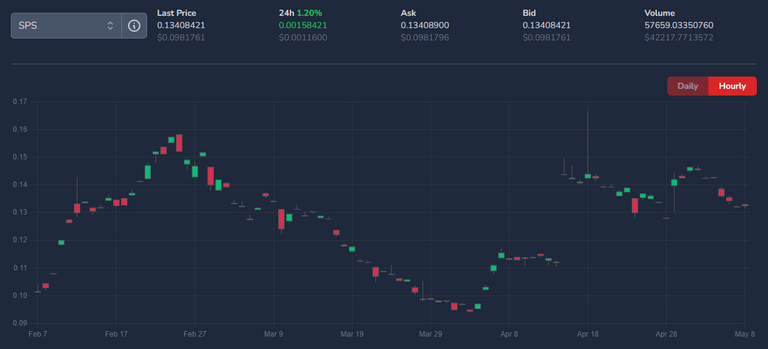 But in meantime, we have come at the middle of this splinterlands season and only 7 days left for us to reach our seasonal goal spot. The crypto market also went down a lot in these recent days and our hive and it's native and other project tokens also got affected because of the dip. SPS has now came down under 0.1$ and currently being sold for only 0.09818$ per unit. I was buying and saving a chunk of DEC for some days now and made about 188k DEC which was paying me 13.731 SPS per day from drop. But as the price of SPS went down to rapidly and broke the threshold of 0.1$, I decided to buy SPS with my dec chunk, as DEC price wasn't affected from from the price point That I bought it for. I bought around 2700 SPS and staked it in-game right away. If the bear market continues to fall, I am also thinking to buy Hive and power up my HP. I am soon to cross 3000 HP but I want to reach 5k HP ASAP.
SCAVO FIREBOLT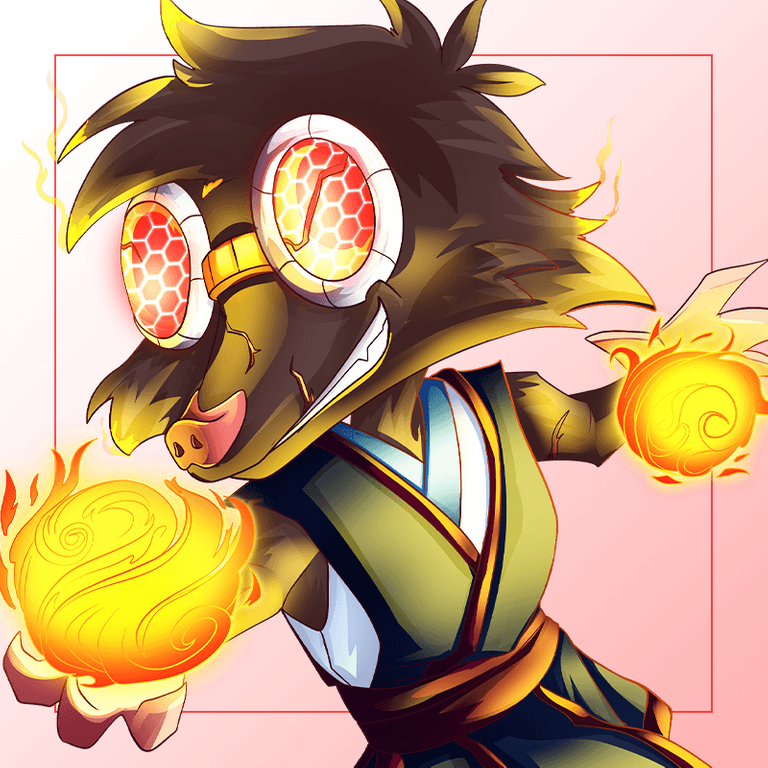 Ok now, let's move on to the main theme of this post as today, I am going to discuss about another spectacular Chaos monster, Scavo Firebolt with you all.
Scavo firebolt is a range monster that belongs to the Fire realm. It is a rare type card and it costs 4 mana to be used in battlefield. Since the loss launch of Chaos Legion cards Scavo fire bolt is gaining popularity for its high range damage with Knock Out ability. So, don't get carried away by it's cool sunglasses as he will pinch you with his fast arrows even before you realize. Let us now look into it's stats and abilities tier wise.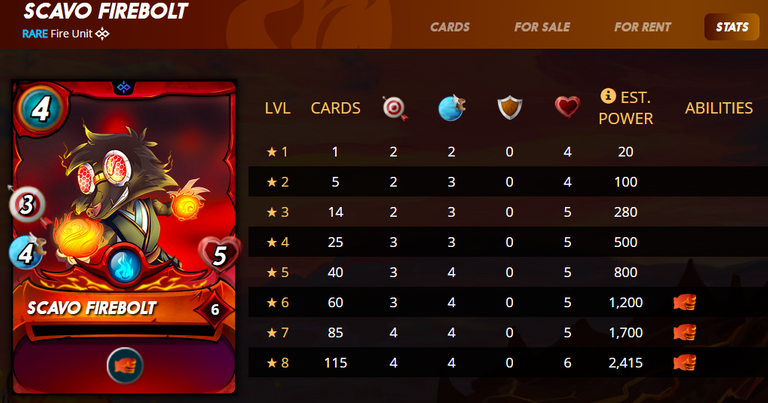 Bronze
At level 2, this card possesses two range attack at three speed with four health, but it doesn't get any abilities at Bronze tier. But, 2 range at this early level is very helpful to kill down enemies faster.
Silver
At level 4, this monster's range attack gets increased to 3 while having three speed and five health, but without any abilities.
Gold
At level 6, this monster gets three range attack at four speed with five health and also gets the knockout ability from level six. With the knockout ability, it will now do double damage when attacking a stunned enemy.
Diamond/Champ
At level 8, This monster gets four range attack at four speed with six health along with the knockout ability that it got at gold tier.
Important points about Scavo Firebolt
Scavo only costs 4 mana to be used in battlefield so you can use it without hesitation in mini to medium mana limit matches. It is also a good choice for Little Leagues ruleset.
Scavo also holds decent speed throughout those different tiers which helps him to attack faster than many slow cards. At max level, it holds 4 speed so expect it to attack somewhere in the middle of a round.
If rightfully played, The Knock Out ability can be very beneficial if you get successful to stun the enemy card before the scavo attacks. In this match, I am using the spark Pixies which holds the Stun ability and also has higher speed than Scavo.
Market Stat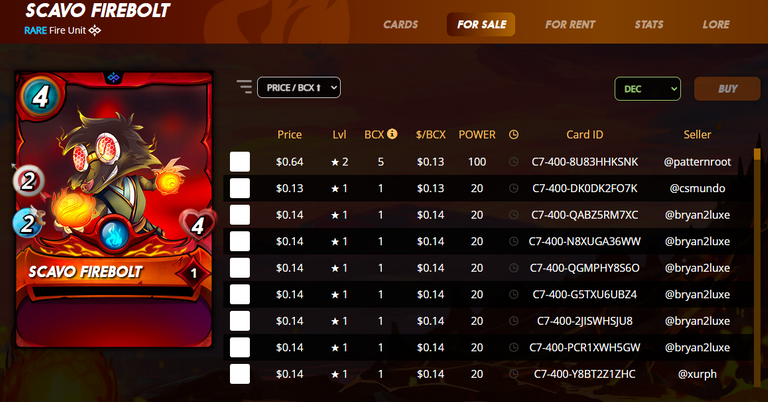 Scavo firebolt cards are currently being sold in the official splinterlands market starting from only $0.13 and will cost you about 96.762 DEC per BCX unit.
Battle Line-up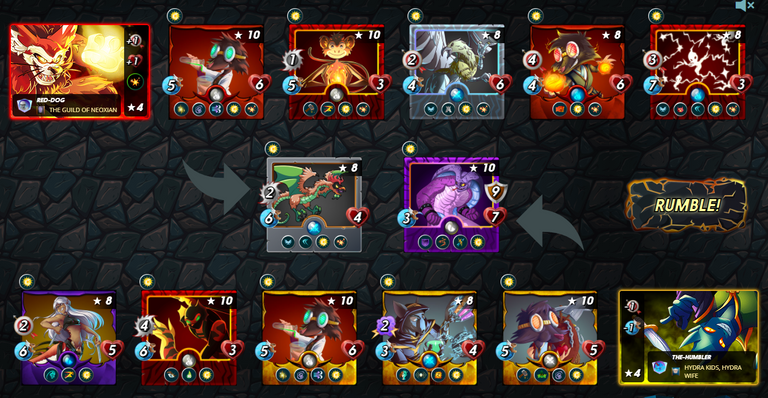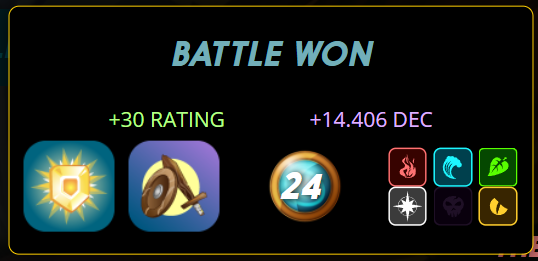 mana Cap: 24
Splinters allowed: Fire, Water, Earth, Life and Dragon.
Ruleset:
Holy Protection - Every monster will get the divine shield in this battle.

Rise of the Commons - Only common and rare monsters can be used in this battle.
---
---
COCATRICE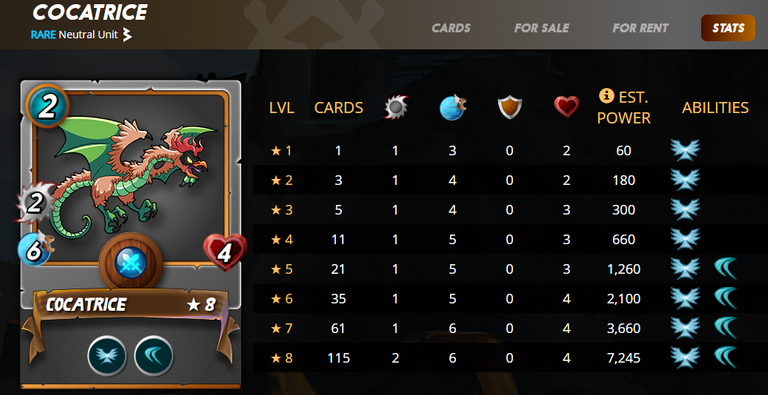 To defend the front, I used the cocatrice at the first place of my lineup. It's high speed with flying and Evade ability together will help me evade enemy melee and Range attacks. I am using a level eight coca here and it possesses two Melee attack at six speed with four health along with those two abilities that I stated above.
SCAVO CHEMIST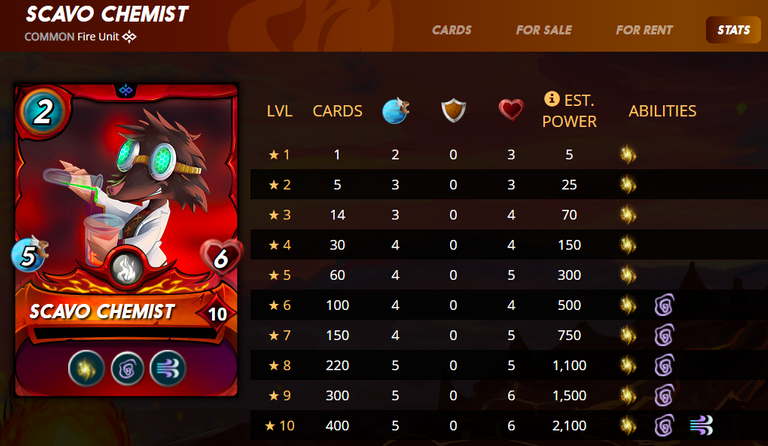 At the reach position, I chose the Scavo Chemist to weaken the enemy cards with its abilities. I am using a level 10 in here and it has five speed with six health along with three abilities - cleanse, slow and headwinds. it will reduce all the enemy monster's speed by one and will also reduce all the enemy archer's attack by one.
FLAME MONKEY
At the third position, I chose the flame monkey which will repair the broken shields upon my friendly cards and will also provide +1 speed to all of them. I am Using a level 10 in here and it possesses 1 melee attack at five speed with three health along with the repair and swift ability.
TOWER GRIFFIN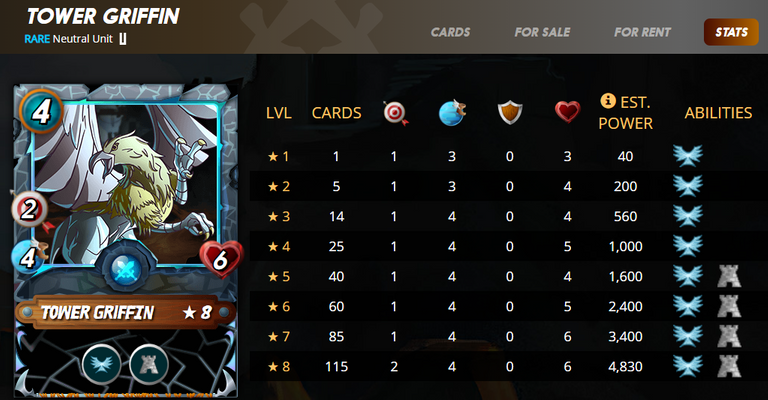 To protect my monsters further with a layer of shield, I chose the Tower Griffin at the fourth position of my line up. I am using a level eight in here and it carries two Range attack at four speed with six health with two abilities - flying and protect.
SCAVO FIREBOLT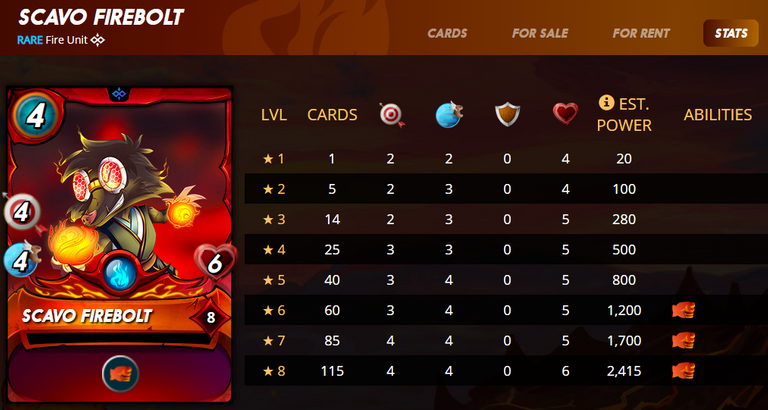 I wanted to protect the Scavo Firebolt for a long time, so I placed it at the fifth position of my lineup. I am using a level eight in here and it possesses four range attack at four speed with six health along with the knock out ability. The high range power will surely scare away those poor opponent cards I hope.
SPARK PIXIES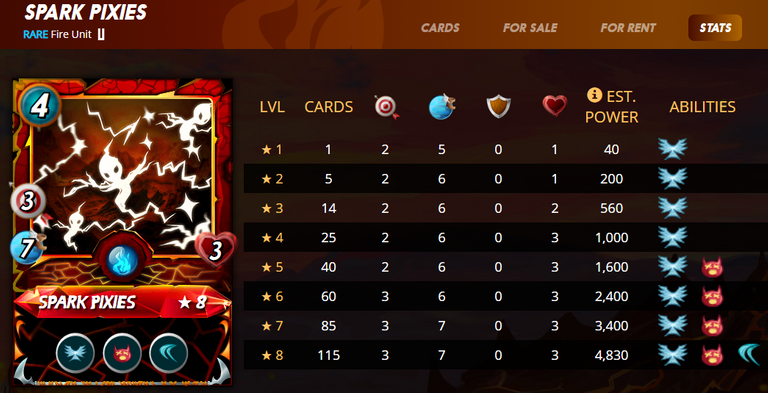 At the last position, I chose the spark Pixies Which Will Probably attack the first every round and if it gets successful to stun any enemy, my Scavo will deal Double damage upon it. I am using a level eight in here and it possesses three range attack at seven speed with three health along with three abilities - flying, stun and evade. Because of the high speed and flying plus evade ability, it will also hold high chance to dodge enemy sneak attacks.
---
---
Match Result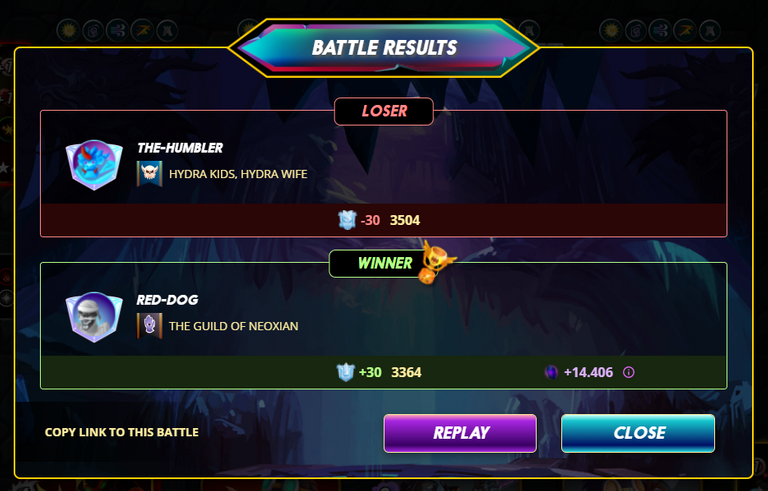 It was a 24 Mana limit match and every splinter apart from death was eligible to be used. There were two rulesets - Holi protection and rise of the Commons, so I was expecting my opponent to use Melee or range monster against me. But it was hard to guess which monster he will be using un this match. I also choose to attack with range monsters mostly and also choose the Zaku summoner for it's blast and +1 Range attack buff.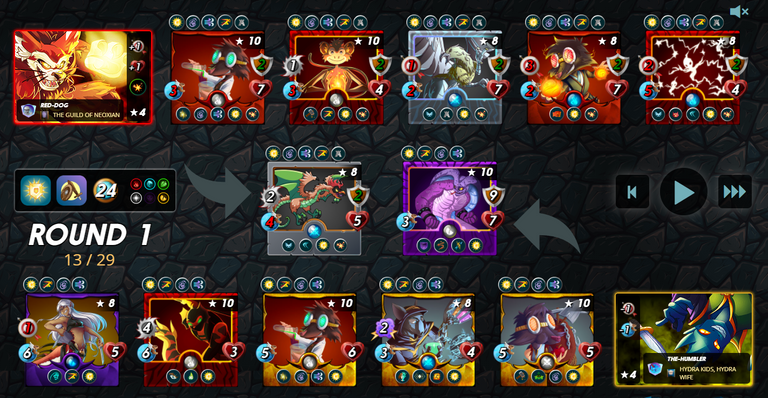 As the match got revealed I find out that my opponent has used the Dragon Summoner Quix the devious which will take away 1 speed from all my cards and the range attack from my archers will also get decreased by 1. So, the Zaku's +1 range buff gets neutralised here. He selected Naga brute at his front, followed by Scavo Hireling, Venari Spellsmith, Scavo Chemist, Serpentine Spy and Naga Assassin at the rear end. No doubt his lineup is super strong and I may get a hard time to break his front defence in time. Now, let's see how my Firebolt performs in this match.
As the battle started, my monsters got slower by -2 speed while the the speed of enemy monsters remained same. The first couple of attacks got neutralised by the divine shields . And when my Scavo's turn came, he missed it's target on the Naga Brute having only 2 speed against 4.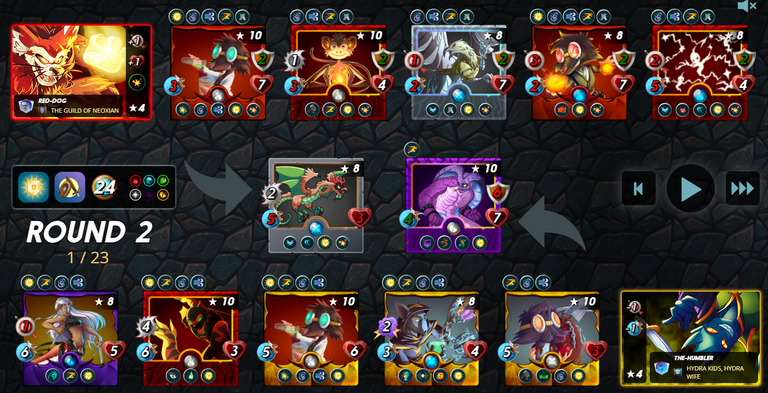 At second round, Naga brute is standing strongly with 6 armour + 7 health and must have to be taken down. Luckily, this time both the enemy Naga Assassin and Serpentine Spy targeted my Coca and missed their attacks back to back. The scavo was already angry upon his last round's performance. So, when the Spark pixies successfully stunned the Naga Brute, he got his golden chance, he attacked and damaged double the naga and took away his thick armour, making him more vulnerable now. I was also able to kill the Scavo Hireling in this round, but my Coca also got dead in the process.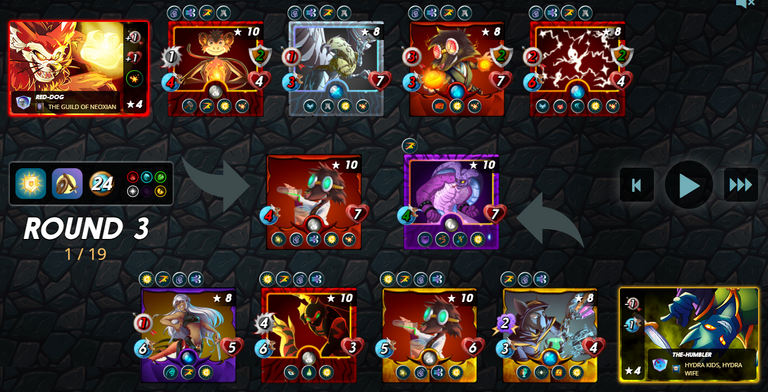 The match got more interesting at round 3 cause both side has lost 1 monster already. The Spark wasn't able to apply Stun this time, so the knock out combo didn't work. But, my 3 archers together reduced that Naga's health down to 1 and killed the enemy Spellsmith who was hiding just behind the naga. But sadly, both my Spark and Firebolt lost their armours due to the return fire ability and soon after, all of my monsters lost some health over the redemption ability from the dead Spellsmith.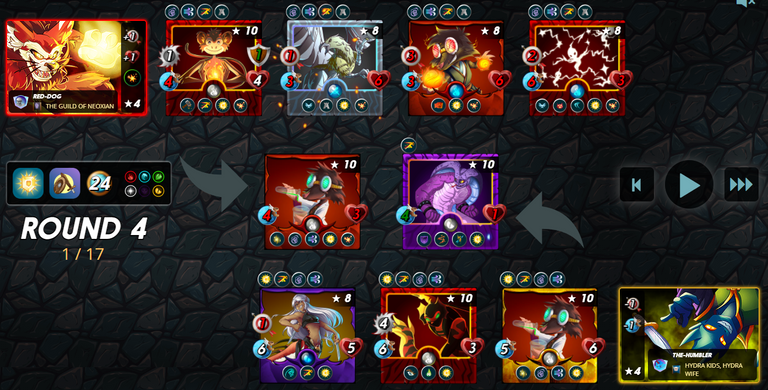 At round 4, the Brute was still alive with 1 health but the opponent moe have only 2 attackers, assassin and Spy. The the round begins, my pixie easily killed down the wounded Brute, but don't know why it applied stun on that dead Brute 😅 The enemy Chemist cam at front and then both the enemy attackers attacked and together killed down my Chemist, causing the poor monkey to take a weak stance at front. But now, it was my turn again with the help of monkey, Griffin and Firebolt, I reduced that Chemist's health down to 1 and also killed down the Spy!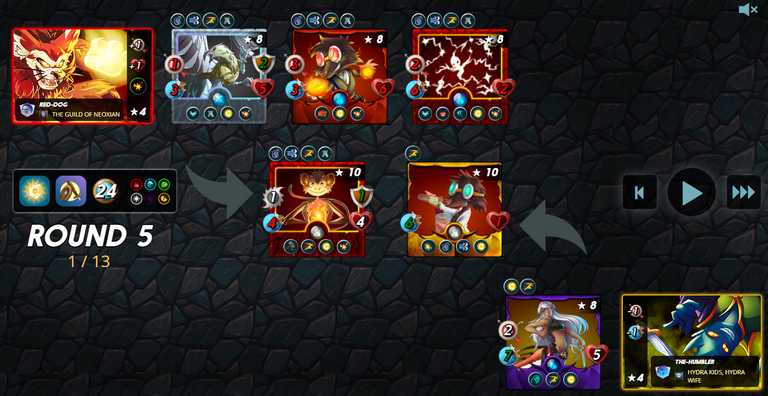 At the last round, the enemy side was trembling with a 1 health scavo chemist at front and the naga assassin at back. The wounded Chemist got taken down first by my pixie, and the naga got disabled to attack while coming at front position. The Griffin then did a foolish move and missed it's target but at last, The Naga also took care by the hero of this post, SCAVO FIREBOLT and I won another ranked. 😇
I hope you liked the match above and also enjoyed my lineup and strategy! Do you also love the Firebolt like me? Or you prefer other monsters before it? Let me know in the comments below and I will be seeing you all in my next post!
Stay well and keep playing Splinterlands.
Want to start playing splinterlands? Click here
Posted using Neoxian City
---
---