Stuffed Bell Pepper With Zucchini Sauce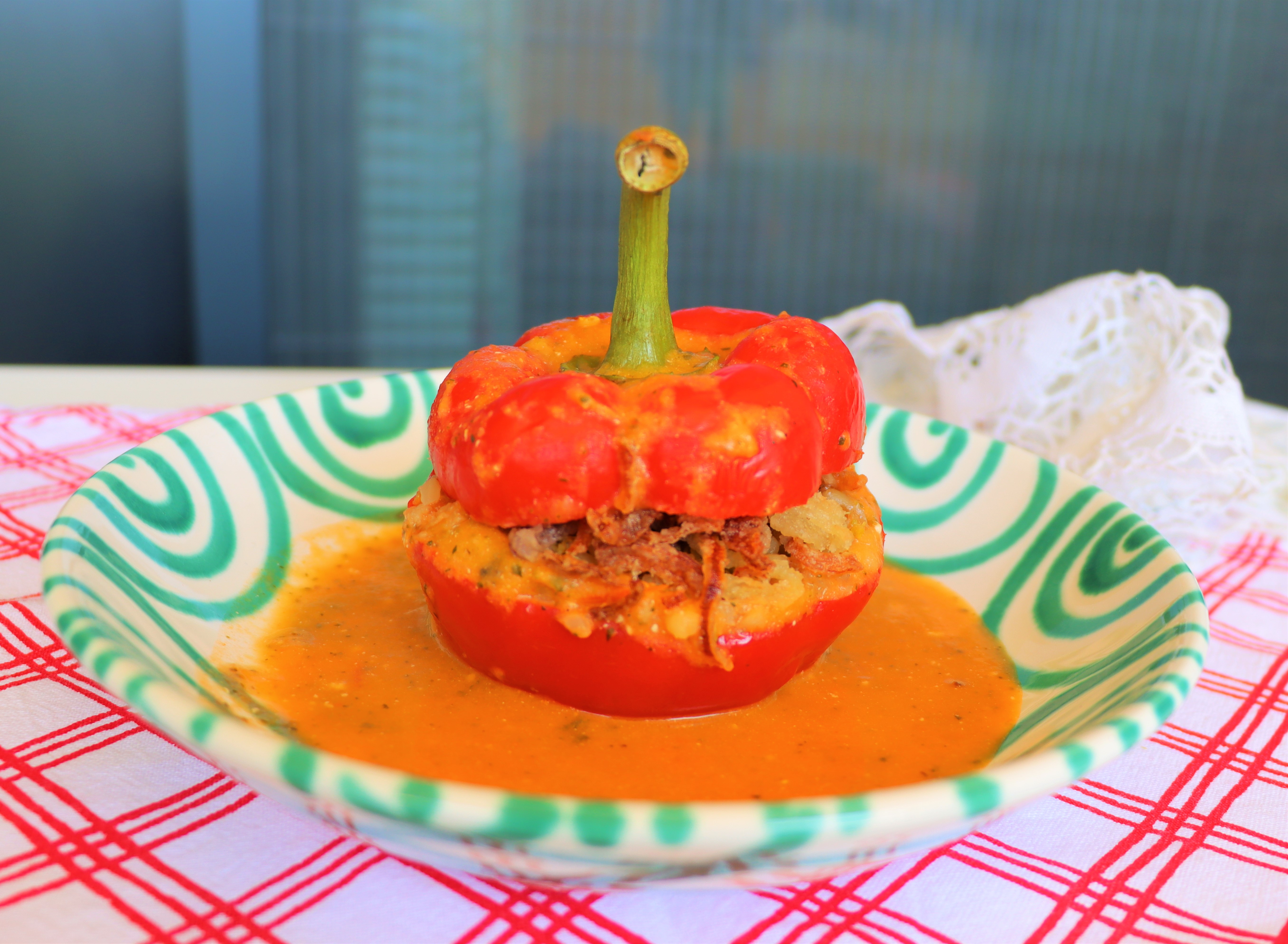 Hello Hivers!
If you have seen my post before this, please ignore it! I´ve had a computer problem, it broke down a couple of hours this afternoon and the monitor went black. This post was supposed to be a draft, I do not know why it got posted. Good thing I saved all the photos in a notepad. My guess is that this was due to the graphics of my computer. At any rate, I am continuing this post. Sorry for the inconvenience!
I am sharing a dish I made a couple of days ago and this is about stuffed red bell peppers. The fillings were mainly made of bulgur, cauliflower, broccoli ... I made extra crispy fried onions to garnish this on top of the pepper. Let's start with the recipe....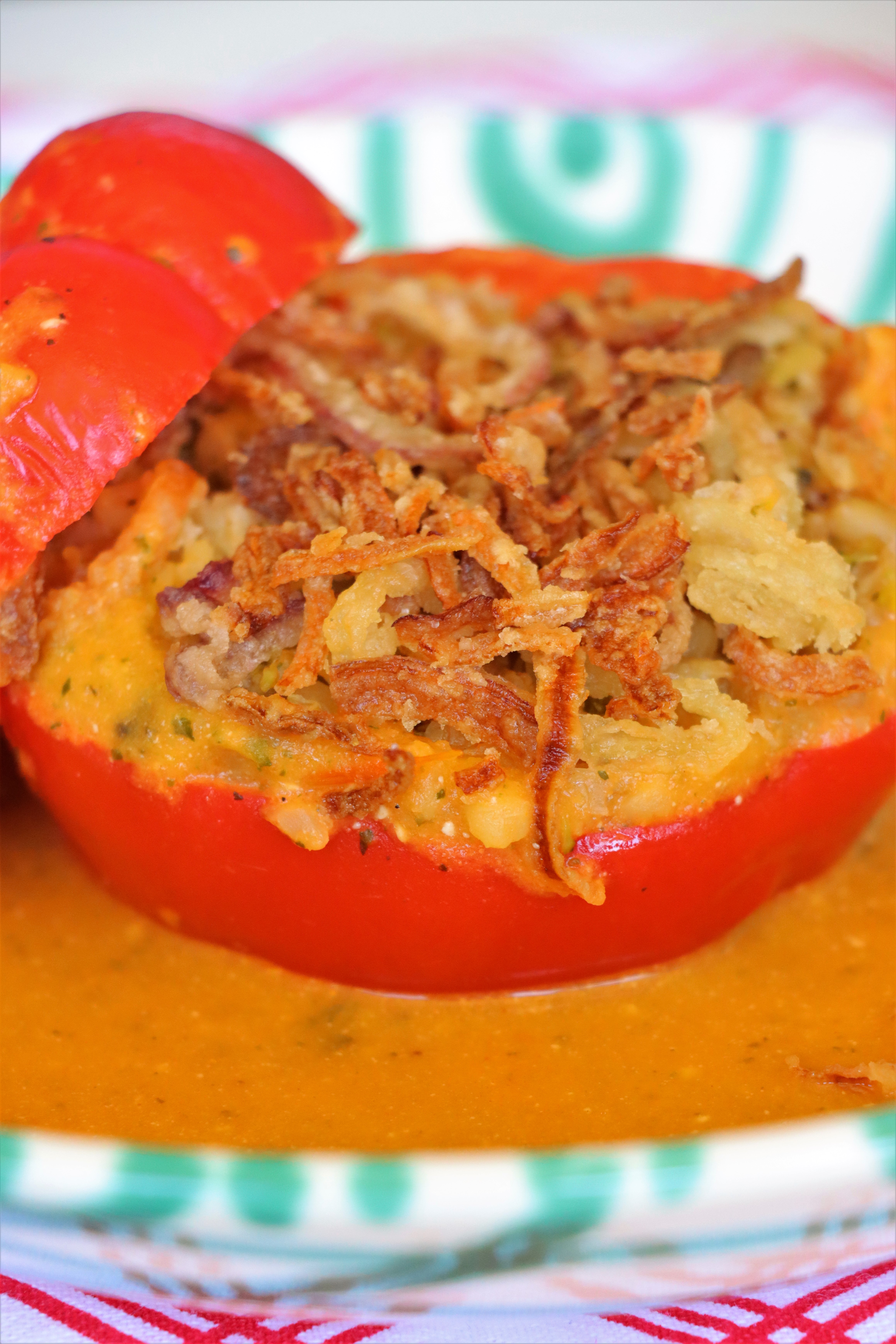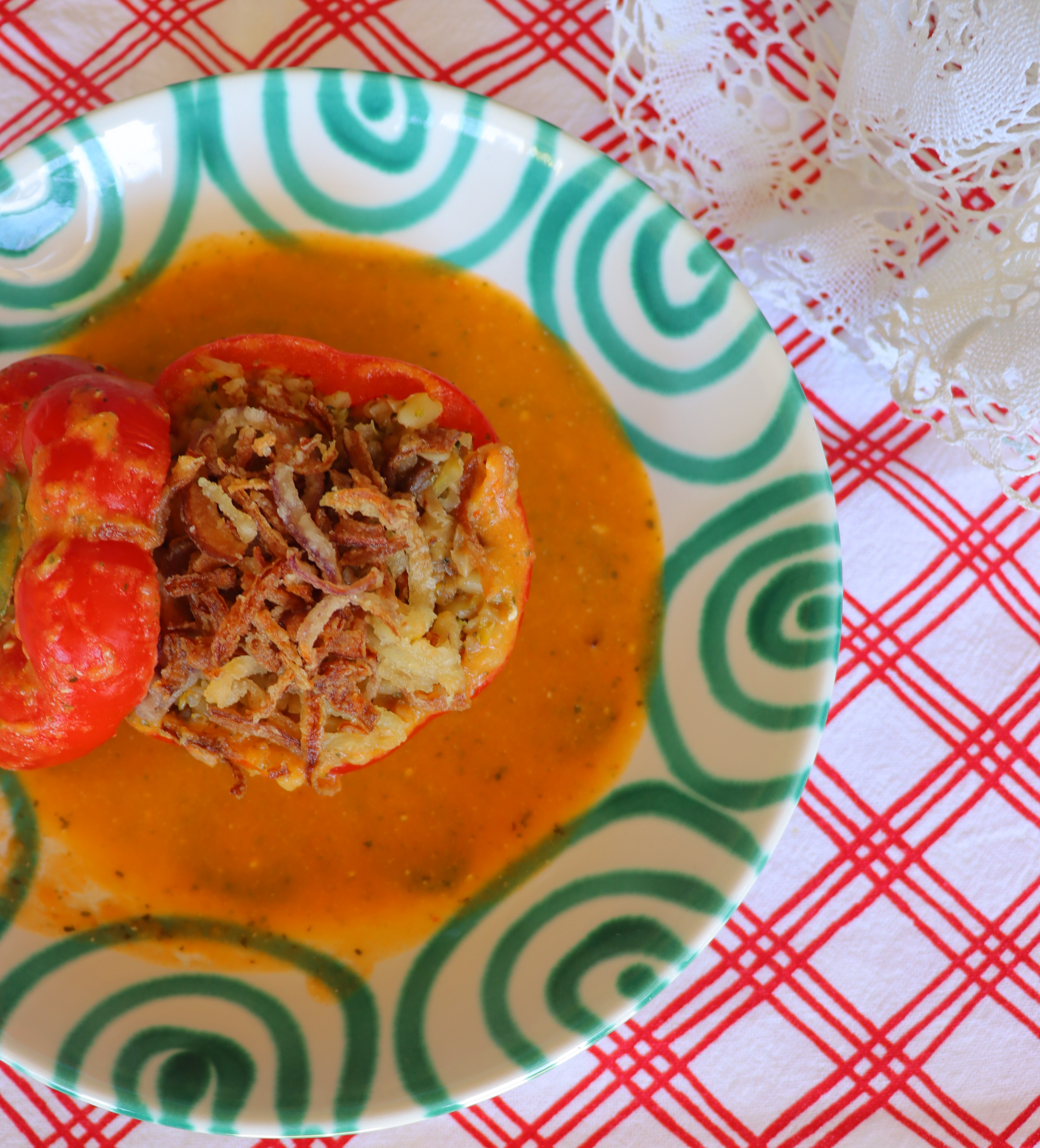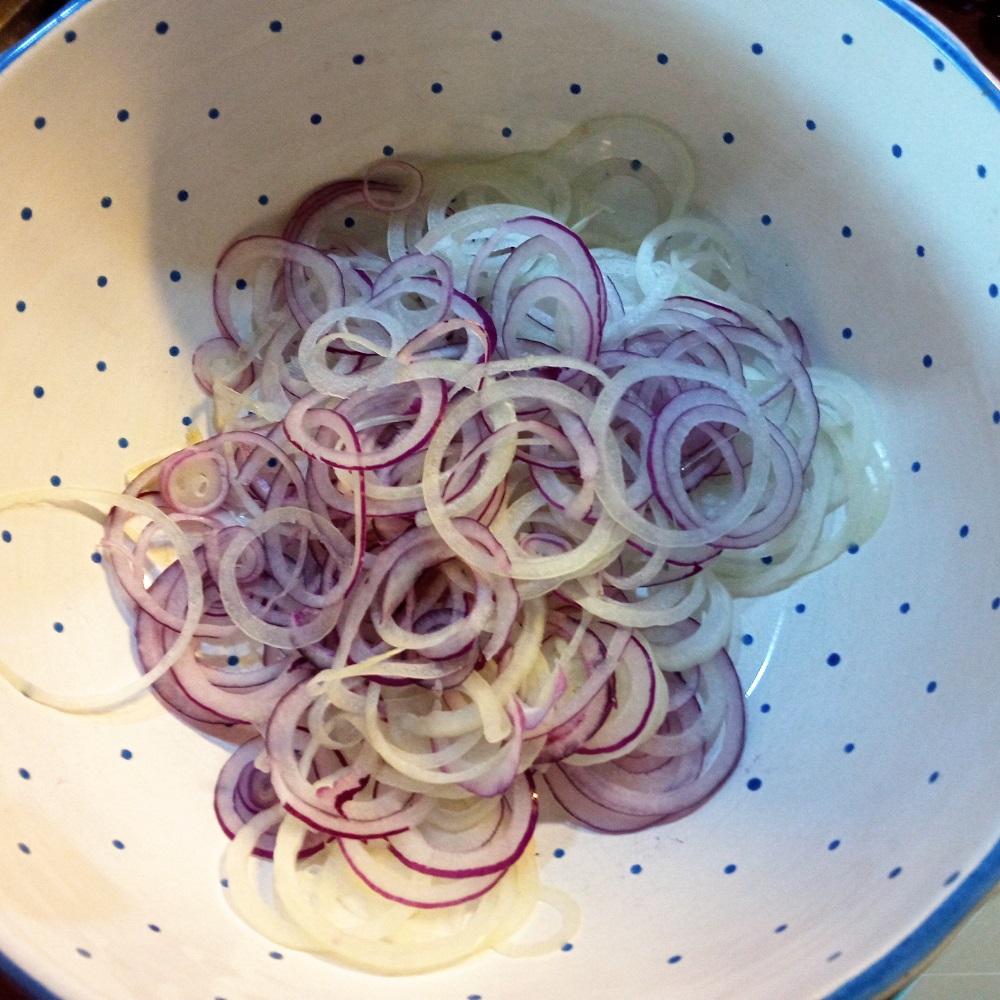 Crispy Fried Onions
Ingredients
2 Medium size onions, red or white , peeled and thinly sliced
Universal flour
salt
Cooking oil
sweet paprika powder (optional)
Preparations:
1... In a bowl with the flour, toss the sliced onions, sprinkle a bit of salt and mix properly so that the onions are properly coated with the flour. Sweet paprika powder can also be added, just sprinkle a teaspoon to add a bit of color to the onions (optional).
2... In a hot casserole with enough cooking oil, deep-fry the onions, keep on mixing until the onion rings get the brown color and become crispy. This will take about 4 minutes. Remove the onions and transfer these to a plate lined with paper towels. Set aside for later use.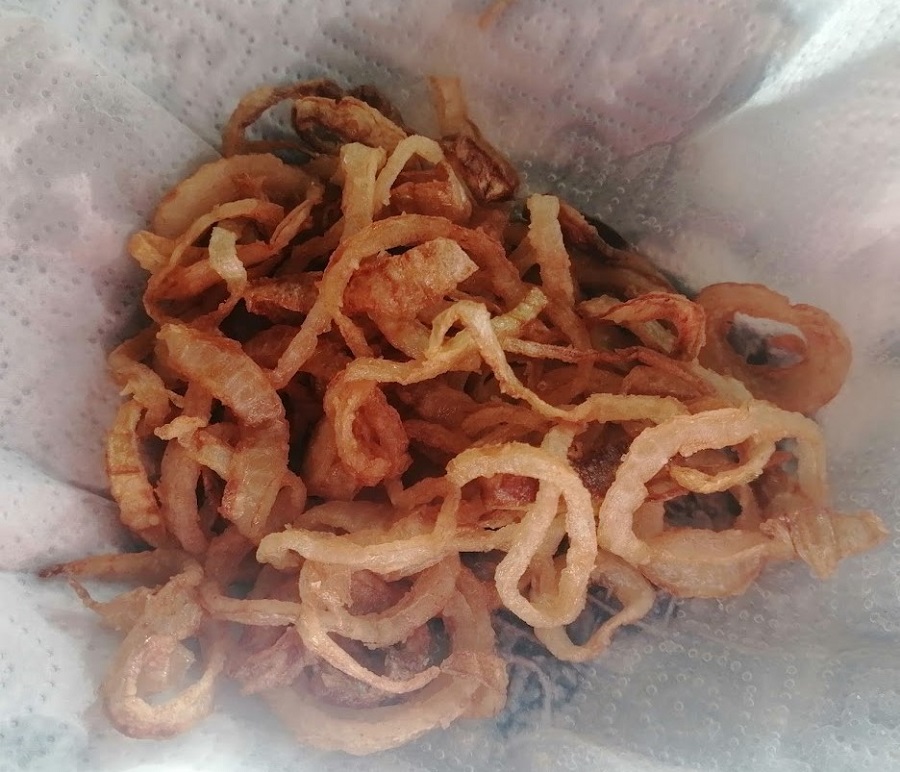 The Zucchini Sauce
This is a very simple thing to make… in a hot pan with 2 tablespoon cooking oil, fry 5 cloves of crushed garlic until the pieces are golden brown in color.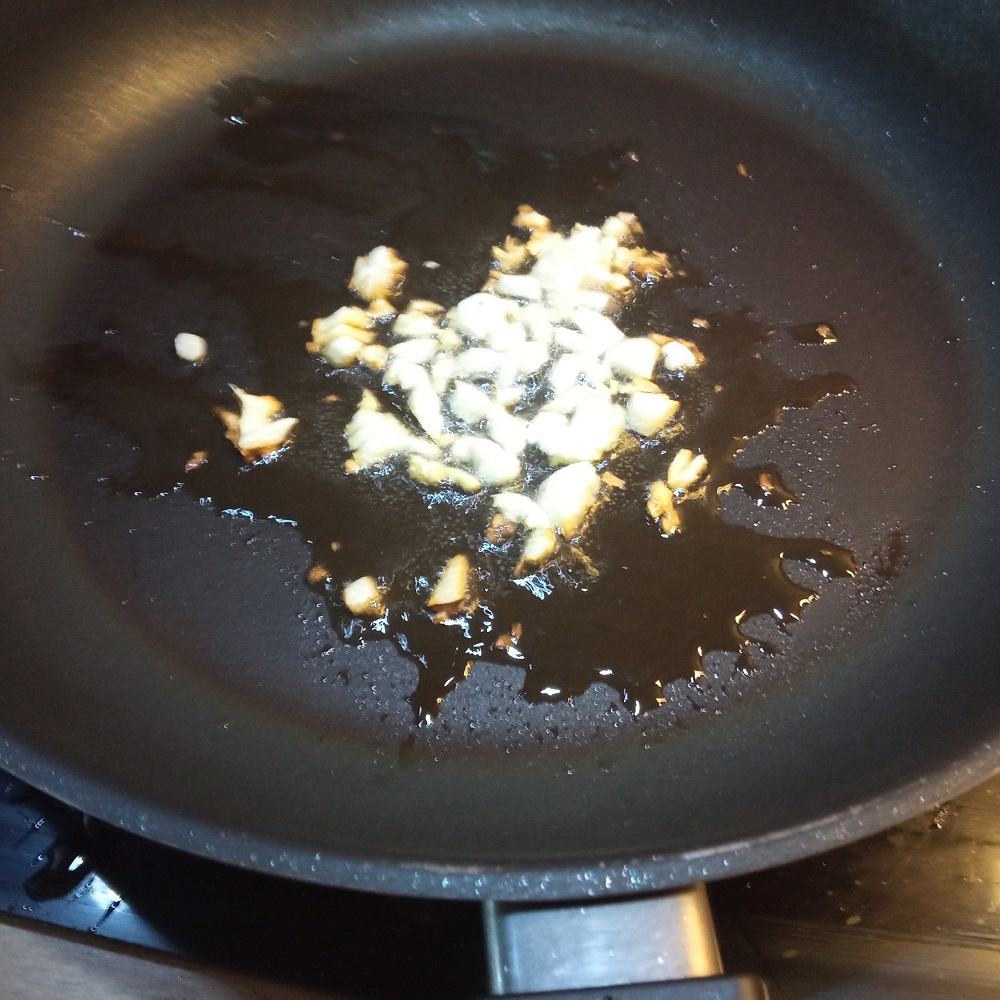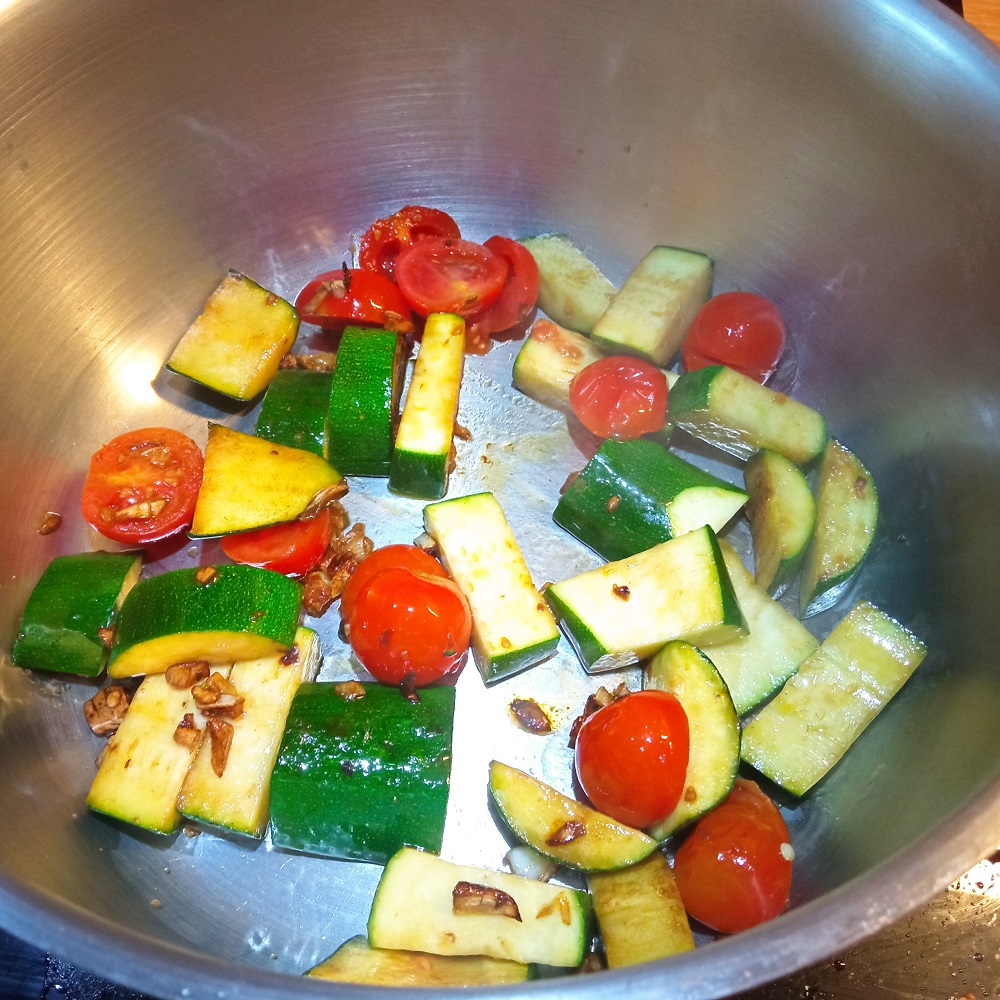 Toss sliced zucchini and a handful of halved cherry tomatoes ( or any other tomato variety). Sprinkle 2 teaspoons of soy sauce and fry the vegetables until all are golden brown in color .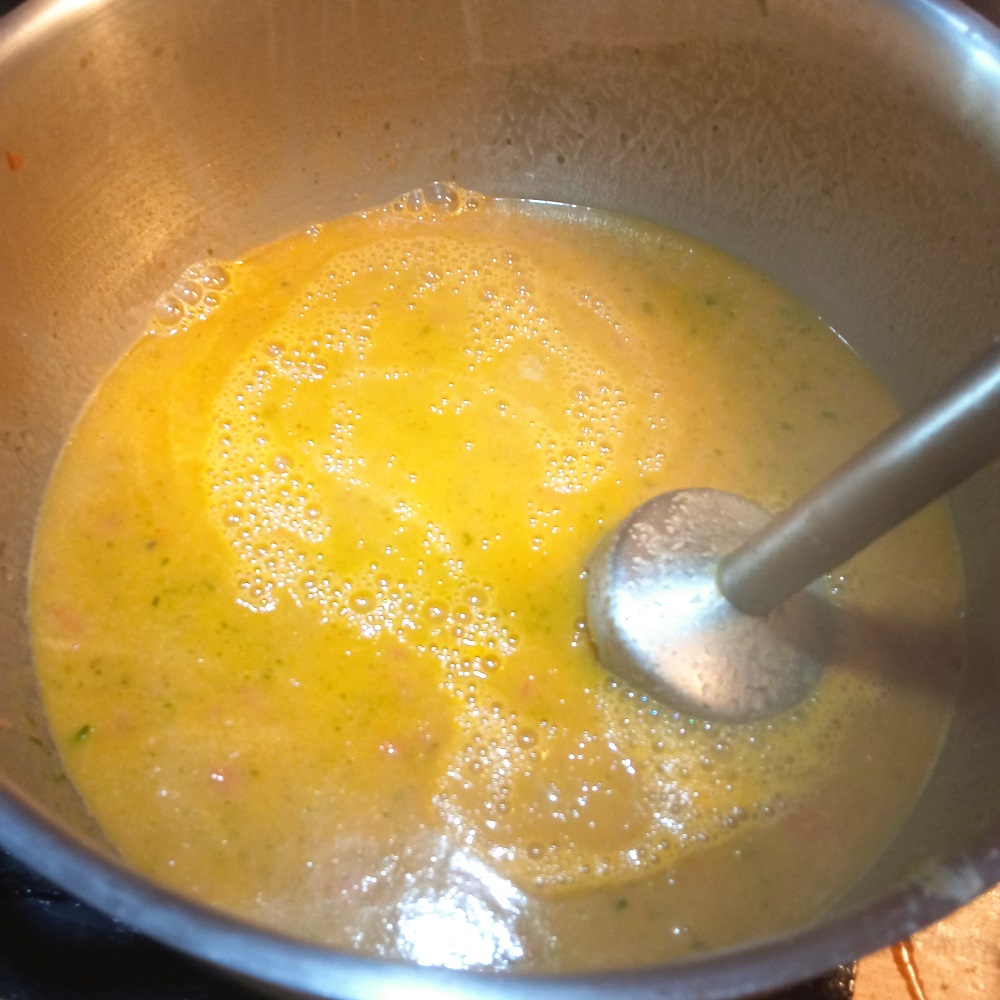 Add 1 vegetable cube diluted in 1/2 liter water... Cook until it boils then turn the flame off. With a stab mixer, liquify the ingredients until it is fine in consistency. Adjust taste with salt and pepper according to your preference. Set aside for later use.
The Fillings
I always buy bulgur at my favorite Turkish shop, my choice is the coarse type as pictured below. It is similar to rice. Of course you can substitute this with couscous or if both are not available, use rice.
Ingredients:
1 1/2 cups Bulgur (coarse)
1/2 cauliflower , cut into flowerettes
1/2 broccoli, cut into flowerettes
1 medium onion, minced
1 clove garlic, crushed
1 handful parsley, minced
2 button mushrooms, minced
salt
pepper
Bulgur
The bulgur is easy to cook. Simply boil in a casserole with enough water, add a bit of salt, cook until they become soft ( about 20 minutes). Take out from the fire, drain the water and leave it for later use.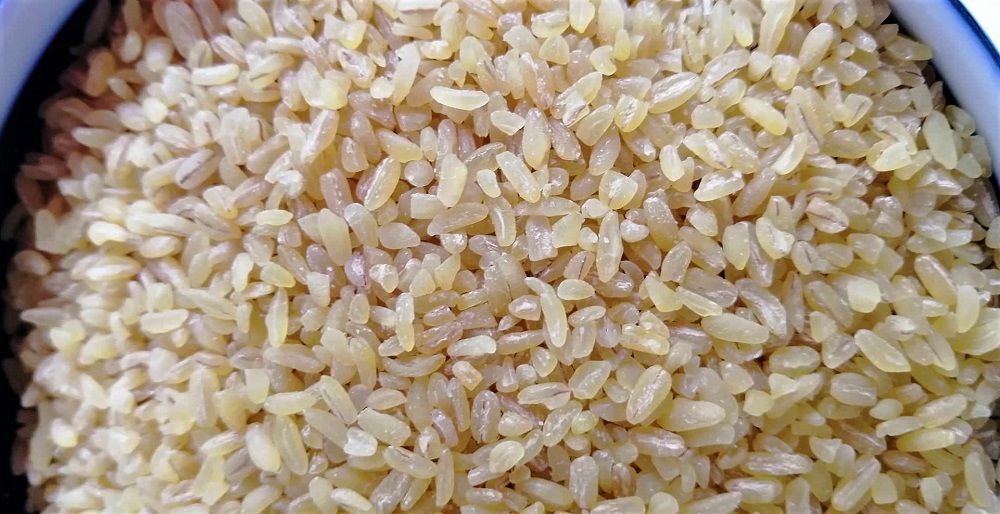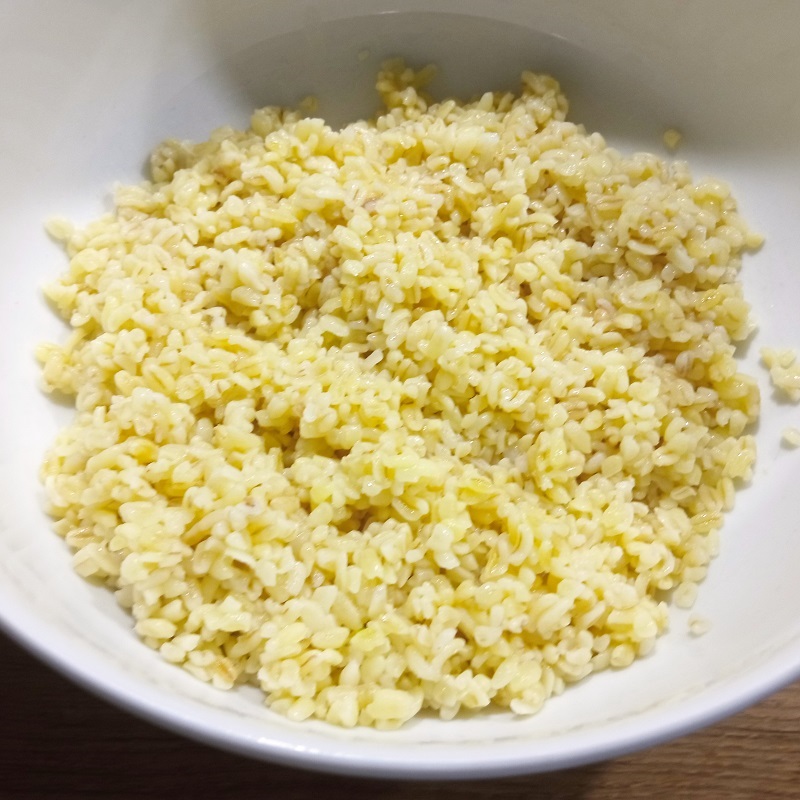 Cauliflower and Broccoli
I cut these two ingredients into flowerettes , steamed until semi soft ( about 5-6minutes) then I used a mixer to crush them coarsely that would resemble the size of the cooked bulgur.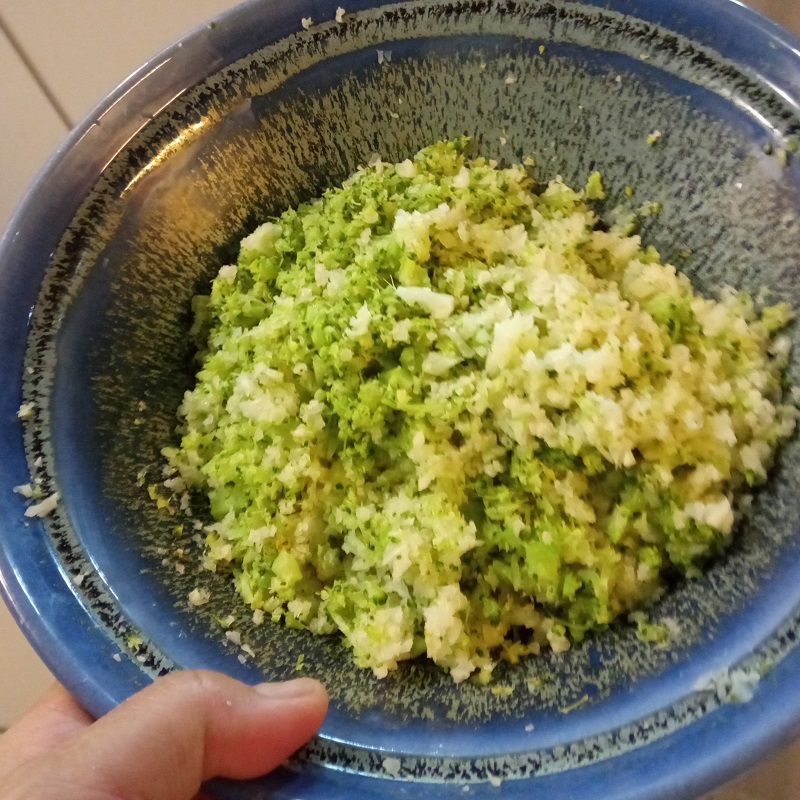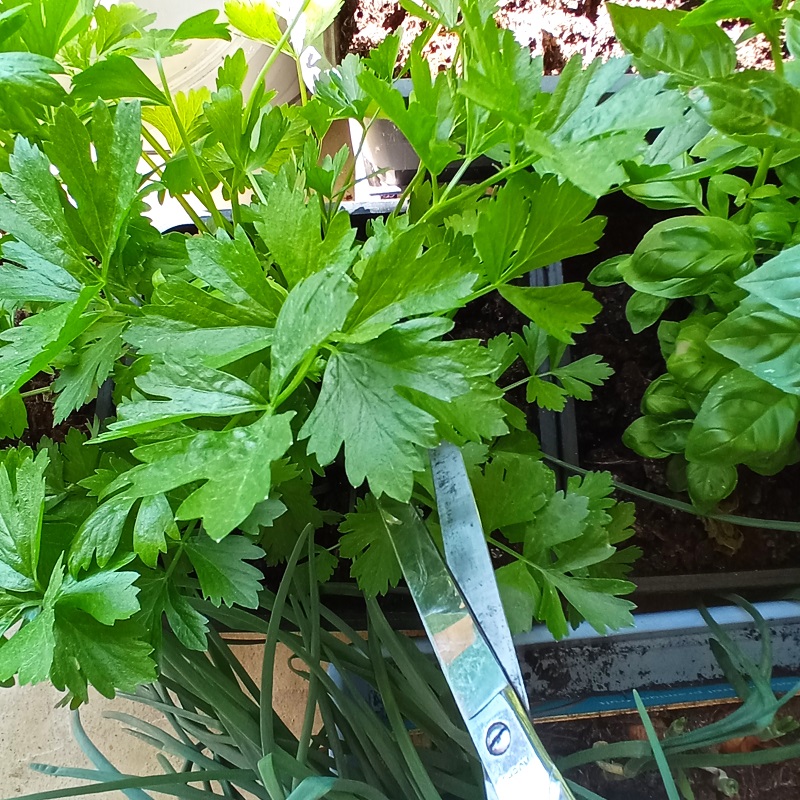 I harvested a handful of leaves of the celery, minced them to add to the fillings.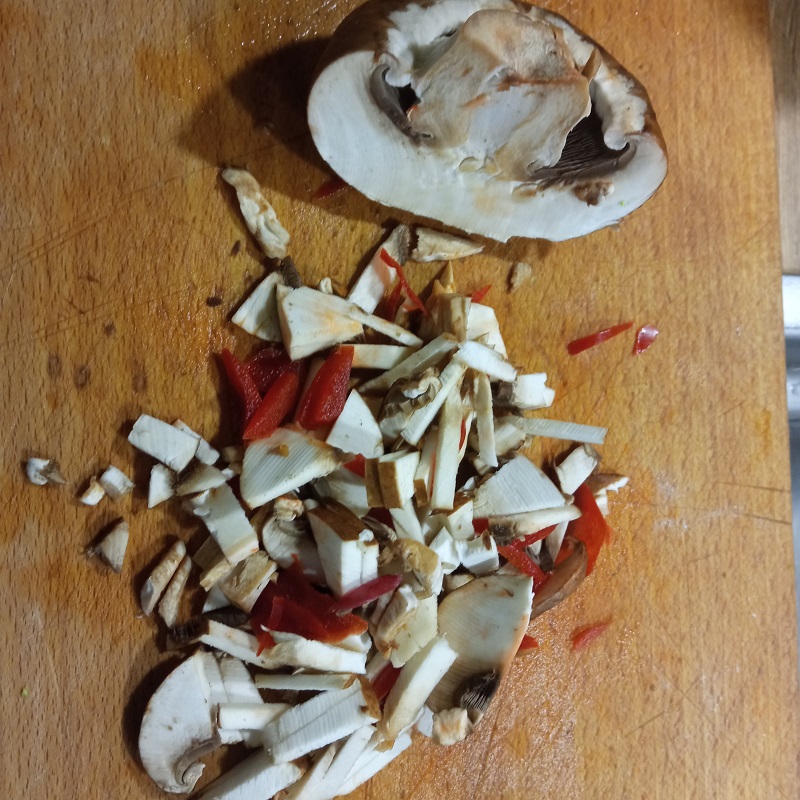 In a hot pan with a bit of cooking oil, I fried the garlic, the onion, parsley and 2 minced button mushrooms until soft and brown. The red ones were an excess of the bell paprika I cut from its bottom to make them stand-up when stuffed with the fillings. Then, I added the bulgur, crushed cauliflower and broccoli , added salt and pepper.
Then stuffing was next and the cut bell peppers were filled with the mixture. I have four ways of cooking the stuffed bell peppers to make them soft:
a... cooking together with the sauce
b... cooking thru microwave oven
c... thru steaming
d... arrange in a platter, grill in the oven at 200°C
I chose to steam the stuffed pepper for about 15 minutes, the fillings were already cooked...then I heated the zucchini sauce and added the peppers, letting them stand warm before serving.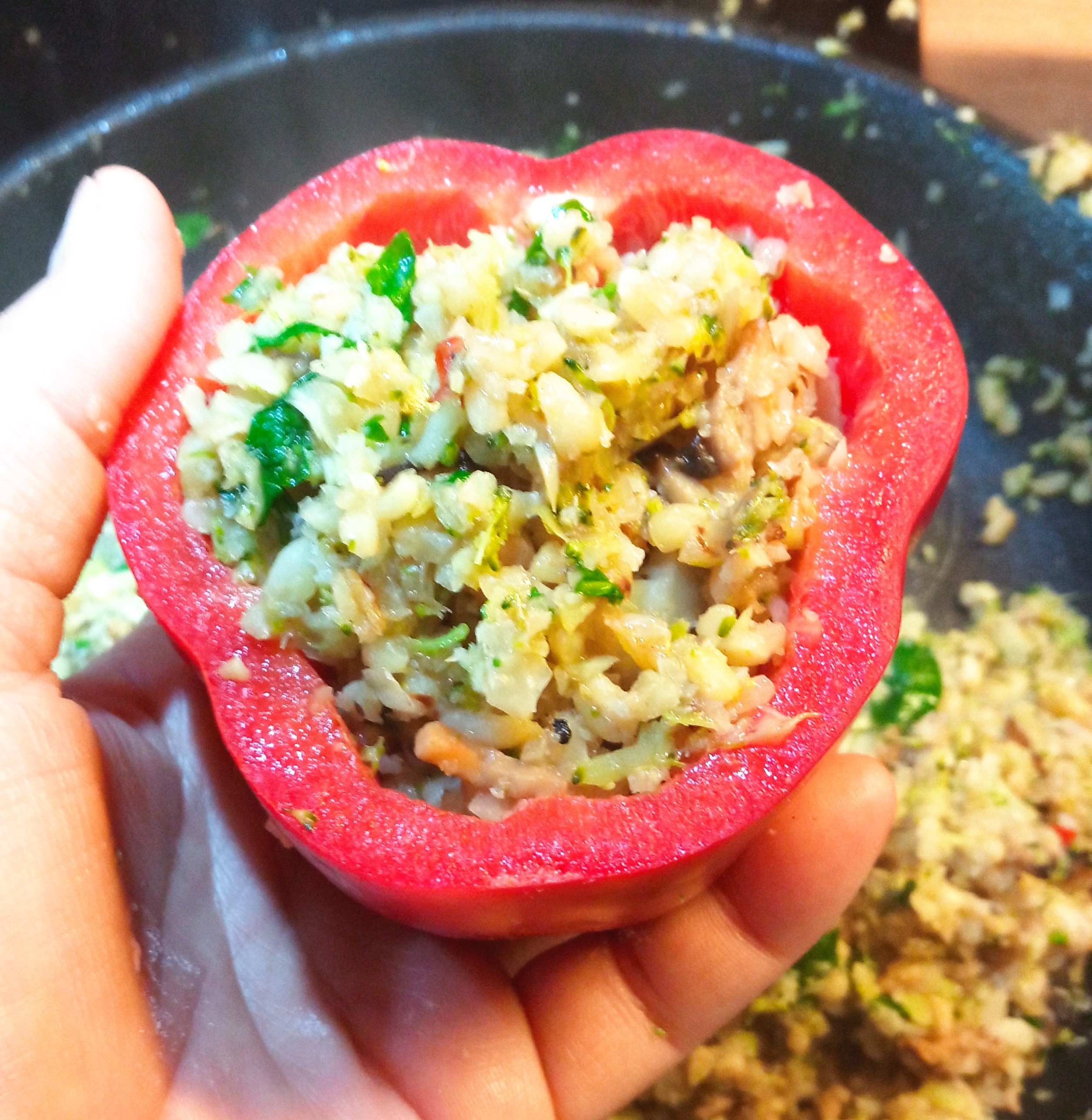 Before serving, I garnished the top of the pepper with the crispy fried onions. I added the sauce and served it hot. This can be eaten as main dish.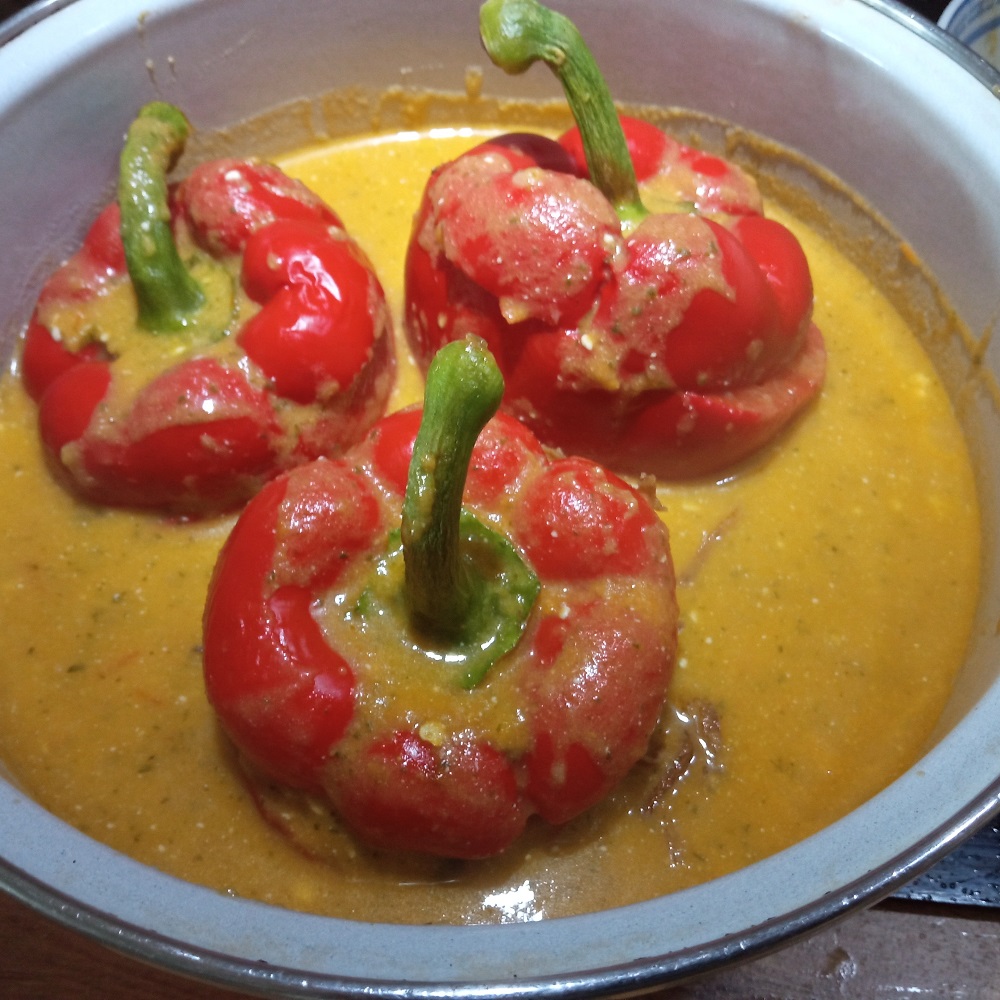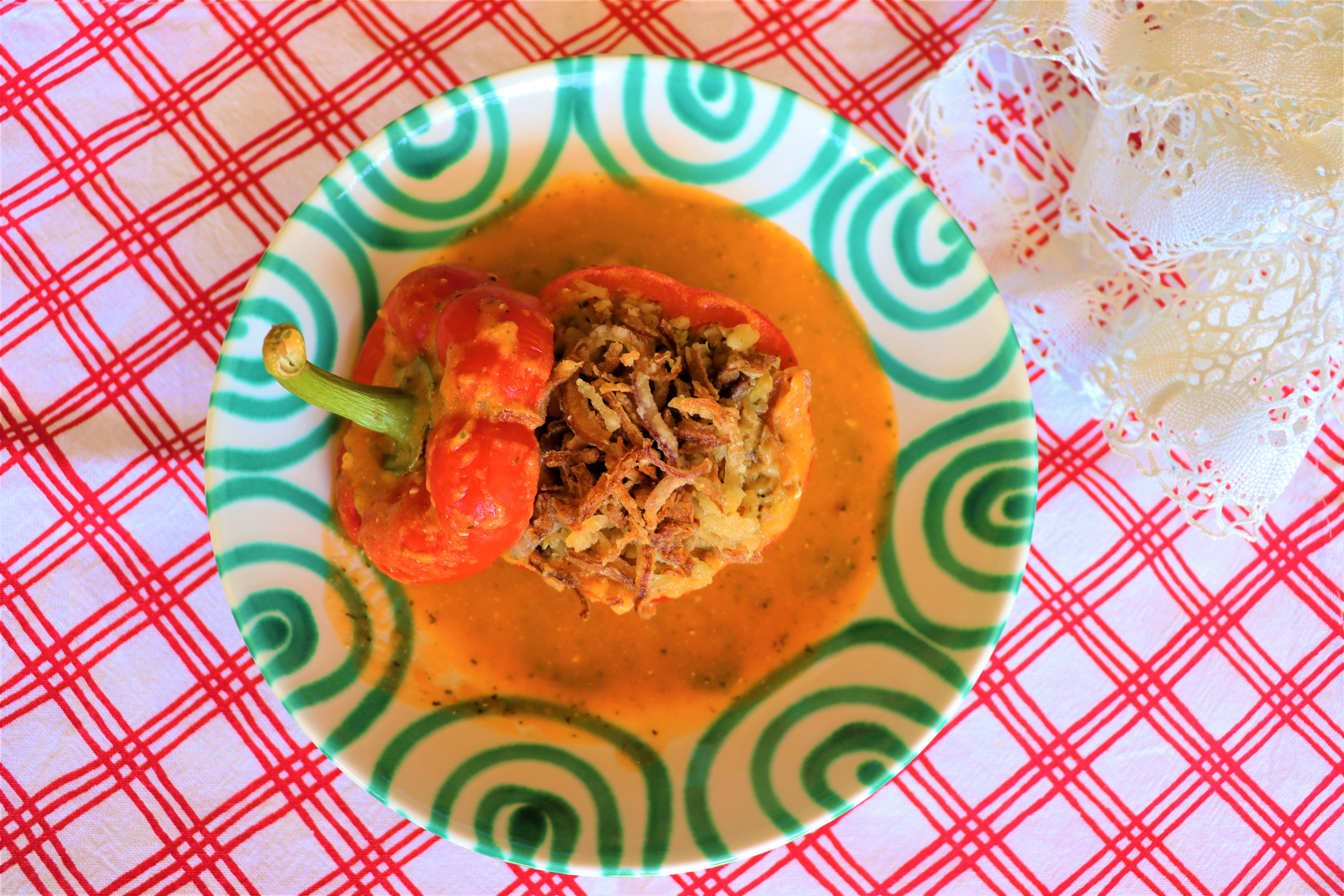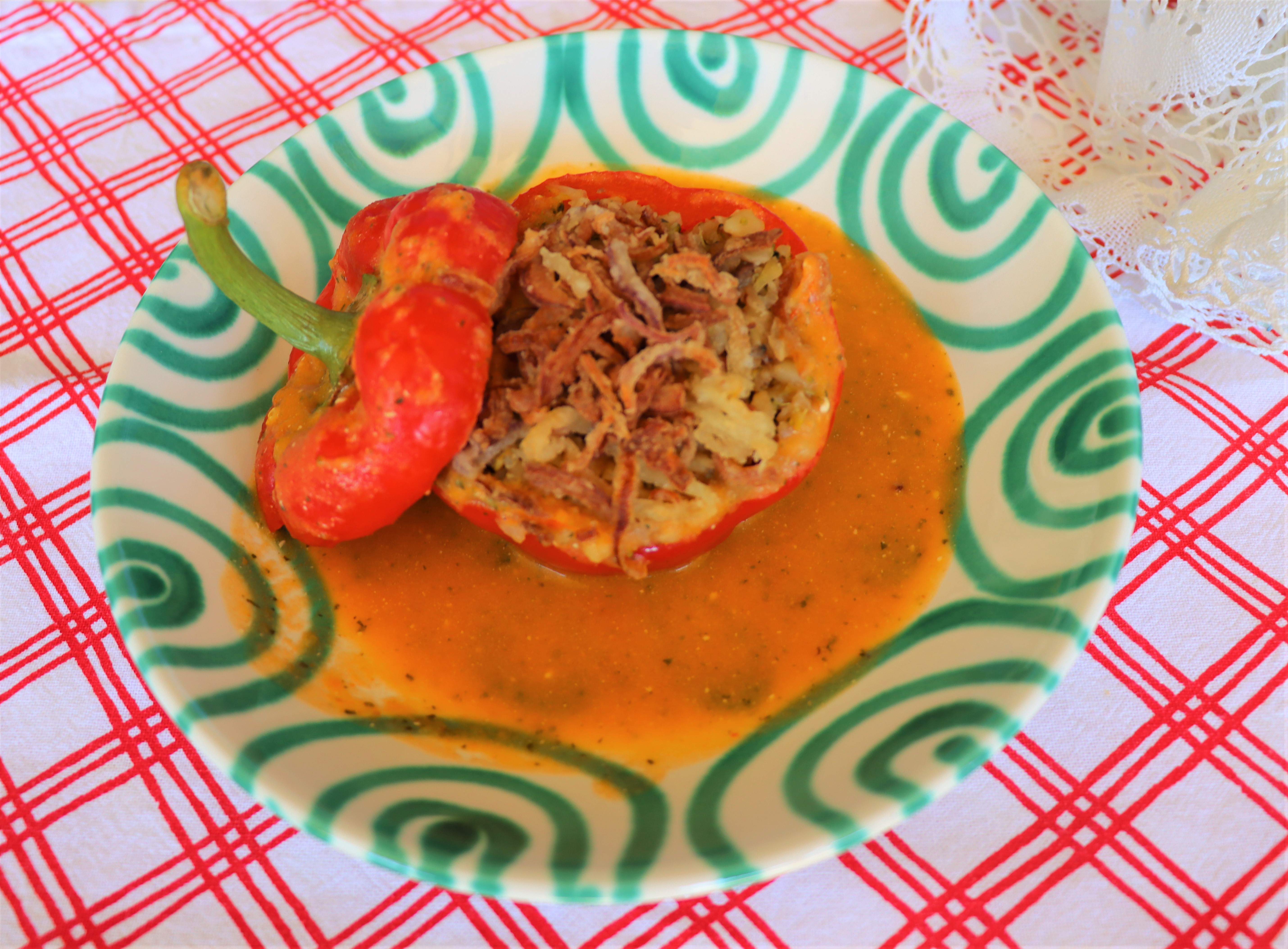 I hope you will try this vegan dish in one of your meatless days. It's yummy, my husband said we should have this more often.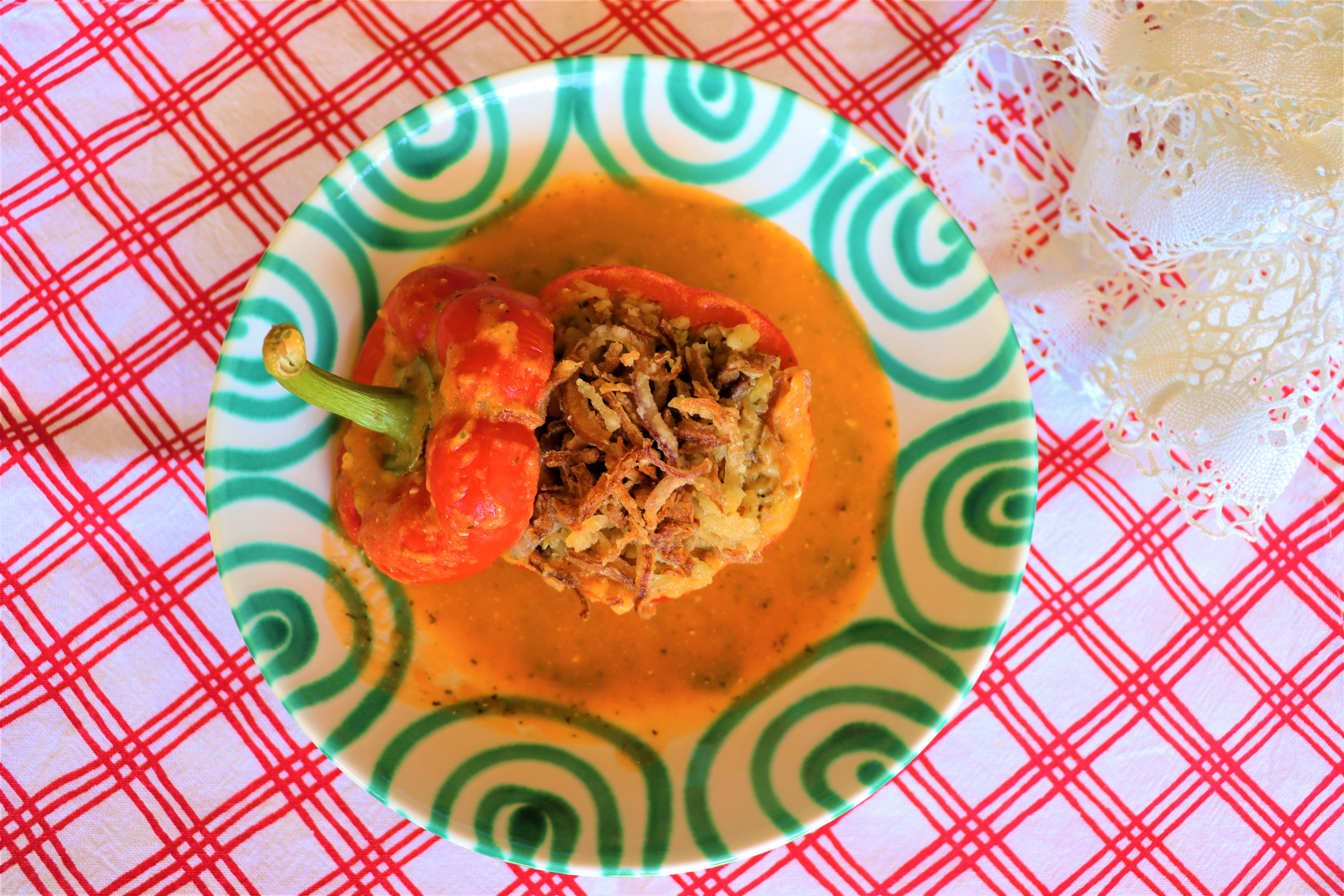 That's it for now, until then..... see you around!
All images in this post are owned by @mers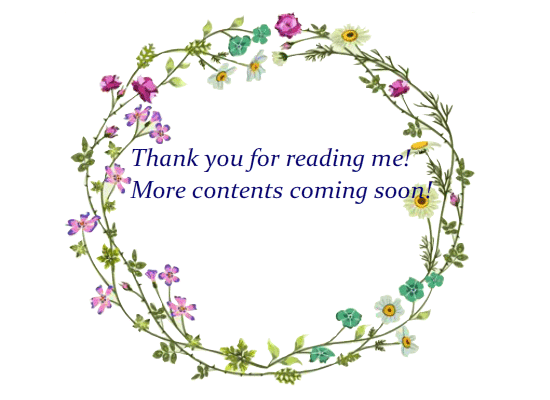 GIF by @gremayo
---
---