Elemental Challenge Eng/FR : DIEMONSHARK
Dear Splinters,
Peace
Welcome to this wonderful chapter of the battle challenge in Splinterlands. This week, the challenge will focus on a water elemental card under the light of the arena. The ability of the Diemonshark is terrifying to any cards engaged in the melee battles. While the shark is fighting in the front row, let us not forget about the backline support.
Bienvenue dans ce merveilleux chapitre du défi de combat de Splinterlands. Cette semaine, le défi portera sur une carte élémentaire d'eau sous la lumière de l'arène. La capacité du Diemonshark est terrifiante pour toutes les cartes engagées dans les batailles de mêlée. Alors que le requin se bat au premier rang, n'oublions pas le soutien de la ligne arrière.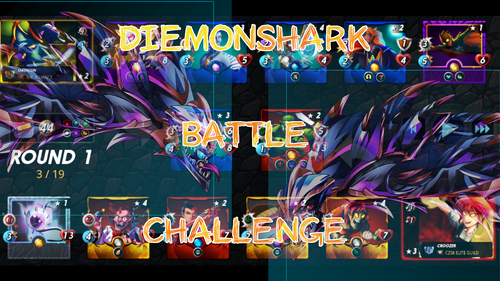 My selection in this battle favored the offensive ability of my melee cards. I built a strategy around Diemonshark's ability to break down opponents' cards. The water elemental series have no weak spot in the Silver league. The cards with this characteristic are key elements in offensive moves from the front line on the battlefield.
Ma sélection dans cette bataille a favorisé la capacité offensive de mes cartes de mêlée. J'ai construit une stratégie autour de la capacité de Diemonshark à briser les cartes des adversaires. La série élémentaire d'eau n'a pas de point faible dans la ligue Argent. Les cartes avec cette caractéristique sont des éléments clés dans les mouvements offensifs de la ligne de front sur le champ de bataille.
A highlight of the battle's key elements
Présentation des phases clet du Combat
Battle Ruleset:
Règles du Combat



Healed Out: All healing abilities are removed from Monsters and Summoners
Guéri : Toutes les capacités de guérison sont supprimées des monstres et des invocateurs.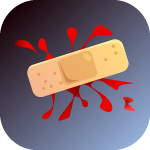 Mana Cap: 44
|Fire: Active|
|Water: Active|Earth: Active|
|Life: Active|Death: Active|
|Dragon: Active|

Teams composition in the arena
Allignement des cards dans l'arène
The opposite line on the board had a great selection in the arena. I admitted that I learned a few tricks from the strategies deployed on the battlefield. It would not be right to qualify one party to failure in this match when both parties learned from one another.
La ligne opposée au tableau avait une grande sélection dans l'arène. J'ai admis avoir appris quelques trucs des stratégies déployées sur le champ de bataille. Il ne serait pas juste de qualifier une partie à l'échec dans ce match alors que les deux parties ont appris l'une de l'autre.
| Quix the Devious | ★ 2 |
| --- | --- |
| | Quix the Devious, favorite summoner had a great time in this battle. Reduction of speed and range attack did not ease the tasks to the opponent |
| Diemonshark | ★ 3 |
| | Diemonshark, highlighted cards in this challenge have the opportunity to show Grum what he is made of. |
| Carnage Titan | ★ 1 |
| | Carnage Titan, dragon very dangerous monster with a double strikes ability that showed to severely affect the opponent team |
| Igor Darkspear | ★ 3 |
| | Igor Darkspear, The only range attack card in the line offers offensive opening to my team. Igor's contribution was noticeable in the arena |
| Venari Wavesmith | ★ 4 |
| | Venari Wavesmith, armor distributor card as I identify this water card. It was indispensable to add this monster to enhance my defense. |
| River Hellondale | ★ 2 |
| | River Hellondale provides additional melee attacks and resurrection to friendly cards |
| Dragon Jumper | ★ 1 |
| | Dragon Jumper flew over the board to strike safely opponent behind the enemy line |
Quix le sournois, l'invocateur préféré, s'est bien amusé dans cette bataille. La réduction de la vitesse et de la distance d'attaque n'a pas facilité les tâches de l'adversaire
Diemonshark, les cartes en surbrillance dans ce défi ont l'opportunité de montrer à Grum de quoi il est fait.
Carnage Titan, monstre dragon très dangereux avec une capacité de double frappe qui s'est avérée affecter gravement l'équipe adverse
Igor Darkspear, la seule carte d'attaque à distance de la gamme offre une ouverture offensive à mon équipe. La contribution d'Igor était perceptible dans l'arène
Venari Wavesmith, carte de distributeur d'armure comme j'identifie cette carte d'eau. Il était indispensable d'ajouter ce monstre pour renforcer ma défense.
River Hellondale fournit des attaques de mêlée et une résurrection supplémentaires aux cartes amies
Dragon Jumper a survolé le plateau pour frapper en toute sécurité son adversaire derrière la ligne ennemie

Description of the opponent team lineup with key elements that impacted the battles
| Tarsa | ★ 3 |
| --- | --- |
| | Tarsa added to the opponent monsters melee and health points |
| Grum Flameblade | ★ 2 |
| | Grum Flameblade in the front row presented an imminent danger to my Diemonshark |
| Radiated Brute | ★ 4 |
| | Radiated Brute the second cards from this lineup support the offensive effort of Grum. It was well played |
| Uraeus | ★ 2 |
| | Uraeus has a heavy task in this line-up but the cards did the best I could given the circumstance |
| Tenyii Striker | ★ 2 |
| | Tenyii Striker was supported fast and deployed successful strikes during the match |
| Blood Maker | ★ 4 |
| | Blood Maker had no chance to use its full offensive capabilities |
| Cornealus | ★ 1 |
| | Cornealus was limited due to the reduction of the range strikes |
Tarsa ajoutée aux points de mêlée et de santé des monstres adverses
Grum Flameblade au premier rang présentait un danger imminent pour mon Diemonshark
Radiated Brute la deuxième carte de cette gamme soutient l'effort offensif de Grum. C'était bien joué
Uraeus a une lourde tâche dans cette ligne mais les cartes ont fait de leur mieux compte tenu des circonstances
Tenyii Striker a soutenu rapidement et déployé des frappes réussies pendant le match
Blood Maker n'a eu aucune chance d'utiliser toutes ses capacités offensives
Cornealus a été limité en raison de la réduction de la portée des frappes
My Battle Challenge Link // Lien vers le match

What is the current market value of Diemonshark Regular foil

Market

Total cards printed: 319,359

Regular foil
Market
0.41$ low card price
0.40$ low Bcx price -2.9%
789 cards on the market
Distribution
84,122 cards circulating
102 cards burned

Gold foil
Market
4.57$ low card price
4.48$ low Bcx price -2.0%
49 cards on the market
Distribution
6,542 cards circulating
1 card burned

Quelle est la valeur marchande actuelle de Apprentice

Carte régulière

Marché

Total des cartes imprimées: 319359

Feuille régulière
Marché
0.41$ bas prix de la carte
0.40$ prix bas Bcx -2.9%
789 cartes sur le marché
Distribution
84 122 cartes en circulation
102 cartes brûlées

Feuille d'or
Marché
4.57$ bas prix de la carte
4.48$ prix bas Bcx -2.0%
49 cartes sur le marché
Distribution
6 542 cartes en circulation
1 cartes brûlées


My strategies

Mes stratégies

My thoughts during the process of selection of those cards were to keep the Diemonshark alive as long as possible, considering the fact that the ruleset restricted the use of healing ability. Venari and Hellondale played a fantastic role in the arena as the protective force supporting Diemonshark. The offensive team composed of melee monsters did their best during the match.

Mes pensées pendant le processus de sélection des cartes étaient de garder le Diemonshark en vie aussi longtemps que possible, compte tenu du fait que les règles du match limitaient l'utilisation de la capacité de guérison. Venari et Hellondale ont joué un rôle fantastique dans l'arène en tant que force protectrice soutenant Diemonshark. L'équipe offensive composée de monstres de mêlée a fait de son mieux pendant le match.

Did my strategy work?

Ma stratégie a-t-elle fonctionnée?



I had the advantage of speed during this battle. The opponent's cards were powerful but not as fast as my cards. The armor equipped on my monsters helped secure the victory. My strategy worked with such success that battle rounds were shorter than I could imagine.

J'ai eu l'avantage de la vitesse pendant cette bataille. Les cartes de l'adversaire étaient puissantes mais pas aussi rapides que les cartes de mon équipe. L'armure équipée sur mes monstres a aidé à assurer la victoire. Ma stratégie a fonctionné avec un tel succès que les rounds de bataille étaient plus courts que je ne pouvais l'imaginer.

Pour plus de detail sur le défi en cours, clique sur le lien en dessous

If you are interested in the current contest, please get more information concerning the Splinterlands Weekly battle challenge.

Do I often select Diemonshark to fight in the arena? why or why not?

Est-ce que je sélectionne souvent cette carte pour combattre? Pourquoi ou Pourquoi pas?

Yes, Diemonshark is my number one choice when it comes to melee focus rulesets in Splinterlands. It is true that the water elemental cards have lots of possible choices to fill in the position, but the Silver league contributes to greatly take advantage of Diemonshark abilities. I didn't have to rent the cards since I owned a level three Diemonshark. Trample ability is really deadly in the arena. I often play with Diemonshark at the front line.

Oui, Diemonshark est mon choix numéro un en ce qui concerne les règles de mise au point au corps à corps dans Splinterlands. Il est vrai que les cartes élémentaires d'eau ont beaucoup de choix possibles pour combler le poste, mais la ligue Argent contribue grandement à tirer parti des capacités de Diemonshark. Je n'ai pas eu à louer les cartes puisque je possédais un Diemonshark de niveau trois. La capacité de piétinement est vraiment mortelle dans l'arène. Je joue souvent avec Diemonshark en première ligne.

Thanks for the battle challenge curation team. My lineup team selection was the product of spontaneous strategy and the battle ruleset.

Merci pour l'équipe de curation pour le défi de combat cette semaine. Ma sélection d'équipe était le produit d'une stratégie spontanée associée aux règles de combat.

If you appreciate this post, I invite you to explore on this blog my collection of publications.

More about Splinterlands on the official telegram group Splinterlands Telegram

I invite you, dear readers to share in the comment section whatever suggestions or questions you would like to ask.

Si vous aviez apprécié cet article, je vous invite à explorer mon blog pour découvrir ma collection de publications.

Plus d'informations sur Splinterlands sur le groupe de télégrammes officiel Splinterlands Telegram

Je vous invite, chers lecteurs, à soumettre dans la section des commentaires toutes vos suggestions ou questions.

Si vous souhaitez jouer à Splinterlands et que vous ne possédez pas votre compte, cliquez sur le lien ci-dessous pour commencer votre exploration de ce jeu de société passionnant.


If you are interested in playing Splinterlands and don't own your account, click on the link below to start your exploration of this exciting board game.

Check-in for free here my referral link

Warm regards




| Resource: Background sound | Airglow - Memory Bank |
| --- | --- |
| Electronic, Synth Pop, Retrowave | Attribution 4.0 International (CC BY 4.0) |







Posted using Neoxian City
---
---