Weekly Body Fitness training 🏋️‍♂️

I love breakdance and hip-hop they are always by favourite things to do especially bboy. I dedicated alot of my time into bboy because I love the fitness that I do aquire from it but unfortunately I took a brake over two years ago after a sustained injury where I broke my left arm.
I had to isolate from bboy and it's training exercises for the main time and I took more than two years.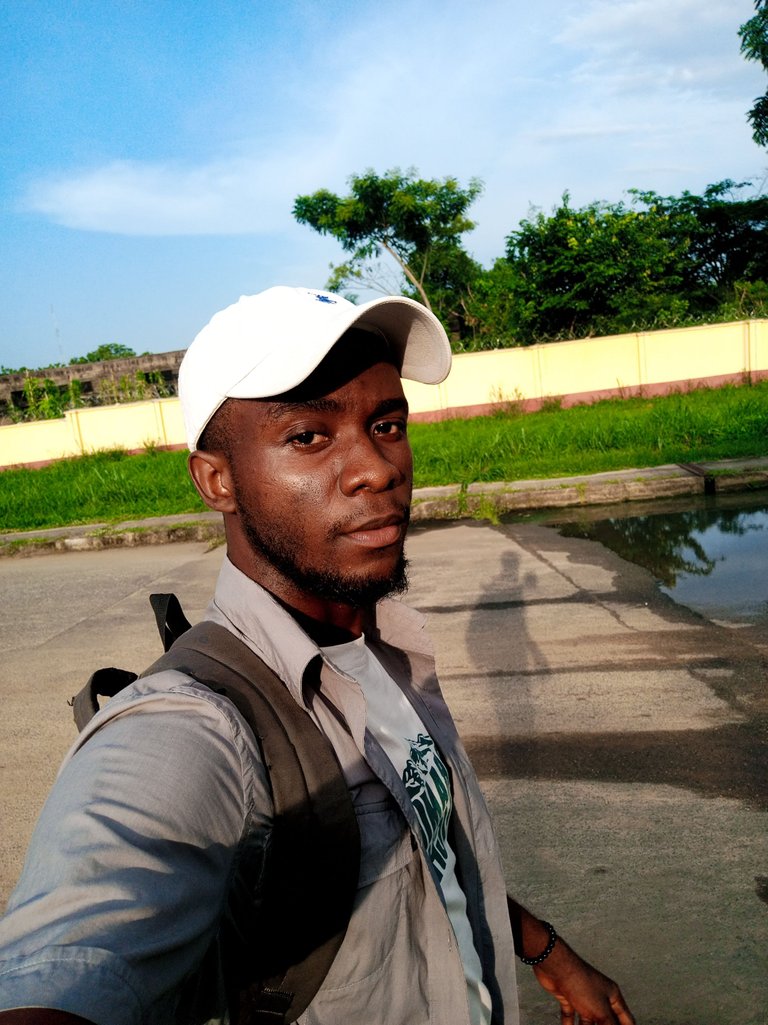 But recently I gave it a second thought to try some weekend exercises again after such a long time I really need to exercise again so I took the walk back into bboy and weekend trainings.
Bboy is an unusual and a unique part of breakdance but I take it as a form of exercise because you get to work on exercise a whole lot of muscles in the body by making different body moves and performances exercising your whole body and keeping fit.
This weekend, I went back to training and I decided to share with us some photos of the exercises.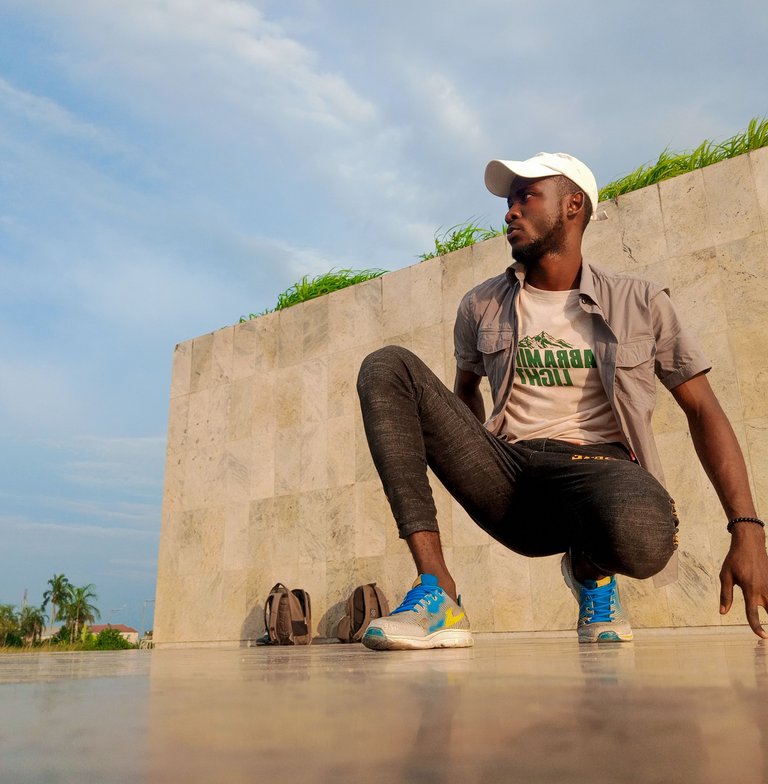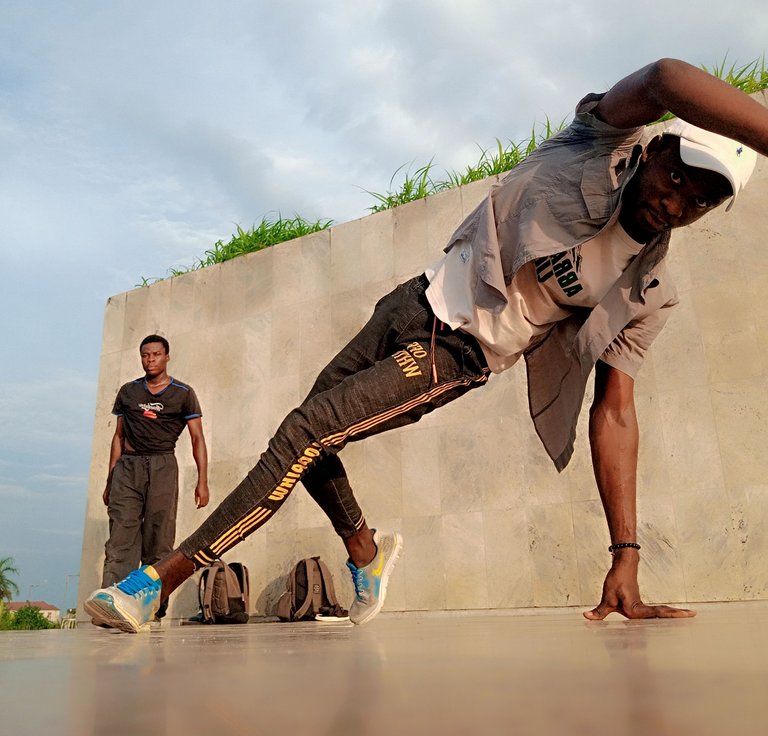 The bboy is all about how you can move your whole body freely in various forms and via some tricky moves. Energy and flexibility is the top requirements you need when carrying out these exercises.
Legs and the whole body especially the back are to be flexible and freely moved while your arms gather a lot of power to can carry and withstand your body weight.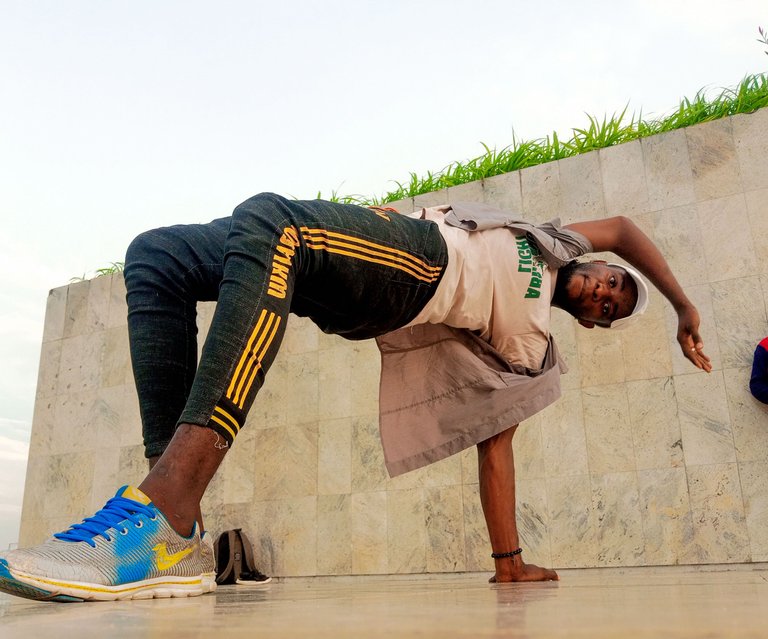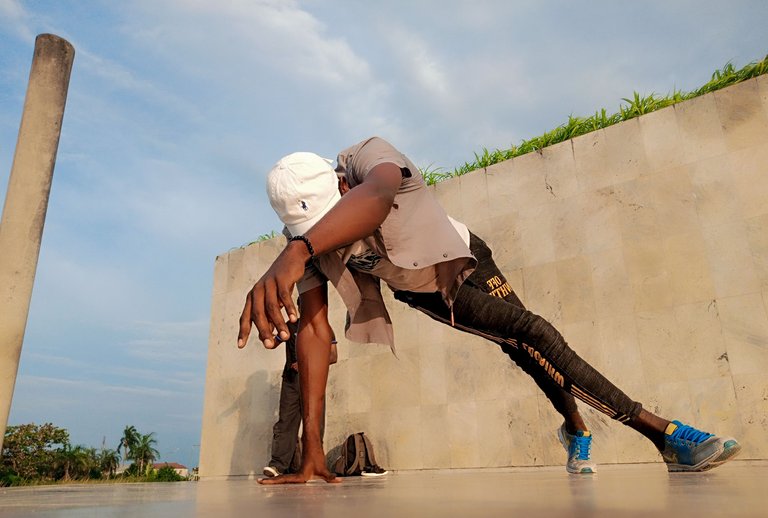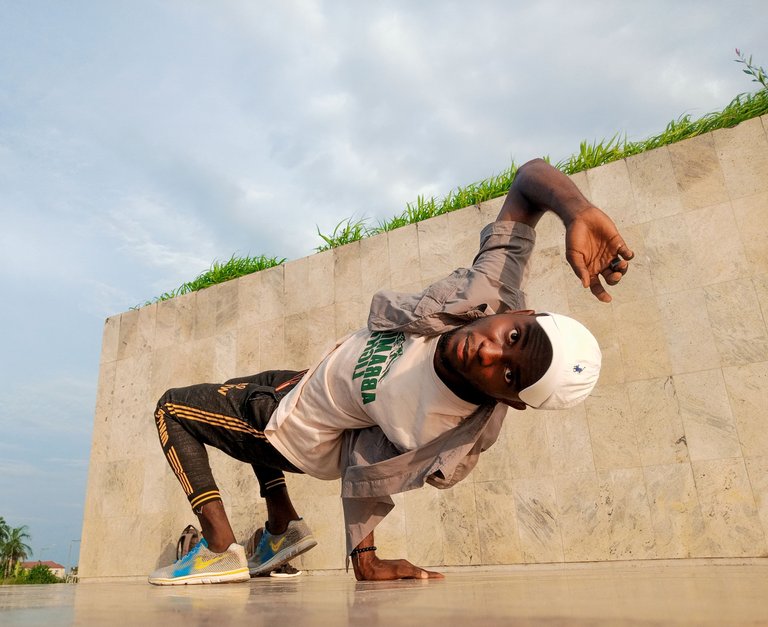 Every move and trick has its unique name like the one here on the picture where your arm lifts the upper body by causing a pivot at the waist region is called the air chair . you can lift your whole body from ground level completely and if you do that, it is called the plank air chair
Here I made a Step by step move into the plank air chair with photos.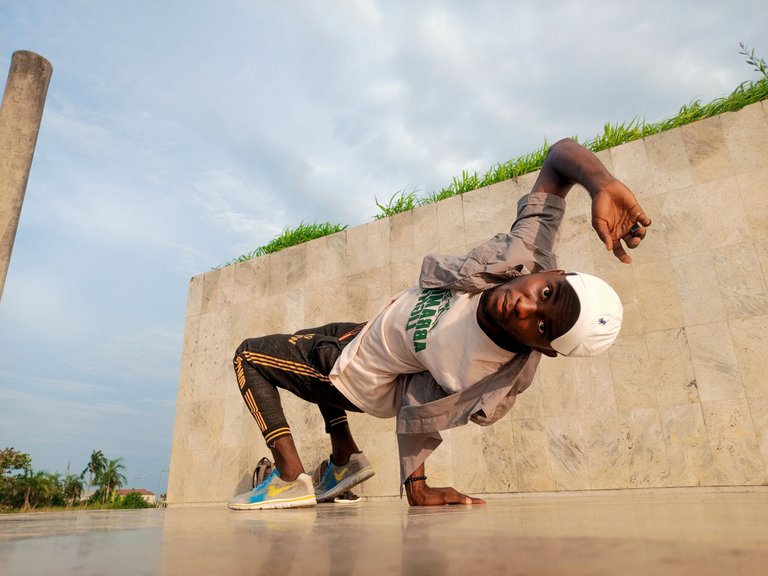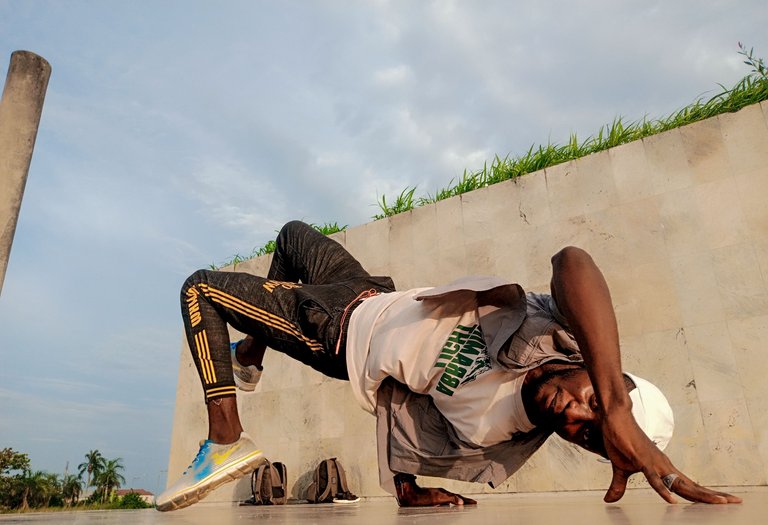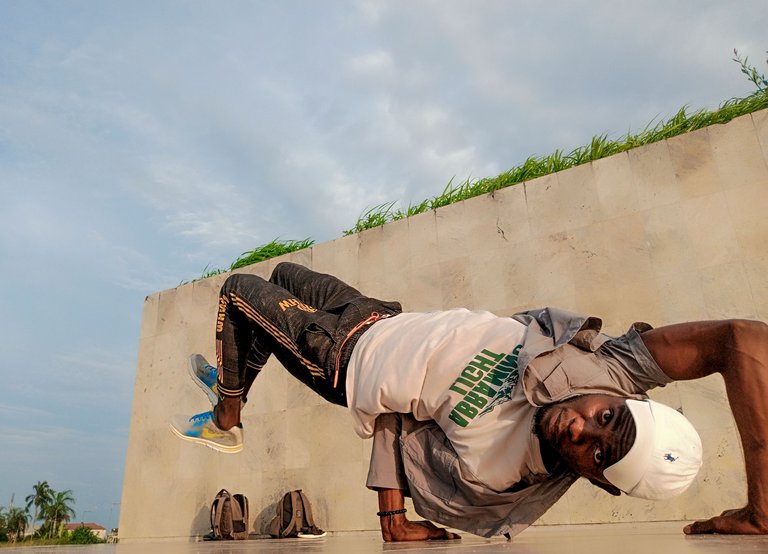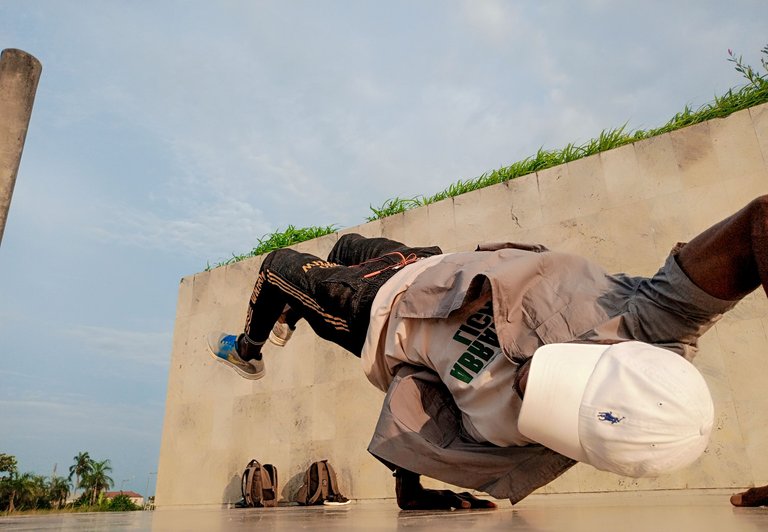 There you go. More like it the plank air chair
---
Same move could be done in front as well by stabbing your arms below your stomach in front of you, lifting the legs up carefully while maintaining your balance with two arms on the floor and this is called the turtle it looks like this.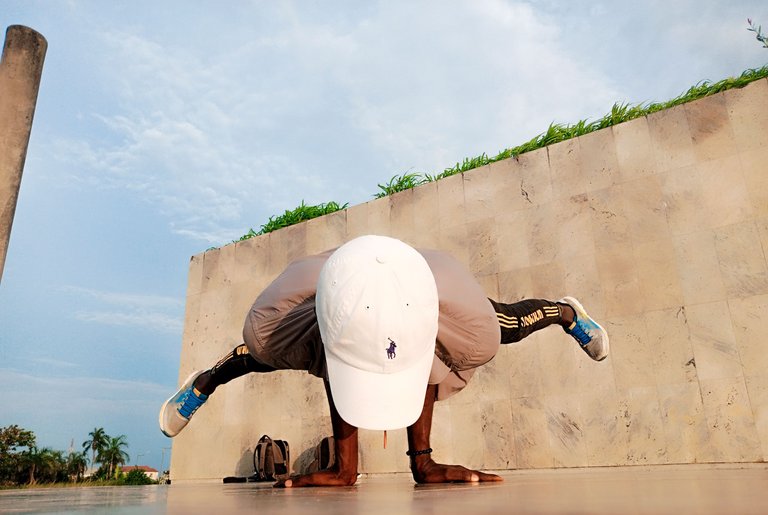 Yeah it's always cool looking from the picture but how cool is the guy making the move?😅.
The turtle move can as well be manipulate from two arms to one arm precisely a dominant arm for most people. By carefully lifting up one arm and leaning your balance leaving your full weight and mass to the arm on the floor and paying close attention to your balance.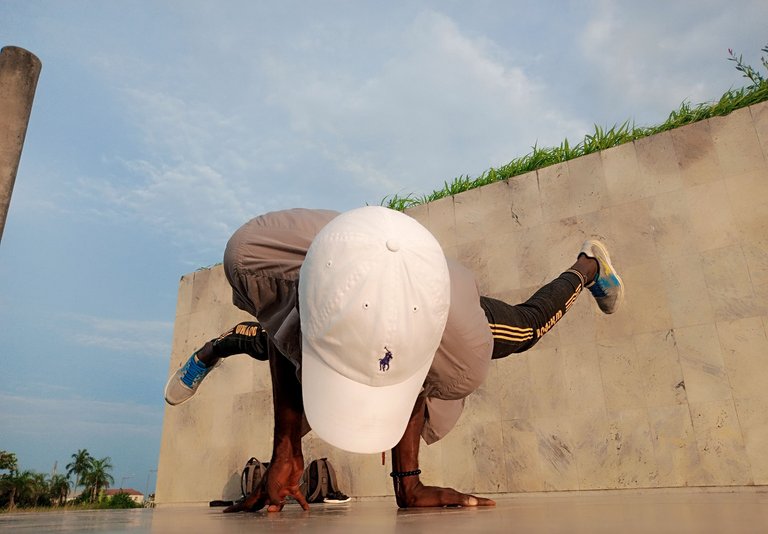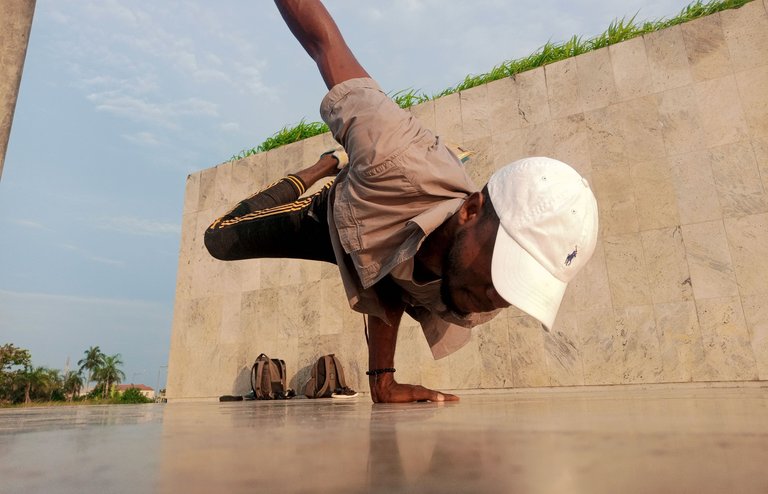 Bboy moves have been recorded in history to be a move defying the laws of physics 😂 well it's almost but not true because everything has an explanation somehow.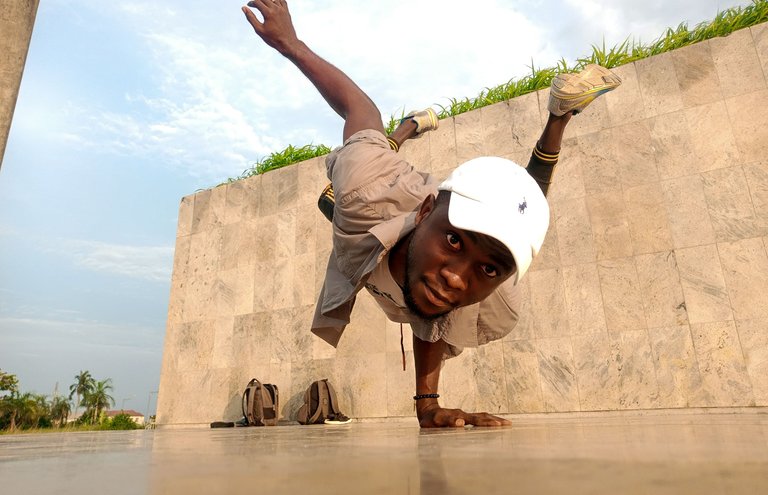 ---
---
Yes like I said, it's all about making tricky moves at first instance and from there you can move into some extreme moves.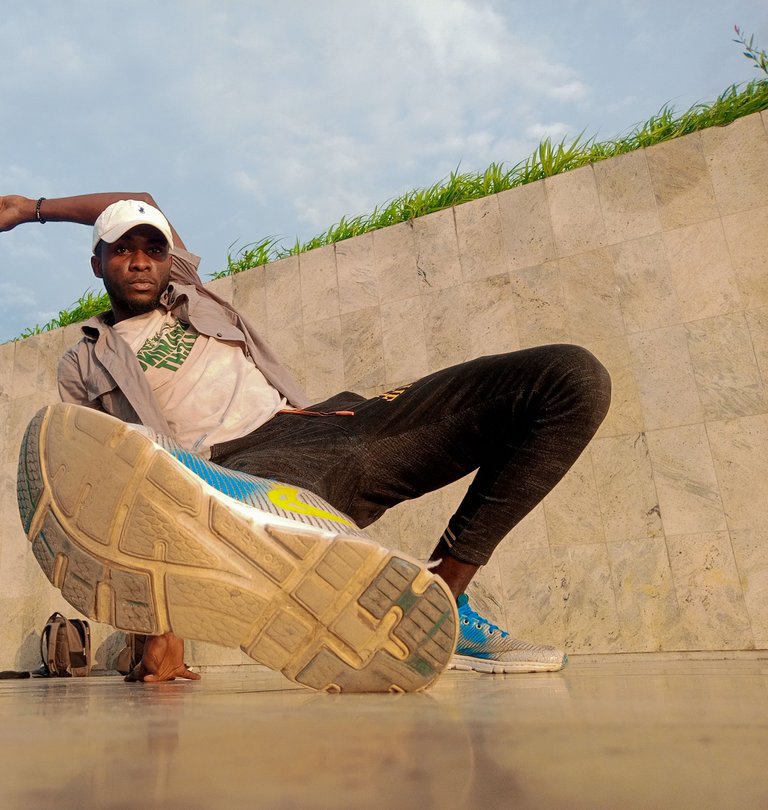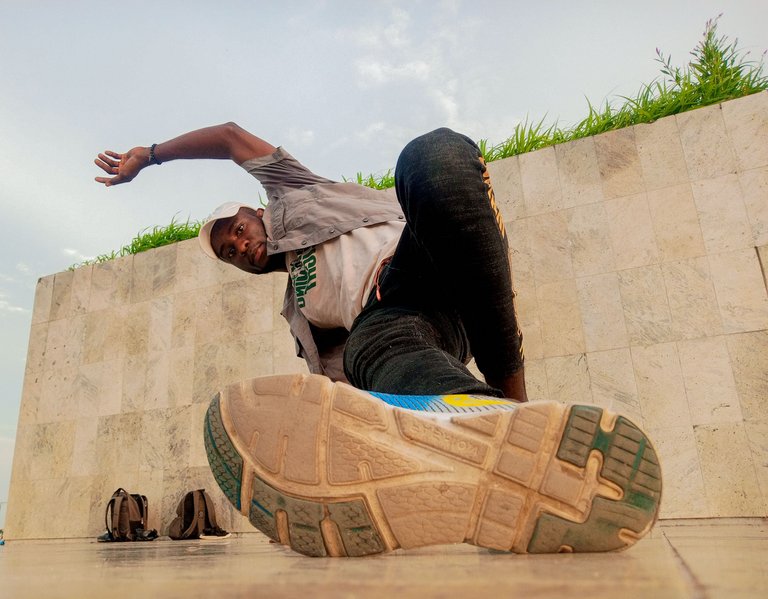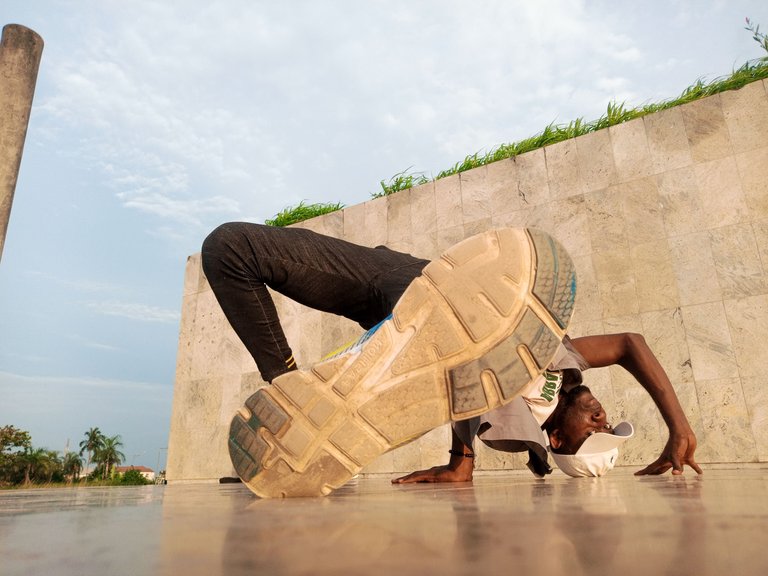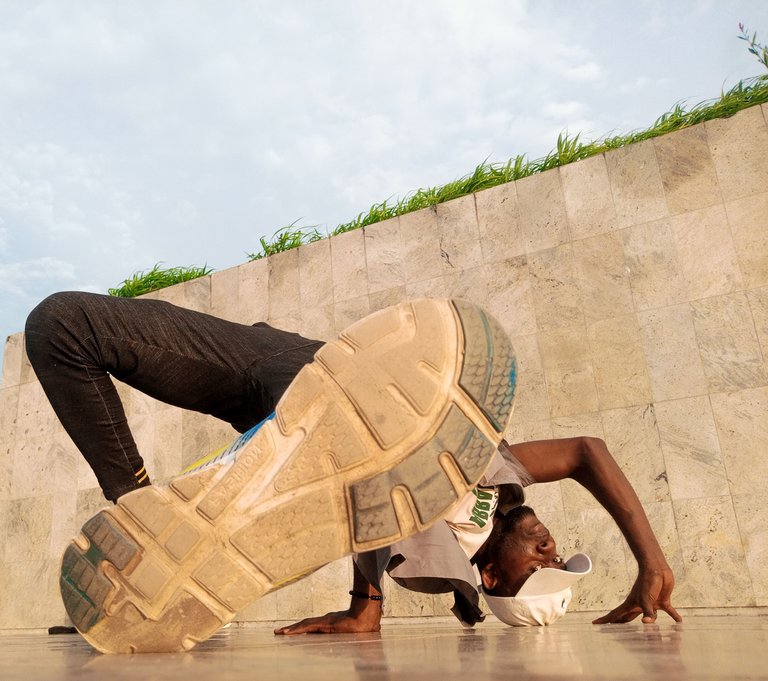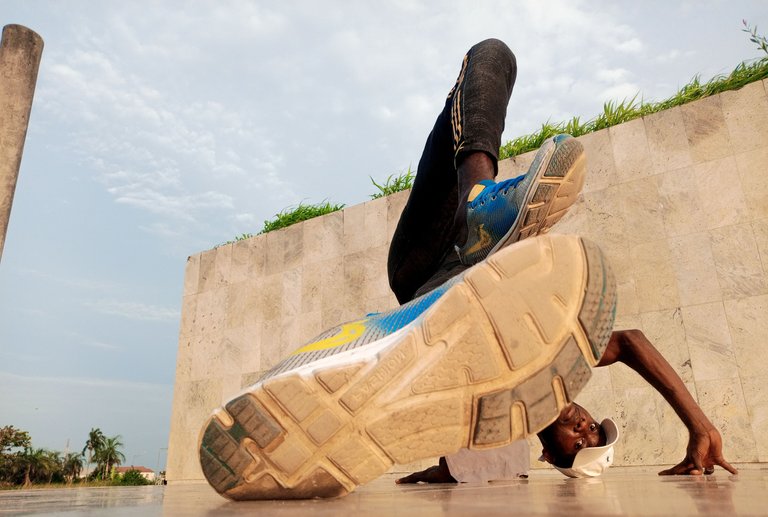 Exercises are really good to free up the muscles in the body and it doesn't matter which way you choose to exercise your muscles either through the gym, games, dancing, or bboy.
Just do what you love doing best and be consistent.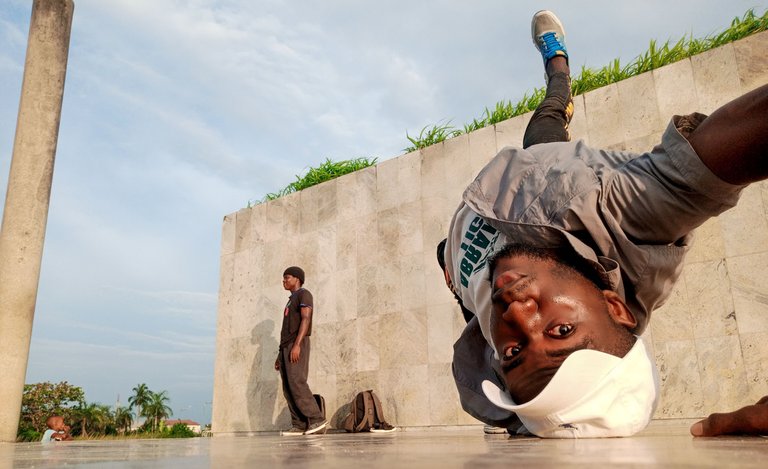 This is how my weekend was and I really hope you did enjoy my bboy pictures and you had a fabulous week as well.see you next time, have a wonderful week.
---
𝕋𝕙𝕒𝕟𝕜 𝕐𝕠𝕦 𝔽𝕠𝕣 ℝ𝕖𝕒𝕕𝕚𝕟𝕘 𝕋𝕙𝕚𝕤 𝔸𝕣𝕥𝕚𝕔𝕝𝕖!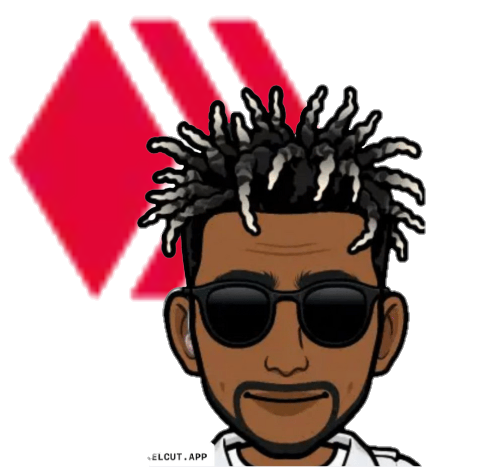 𝑰𝒇 𝒚𝒐𝒖 𝒍𝒐𝒗𝒆 𝒕𝒉𝒊𝒔 𝒑𝒐𝒔𝒕 𝒚𝒐𝒖 𝒄𝒂𝒏 𝒔𝒖𝒑𝒑𝒐𝒓𝒕 𝒕𝒉𝒆 𝒂𝒖𝒕𝒉𝒐𝒓 𝒘𝒊𝒕𝒉 𝒚𝒐𝒖𝒓 𝒖𝒑𝒗𝒐𝒕𝒆, 𝒄𝒐𝒎𝒎𝒆𝒏𝒕 𝒂𝒏𝒅 𝒓𝒆𝒃𝒍𝒐𝒈. 𝑭𝒐𝒓 𝒎𝒐𝒓𝒆 𝒂𝒓𝒕𝒊𝒄𝒍𝒆𝒔 𝒍𝒊𝒌𝒆 𝒕𝒉𝒊𝒔, 𝒄𝒍𝒊𝒄𝒌 𝒐𝒏 𝒕𝒉𝒆 𝒂𝒖𝒕𝒉𝒐𝒓'𝒔 𝒑𝒉𝒐𝒕𝒐 𝒕𝒐 𝒗𝒊𝒔𝒊𝒕 𝑩𝒍𝒐𝒈. Thank you!
---
𝔸𝕓𝕠𝕦𝕥 𝕥𝕙𝕖 𝕒𝕦𝕥𝕙𝕠𝕣
I am Solomon Richard Demson aka Dj protokkol ✍️. Contents of my blog include me being a Poet 📜 ● Fictioner 📝 ● Rhymer and poem 🔗● Blogger 👨‍💻● Author/Writer ✍️ ● Music mixologist 🎧📀● Photographer 📸💥● Therapist 💉💊● Mentor 👨‍🏫● Dancer/BBoy 🤸● Crypto enthusiasts 💰● Model 💎. Visit my blog by clicking on the authors image above Thank you!.
---
©June 2022
---
---
---