⚡️SPLINTERLANDS : BRAWL REPORT WITH THE CHAMPIONS AND MORE GLADIATORS⚡️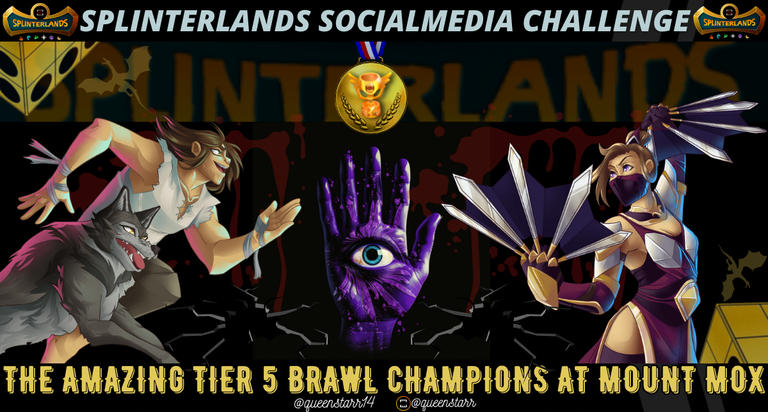 ---
ANOTHER NEOXIAN GUILD SHOWDOWN AT MOUNT MOX
---

Hello Battle Mages! How the days fly, we are now down to 13DAYS:15HOURS left to another End of Season, hope you got amazing EOS pulls from the just concluded season? The FOMO with regards land 1.5 is officially here for the Mavericks to test and you can read more about this in the Splinterlands official discord server - The announcement channel.

👁‍🗨On this post thumbnail, you will see a purple hand palm forward with a single eye in its middle. 🐲Mr Dragon [@Neoxian], our guild's founder, which was inspired by our guild logo created that brilliant AI image after we won our brawl in tier 5 again. I like it, pretty cool yeah? Neocity is cool like that. Hopefully I presented it well in this cover😃
---

It's another hour of glory, and the amazing warriors of the

GUILD OF NEOXIAN

have taken their place on the great Mount Mox. A raucous crowd of thousands have gathered once again in the vast arena to witness what will undoubtedly be a battle of the Legends, the Greatest Guild of all time.
The Brawl champions will receive a large amount of rare Splintershards

and Golden crowns

. I was assigned to the Wild Gold Fray 3

, which allowed all monsters from different Eras to compete, and all battles were kept fair, kill or be killed, to honor the Dragonborne's prophecy of a united Gloridax made hundreds of years ago.

---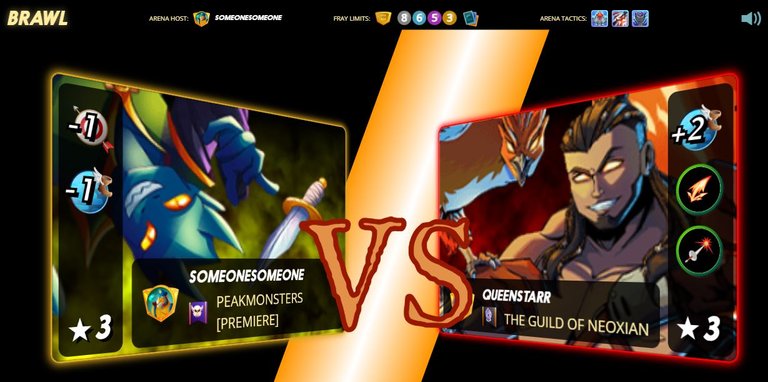 ---
I am sharing just one out of five my brawl which I found to be amazing. This battle was set at 60 Mana cap, so I went with the 🔥Fire Splinter and got matched with @someonesomeone who picked 🐲Dragon Splinter paired with Water Splinter.
---
📜RULE INSIGHTS📜
---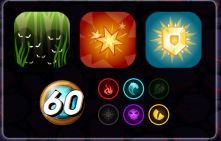 ---
1. SUPER SNEAK: All Melee attack Monsters have the Sneak ability. Strategy is to choose a summoner that increases/reduces Melee attack or Mylor. Keep a monster with Shield, Retaliate or Thorns in the last position.
2. EXPLOSIVE WEAPONRY: All Monsters have the Blast ability. The best strategy is to have fast monsters with Snipe, Sneak, Opportunity. For defense, Shield and Void will come in handy..
3. HOLY PROTECTION: All Monsters have the Divine Shield ability. Strategy is nonsters that normally have this ability do not get it twice. The trick to win in this ruleset is to fill all 6 slots of your line up and use monsters with Blast and Double Strike. Use a monster or summoner that has Resurrect to use this ruleset at its maximum potential.
Given these rules, my lineup was meticulously chosen, setting the stage for an epic confrontation.
---

---
💥INTRODUCING THE BRAWL'S FORMIDABLE WARRIORS💥
---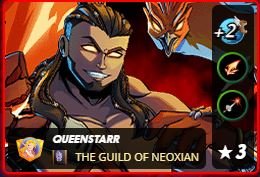 The brilliance of Conqueror Jacek lies not just in his leadership but his unique buffers to his team. Prior to battle, he enhances his warriors with +2 speed, gave them the Piercing and Scattershot ability.
---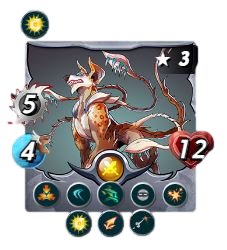 As the frontline of defense and attack, Coeurlr's capabilities shine bright. His Taunt ability frustrates his enemy even though attracts all attacks, his Dodge ability evades Melee or Range attacks, and the Phase causes magic attacks to miss it.
---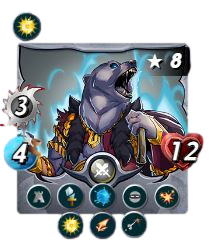 As the second melee tank, a defense and attack, Arkemis's capabilities shine bright. His Protect ability bolsters the team's armor, his Halving ability cripples opponents with every blow, and the Forcefield makes him nearly invulnerable against potent strikes.
---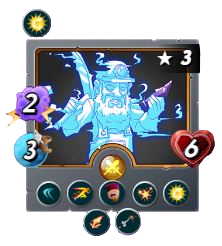 Dreadful magic spellcaster, he boosts team speed with its Swiftness ability, his Dodge ability evades Melee or Range attacks, and the Blind causes all magic and melee attack to miss this monster.
---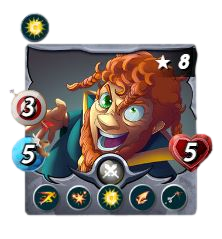 Swift and deadly, the Supply Runner boosts team speed with its Swiftness ability. Faster monsters will attack first, potentially eliminating threats before they get a chance to strike.
---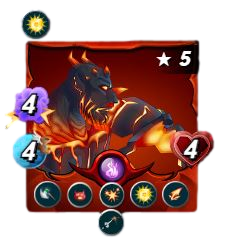 A master at dealing massive damage to opponents, Djinn Inferni's Giant blow ability is a nightmare for armored foes. His Stun ability also helps by causing enemy to miss it's chance of attack.
---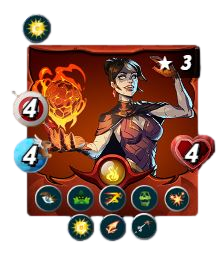 Rounding up the team is the delectable seductress, Countess Sinash whose varied abilities, including Swiftness Opportunity, Camouflage, and Affliction, make her a multifaceted threat.
---

---
💥THE LEGENDARY CLASH💥
📌When faced with the Super sneak and Blast combo, always go with Scattershot monsters or Summoner like Conquer Jacek. Don't forget to make your Team twice or three times faster then opponents📌
---
The enemy were formidable: Enemy-Robo-Dragon Knight, Enemy-Carnage Titan, Enemy-Coastal Sentry, Enemy-River Hellondale, Enemy-Tide biter and finally in last Enemy-Agor Longtail. It'll be a rought battle, very good enemy team Lineup.
---
---
Supply Runner and Djinn Inferni's coordinated assault greatly weakened the enemy and finally laid waste to the Enemy-Carnage Titan, but Enemy-River Hellondale resurrected Carnage back. Their combined attacks, enhanced by the Blast ability, weakened the enemy even further as Countess Sinash takes opportunity and for good kills Enemy-River Hellondale. As the enemy retaliated, Supply Runner and Djinn Inferni's instantly kills Enemy-Costal Sentry. Next Arkemis and Coeurl targets and kills Enemy-Robo Dragon.
Spirit Miner targets and kills Enemy-Tide Biter. With just one enemy left and a taunt monster, my team centered their attacks with Supply Runner swiftly moving in for the final kill and sealed the victory.
🎉FLAWLESS VICTORY🎉
👉▶️CLICK ON THIS TO REPLAY BRAWL BATTLE - QUEENSTARR vs SOMEONESOMEONE THE PEAKMONSTERS◀️👈
---
📜RECAP OF THIS BRAWL: The above lineup is a well-balanced mix of high-damage melee attackers, a sturdy tank, and ranged + magic attackers. Conqueror Jacek and team of monsters exploited the Blast, Super sneak rulesets, allowing the team to target and eliminate critical threats in the enemy's backline. The Explosive Weaponry rule enhances the area damage potential and best paired with scattershot ability, while the Holy Protection ensures an additional layer of defense for all team members. The winning factor for this lineup, especially in the context of the mentioned rules i.e. targeted sneak attacks, area damage, and added protection made this a formidable team✅
---

---
⏭A similar thought process was applied in the rest four (4) other Brawls. I won two (2) more battles and Lost two (2) giving me a 3W:2L:0D. I have re-watched my battle with immortal Gods and Summoner's tribe, learning from defeat is a habit i want cultivate. You too can watch all battles from links below.
---
🎉ALL BATTLES ENDED IN A FLAWLESS LANDSLIDE VICTORY!!!🎉

---
⚔️OVERVIEW OF BRAWL⚔️
---

I did enjoy all the battles and for this brawl, We got rewarded with 548.112 Splintershards

and 11,184 Merits to purchase Gladius packs, a realm where Battles mages can own soulbound Gladiators.
---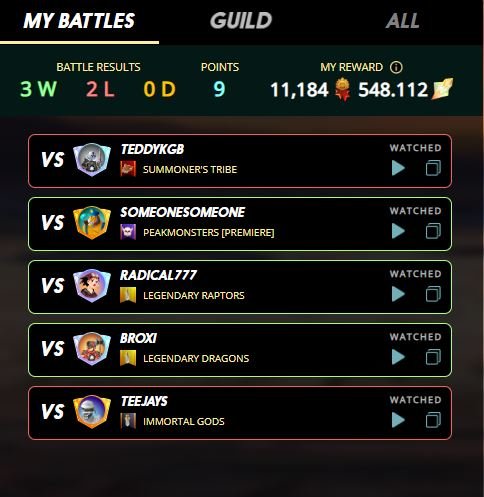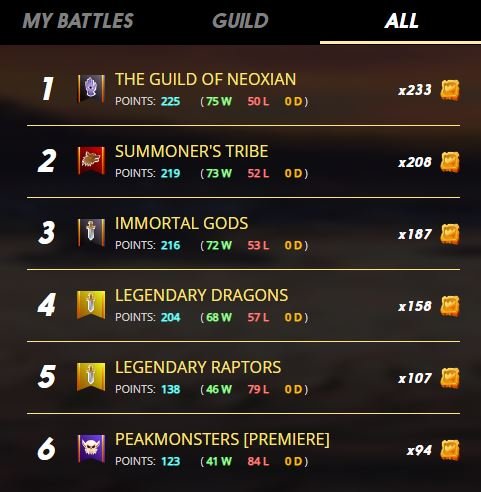 ---

---

Our Master Dragon was so impressed with his warriors, as always he celebrates this with the whole city. Neoxian Guilders put in great effort in their battles with some clean sweeps [my next brawl report should carry for the whole guild]. MR DRAGON THE PRAETORIAN and his whole team of fantastic warriors destroyed all enemies.


GUILD OF NEOXIAN

made a bold display, finishing first and earned 196 Golden crowns

. I enjoy participating in brawls and seeing how well my guild has been doing, averaging #1 and still is doing in terms of conquering. We are super competitive in these brawls thanks to our Amazing Guild Officer Xawi the great warrior who is always ready to help no matter what, and work together to give it our all. Makes it all worth it in the end❤️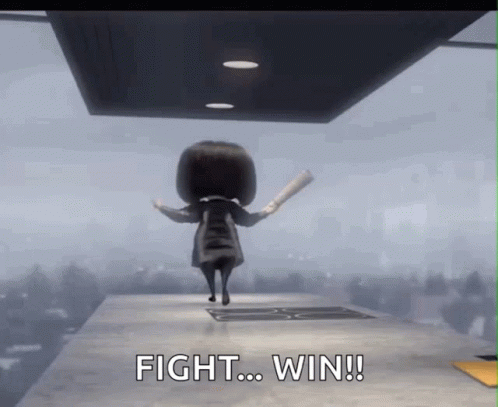 ---

---
PURCHASED AND OPENED GLADIUS CASES
---
I used 14,000 MERITS to purchase 7 gladius packs and threw them into mana well swirl, Behold;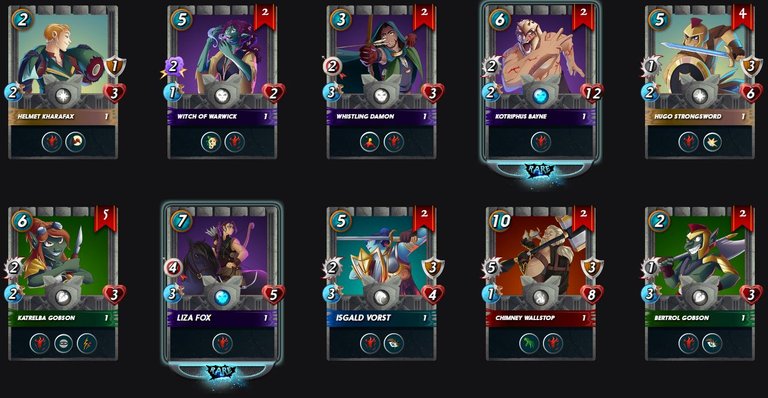 ---
I pulled 16 unique Gladiators, some with multiple copies for leveling up. This wasn't an impressive pull but it's good for leveling up my existing cards which i really want. Tier 5 brawl is super difficult, hope I can get some Gladiators to Gold level. WELCOME TO THE FAMILY, for now we keep Winning with the low level Gladiators😂
😆Alrighty, that will be all about this weeks Brawl battle report and social media challenge. If you want to know what's happening in the splinterverse or want take part in the Splinterlands' challenge or view other latest battle challenge by other Splinterlands warriors, simply visit 👉Splinterlands Social Media Page to stay up-to-date [🛎turn on notification🛎].
Crypto is pumping gradually, hopefully Moon Soon, 🍀MAY THE ODDS FOREVER BE IN OUR FAVOUR✊.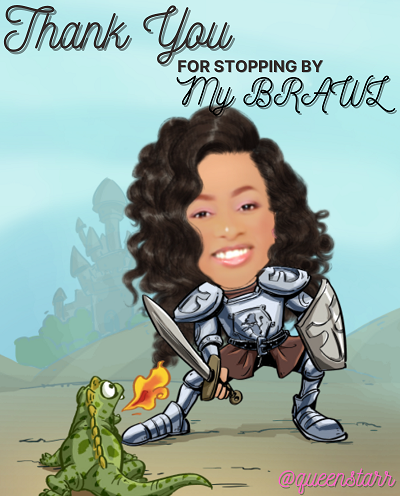 😊Until next Splinterlands Brawl, Hive, Vibe & Be Lucky🍀
Worthy Notes:
✅POST COVER EDITED BY ME IN CANVO PRO WITH ALL IMAGES FROM WWW.SPLINTERLANDS.COM
✅Want to know more about Hive Blockchain? Click to join Hive's House of Help community THE TERMINAL
✅My gratitude to the GUILD OF NEOXIAN for guild support.
✅Awesome Splinterlands Gold League page dividers by Nane-Qts



All content is mine unless otherwise Noted in text

©2023
Posted using Neoxian City
---
---