Impact of Price in HIVE Eco system...
As it seems, today does looks like to be a very good day in the realm of crypto. BTC finally crossed 26k mark! A splendid achievement! Who knows we might finally see something happening in the coming few hours. Well, before we heat up the floor, we might want to reconsider the fact, we have seen what has happened during the last few weeks of this sort of pumps. Without much expectations I am just sitting back and enjoying the show for the moment.
---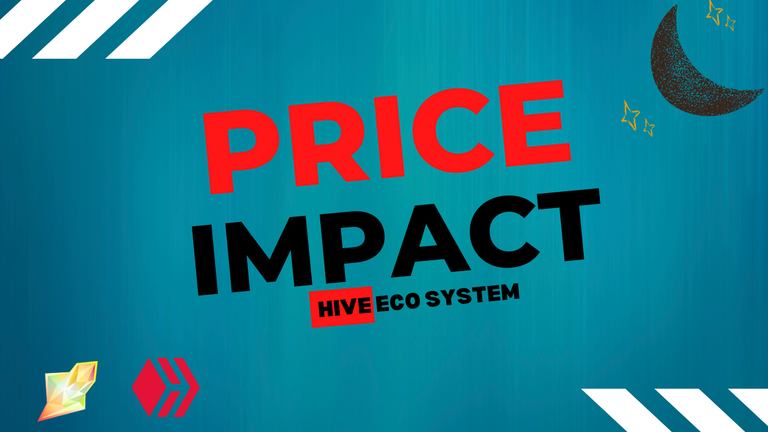 ---
I have been analyzing the market for the last couple of weeks. Since I am eagerly wanting to get into the market with full force. Thus I want to explore the up and down movement of crypto once again. Yes, I am aware of the fact and all the risks included with this step of mine. Which is why, I have been dummy trading and so far I am successful at the rate of 70% (approximately).
---
Well, I have learned the lesson of not going after those over the fence lucrative deals offered by different crypto projects, instead I have been focusing my motives related to HIVE based projects. So far, I am quite positive with everything that I have done for the last few weeks. With the recent pump (BTC moving upward) the calculations have add up quite smoothly so far.
---
In a week
---
Lets talk about HIVE. On weekly charts as you may see HIVE reached a lower low of 33 cents (approx). Lets say if I would have taken the approach to buy HIVE around 35 cents with, lets say $2000. I would have got around 5700 HIVE. While with the recent pump of HIVE around 40 cents, if I would have sold them in the zone of 40 ish cents, I would have made profit of around $285. This all happened within the span of a week.
---
Based on the current scenario, BTC suddenly spiking and making almost every coin follow its step, this could have been some easy gains for me. On the other hand, the way market was acting up things could have been much more worse if HIVE went down much lower than its weekly lowest value. It was a risk but the rewards are also considered to be much sweeter.
---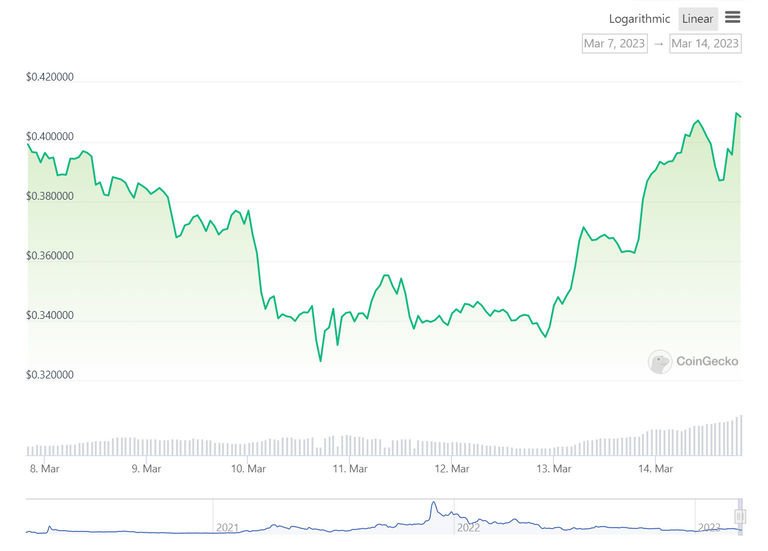 Image source
---
---
SPS
---
Coming to talk about SPS, there are currently multiple benefits holding SPS into Splinterlands. To name a few, we are getting airdrop of SPS at a rate of 23.68% APR also in addition to that there are requirements to be able to play in tournaments, one needs a certain amount of SPS staked, also there is GLX which is being airdropped to users due to the SPS staked in one's account. So there are multiple reasons to hold onto SPS till we see much more use case of SPS in the coming months.
---
Talking about SPS, I have been keeping a keen eye on this for a long time. Although, there has been obstacles to grab these token in a low price but I have been restaking every SPS that I am getting as staked rewards. Not going to put hands on them for the next coming years.
---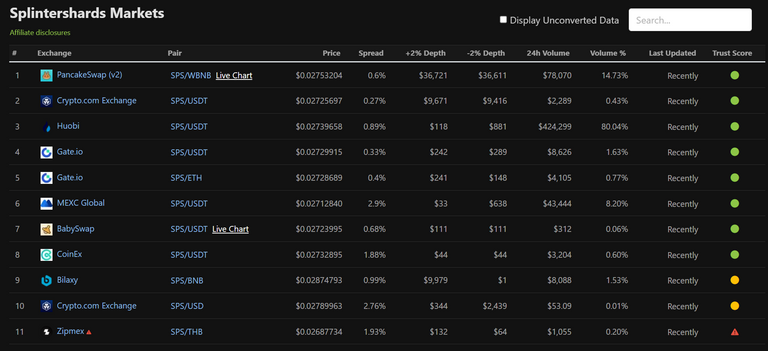 Image source
---
As I was saying, SPS has been bouncing a lot in the price range of $0.024-0.028 This might not seems a lot to many folks but this could be a huge opportunity to grab for some traders. Like I stated I have been keeping a keen eye on this one and with couple thousand bucks it could be literally a gold mine for traders.
If this gets grabbed my traders it could benefit us all. Mostly because as you may see almost 80% of the trade is happening in Huobi. And the rest of the exchanges are just sharing the rest 20%. We do need more volumes and also we need more utilization of this token.
---
Also we might see few proposals coming up for SPS in order to get listed in top exchanges. If that happens anytime soon, things will be really riled up for us all. In fact more listing, means more investors gets to know about SPS and the game, more gamers flock into the game, more buying pressure happens, more steady the game becomes and more improvements happen. Overall, Splinterlands will be where it deserves to be.
---
I do think there is not a single investor in Splinterlands, who does not want the game to thrive. In any upcoming proposals just keep in mind that we are here for long term gains. We should come up with short term profits, which might destroy the game in the future. Once bull run hits back, things will turn out positive for us, that is for certain.
---
To sum up, with right decisions and right entry point there are countless opportunities to make some decent amount of returns from investments. HIVE is a very good option to look out for and the people on this chain makes it more easy to depend upon the chain. I am looking forward for my dummy trades to come to reality and I would like to see how the year 2023 comes out for me and us all!
---
---
---
Best regards
Rehan
---
Want to play & earn from Splinterlands

---
---
---
---
Splex.gg Rental Service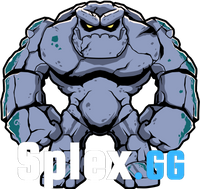 Optimize your time and the return on your Splinterlands assets!
---
---
---

---
---