Spiced Banana Loaf (Vegan, Gluten Free, Oil Free and No Add Sugar)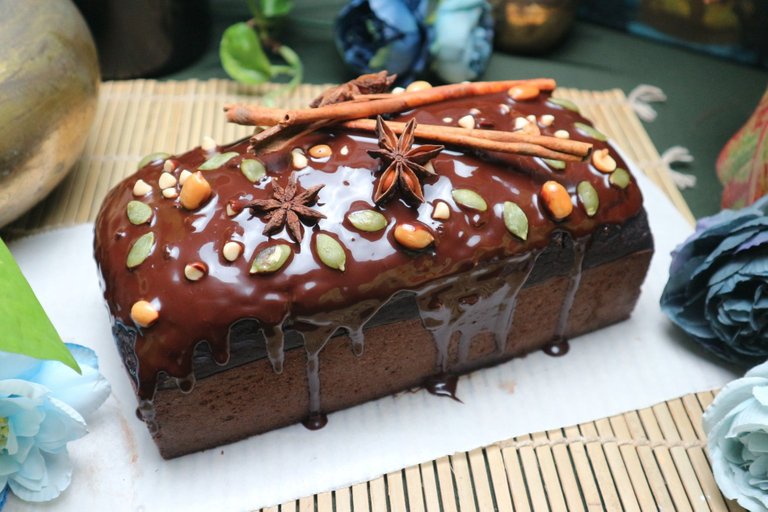 It's been a while since I posted my recipe on Hive, not because I have nothing to cook. Because I do, I have lots to post but the key is I have limited time to write and wrap up which I wish I could have 4-5 hours more per day.
Over the past few days, I have been keeping an eye on this bunch of bananas. Patiently waiting for it to ripen up so I could make some vegan and gluten-free banana loaf!
Banana bread is one of my favorite things to make for many reasons. This quick bread is delicious, healthy, and perfect for breakfast, snack or afternoon treat for a chaotic day of hard work. As I always have all the basic ingredients on hand. Today I'm going to show you how to make this easy spiced banana bread recipe. This is a delicious loaf of very moist banana bread with a little kick of spice topped with dark chocolate ganache and sprinkle with nuts, cinnamon sticks, and star anise. I found this recipe online and as always I adapt the recipe and instructions to follow my kitchen instruments and the ingredients that I have in my storage.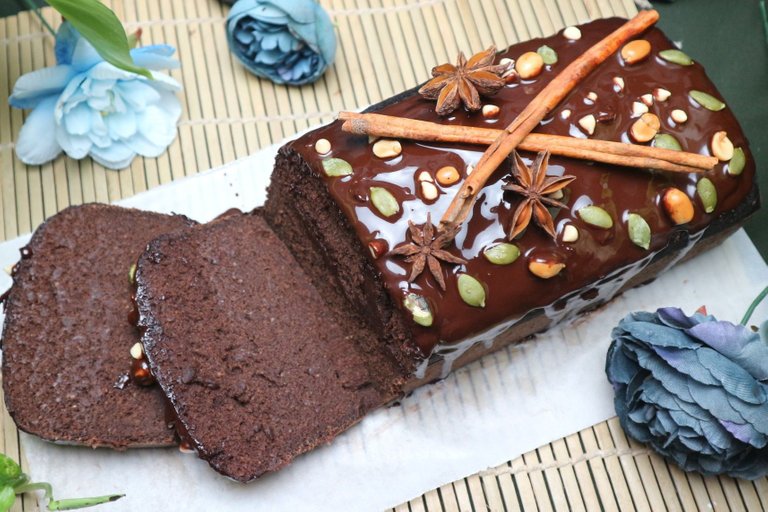 This delicious, moist and fluffy banana bread is so easy to make and very delicious to eat. This time I made my banana loaf version with chai spice, filled with cardamom, cinnamon, ginger, and allspice, this chai-spiced banana loaf is a funky twist from basic banana bread.
Chai is the actual word for tea in many countries including here in Thailand as well, we're usually referring to Chai Tea, which is a relaxing and calming beverage made of black tea, milk, and fragrant aromatic Indian spices. I think their flavor goes beautifully with banana bread. I also top my banana loaf with cinnamon sticks and star anise which this topping will make my banana loaf absorb all the fragrance while storage.
I do this recipe with gluten-free flour by combinations in the three blends of oats meal, rice flour, and buckwheat flour.
This recipe is vegan Spices Banana Loaf so I do use chia seeds as a substitute for the texture of an egg in this recipe.
For the liquid, I do choose non-dairy milk which I used soy milk instead of water. This will make it dairy free and give more nutrients to my spiced banana loaf.
Most of my ganache recipes are made from chocolate as high in cocoa solids as 90% dark chocolate so I always use Lindt Cocoa Dark Chocolate because they are an excellent chocolate bar that is suitable for vegans.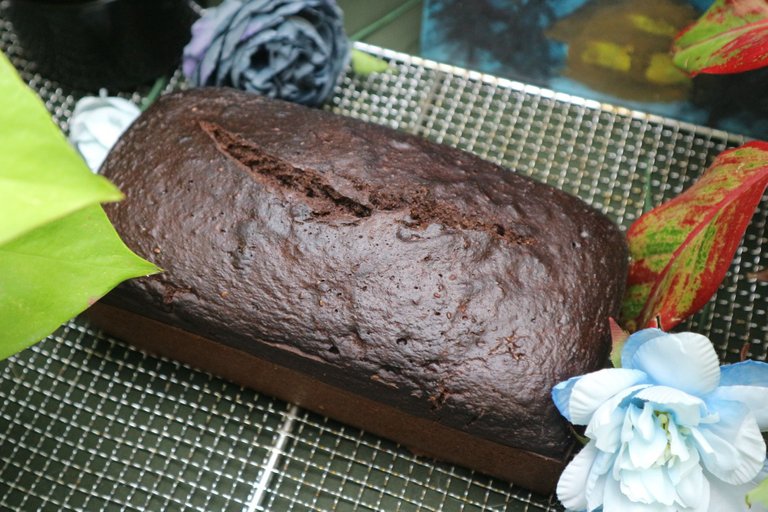 INGREDIENTS
3 Overripe Banana (350 Gram)
100 Gram Oat Meal
100 Gram Buckwheat Flour
100 Gram Rice Flour
25 Gram Cocoa Powder
2 Tablespoon Chai Seeds
1 Tablespoon Chai Spices
1 Teaspoon Baking Powder
1 Teaspoon Baking Soda
1 Bottle Soy Milk (300 ML)
100 Gram 90% Dark Chocolate Bar
2 Cinnamon Bark
3 Star Anises
Variety of Roasted Nuts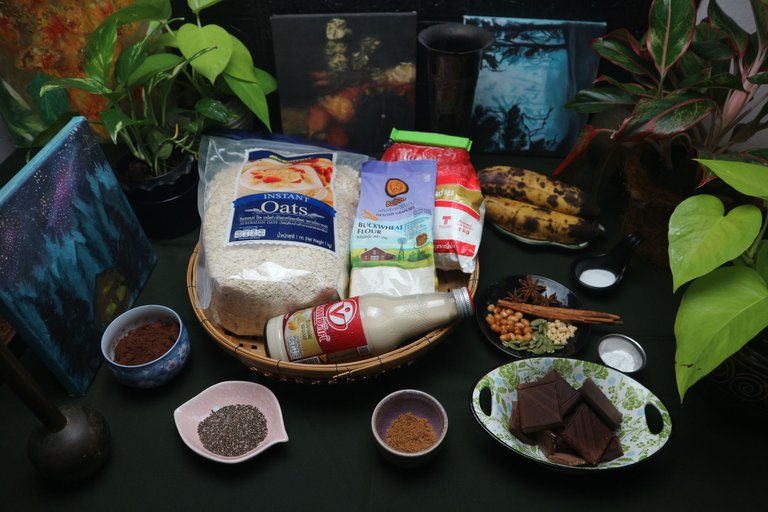 INSTRUCTIONS
Step 1 - Making the Liquid Mixture
Preheat the oven to 350 degrees F. Then peel off the banana skin and place the overripe banana in the mixing bowl.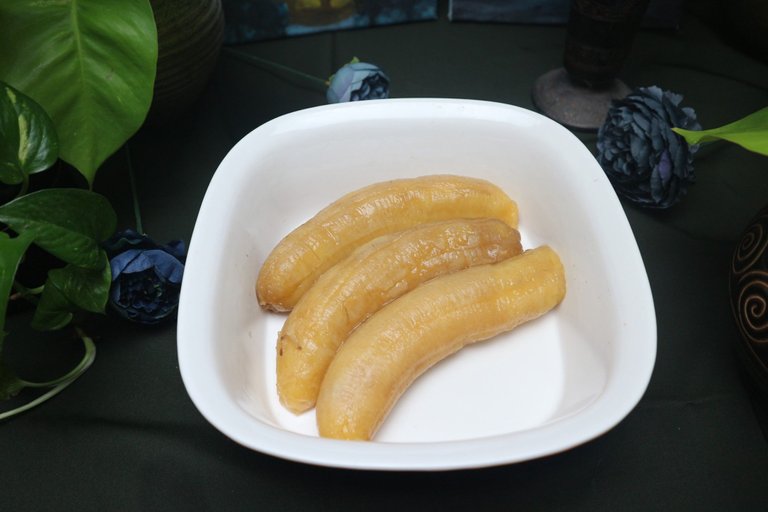 Then mash the banana with a fork until they are completely pureed but possible to have a leftover lump.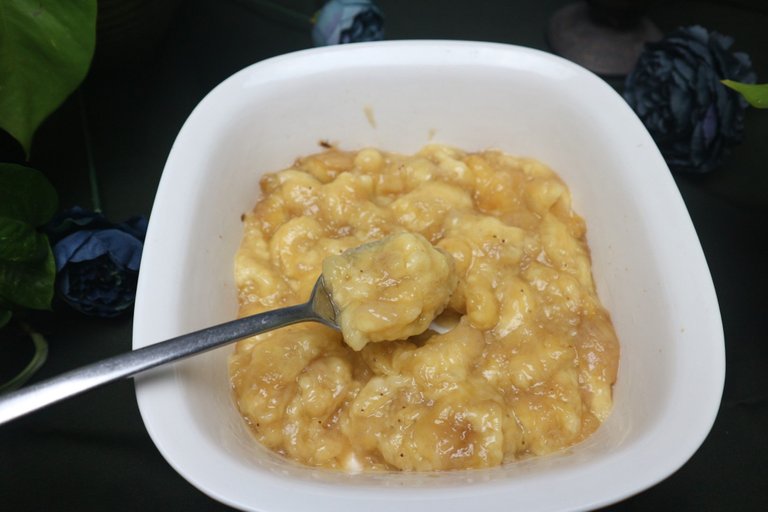 Add the chia seeds and pour the half of soy milk into the same mixing bowl.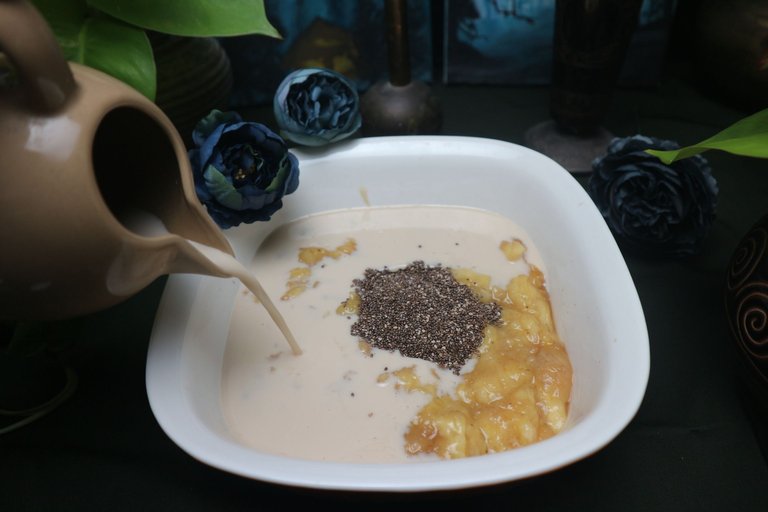 Mix together until smooth and well combine, then set the liquid mixture aside.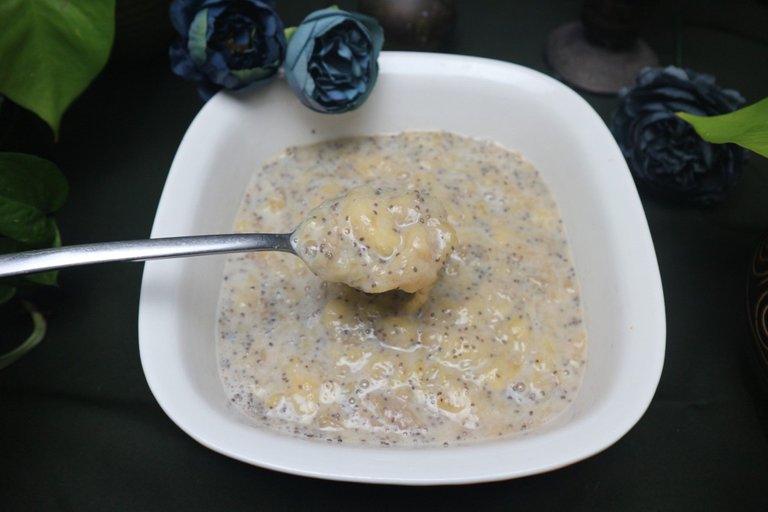 Step 2 - Blend the Flour
Add the oatmeal to the food processor.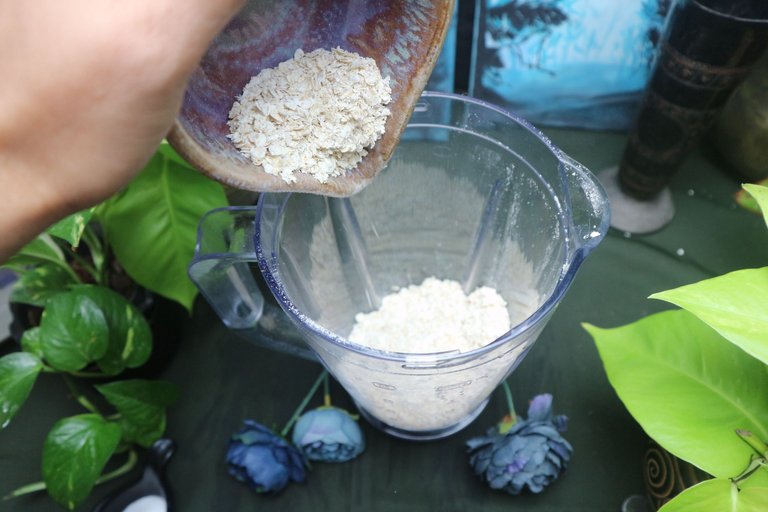 Follow with rice flour, buckwheat flour, baking soda, baking powder, and cocoa powder.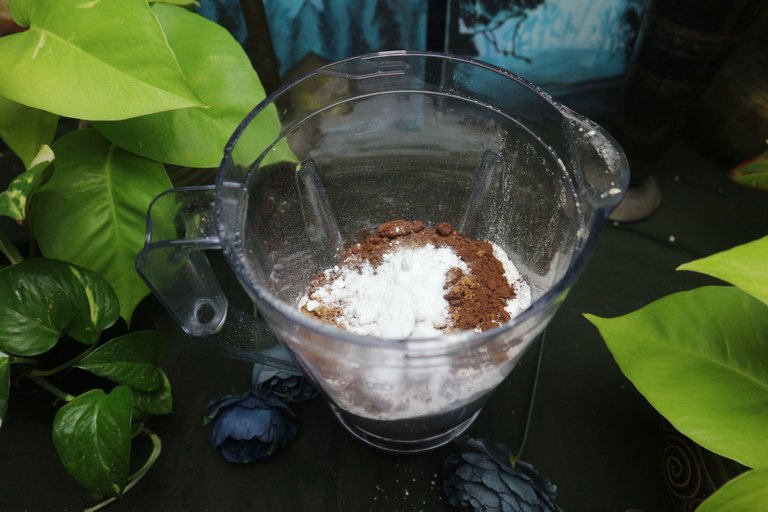 Pour the liquid mixture into the same food processor.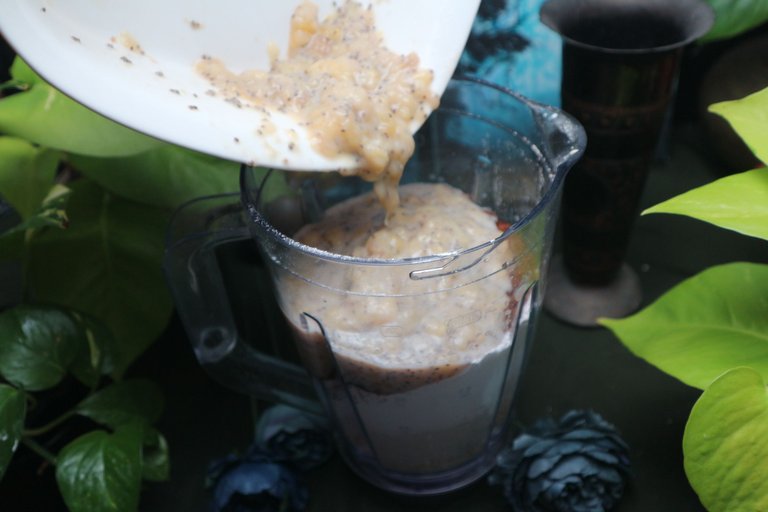 Step 3 - Combine the Batter
Pulse several times until the mixture starts to blend a bit.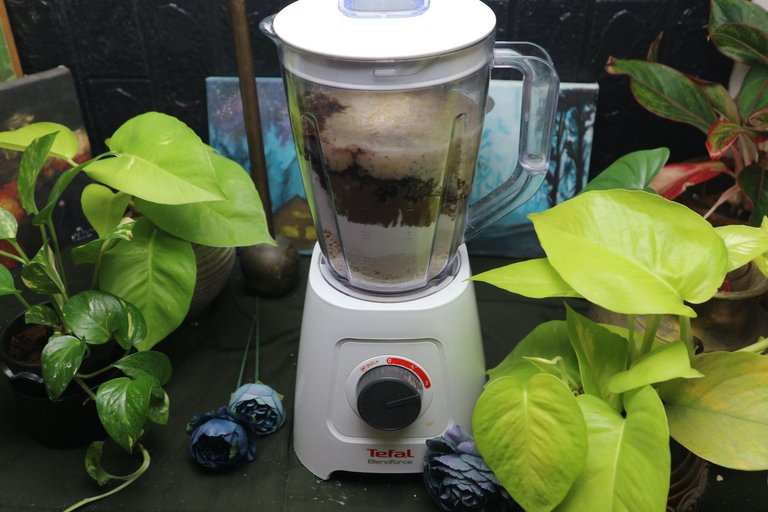 Add another half of the soy milk into the food processor.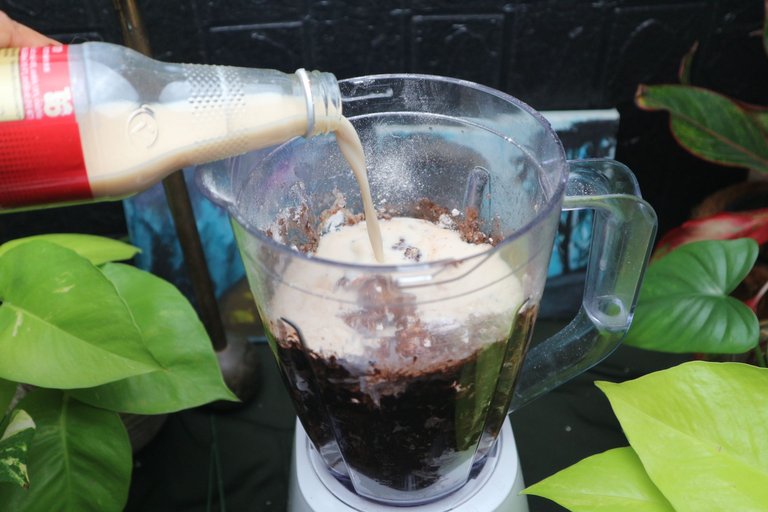 Pulse the food processor until the mixture is broken down into a completely smooth.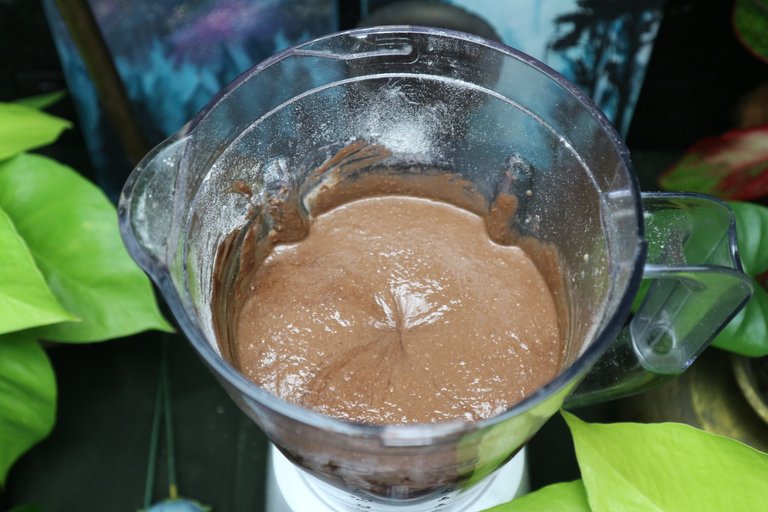 Step 4 - Greasing the Baking Bread Tin
Brush all over the baking bread tin with the margarine.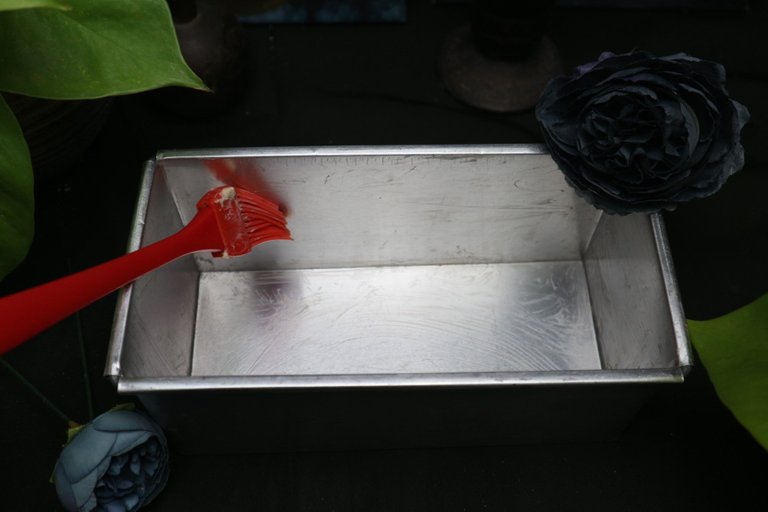 Pour the batter into the baking bread tin and use the silicone spatula and spread it level and equally.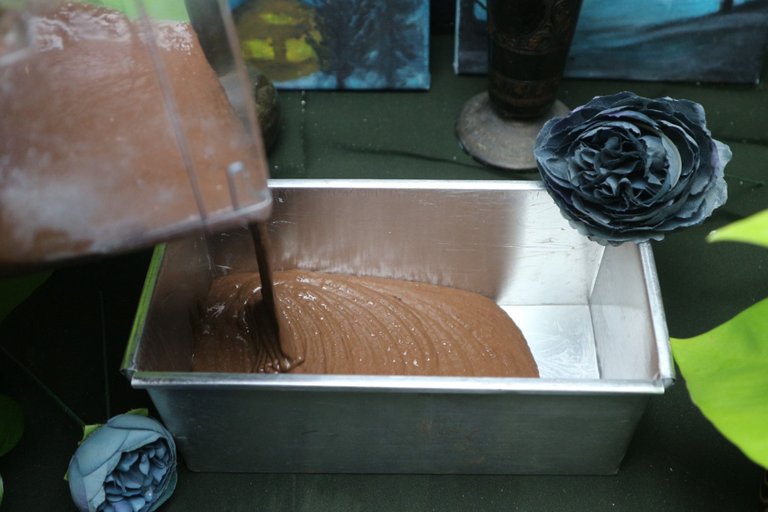 Step 5 - Baked
Bake at 350 F for 20 minutes until set and a skewer inserted into the center comes out with moist crumbs but no wet batter. I do use Baking bread tin with a lid to ensure it a perfectly shaped every time and avoid the top burnt as well.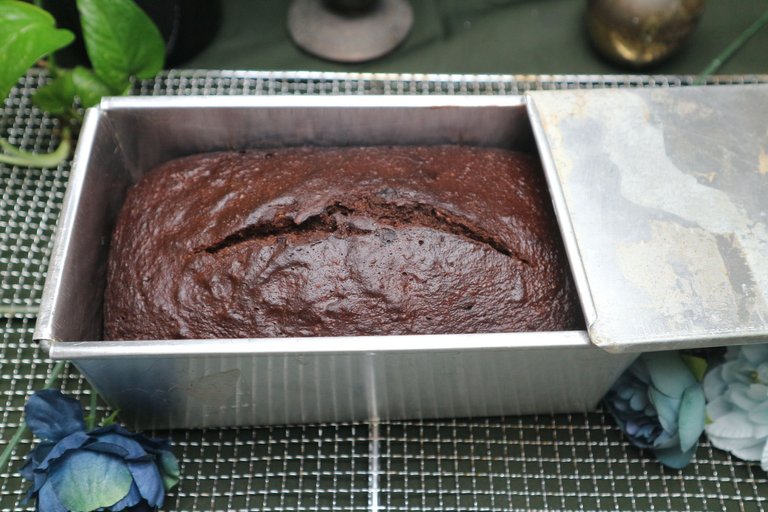 Step 6 - Making the Ganache
Temper the 90% Dark Chocolate Bar by break into a pieces and placing them into a small microwave bowl.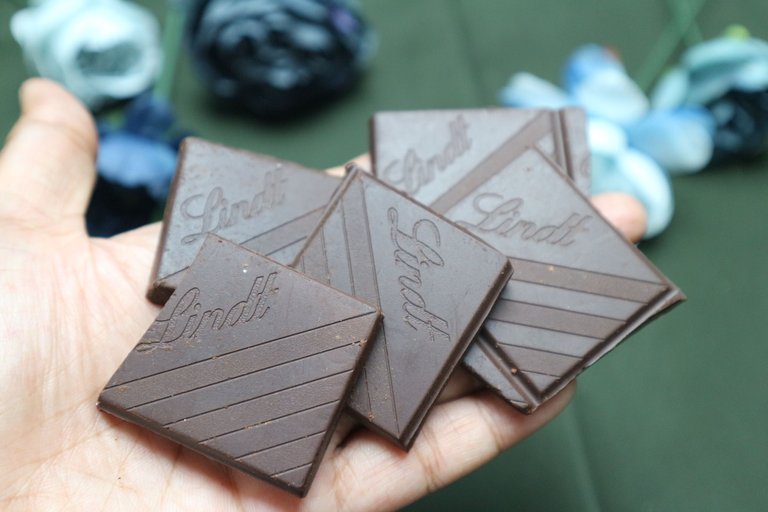 Put the bowl into the microwave and melt on high in 30-second bursts, and keep stirring gently with a silicone spatula.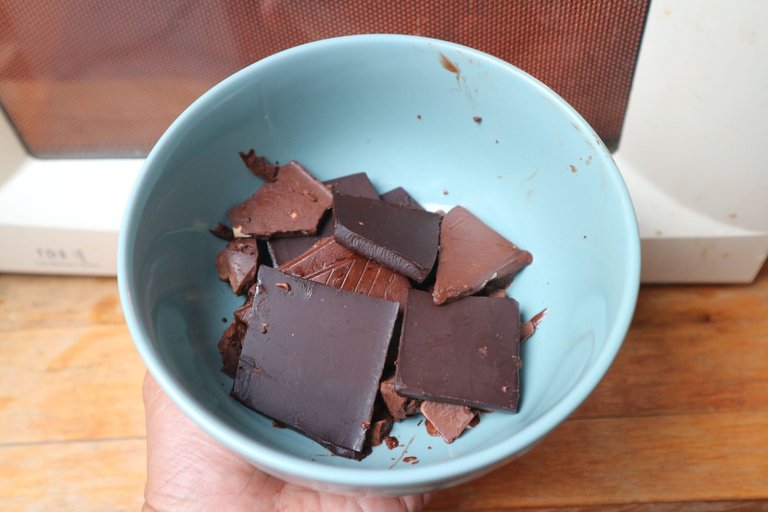 Repeat the process about 2 times.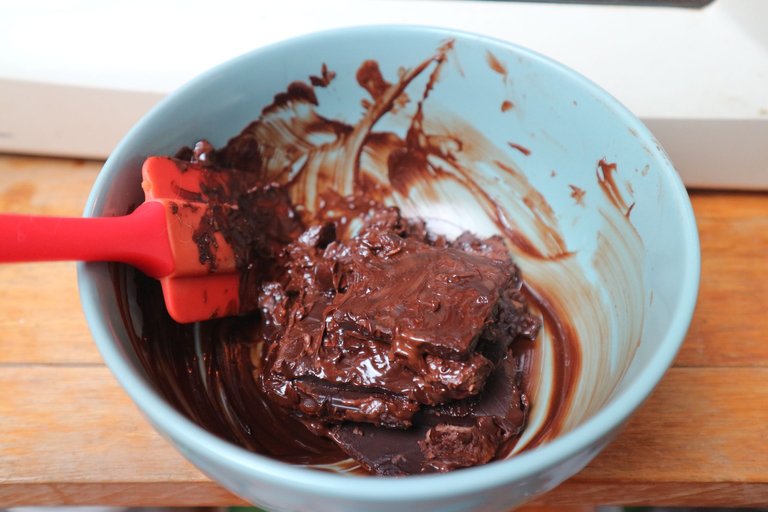 Keep stirring until the 90% Dark Chocolate Bar completely melts and shines like a crystal and let cool down before glazing.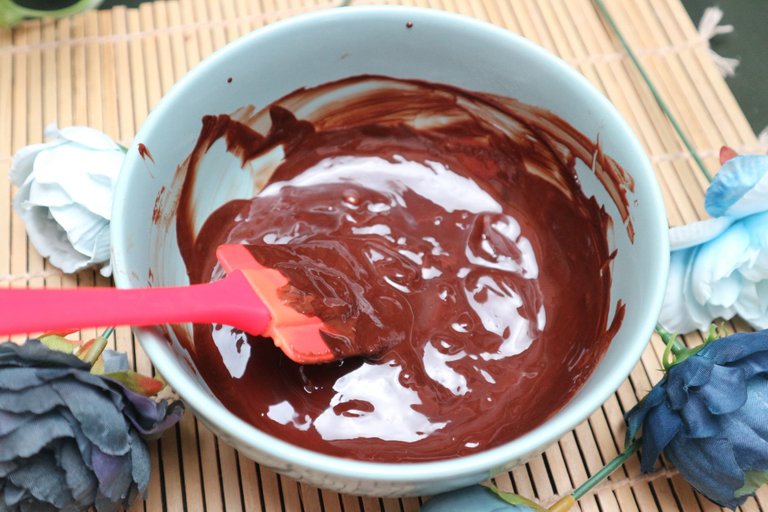 Step 7 - Glazing
Drop the banana loaf on the baking paper and pour the ganache evenly over the top of my banana loaf until I desired.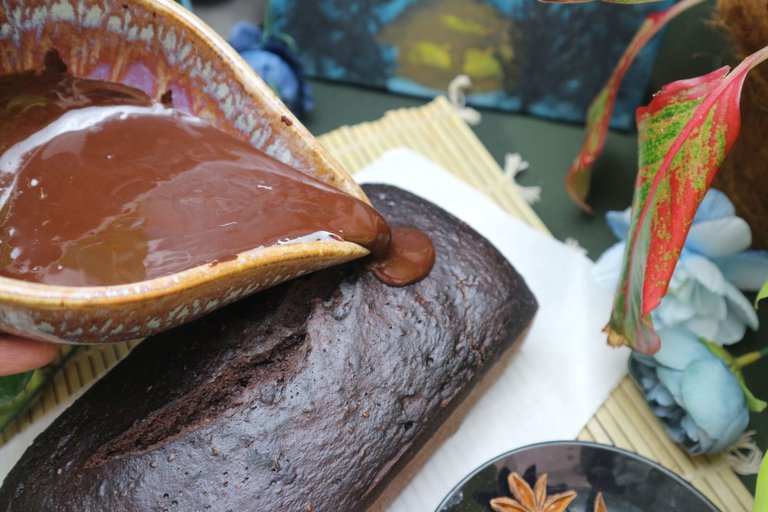 Once the ganache had coverage reached then set the ganache to be more solid before garnishing.
 
I do garnish by laying the cinnamon bark in the middle of the loaf. Then follow with star anises, roasted peanuts, pumpkin seeds, and white chocolate chips.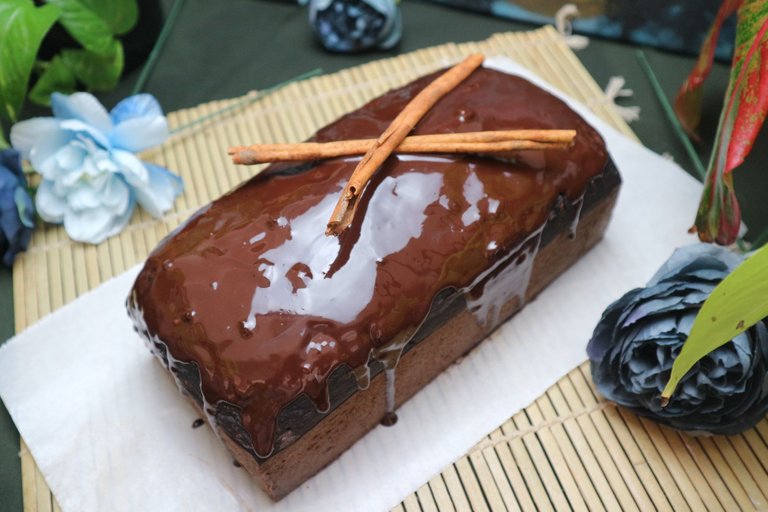 SERVE
This Spices Banana Loaf contains natural sweet overripe banana, delicious soy milk, healthy gluten-free flour, and yummy spices, it is covered in dark chocolate chopped nuts, and more spices. Well, this is a delicious little box!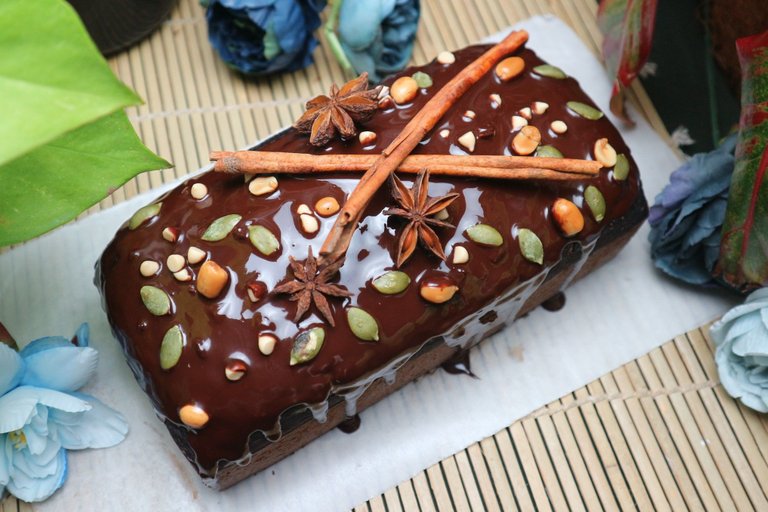 I'm super happy with the texture. It is soft and moist but also easy to slice. And all that, they are avoiding gluten, eggs, sugar, dairy, and oil! I love it!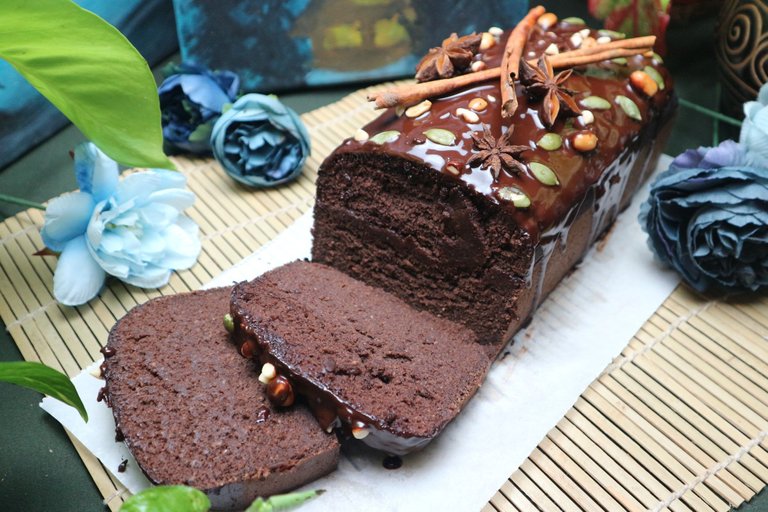 Many thanks for reading my post and hope you enjoy my recipe and give them a try.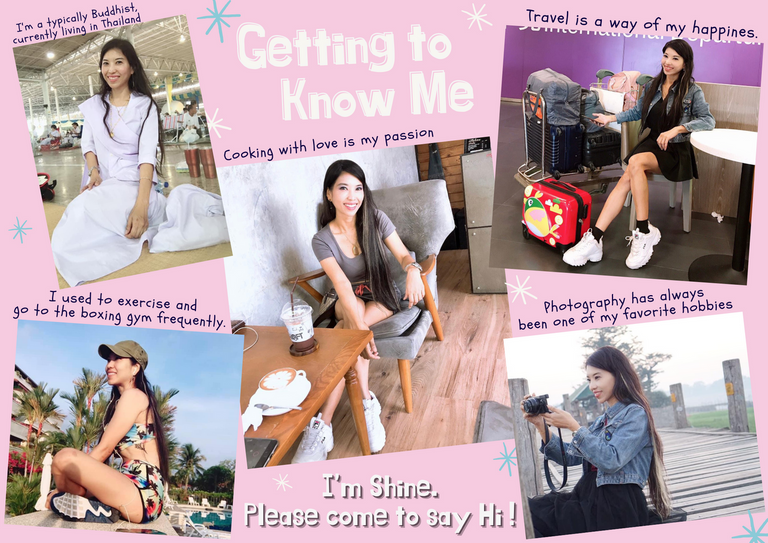 ---
---