Stink Beans with Red Curry Paste - Fresh from The Garden to The Table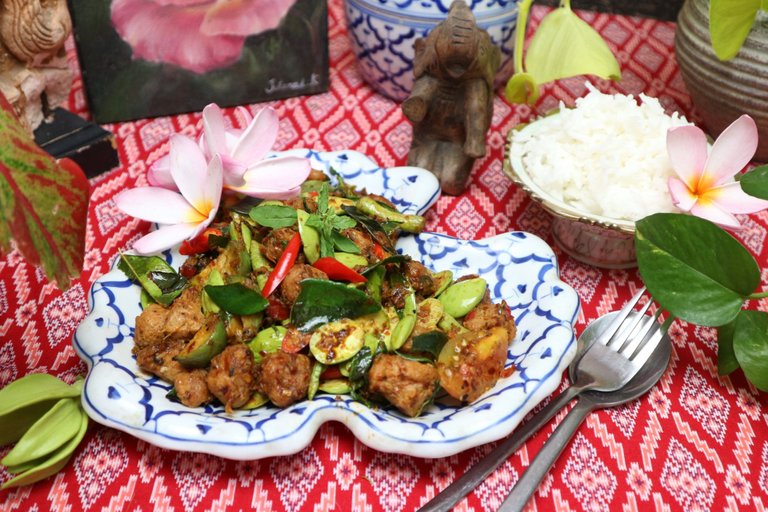 It's always feeling great and heartwarming when having a very kind neighbor next to my house. Since she knows that I'm a person who loves cooking and always does home cooking for nearly every meal. Just a few days ago, she share with me some stink beans that she got from her friends who come from the south of Thailand to visit her and bring the organic stink beans from their garden. The stink bean is the most popular and iconic of Southern Thai food and is often stir-fried with various types of curries.
In Thai, they are known as Sataw and have a unique taste as well that is like a combination of sweet and bitter, the most popular definition is that they taste like asparagus but probably 10 times stronger and each pod contained 10-16 beans inside. Traditionally Thai medicine, believed that stink beans are useful in the treatment of some diseases such as Hemorrhoids, diabetes, cholera, and kidney.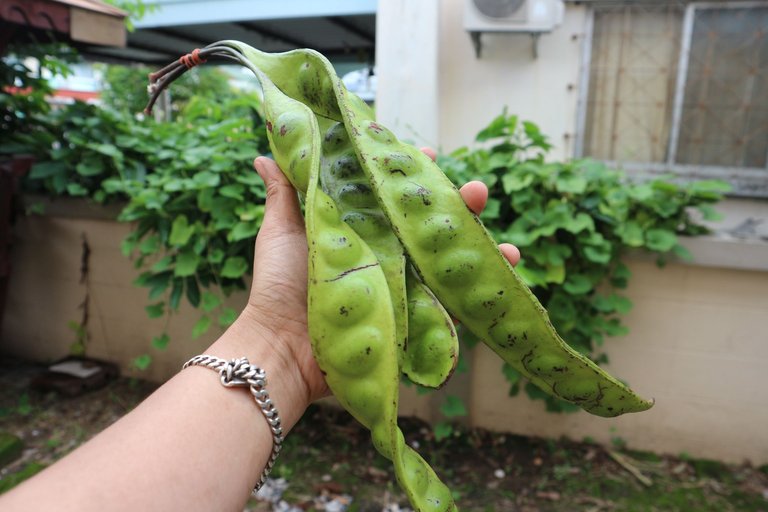 Did you think that the stink bean has a stinking smell as its name? Of course, they contain a unique smell but these stink beans don't smell as pungent and strong as durian or shrimp paste. The stinking part refers to its smell after eating them during the digestion process, the smell will come after consumption. But there is a simple solution by cooking them with Thai eggplants, long beans, or young Thai melon which will help to eliminate the bad smell of stink beans, which I did learn this technique from my mom. And I was so lucky because I have the Thai young melon grow along my wall and they are extremely productive.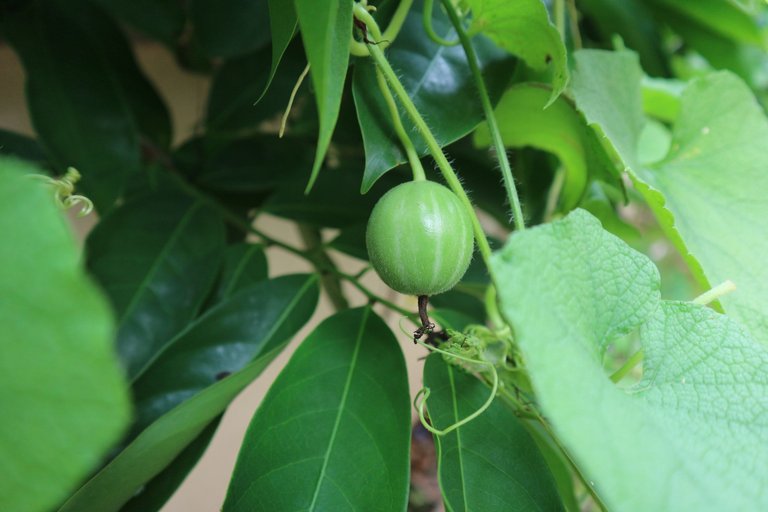 So today I'll cook Stink Beans with Red Curry Paste. The process was simple, starting with pounding the red chili paste in the stone mortar, then stir-fired with the mixture of chopped vegetables like the Thai young melon, long bean, Thai pink tomato, kaffir lime leaves, holy basil, red chili, and soy meat. Then just simply season with palm sugar and seasoning soy sauce.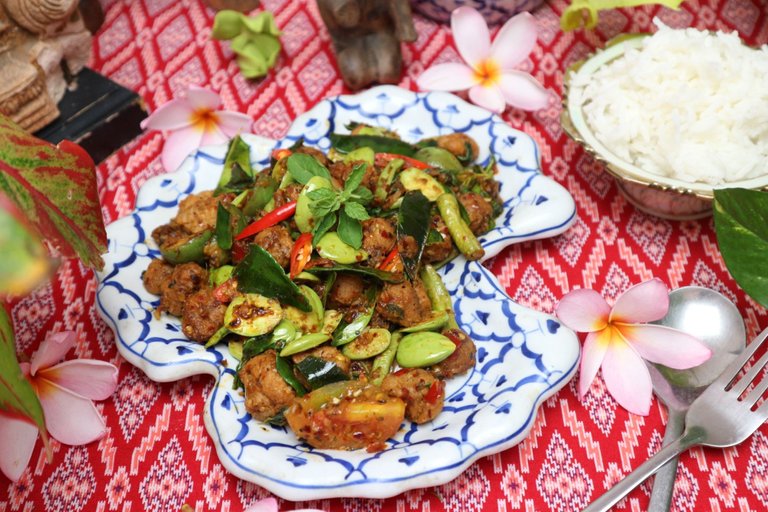 Mostly all kinds of Thai Chili are always including shrimp paste, which makes them not vegan! Ever since this is a vegan recipe so I decided to pound it myself because I did find out that I have all the fresh ingredients to make the red chili paste just right in my garden.
My Vegan Thai Red Curry Paste has an amazing blend of flavors and aromas from dried chili paste, fresh red chili, fresh lemongrass, fresh galangal, kaffir lime zest, and sea salt, and black peppercorns. I did substitute the shrimp paste with miso, a kind of Japanese soybean paste.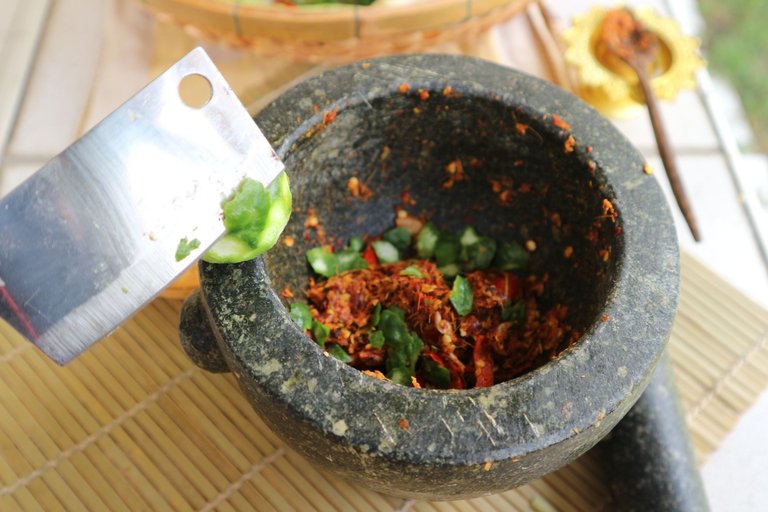 It's wonderful and feels so healthy when grabbing all the garden veggies and using them up in this easy stir-fry recipe. Kaffir lime, Kaffir Lime Leaves, Lemongrass, Holy Basil, Wild Holy Basil, Red Chili, and Galangal.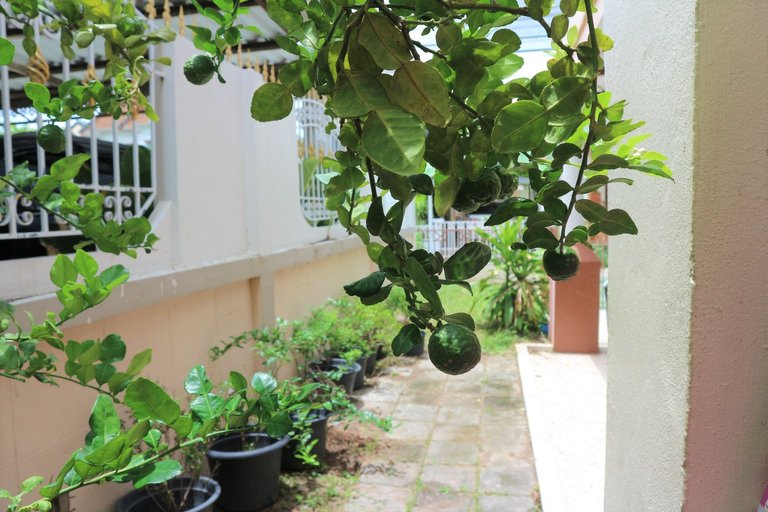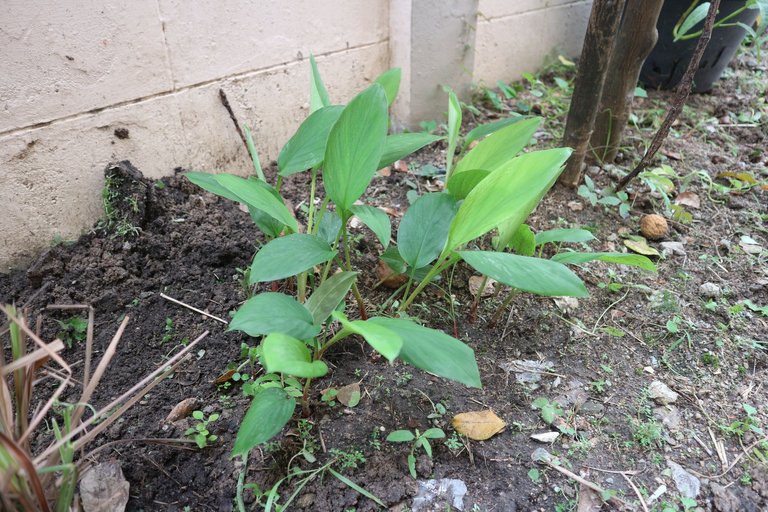 I started experimenting with what I could put in this recipe from my garden and it has been fantastic! I think This way I will not get tired of the same meal and be able to create different tastes with every meal.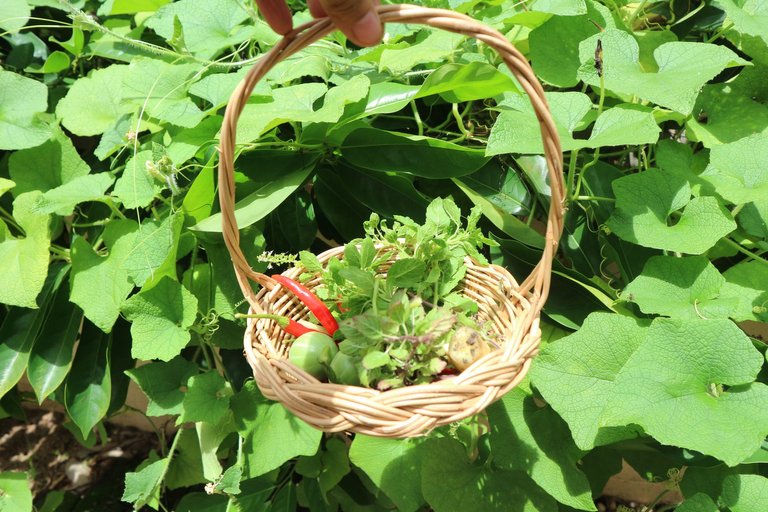 Let's see the ingredients
4 Pods Stink Beans
2 Thai Pink Tomato
2 Long Beans
3 Thai Young Melon
10 Red Chili
1 Kaffir Lime
5 Kaffir Lime Leaves
1/2 Cup Holy Basil
1/2 Cup Wild Holy Basil
1 Cup Soy Meat
2 Tablespoon Galangal
1 Lemongrass
1 Tablespoon Miso
20 Dried Red Chili
1 Tablespoon Black Peppercorns
1 Tablespoon Palm Sugar
1 Teaspoon Seasoning Soy Sauce
1 Teaspoon Sea Salt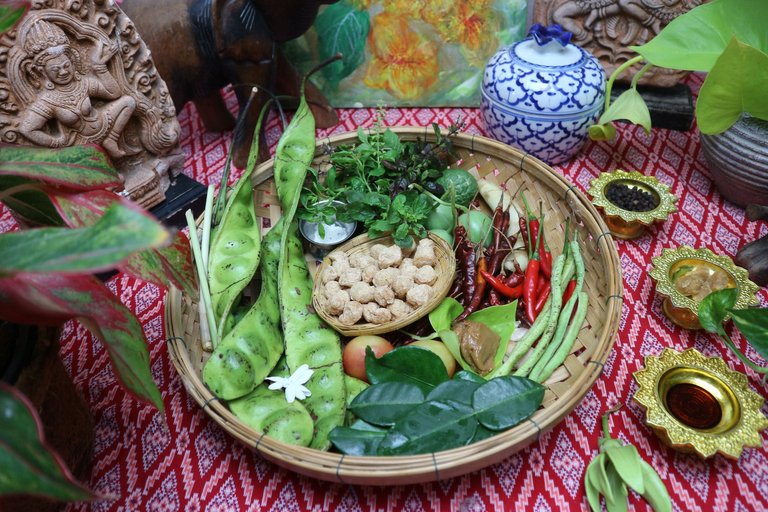 Instructions
Step 1 - Hydrated the Soy Meat
Soy protein or soy meat is typically in solid form so let's soak the soy meat in the water for about 10 minutes. Once the soy meat soaks enough water then it'll turn fluffy and look like a ball of real meat again, then squeeze the water out.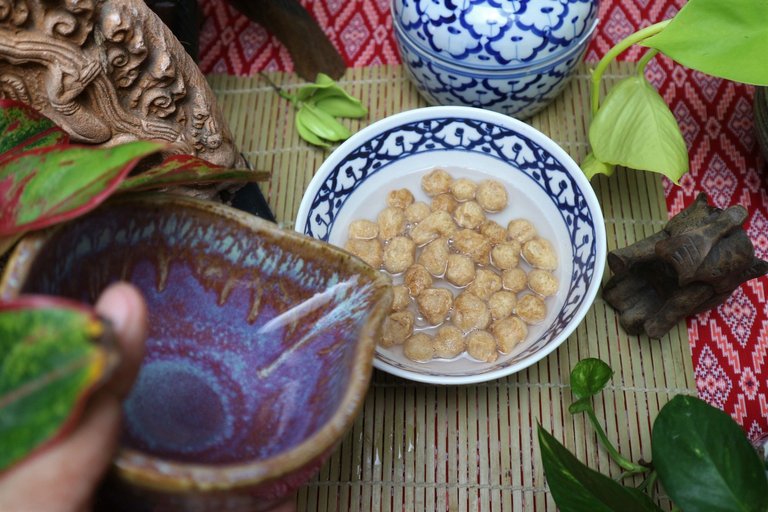 Step 2 - Making Thai Red Curry Paste
Add the dried chilies in a stone mortar and pestle, then grind until the chilies are very fine and most of the seeds are broken.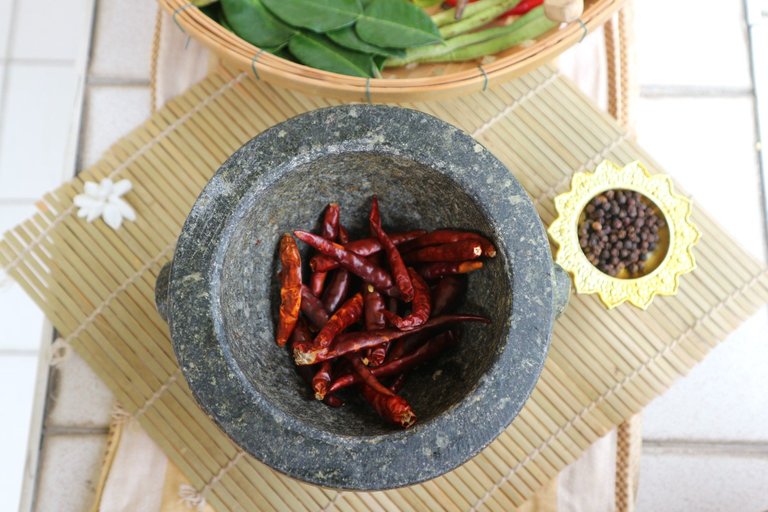 Add the slices of galangal.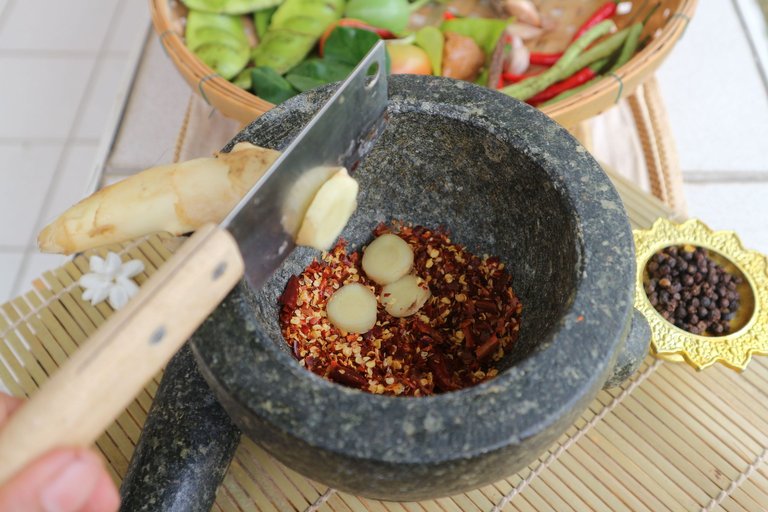 Followed by slices of lemongrass, sea salt, black peppercorns and miso.
 
Pound and grind it all until the plant fibers, black peppercorns and sea salt are all well separated and the mixture looks fine and slightly wet.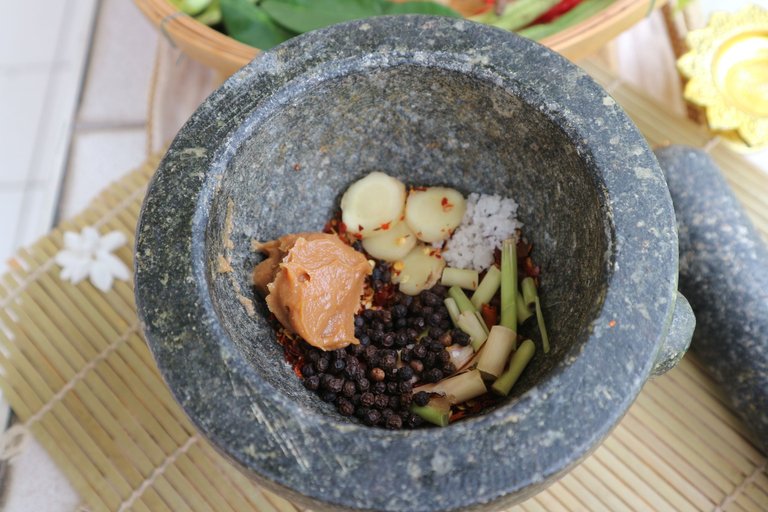 Add the slice of chili, garlic, and kaffir lime zest, then grind them in until can't see any pieces of them in the paste.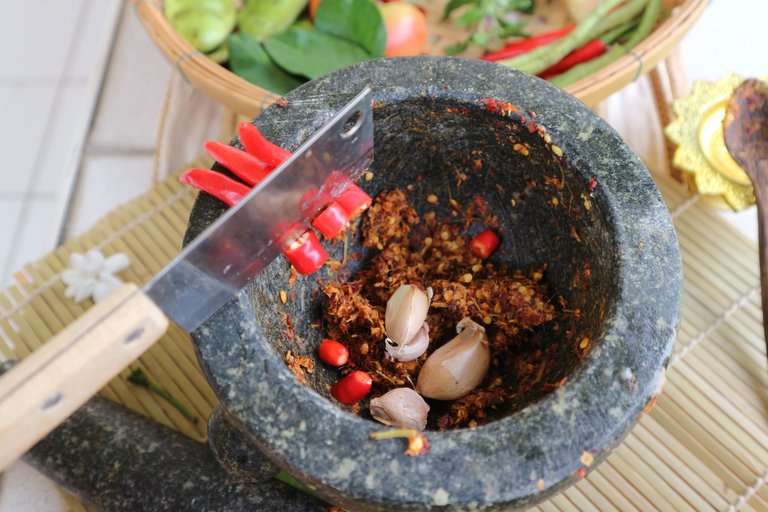 Use a wooden spoon to scrape the ingredients from the side of the mortar and pestle down to the center.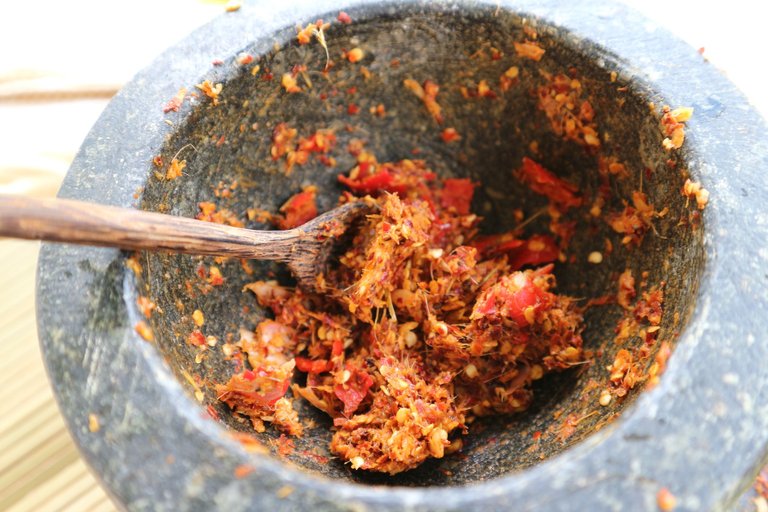 Finally, continue to pound until obtaining a smooth paste.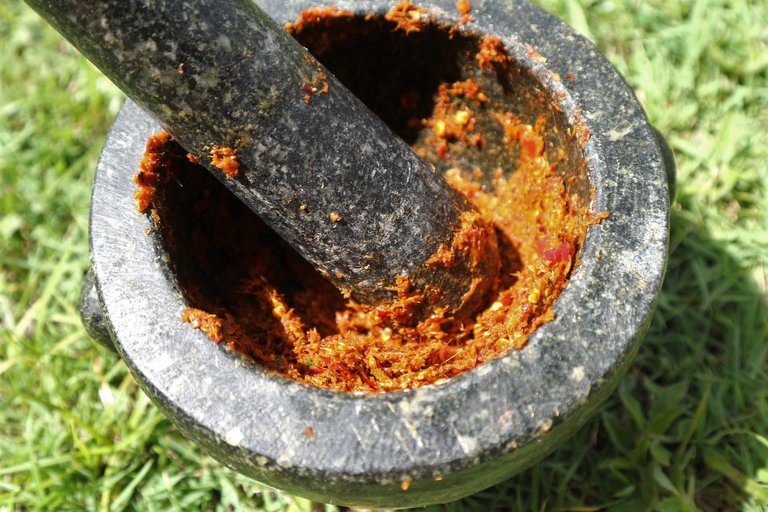 Step 3 - Preparing the Stink Beans
To prepare the stink beans, it's easiest to take a sharp knife and make a cut on one side of the bean.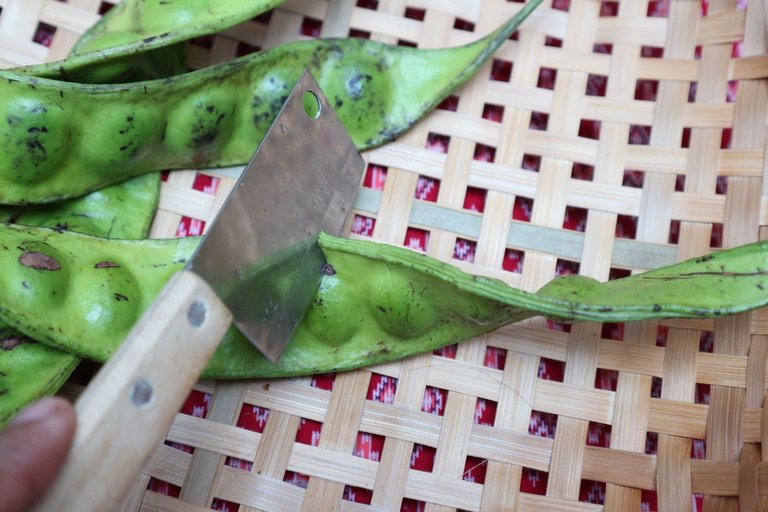 Using a hand to break the stink beans pod. Once the pod break, the beans will appear with the white film cover. The white film covers the outside of the bean, which is possible to eat but normally it's also peeled and discarded.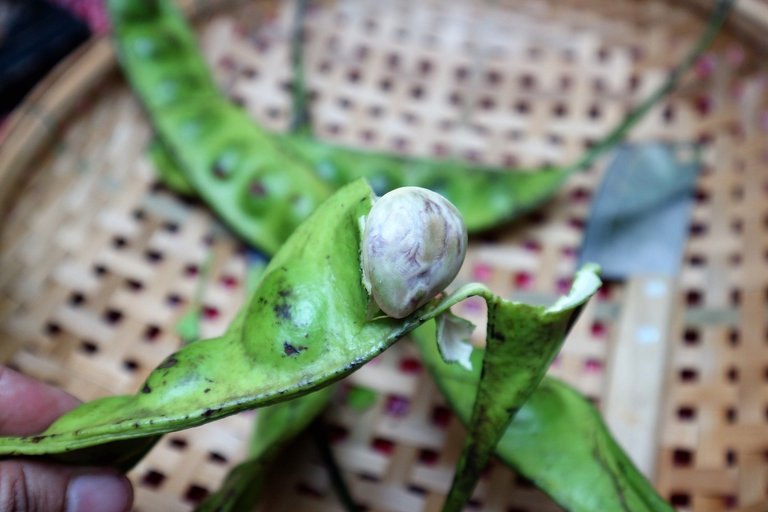 Then fold the white film away and peel it out of its shell.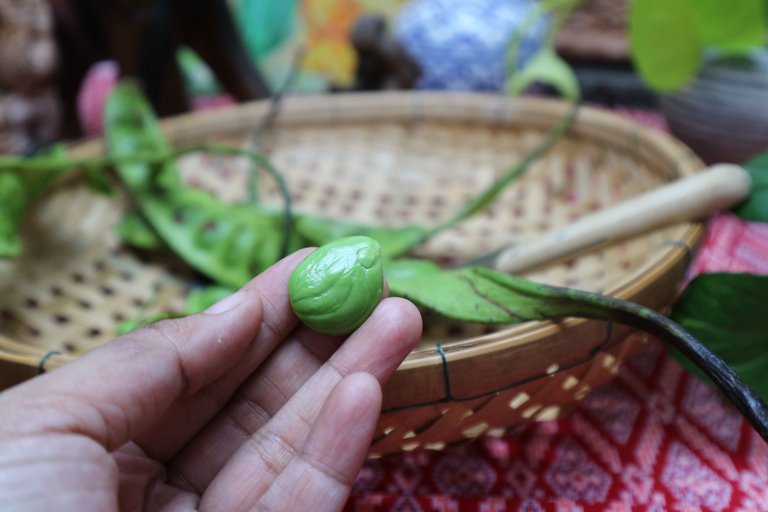 The beans take some time to peel but are totally worth it. For this recipe, I used 4 stink bean pods, which is probably about 1/2 cup of peeled stink beans.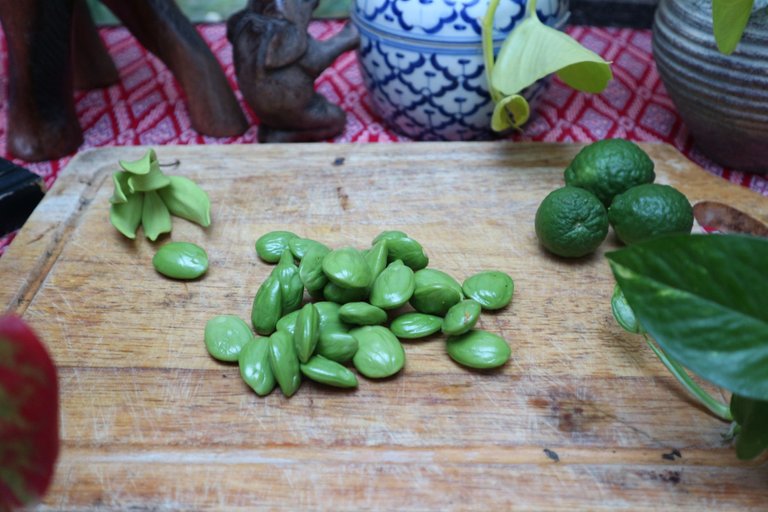 Sometimes it's possible to find tiny worms in the stink beans but this just shows that they are fresh and organic without any chemicals. So it's quite usual to cut the stink beans in half and be 100% sure that the beans are absolutely clean and have nothing inside the beans.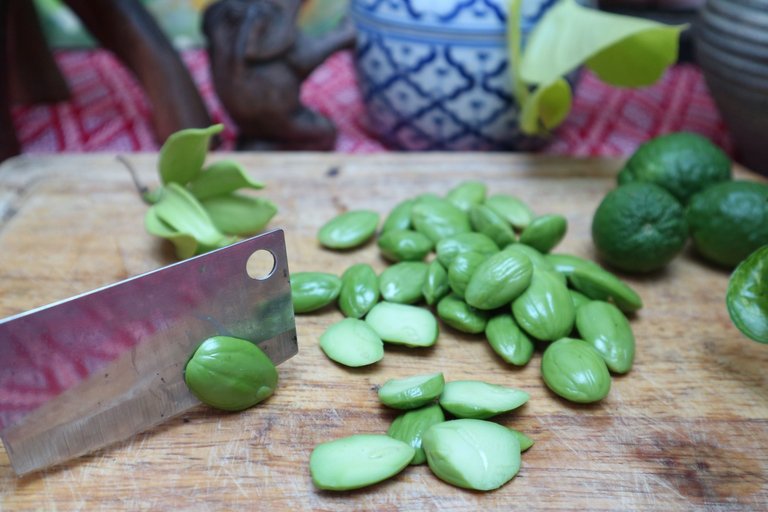 Step 4 - Preparing the Garden Veggies for Stir-Fried
Cut the tomato and young melon vertically from stem top to bottom into four quarters.
Removed the leaves of the Holy Basils from the stem.
Slice the long beans into bite-sized pieces.
Knife slice the red chili.
Tear the kaffir lime leaves by hand and set all the garden veggies aside.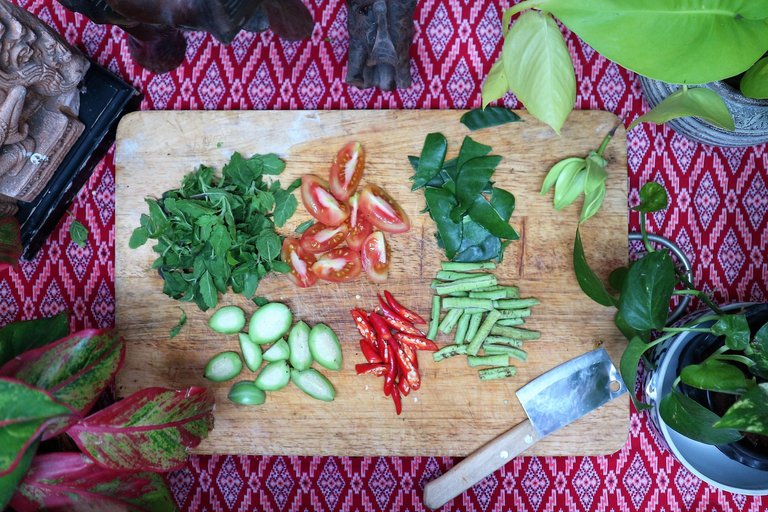 Step 5 - Stir-Fried Stink Beans with Red Curry Paste
Start by sautéing the Red Curry Paste in a wok. Firstly, add Canola oil to the wok over medium heat and let it warm up before adding the Red Curry Paste.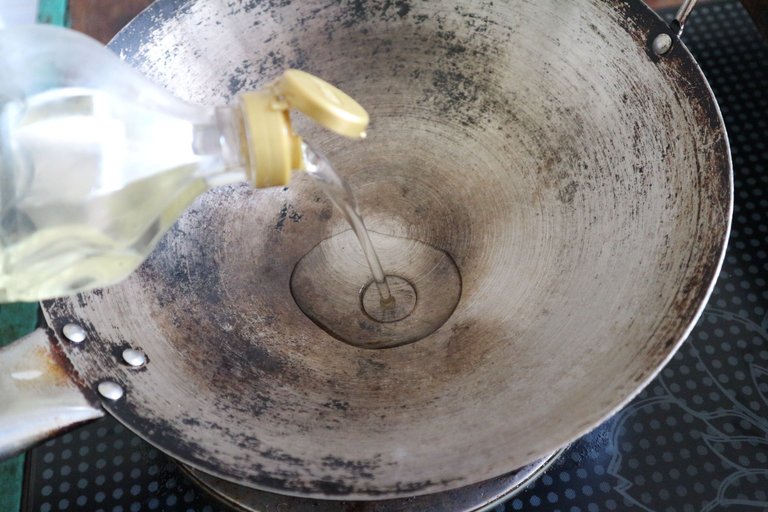 Once the oil is slightly warm, then add the Red Chili Paste and stir fry to cook for about 2 minutes and continuously whisk. Then add the squeezed soy meat.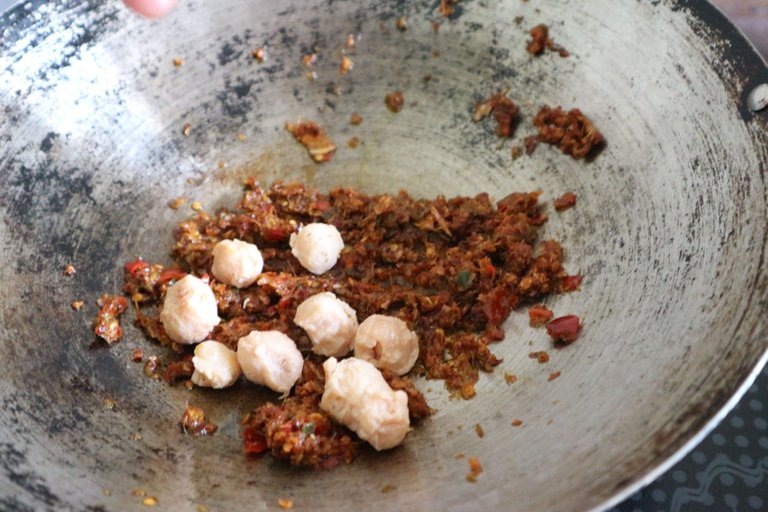 Lower the heat to low flame and stir fry to cook for about 3 minutes and continuously whisk them together until the soy meat soak up with curry paste.
 
Once the soy meat and curry paste get slightly charred. Then add the Thai young melon, Thai pink tomato, and long beans into a wok.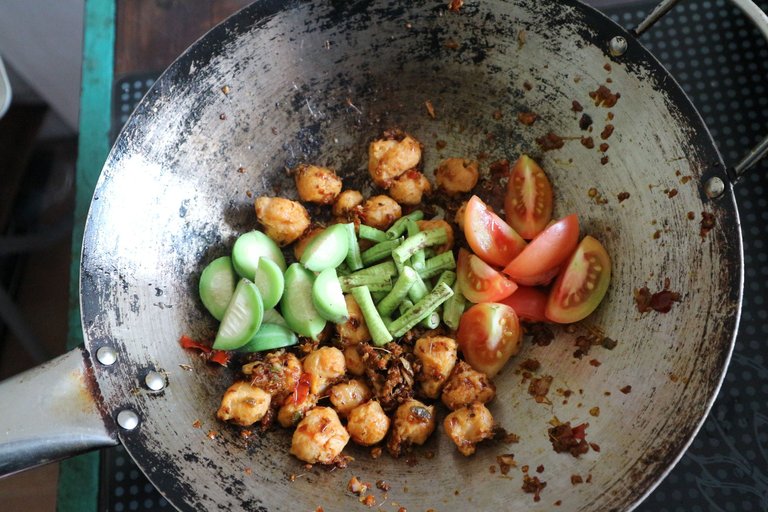 Continue stir-fry over low heat for about 3-4 minutes to let the mixture get the smoke flavor. Then season with palm sugar and seasoning soy sauce for taste.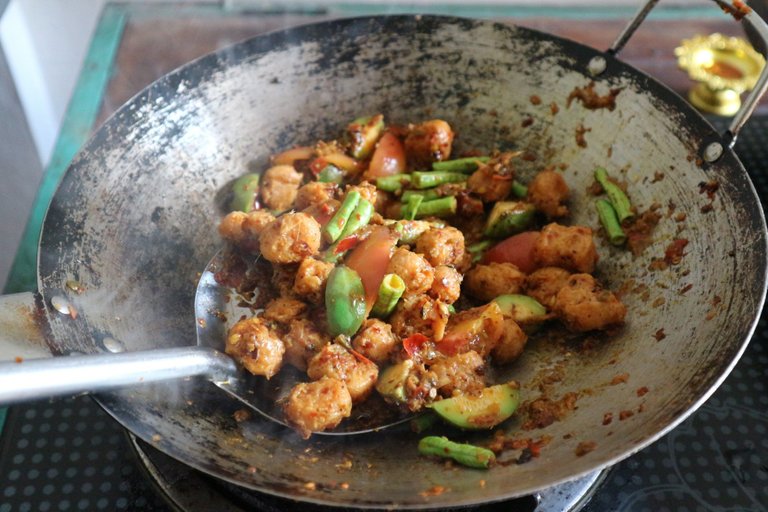 Once the vegetables start to translucent. Then add the stink beans, red chili, kaffir lime leaves, and holy basil.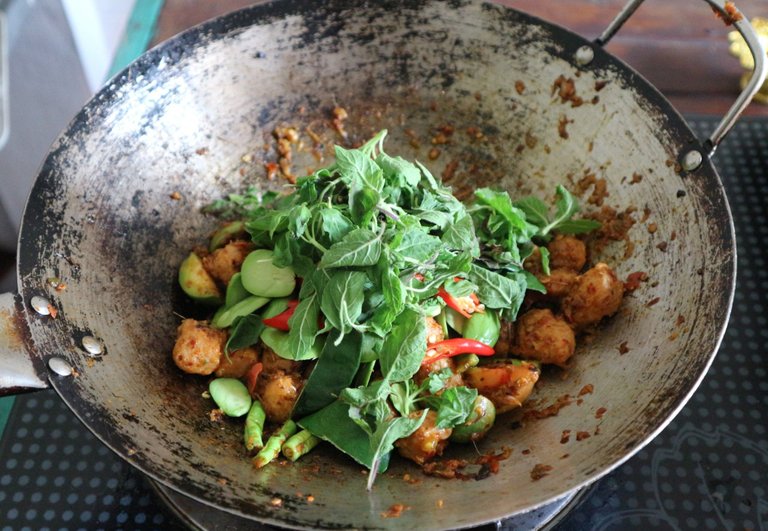 Quickly gently stirring to combine everything in a very short time, allows stink beans to keep their crunchy texture, and turn off the heat.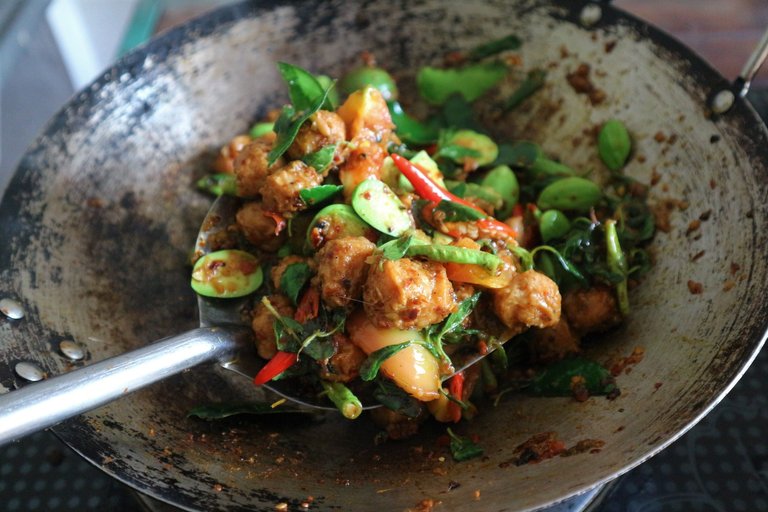 Step 6 - Platter
Here, the crunchy, slightly pungent stink beans are stir-fried with fresh vegetables from my garden and homemade red curry paste. It's a funky combination, but the spicy flavors and fragrance of aromatic Thai herbs play the main role to make this a delicious and unique taste.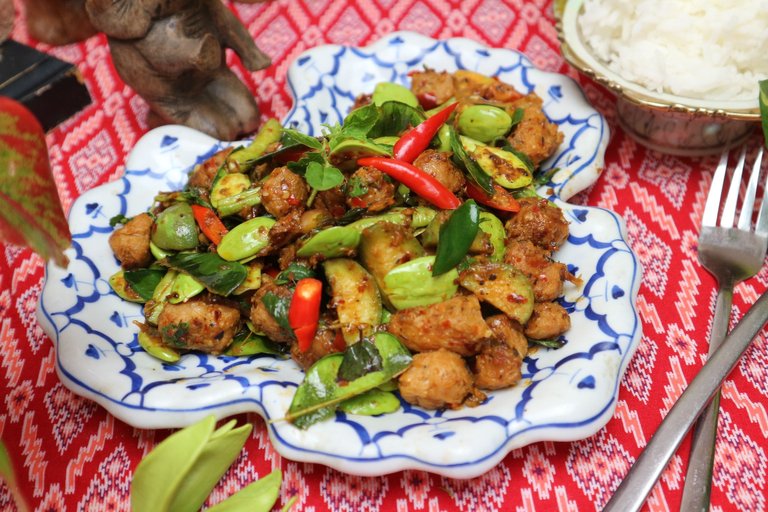 The best way to serve is along with a warm plate of steamed jasmine rice.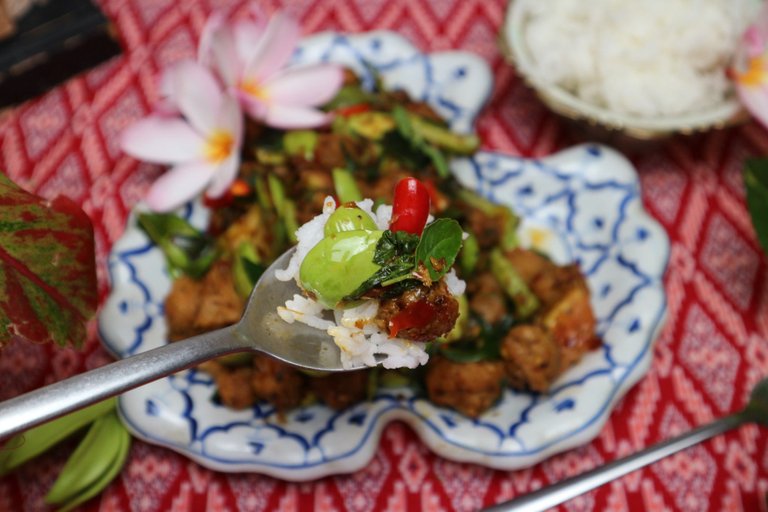 You may never have heard of it or seen it before but stink beans have contained an amino acid and are loaded with natural energy-boosting sugars. They are also deliciously nutty, versatile, and nutritious.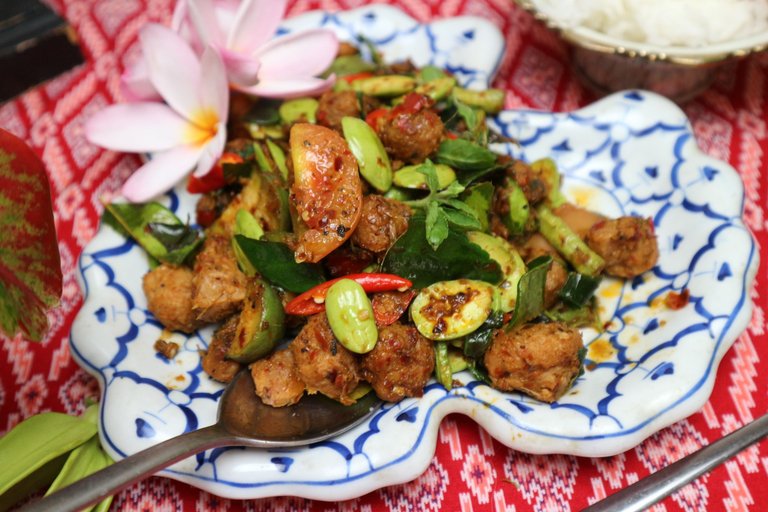 Thanks for reading my blog and wishing you a great weekend ahead!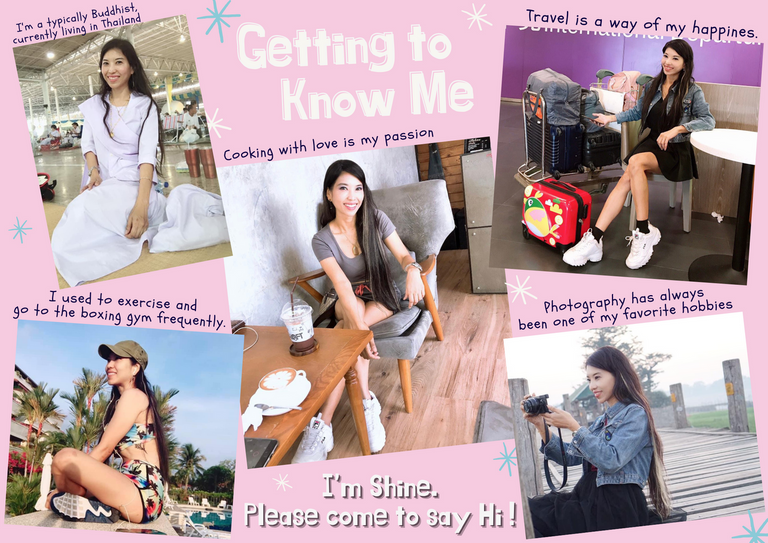 ---
---