GRUND POWER! ESP/ENG
The power of GRUND
Hola hola queridos lectores y jugadores de Splinterlands! En esta ocasion voy a hacer un post de share your battle weekly challenge! La carta a la que le toca esta vez es a GRUND! GRUND es una carta espectacular del splinter de tierra viene en la edicion de cartas de CHAOS LEGION, la uso en cada oportunidad que tengo ya que tiene mucho mana y no es facil encontrar la oportunidad, mas que todo si en las reglas aparece que puedes atacar desde cualquier lado con melee es espectacular que ataque 2 veces! Segun el lore ataca 2 veces porque tiene 2 armas, sus martillos!
Hello hello dear readers and Splinterlands players! This time I'm going to do a share your battle weekly challenge post! The card this time is GRUND! GRUND is a spectacular card of the splinter land comes in the card edition of CHAOS LEGION, I use it in every opportunity I have because it has a lot of mana and it is not easy to find the opportunity, especially if the rules say that you can attack from any side with melee is spectacular that attacks 2 times! According to the lore it attacks 2 times because it has 2 weapons, its hammers!
Como usar a GRUND
El escenario ideal de usar a GRUND en mi opinion es cuando las reglas permitan que melee puede atacar desde cualquier lado o que todos sean oportunistas.
Otro escenario es usarlo como un tanque, ponerlo de frente en batallas de poco mana donde no haya escudo o espinas y esperar a que la batalla acabe rapido.
Un escenario que para mi seria el mas comun es ponerlo como tanque y justo detras poner a MYCELIC SLIPSPAWN para que los ataques se dirijan a esa carta y GRUN al frente pueda acabar con el tanque contrario de la manera mas rapida posible.
Una no muy comun pero espectacular, si quieres salirte del comun denominador de la Llama y Kron, usa a la Llama y GRUND!
How to use GRUND
The ideal scenario to use GRUND in my opinion is when the rules allow that melee can attack from any side or that everyone is opportunistic.
Another scenario is to use him as a tank, put him up front in low mana battles where there is no shield or thorns and wait for the battle to end quickly.
A scenario that for me would be the most common is to put him as a tank and right behind him put MYCELIC SLIPSPAWN so that the attacks are directed to that card and GRUN in front can kill the opposing tank as quickly as possible.
A not very common but spectacular one, if you want to get out of the common denominator of Flame and Kron, use Flame and GRUND!

La Batalla
La batalla que me toco fue de 99 de mana y ademas sin reglas, eso significa que puedo usar muy buenas cartas y ademas voy a poner en practica una de las estrategias que acabo de recomendar, la de poner a GRUND al frente y a MYCELIC SLIPSPAWN atras para darle tiempo a GRUND de que acabe con el tanque del contrario lo mas rapido posible, asi como yo tengo 99 de mana y tengo libertad de movimiento mi contrincante tambien puede hacerlo asi que espero que mi estrategia sea bastante buena ya que me espera una batalla que no sera facil.
The Battle
The battle I got was 99 mana and also without rules, that means I can use very good cards and also I will put into practice one of the strategies I just recommended, to put GRUND in front and MYCELIC SLIPSPAWN behind to give GRUND time to finish the opponent's tank as fast as possible, as I have 99 mana and I have freedom of movement my opponent can also do it so I hope my strategy is pretty good because I expect a battle that will not be easy.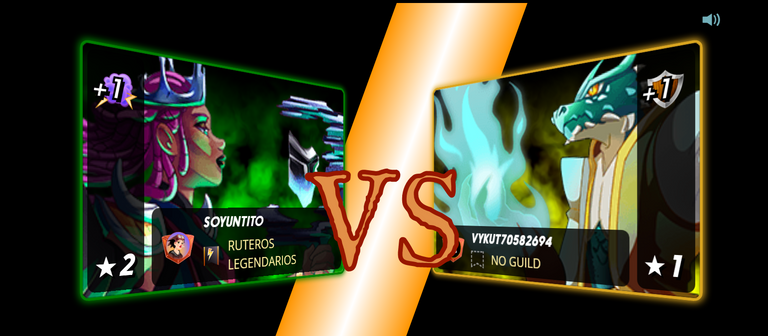 LINEUP
Invocador
Como invocador pongo a una carta rara de 4 de mana OBSIDIAN para darle uno mas de ataque de magia a las cartas de magia que voy a usar que usen magia, que van a ser la mayoria, lo uso en nivel 2 y esta costando unos 10$ dolares aproximadamente! Lo peor que me podria pasar al jugar con estas cartas es que me jugaran con muerte y me anularan la magia pero no fue asi, mi contrincante uso un invocador de dragon y lo combinara con vida, de hecho va a usar una estrategia muy similar a la mia!
Summoner
As a summoner I put a rare 4 mana card OBSIDIAN to give one more magic attack to the magic cards I'm going to use that use magic, which will be most of them, I use it at level 2 and it's costing about 10$ dollars approximately! The worst thing that could happen to me when playing with these cards is that they would play me with death and annul my magic but it was not like that, my opponent used a dragon summoner and combined it with life, in fact he will use a strategy very similar to mine!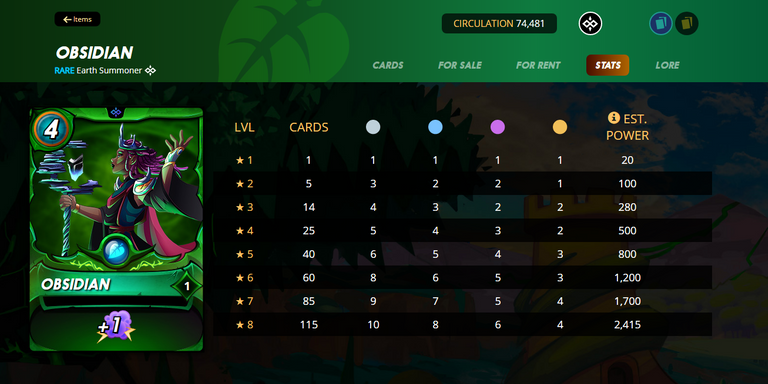 Primer Lugar
En primer lugar pongo al protagonista de esta historia, a GRUND! Y a la carta sobre la que recae toda mi estrategia y la que tiene la responsabilidad de ganarme la partida no importa lo que este al frente! De igual manera tendra apoyo de las cartas que estan detras y ademas un curador para mantenerlo con vida el mayor tiempo posible, lo voy a necesitar porque adelante me pusieron a DJINN CHWALA, tiene escudo y esas espinas me van a hacer mucho daño, la pegue en el blanco al usar magia! Esta carta en nivel 2 esta costando aproximatamente 10$ dolares!
First Place
In the first place I put the protagonist of this story, GRUND! And the card on which all my strategy is based and which has the responsibility to win the game no matter what is in front of me! He will also have support from the cards that are behind and also a healer to keep him alive as long as possible, I will need it because I put DJINN CHWALA in front, he has a shield and those thorns will do me a lot of damage, I hit the target when using magic! This card at level 2 is costing approximately 10$ dollars!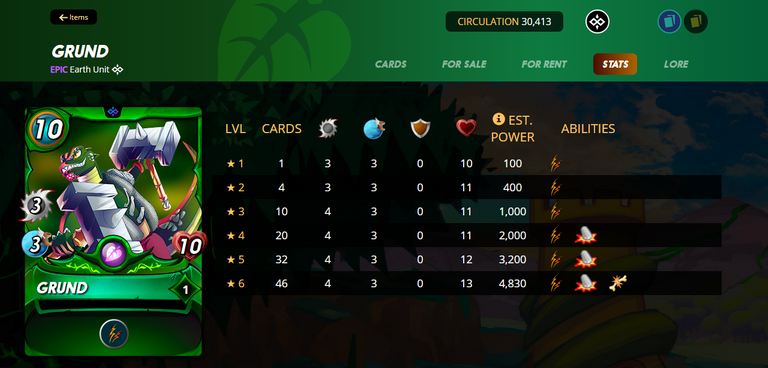 Segundo lugar
Detras de mi tanque tal cual como habia comentado en mi estrategia pongo a MYCELIC SLIPSPAWN para atraer todos los ataques del enemigo y que no caigan todos sobre GRUND asi le va a dar mas tiempo de hacer mas daño al frente enemigo. Esta carta en nivel 2 esta costando aproximatamente 1.60$ dolares!
Second place
Behind my tank as I had mentioned in my strategy I put MYCELIC SLIPSPAWN to attract all the enemy's attacks and not all of them fall on GRUND so he will have more time to do more damage to the enemy front. This card at level 2 is costing approximately $1.60!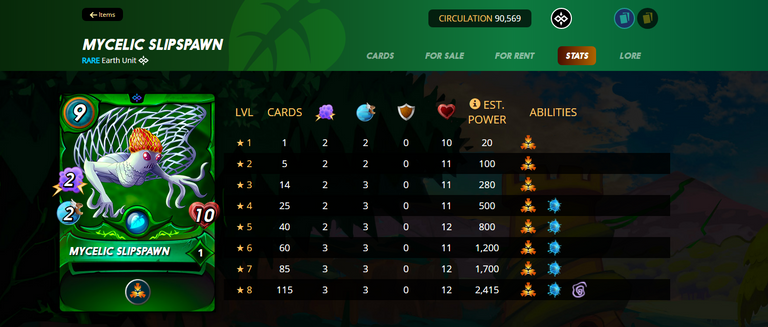 Tercer lugar
En esta posicion pongo a REGAL PERYTON aunque la batalla sea de mucho mana y tenga la oportunidad de escoger otras cartas mas poderosas escogi esta porque es muy rapida y ataca muy rapido, es de mi mayor interes atacar lo mas rapido posible asi que la velocidad de REGAL PERYTON la necesito! Esta carta en nivel 2 esta costando aproximadamente 2$ dolares!
Third place
In this position I put REGAL PERYTON even though the battle is mana intensive and I have the opportunity to choose other more powerful cards I chose this one because it is very fast and attacks very fast, it is in my best interest to attack as fast as possible so I need REGAL PERYTON's speed! This card in level 2 is costing about 2$ dollars!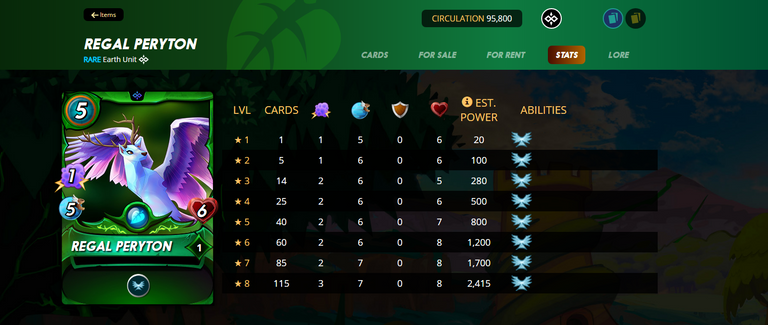 Cuarto lugar
Aqui pongo a una carta espectacular, una de las mejores legendarias que nos dejo CHAOS LEGION a QUEEN MYCELIA esta carta le da 1 mas de escudo a todas mis cartas, eso significa que voy a vivir un golpe mas! La carta esta costando alrededor de 12$ dolares en nivel 1!
Fourth place
Here I put a spectacular card, one of the best legendary that left us CHAOS LEGION to QUEEN MYCELIA this card gives 1 more shield to all my cards, that means I will live one more hit! The card is costing around 12$ dollars in level 1!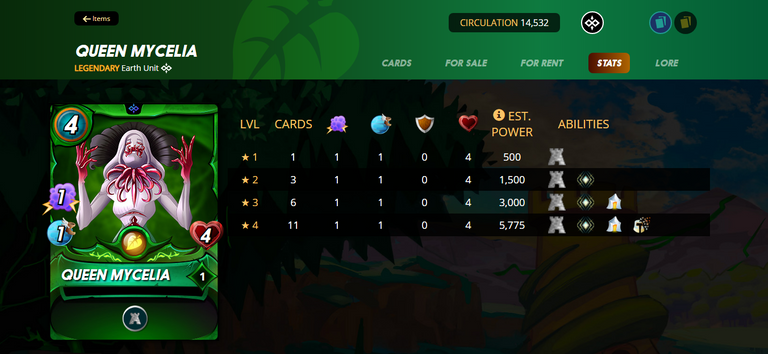 Quinto lugar
En este lugar pongo a mi curador estrella, a GOBLIN PSYCHIC no solo va a curar a mi tanque sino que tambien golpea duro con la magia, me va a ayudar a comprar mas tiempo y a destruir el tanque enemigo! esta carta esta costando ahora mismo en nivel 2 unos 65 centavos aproximadamente!
Fifth place
In this place I put my star healer, GOBLIN PSYCHIC will not only heal my tank but also hit hard with magic, it will help me to buy more time and destroy the enemy tank! this card is costing right now at level 2 about 65 cents approximately!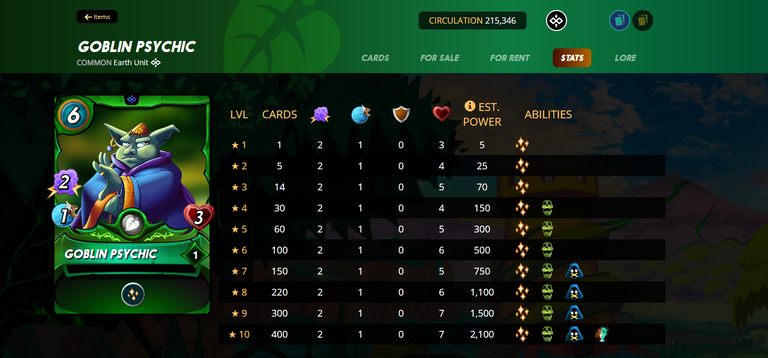 Ultimo lugar
En ultimo lugar pongo a SUPPLY RUNNER, una carta neutrar, nada impresionante pero la razon por la que la puse fue la misma por la que puse a REGAL PERYTON, por su velocidad y esta carta va a atacar rapido y eso necesito, dar los golpes primero lo mas rapido posible y asi equilibrar un poco con mis otras cartas lentas! Esta carta en nivel 2 esta costando aproximadamente 65 centavos!
Last place
In last place I put SUPPLY RUNNER, a neutral card, nothing impressive but the reason I put it was the same reason I put REGAL PERYTON, for its speed and this card is going to attack fast and that's what I need, to hit first as fast as possible and so balance a little with my other slow cards! This card at level 2 is costing about 65 cents!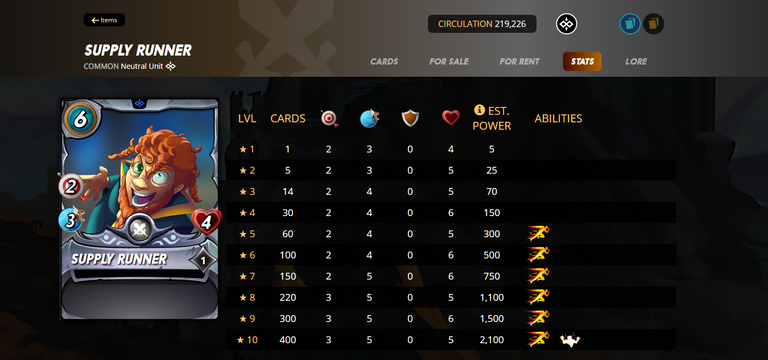 Conclusion
En conclusion me gusto la estrategia que tome, definitivamente tengo que conseguir para la proxima cartas mas poderosas, habria podido poner a una mejor opcion que REGAL PERYTON y SUPPLY RUNNER por ejemplo, del resto todo funciono a la perfeccion y aunque GRUND tuvo algunos fallos mi estrategia funciono y termino luciendose! Fue una batalla emocionante digna de verla porque mi contrincante tambien tenia buena estrategia y buenas cartas, pero no tenia a GRUND que fue el punto clave!!!
Conclusion
In conclusion I liked the strategy I took, I definitely have to get for the next one more powerful cards, I could have put a better option than REGAL PERYTON and SUPPLY RUNNER for example, the rest everything worked perfectly and although GRUND had some failures my strategy worked and ended up shining! It was an exciting battle worth watching because my opponent also had a good strategy and good cards, but he didn't have GRUND which was the key point!!!!

👀 Watch the battle HERE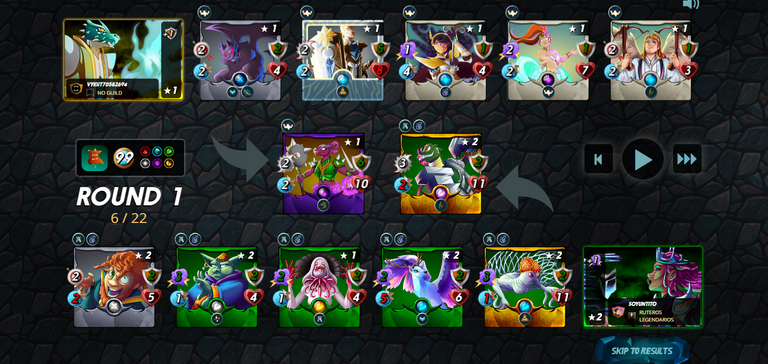 Gracias a esta espectacular iniciativa de @Splinterlands, que ademas de ser una buena manera de promocionar el juego tambien me ayuda a mejorar mi mazo y adquirir cartas cada vez mejores y ser mas competitivo! Si te llama la atencion probar Splinterlands puedss registrarte AQUI Splinterlands es el juego Play to earn con la comunidad mas solida en el espacio, sus NFTS tambien poseen un valor coleccionable bastante decente!!!
Todas las imagenes las hice en Canva y tome screenshots de la pagina oficial!
Hasta la proxima!
Thanks to this spectacular initiative of @Splinterlands, which besides being a good way to promote the game also helps me to improve my deck and acquire better and better cards and be more competitive! If you are interested in trying Splinterlands you can register HERE Splinterlands is the Play to earn game with the strongest community in the space, its NFTS also have a pretty decent collectible value!!!!
All the images were made in Canva and I took screenshots from the official site!
See you next time!
Posted using Neoxian City
---
---