IS ADULTHOOD A SCAM?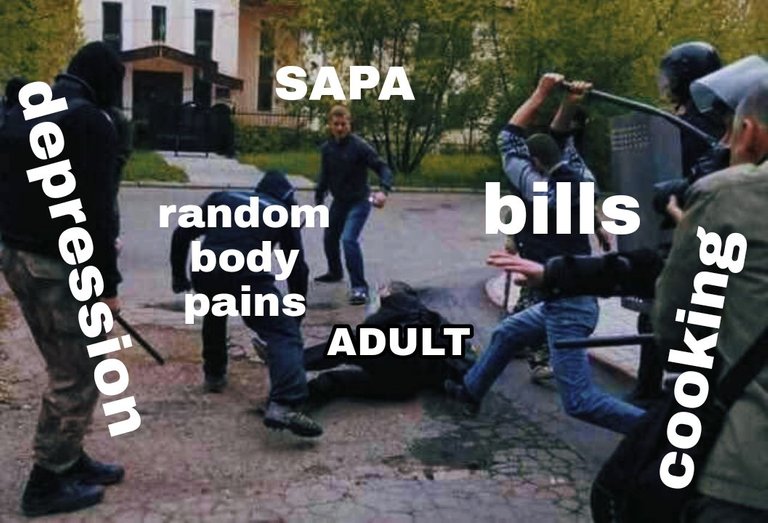 Made with PicsArt
Remember when we were kids, and we wanted to grow and we wanted to grow up so fast so that we could have freedom and do whatever we wanted?
Remember those times?
Yea...
We were dumb.
If I had a time machine, one of the first things I'd do is to go back in time to when I was a kid and tell my younger self to just enjoy his childhood while it lasts... Oh, and buy a shit ton of Bitcoin.
Anyhoo, the point I'm trying to make is;
Contrary to the beliefs of our dumbass kid selves, adulthood is not what we thought.
When I was a kid, I used to see adults through this lens of profound awe.
Like, these people were freaking cool and could do whatever they wanted, go wherever they wanted and they held so much power over us.
I mean, all my mom had to do was move her eyes in a certain way and I dare misbehave. And let's not mention the seemingly infinite knowledge and wisdom they possessed. To me, adulthood was the ultimate upgrade.
Well, now that I'm a legal adult, that Lens I mentioned earlier is less foggy and I gotta say... This sucks.
There's no power,
There's no control,
There's no infinite wisdom or knowledge...
Infact, I would argue that adults are still like kids. The only difference is now, life is our daddy.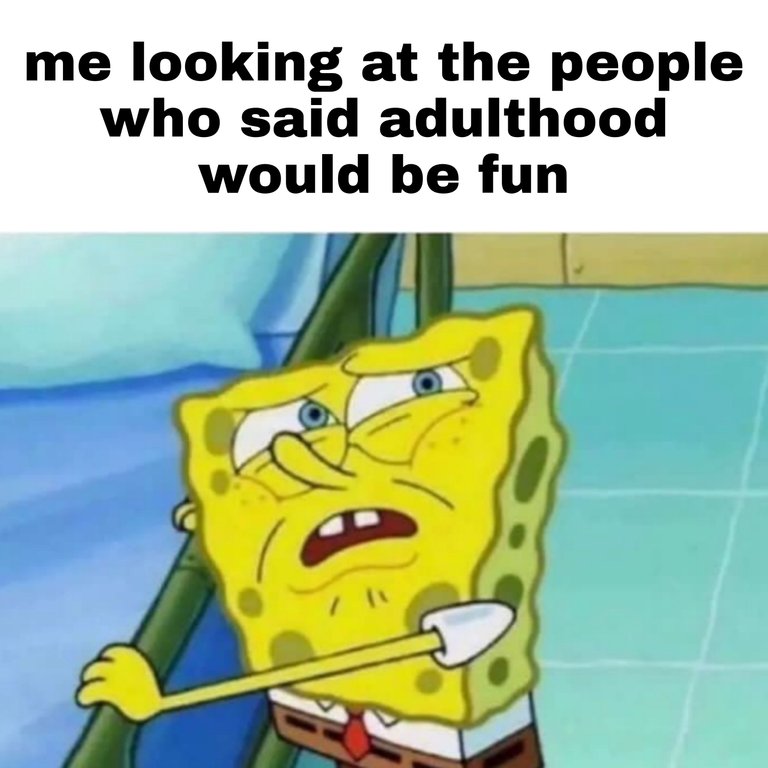 Made with PicsArt
Now, of course adulthood is different for everyone, but most of us can relate to a lot of the same experiences.
Today, I wanna share my thoughts on this whole adulting schtick, and the way I wanna do that is by playing a game called:
✨Is Adulthood A Scam?✨
In this game, we'll take a look at childhood and adulthood under different aspects of life and see how they compare.
It's gonna be loads of fun! (And possibly depressing).
Time for the breakdown!

1. FOOD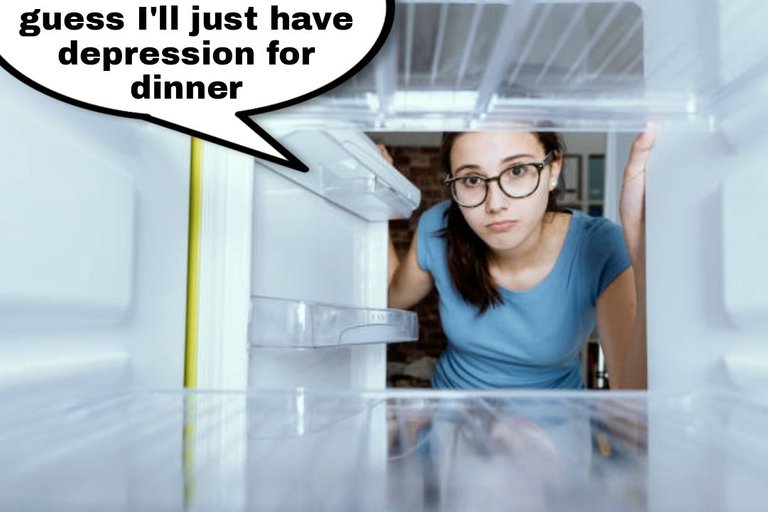 Made with PicsArt
Honestly, this is something we don't give out parents enough credit for.
These wonderful angels always made sure we were well fed throughout the day, everyday, for years.
We really had it easy as kids.
3 square meals a day? Donezo.
All we had to do was eat, go to school, come back from school, eat, go out and play and "be back in time for dinner", eat and sleep.
Soft life.
Well, I am an adult now and let's just say I'm of the opinion that our parents were some kind of voodoo magicians.
Because I don't understand.
How did they do it? How did they go to work, do their various duties and still have time and energy to provide edible food for the entire family.
You know that time machine I mentioned earlier.. yea, I'd use to go back to the times I ever whined and complained about the food that was cooked and slap myself upside down the head.
We should try to appreciate our parents more.
Cooking ain't easy and food is getting more and more expensive.
It's even worse if you're a "new adult" especially the ones in University or something.
3 square meals a day... Pfft.
More like half of a scalene triangle.

2. FRIENDSHIPS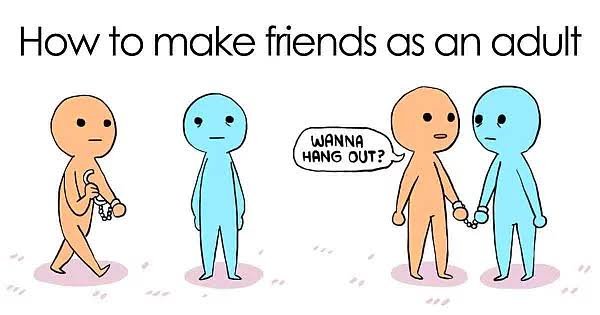 Source
Everyone knows that the older you get, the harder it is to make friends.
Imagine this scenario;
A kid (let's call him Max) sees another kid (Greg) wearing a Ben 10 t-shirt. Max walks up to Greg.
MAX: Nice shirt dude! Do you like Ben 10?
GREG: Yeah!
MAX: Cool! Wanna be friends?
GREG: Yeah!
Boom. Lifelong friendship.
It was literally that easy.
Making friends as an adult is mind numbingly hard.
And no, I'm not talking about people you occasionally talk to and have a few laughs. I'm talking about people that you have a true connection with, people that will always have your back.
It's hard to find trie friends as an adult because frankly, most adults aren't looking for friends. Everyone is facing their own lives with their own problems so friendship is the absolute last thing on their minds.
And I don't blame them.
With the varieties of people roaming about, you can't know who's toxic or who's mental or who's a criminal. So I get just wanting to stay in your lane in the adult friendship department.
If you think about it, most of your closest friends now are either from your childhood or highschool days.
In all my years of being an adult so far, I've only made about 3 actual friends that I have a genuine connection with.
When I was a kid, all you had to do was wear a Barbie shirt and we're automatically BFFs (#barbiestan4lyf)

3. FINANCES
This is probably the most popular aspect of life people referred to when comparing childhood and adulthood.
Truth of the matter is; a typical adult is broke 50% of the time. Adulthood just comes with so many expenses that unless you are a millionaire, the money you have will never seem enough.
And let's not mention inflation.
When we were kids, $5 made you king of the block. You could buy whatever snack you wanted.
Then, $5 gets you snacks
Now, $5 get you A snack
I remember when I was moving into my University hostel, I had to "borrow "some things from my parents house.
I dare not buy them with my money.
I mean do you know how much pots are?
Have you seen the price of curtains?
Adulting is expensive man.
There are still more points to be made but this article is already getting too long.
I'll probably make a part 2 so we can explore more fun comparisons.
So, is adulthood a scam?
So far, it's looking like it,
Childhood seems better in every
aspect of life we talked about, but there are still more points to be made before we can truly answer the question.
Do you think it's a scam?
Most of you think so,
Either way, adulthood is the longest and most important part of our lives, so we have to accept it (scam or not) and make the best out of it.
Good luck to you all on your adult journey.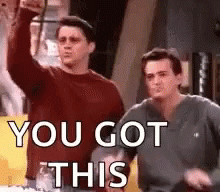 Thank you for reading.
Stay buzzing,
Maximus✍🏾
---
---