How to use Neoxiancityvb
Heya everyone,
I felt like making a post on this very important topic. What I have observed I know plenty of people who are using #neoxian tag but they don't even know if there is any neoxiancity voting bot, besides from the neoxian city dwellers. We all the citizens have been taking advantage of neoxiancityvb. It not only gives you vote in dollars but also you can earn #Leo, #palnet, #neoxag and plenty of other coins. Yep, Neoxiancityvb has a decent amount of Leo, Planet delegation. and some good accounts are following our city bot. I myself also following city bot and mind you i have a decent Leo power. It is more than 3k and my Pal power is more than 5K. Neoxian sir has delegated a very decent amount of Leo and Pal to our city bot.
How to use
Ok, You guys need a demo now? I know I am going to use Neoxiancityvb on my one of the posts and i will share all process.
First of all, go to https://hive-engine.com/ Sign in and then go-to your wallet.
In your wallet, you have to check if you have Neoxag. If you do then go to send token option.
---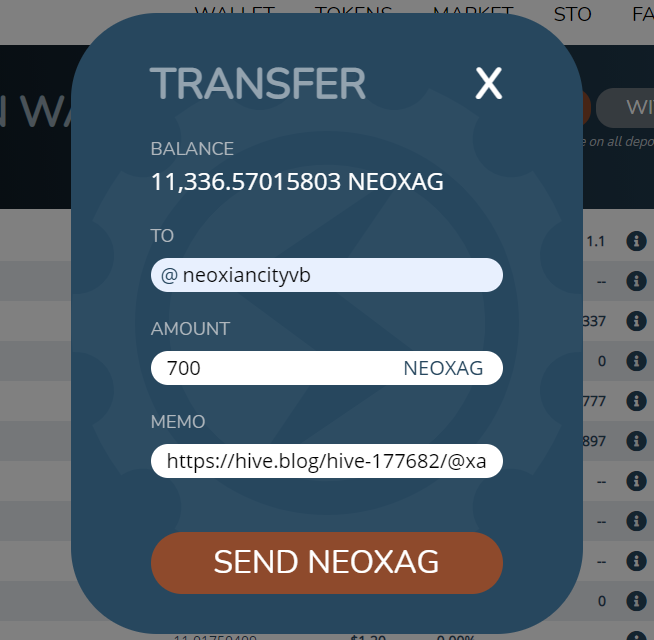 You can bid on any amount. The vote will give you vote according to your Bid. If you have sent more than the desired bid then don't worry our city bot is pretty smart it will partially refund the exceeded amount.
---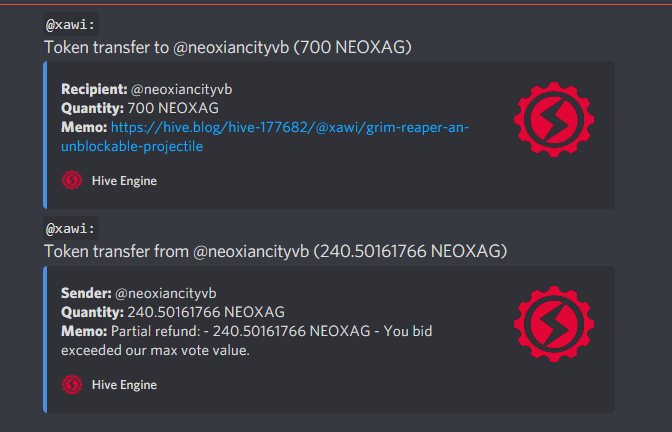 ---
You see I sent 700 Neoxag to neoxiancityvb with memo my post link. Bot refunded my extra Neoxag with the message. Partial refund: your Bid exceeded our max vote value. Have you ever seen such kind of smartness? no the what are you waiting for? go ahead and use this amazingly amazing bot on your neoxian, Leo tagged posts. Usage is pretty simple I hope you got it well.
100% neoxiancityvb vote is 0.4 and I hope you don't want to miss it, do you? if no then go and take advantage of this golden bot and thanks me later :P XD see y'all
Posted via neoxian.city | The City of Neoxian
---
---